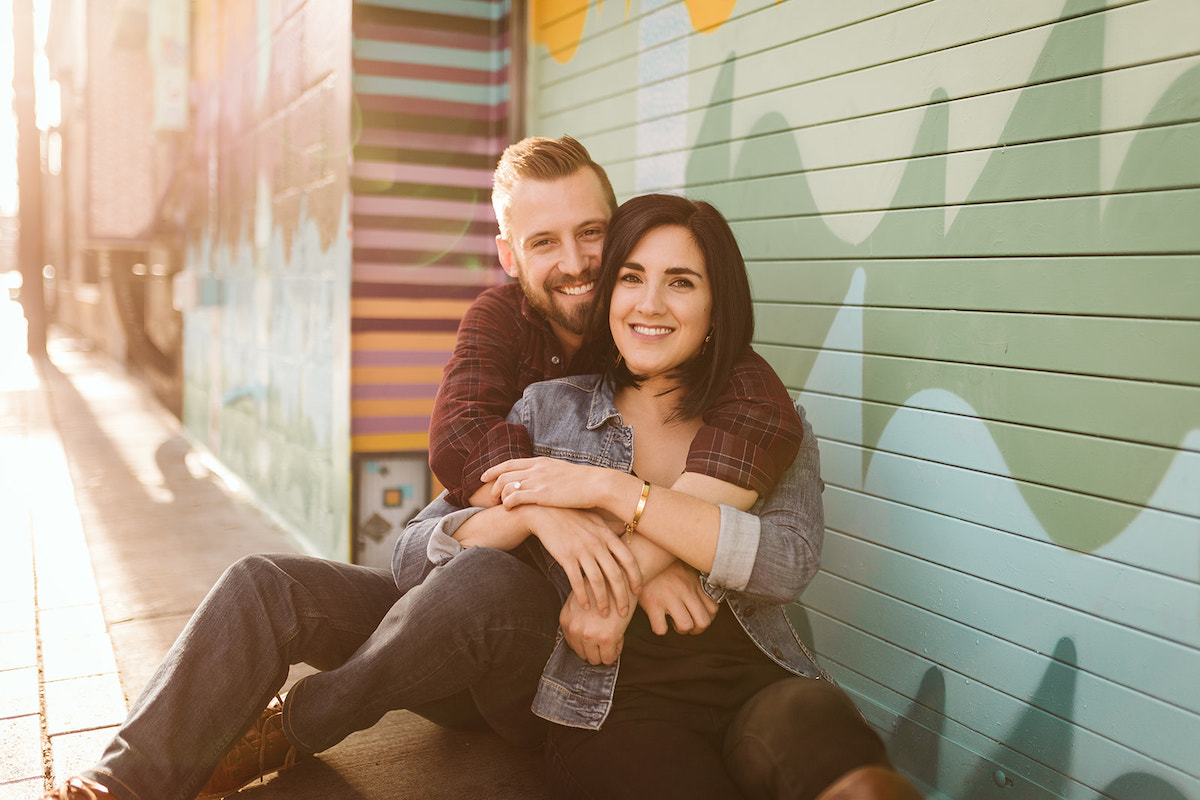 I am so excited to share Farrah and Andrew's engagement photos in Denver's RiNo District with you! This shoot was a blast, and I love that part of my job as a photographer is traveling to couples. (I keep my travel schedule current on my site, but I'm always excited to add to it for your event. Contact me to talk through the possibilities!)
SO, Farrah and Andrew! Real talk: are you actually models, or what?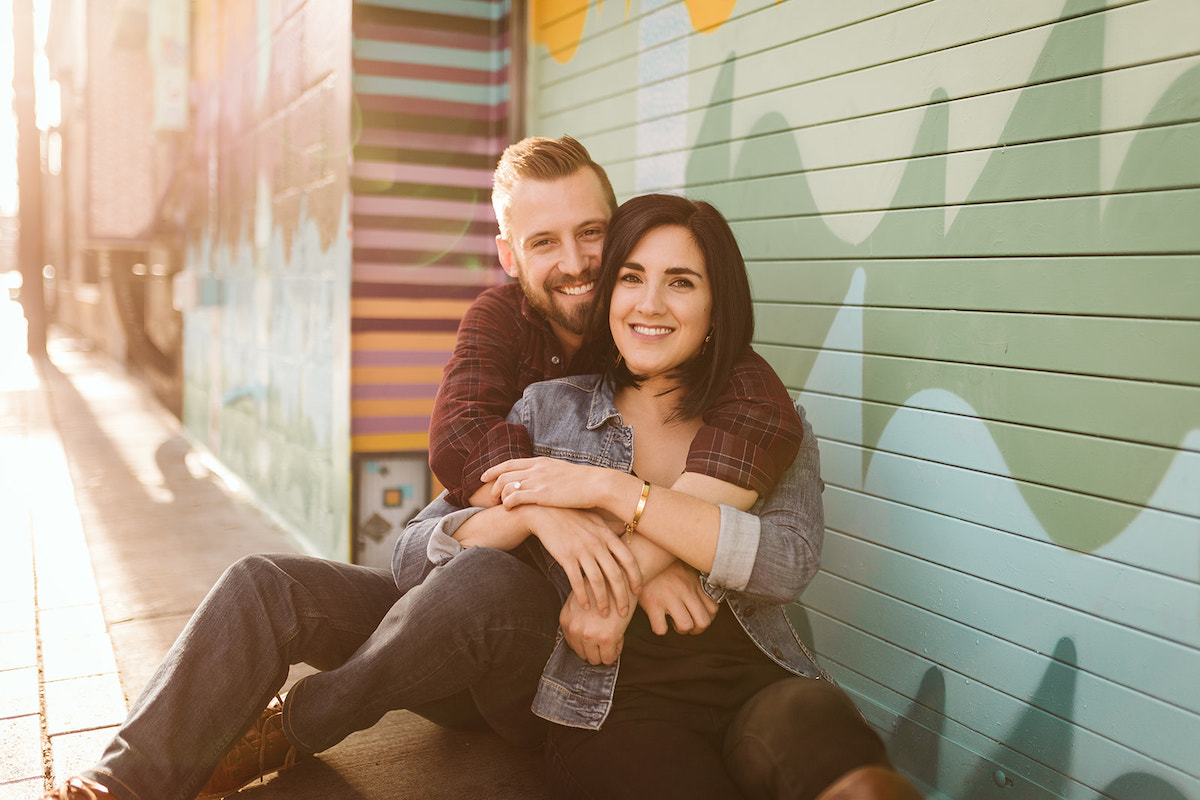 TRAVELING ENGAGEMENT PHOTOGRAPHER–LET'S HIT THE ROAD!
I was on the phone with Farrah for a pre-booking consultation to chat about her upcoming wedding in Chattanooga when she mentioned she and Andrew currently live in Denver, Colorado. I joked that they could bring me to Denver for their engagement session. Farrah paused and said, "Ooooo, you could come to Denver?!"
Farrah and Andrew have ties to Chattanooga. They met at UTC and have family in town, so they'll be "coming home" for their wedding later this year. But Farrah was excited to bring me to Denver. While they'll have photos in Chattanooga for their wedding, Denver has been especially meaningful to the couple because it's where they've created their first home together. They know that even if they move away at some point, this time of their lives in Denver is recorded for their memories.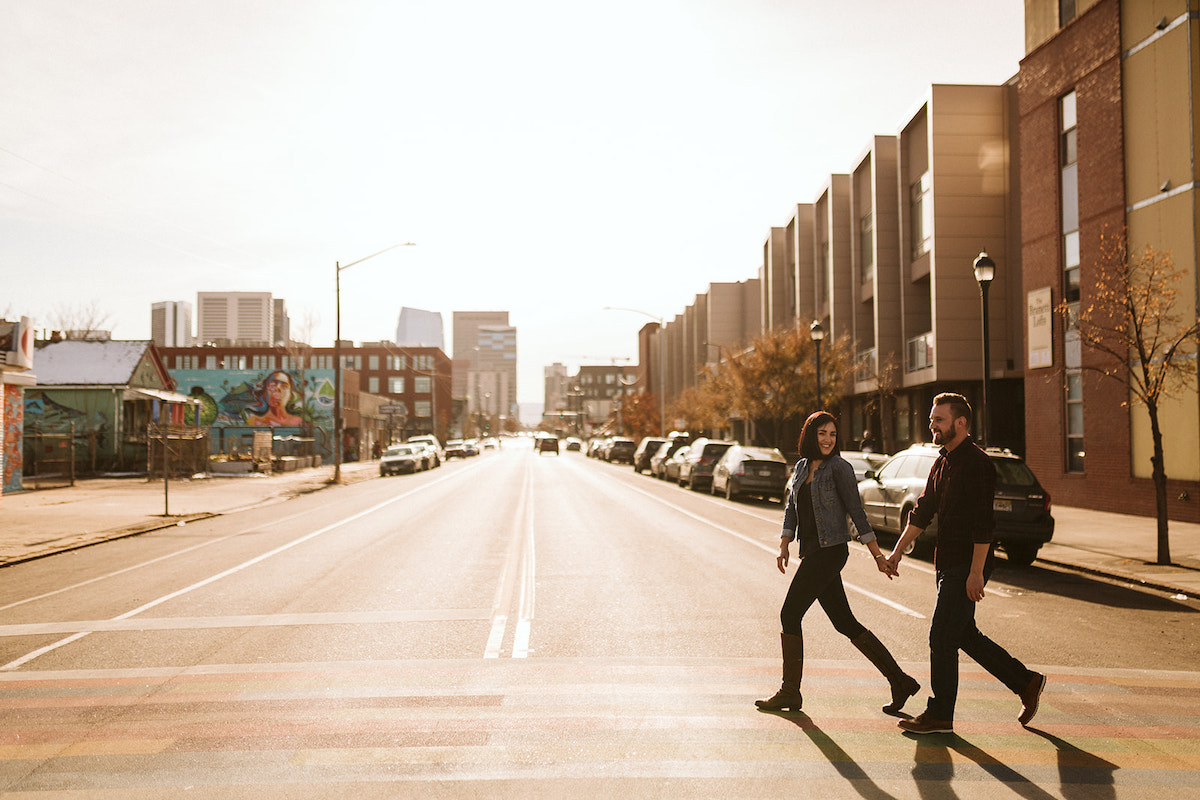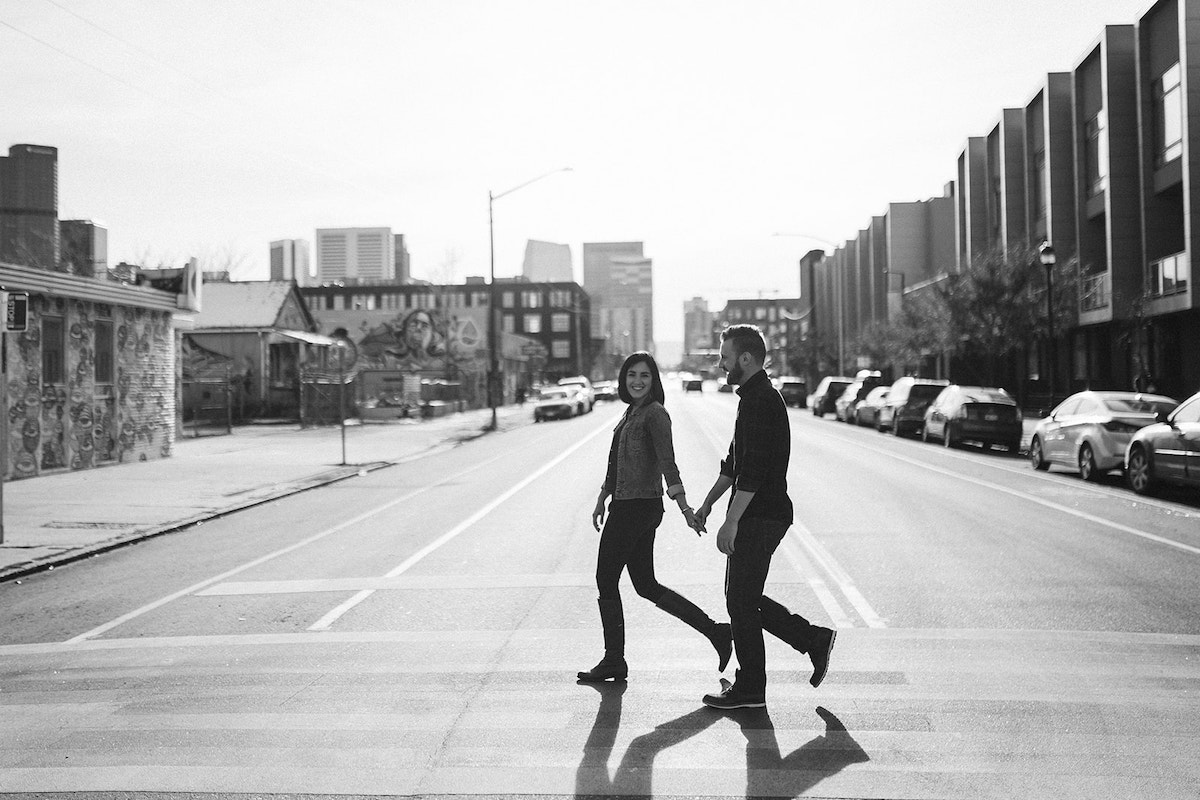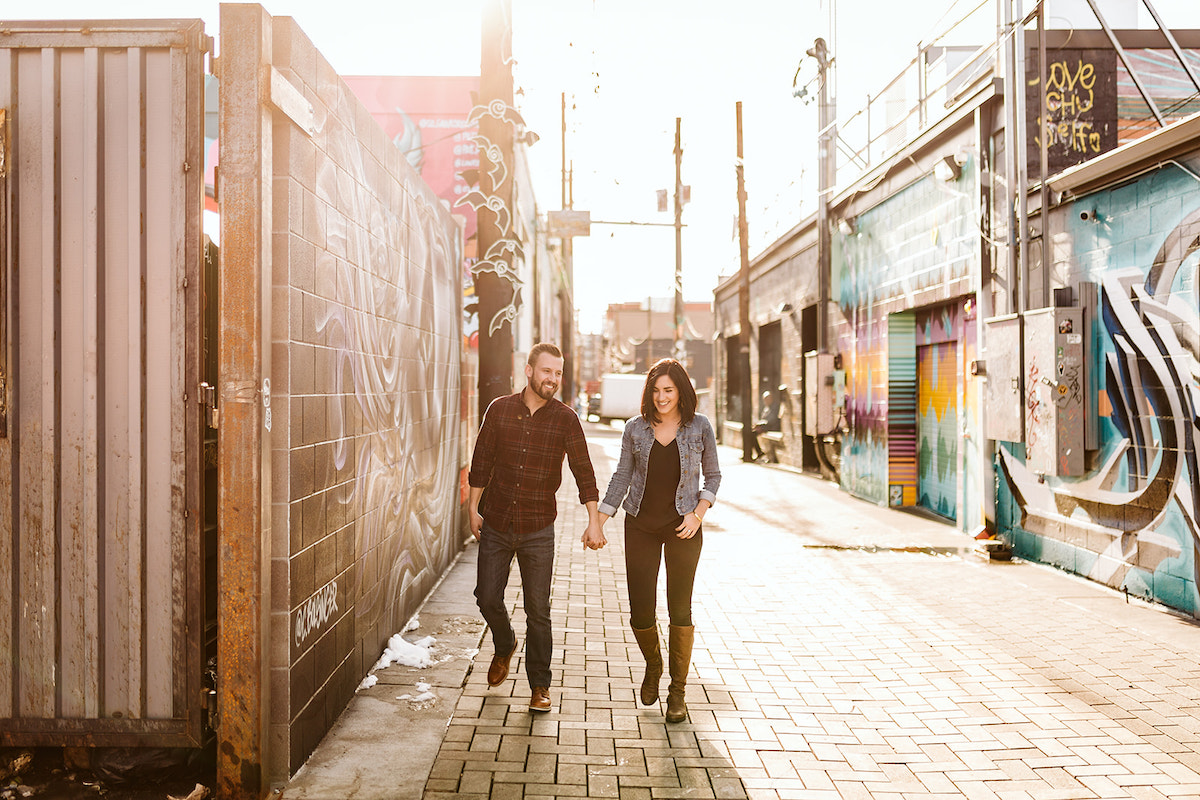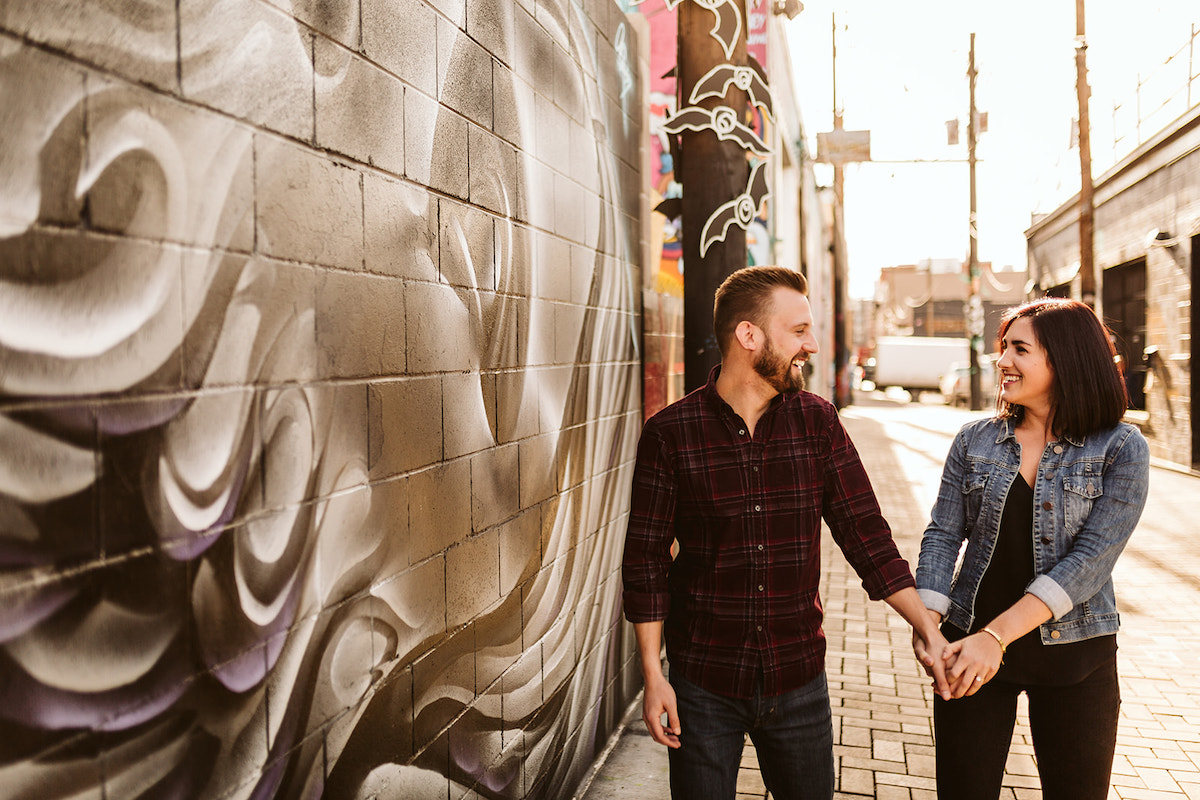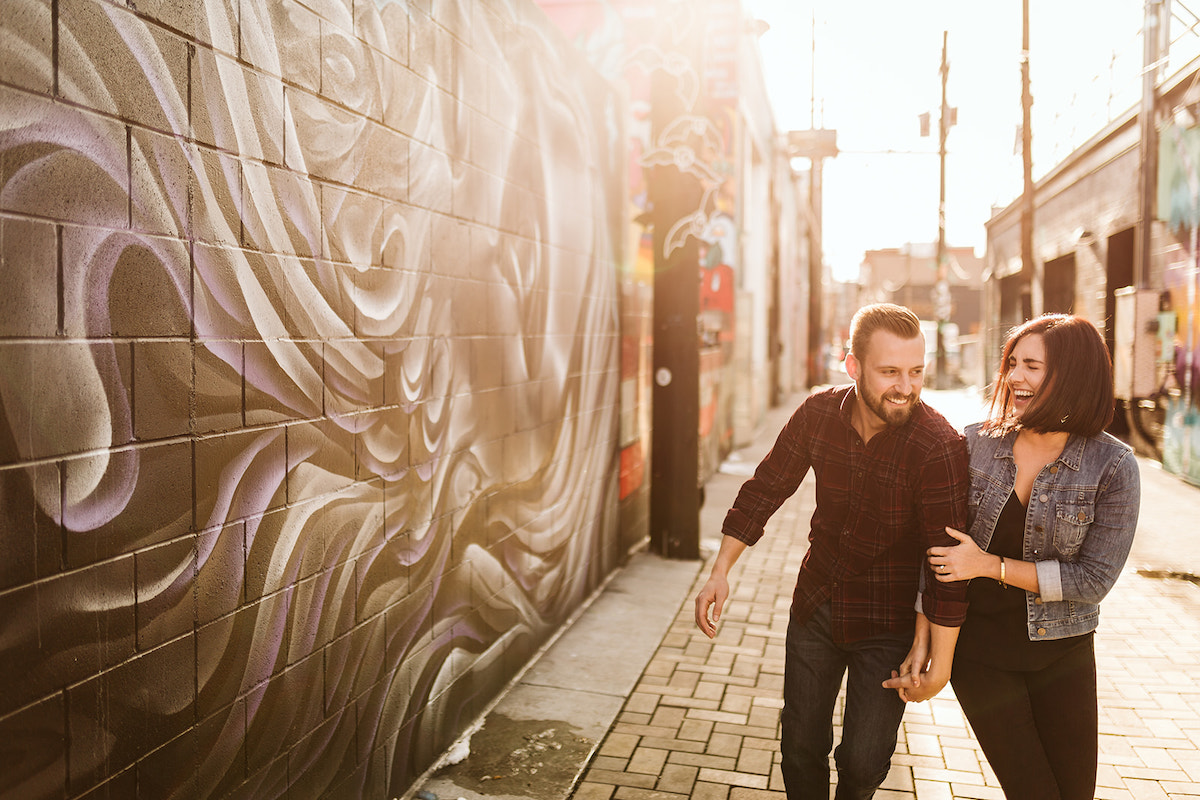 ENGAGEMENT PHOTOS IN DENVER'S RINO DISTRICT
Since Farrah travels a lot for work, she turned in some flight miles to fly me out to Denver for their engagement photos. I arrived a day ahead of the photoshoot to scout the area and check out where the good light would hit during their session. This is something I always try to do as part of my travel photography work! I was excited to document Andrew and Farrah in Denver's RiNo District. RiNo stands for River North, and this area of the city is being revitalized and has a really trendy vibe. It's becoming known as the art district of Denver. You'll find lots of cool restaurants, brewpubs, and art galleries here, and tons of colorful murals all through RiNo. So this area provided a cool, urban vibe for their engagement photos.
I enjoyed walking through the RiNo District so much I decided Farrah and Andrew's session should be a bit of a session on-the-go, too! I picked a few streets and alleys where I wanted to take the couple, and we stopped at some places that stood out to them, too.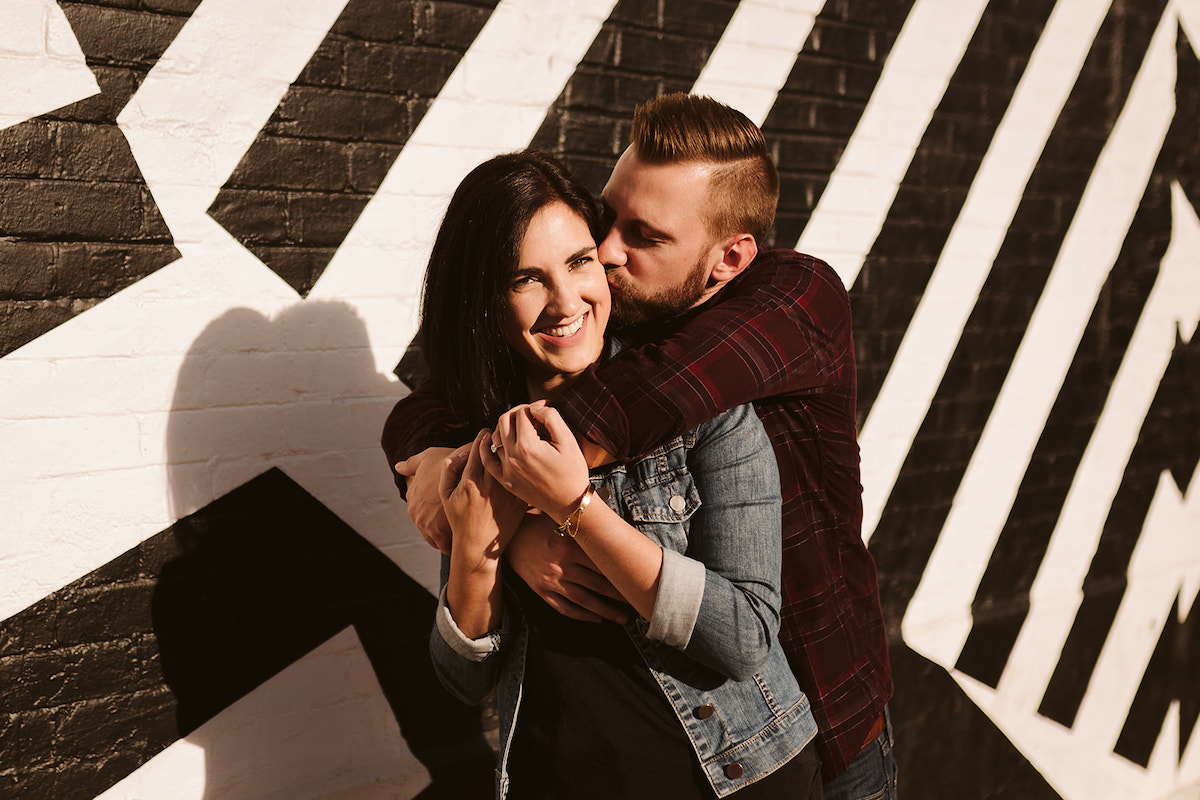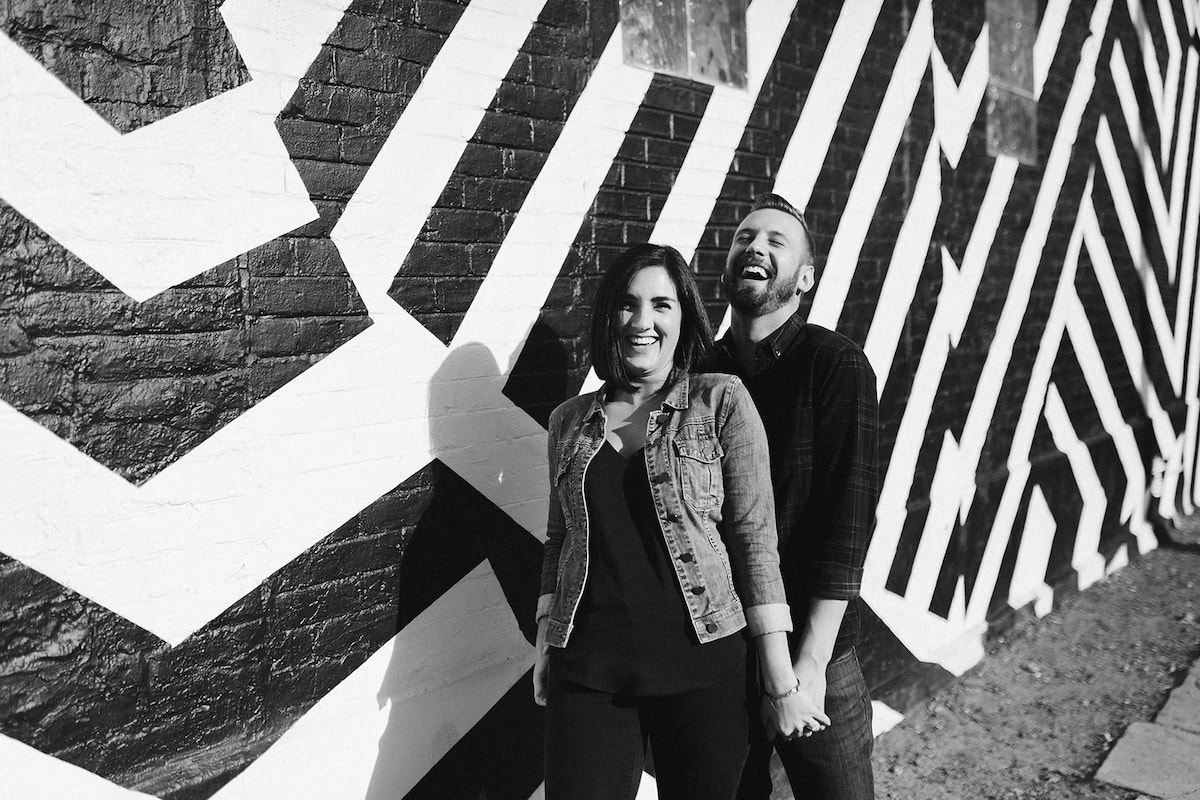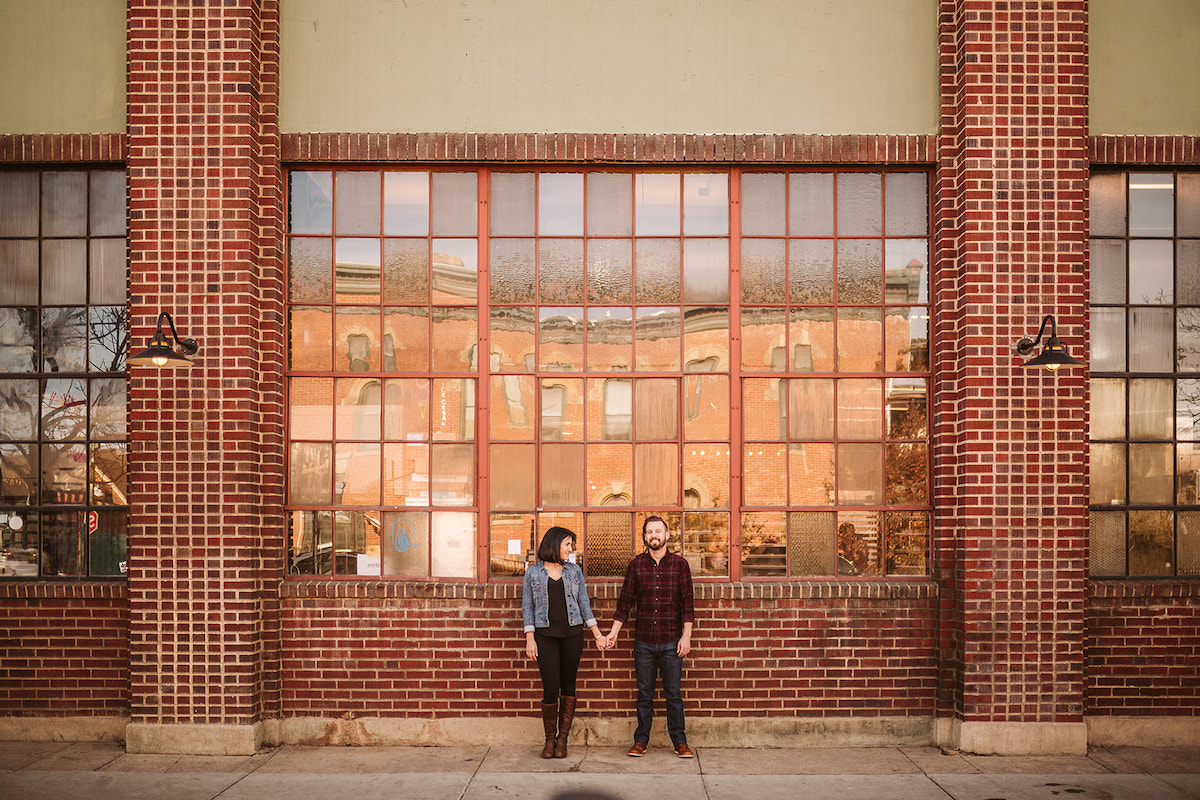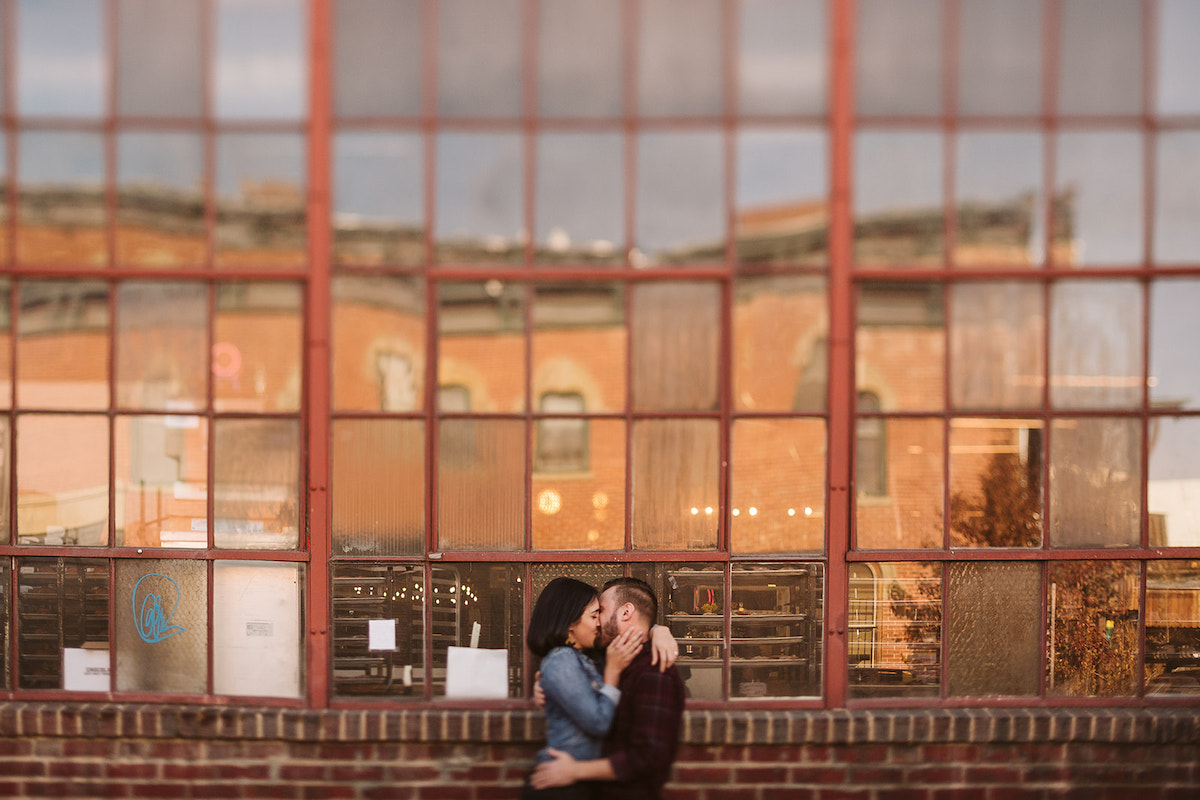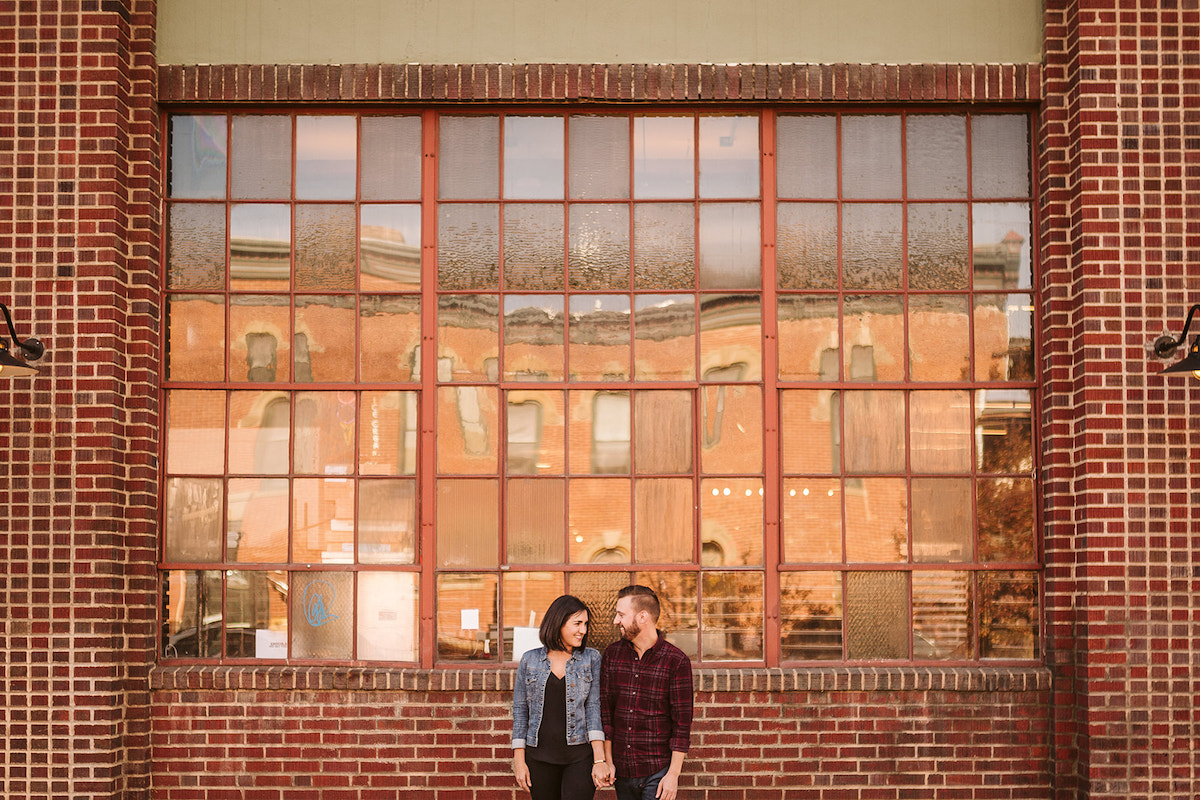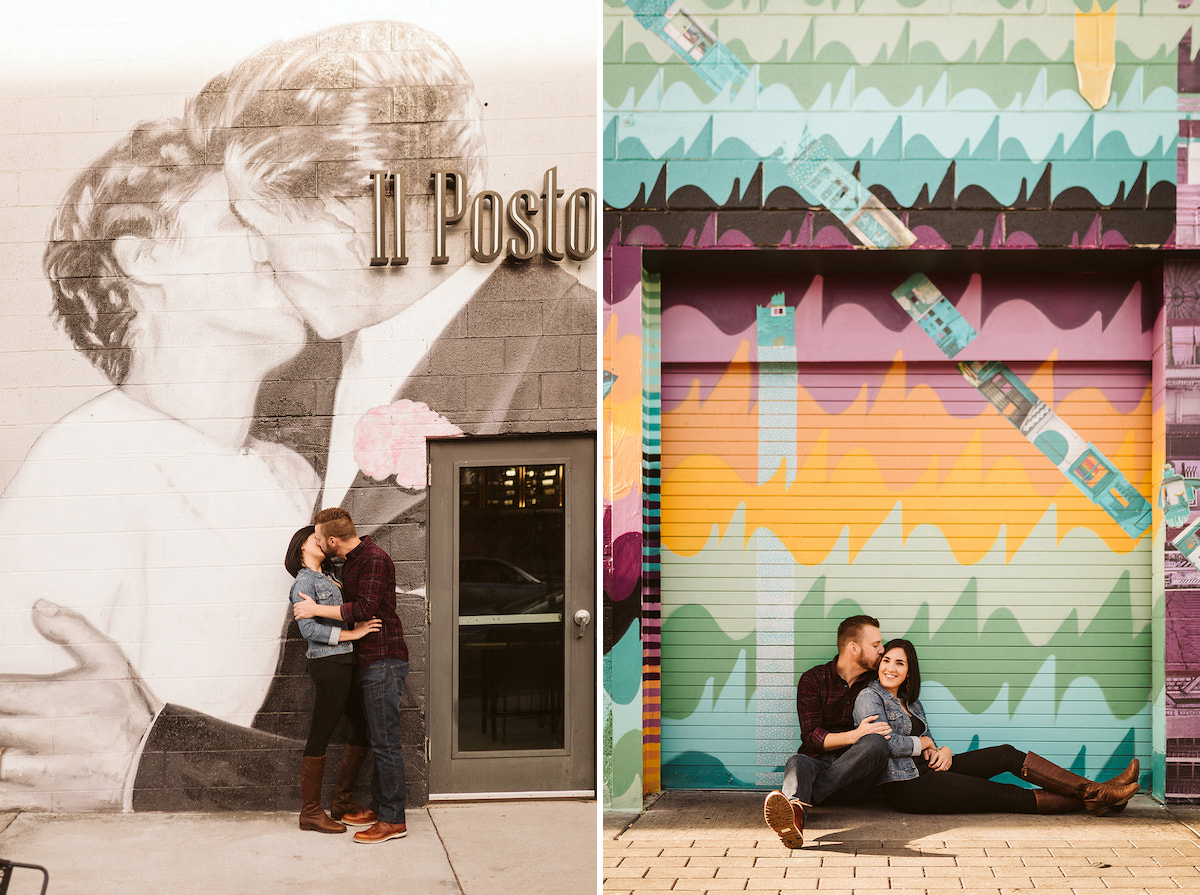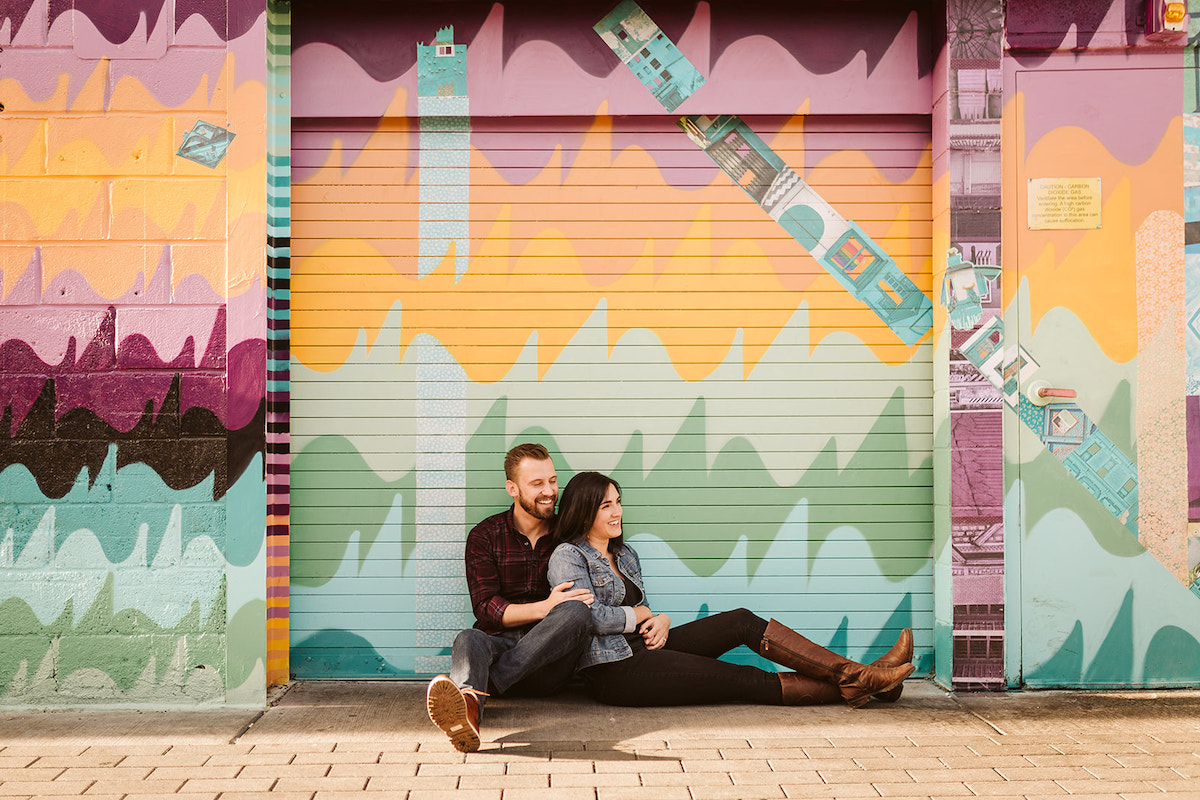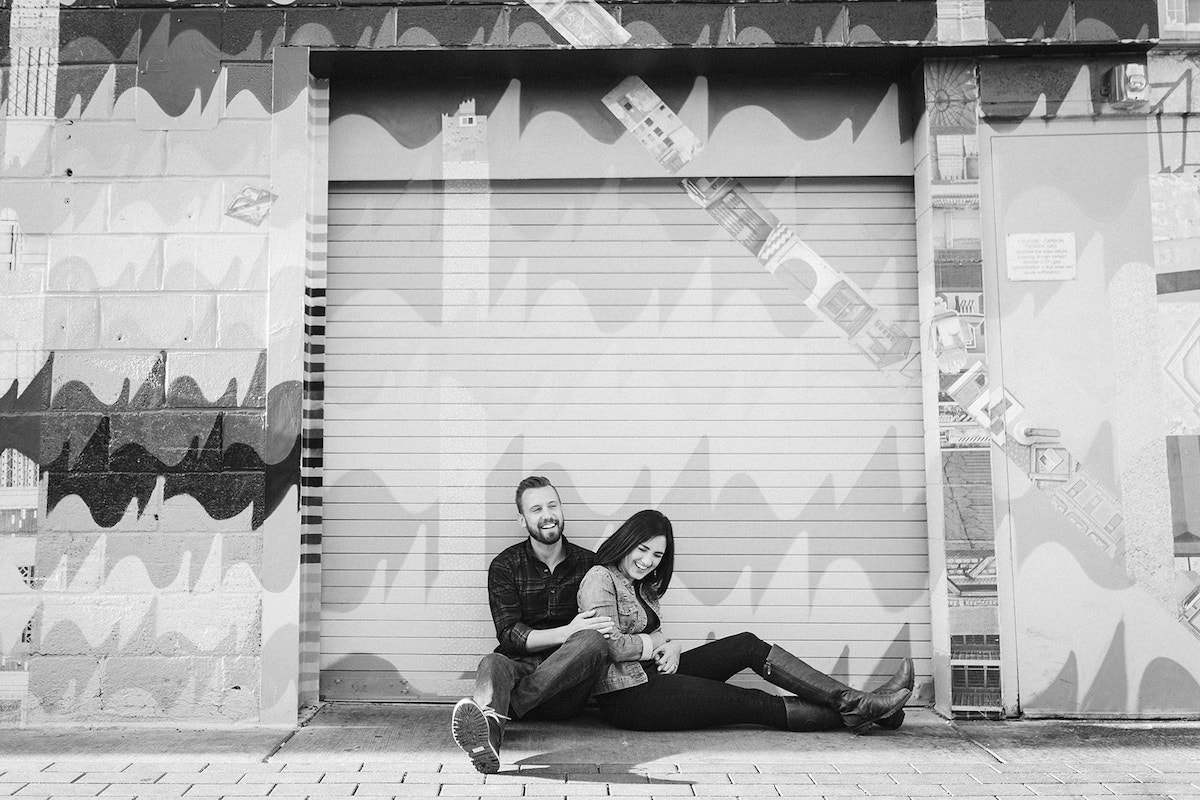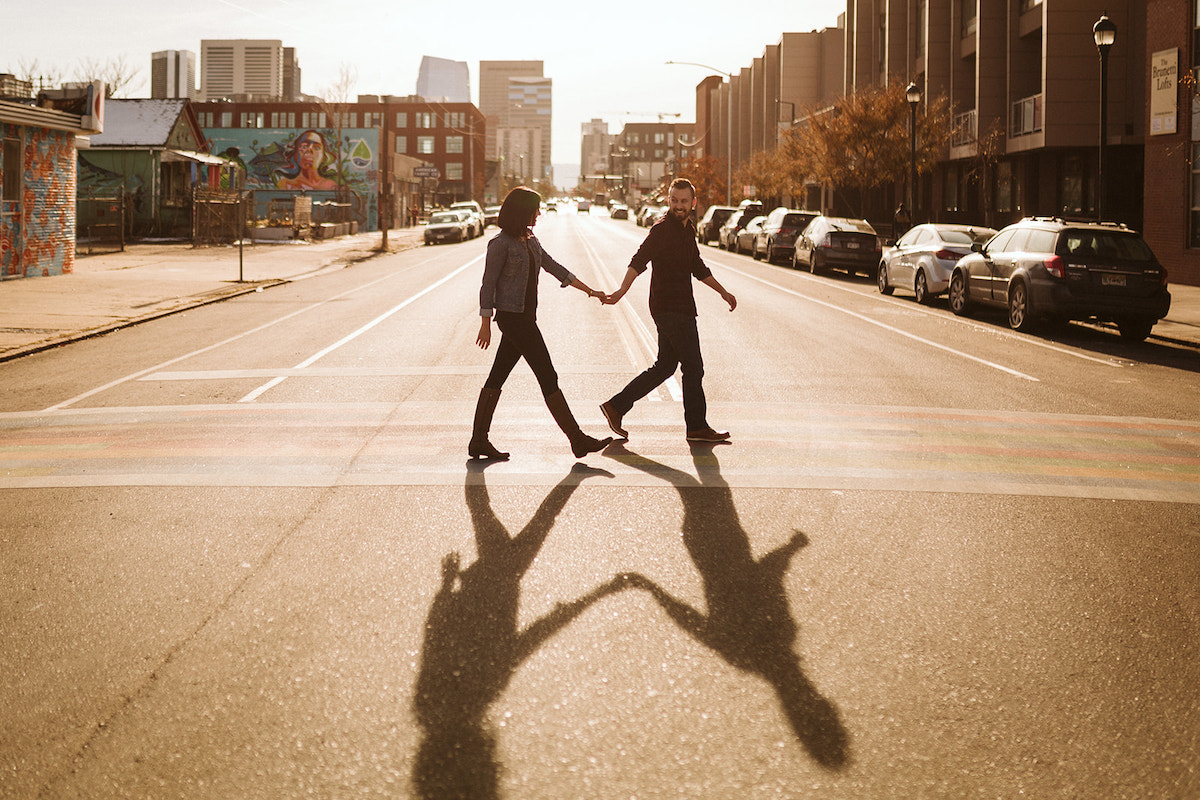 After we wrapped up in Denver's RiNo District, we drove up Lookout Mountain outside of the city. If you're a Chattanooga local, you'll know that we've got a Lookout Mountain here, and Andrew and Farrah are actually getting married in Lookout Valley later this year! Ha! We kept laughing that they'd have engagement photos on Lookout Mountain in Colorado and wedding photos on Lookout Mountain in Tennessee. Can't make this stuff up!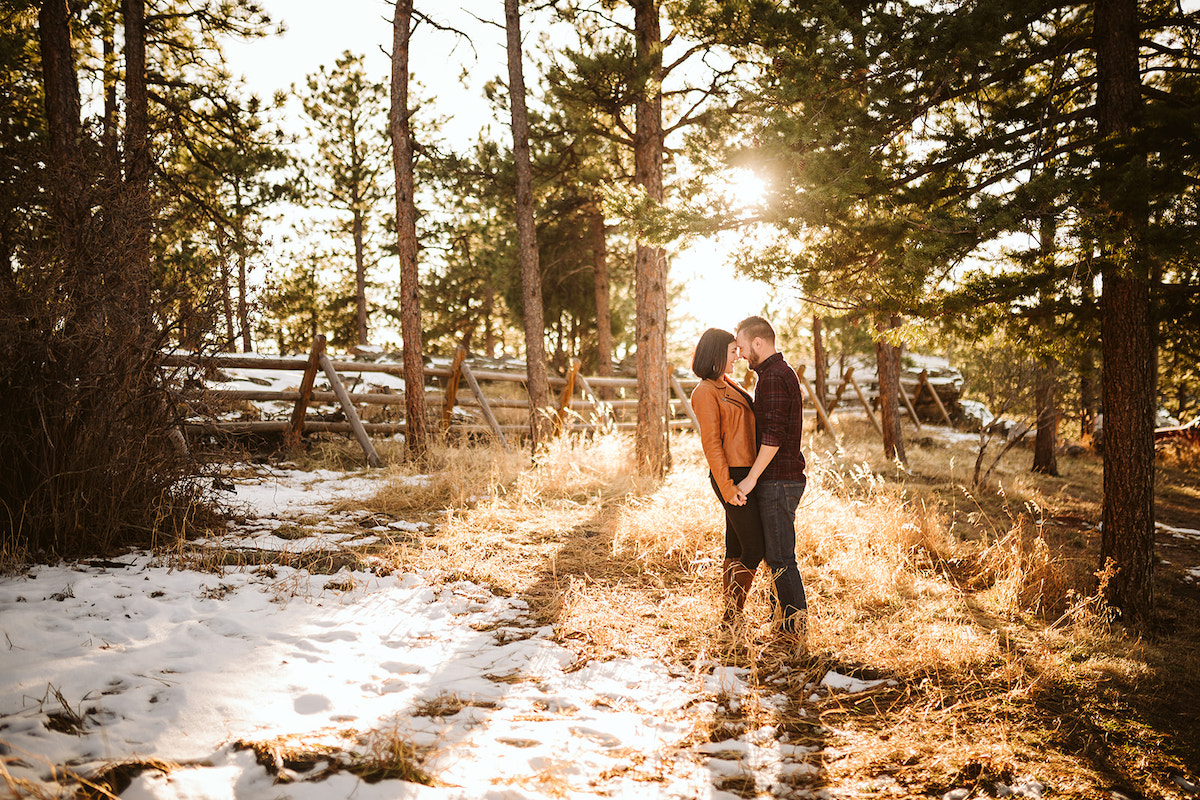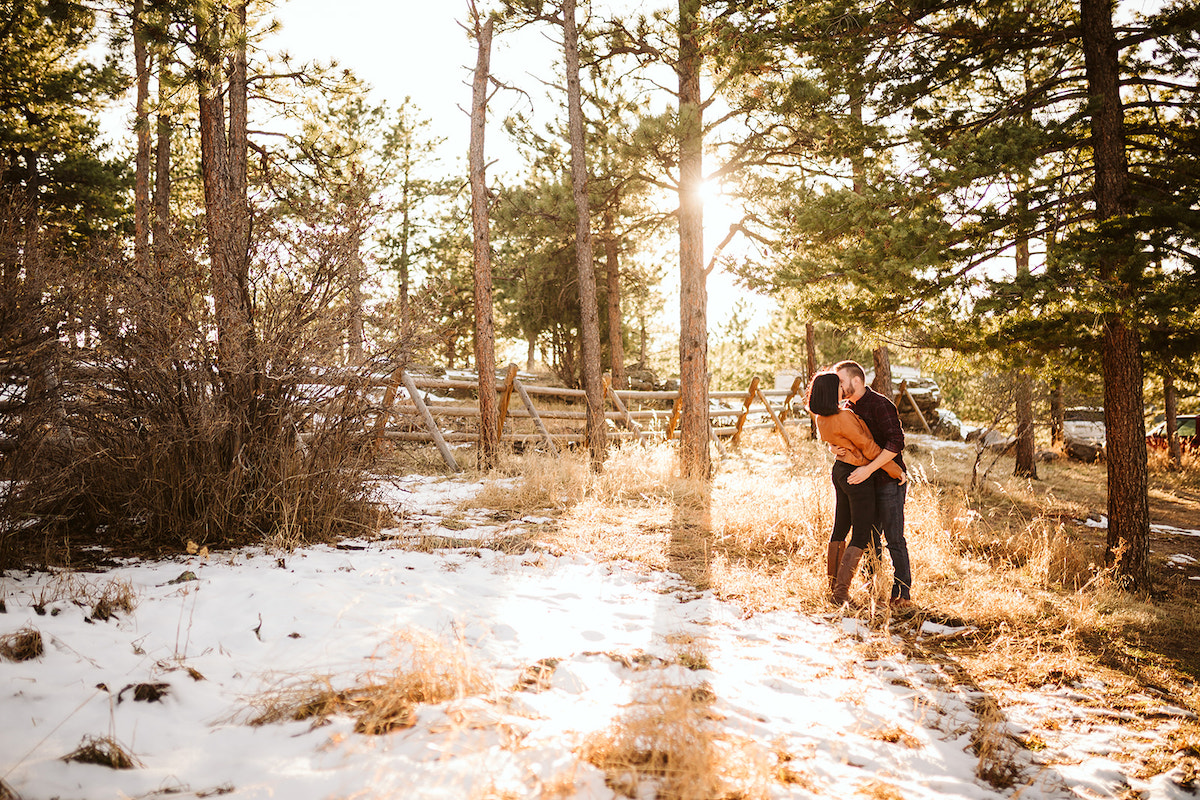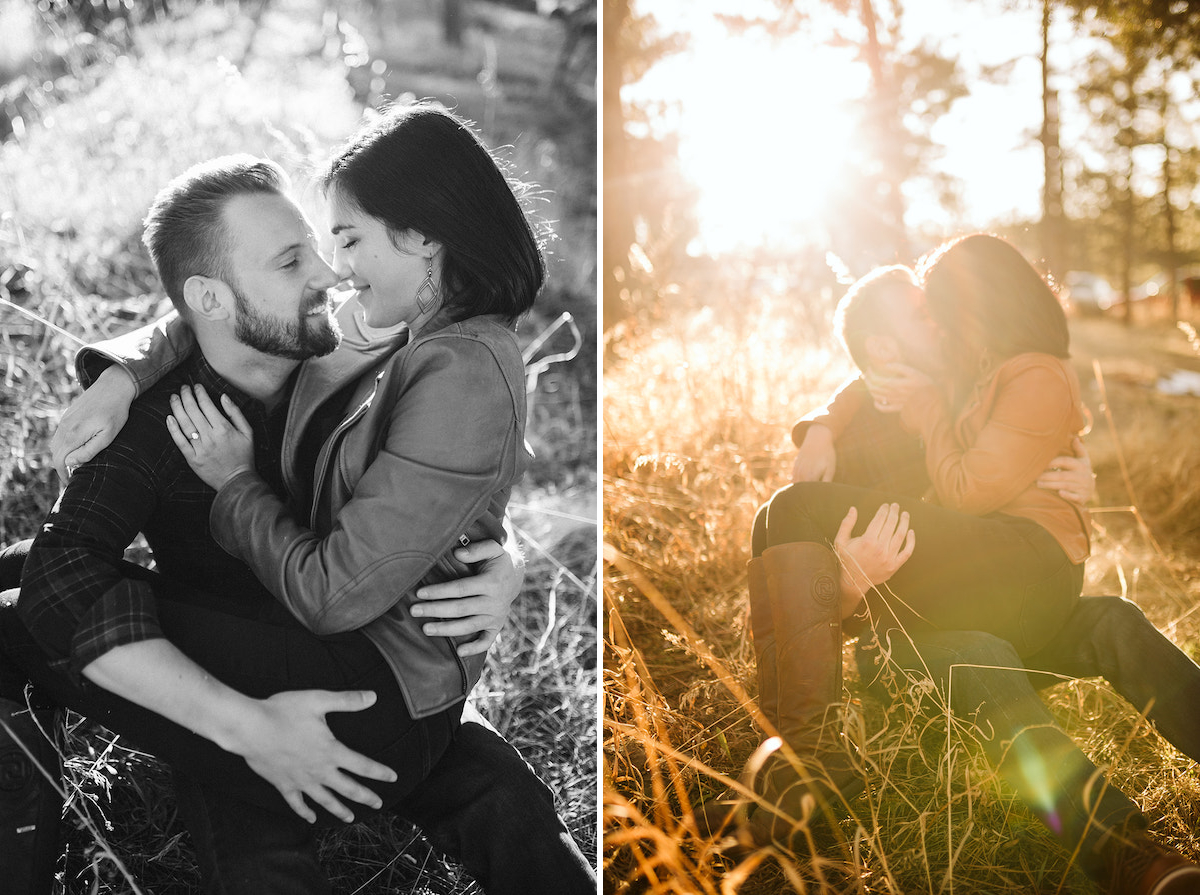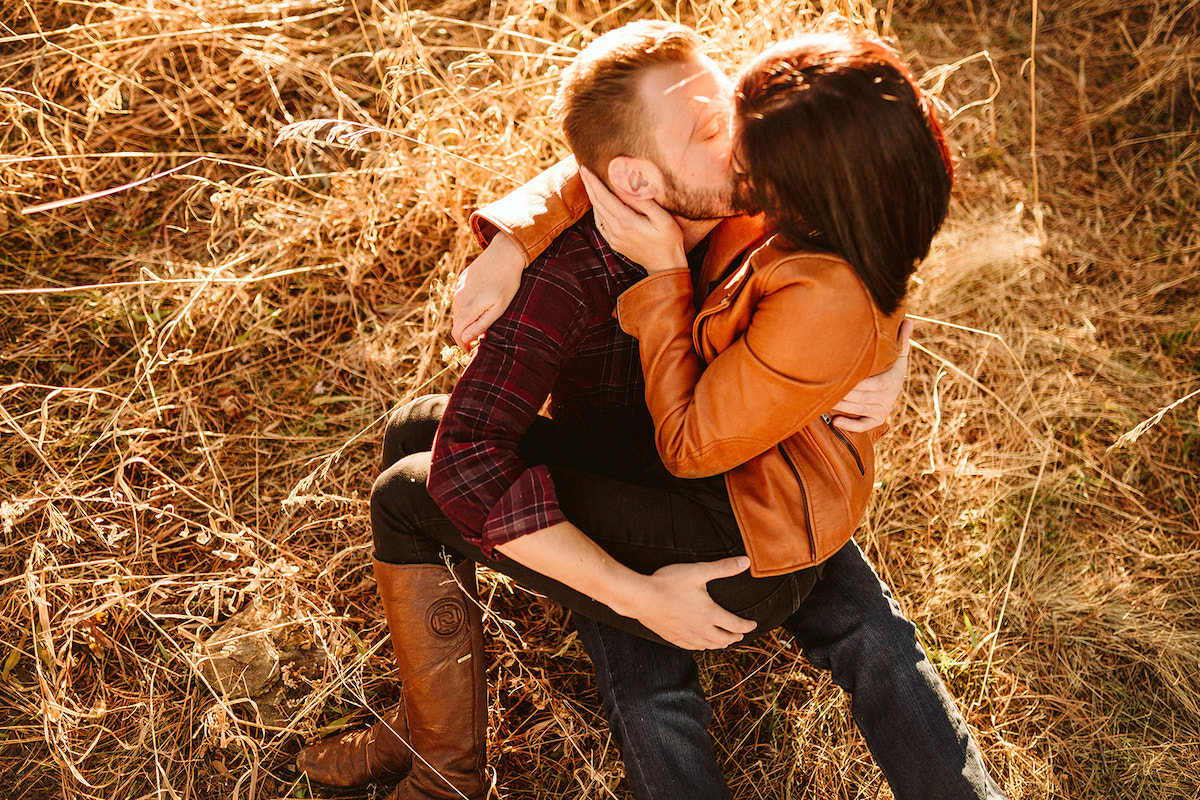 #ItsAJeepThing
For engagement sessions, I invite couples to bring something that's special to them or something that is part of their everyday life together. Lots of people bring food or a pet, but Farrah and Andrew wanted Andrew's Jeep Cherokee Trailhawk incorporated into their photos. The couple has really bonded over road trips and camping trips in their car. Andrew even proposed in it! It's been a huge part of their relationship, and I love that they see it as a way to continue adventuring together in the future.
Another thing they brought were DINOSAUR SOCKS. Remember that "Rawr! It means 'I love you' in dinosaur" meme? Sometimes when they're in a hurry, Andrew and Farrah will text each other a dinosaur emoji as a quick "I love you." A moment please to acknowledge how super cute and quirky this is.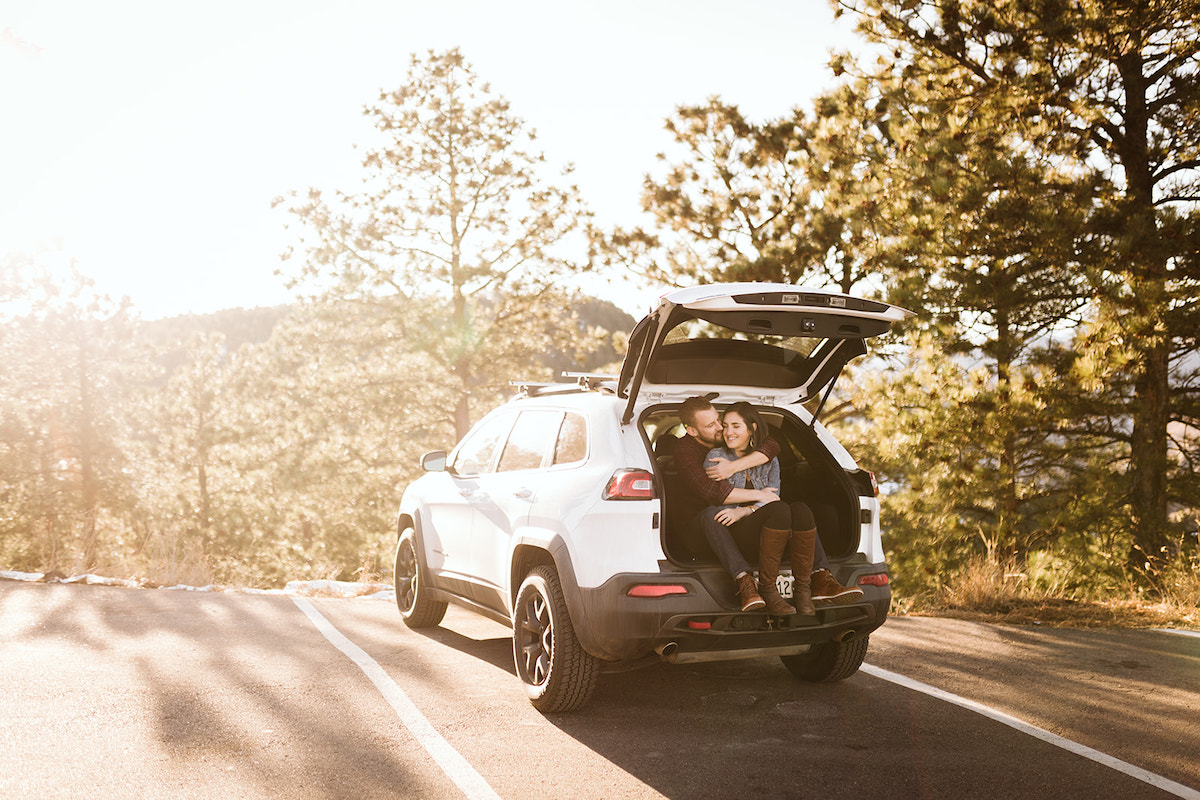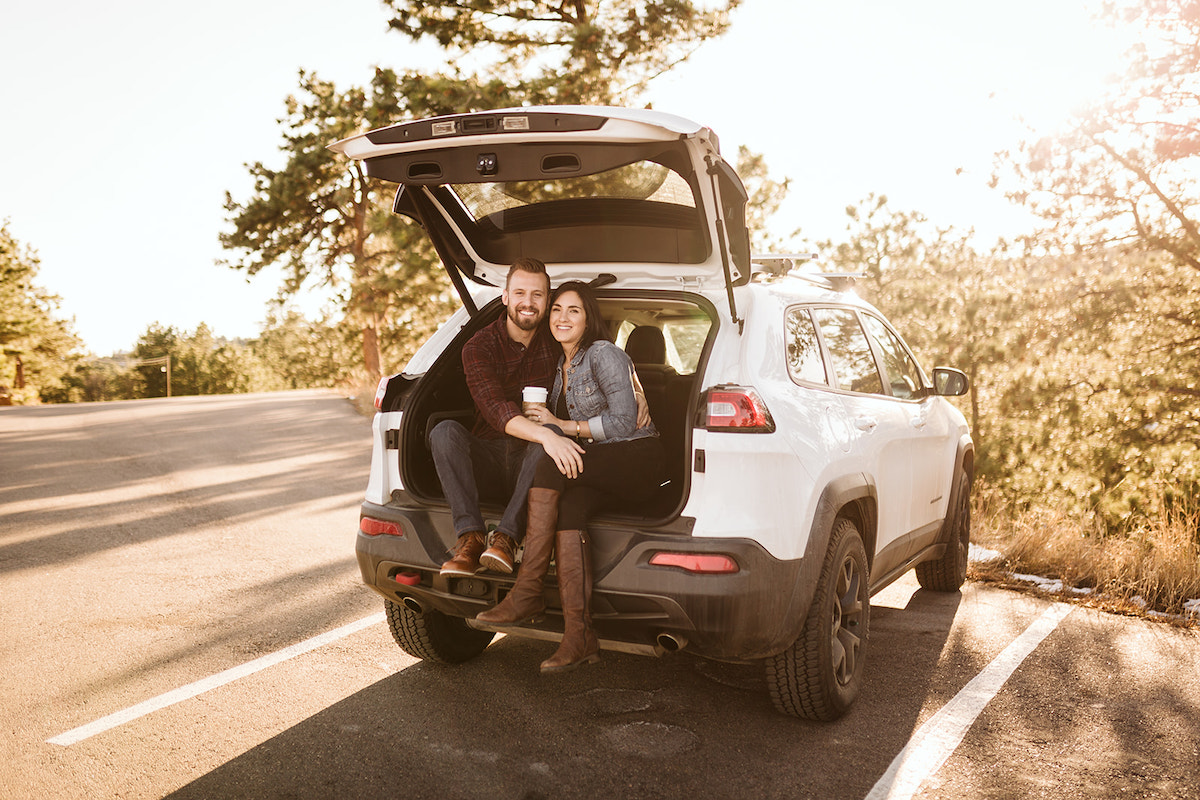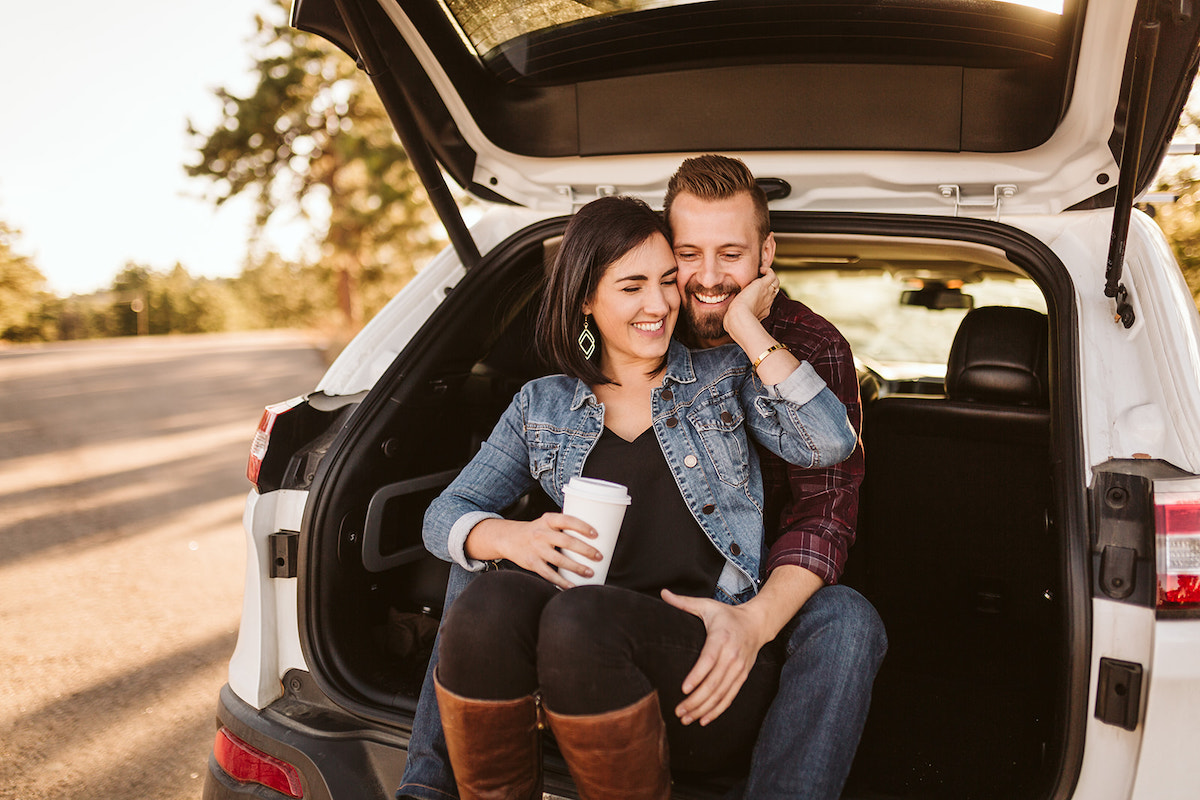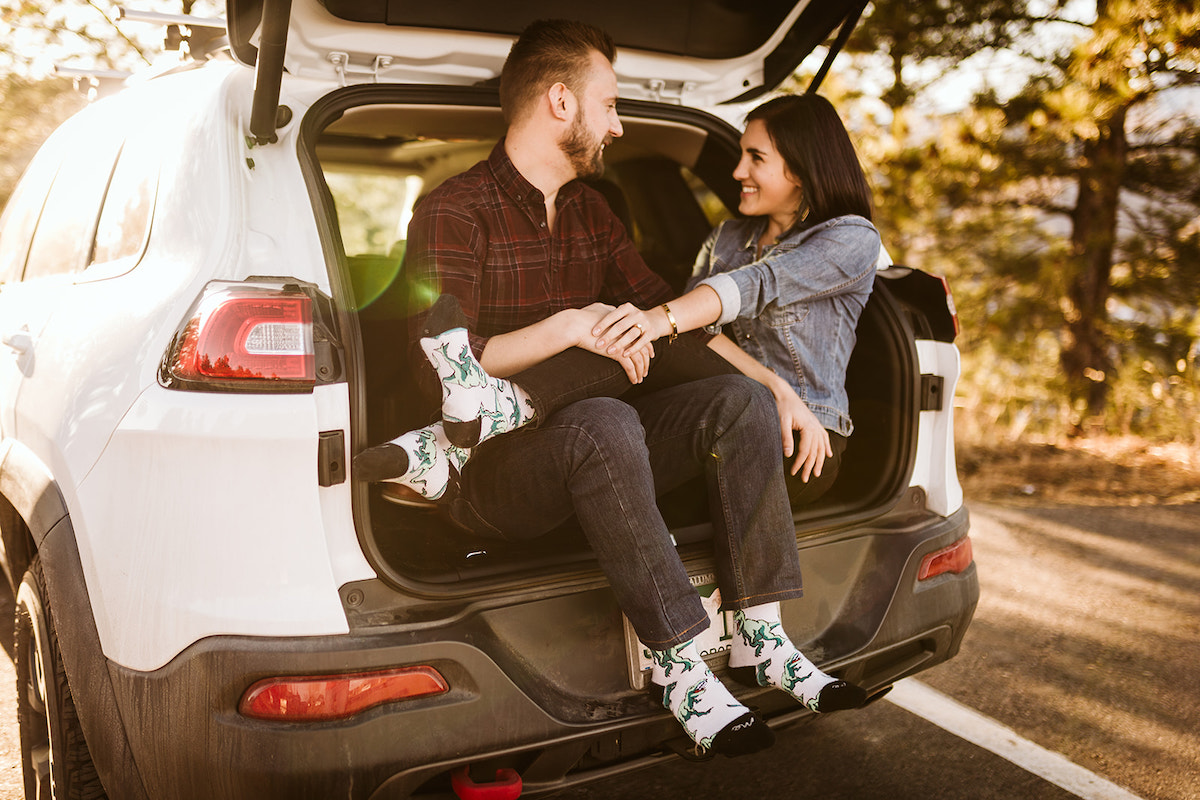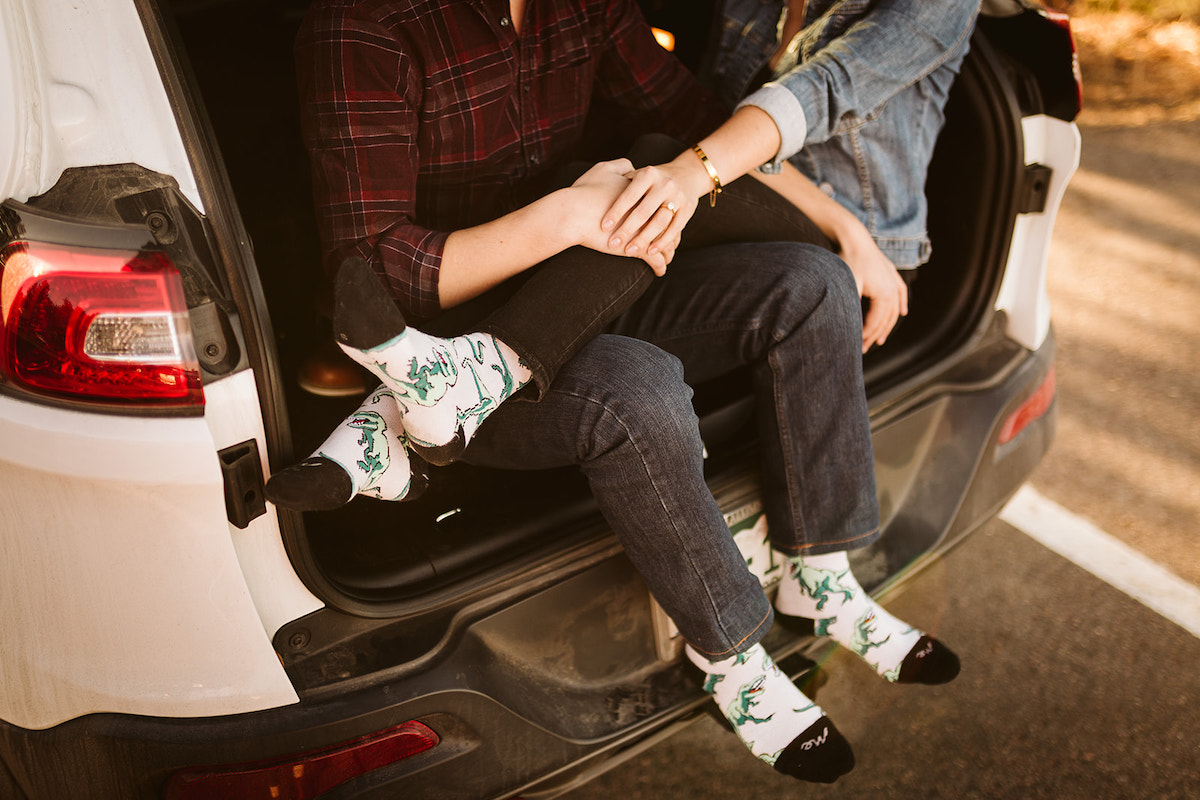 DENVER, CO LOOKOUT MOUNTAIN ENGAGEMENT PHOTOS
Following engagement photos with Andrew's Jeep, the couple did a quick outfit change at a coffee shop up on Lookout Mountain. Then, I took some photos of Farrah and Andrew against some of their favorite mountain views. Not downplaying Chattanooga's Lookout Mountain views one single bit, but these Colorado mountain views are jaw-dropping! We hit the jackpot with golden hour and blue hour (right after sunset), and these two are absolutely gorgeous in their Denver mountains.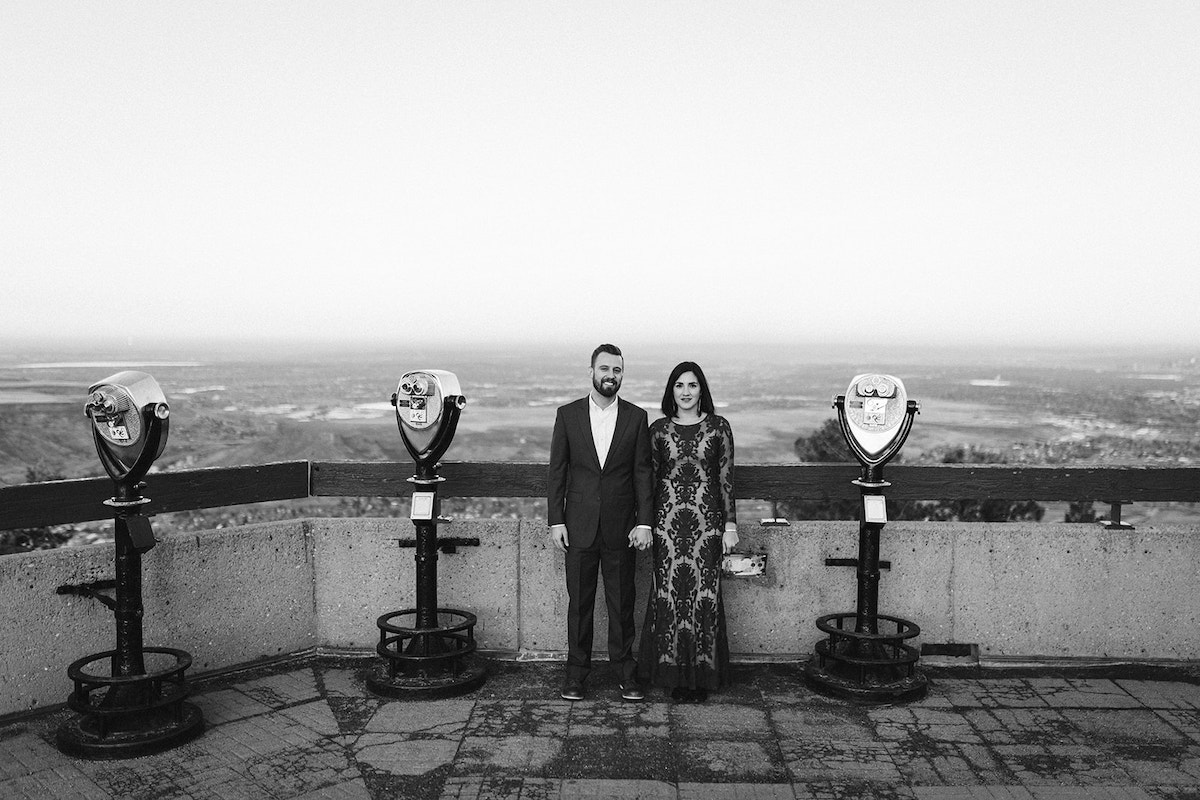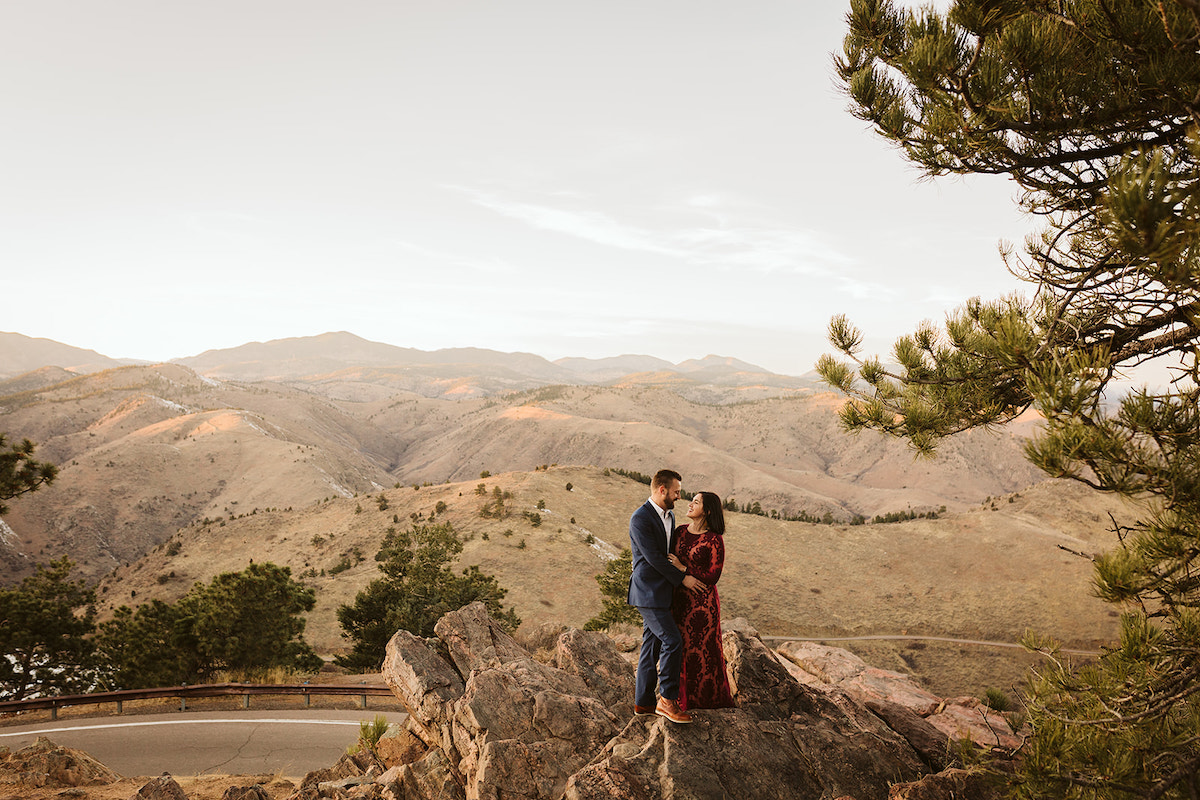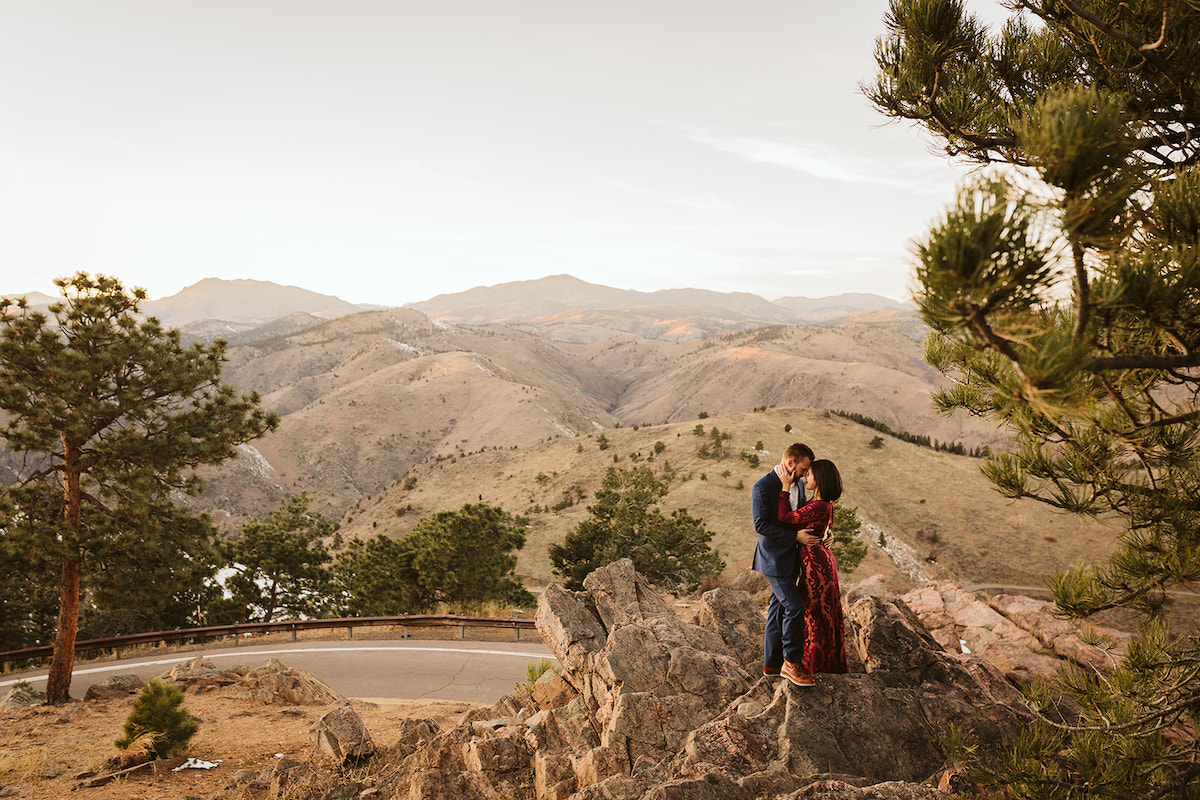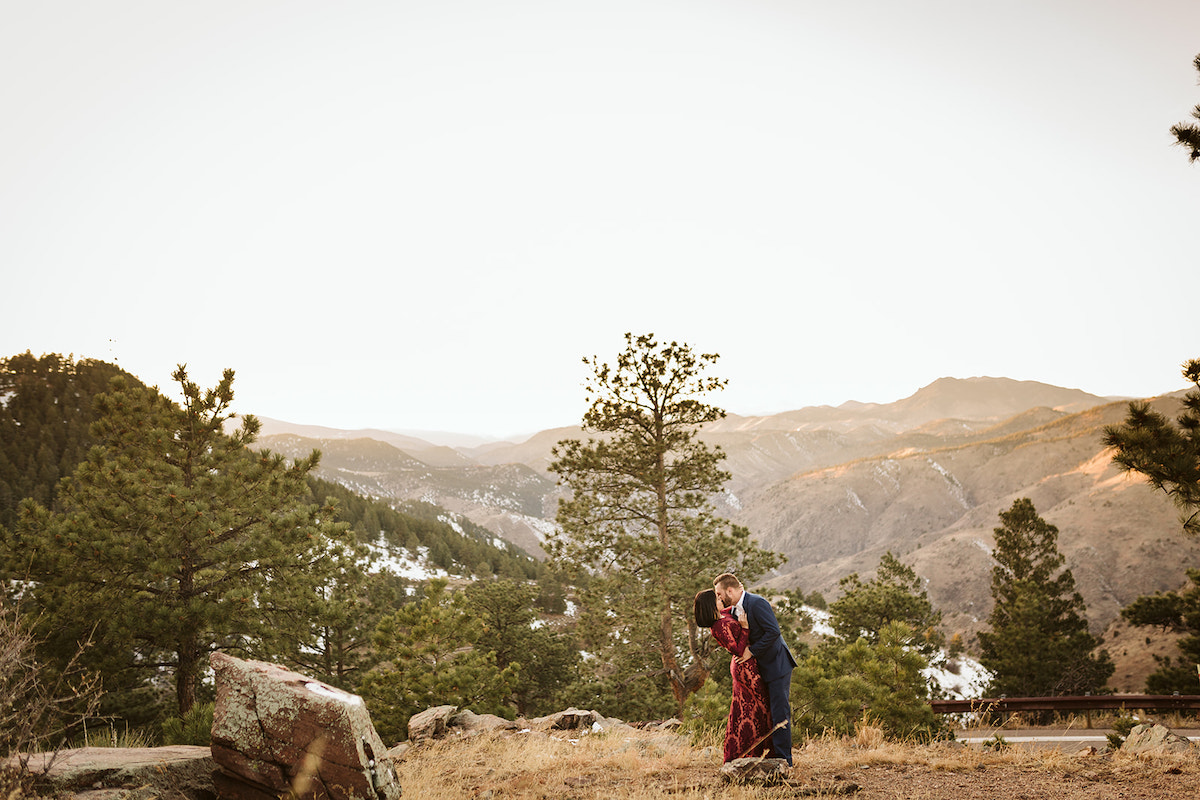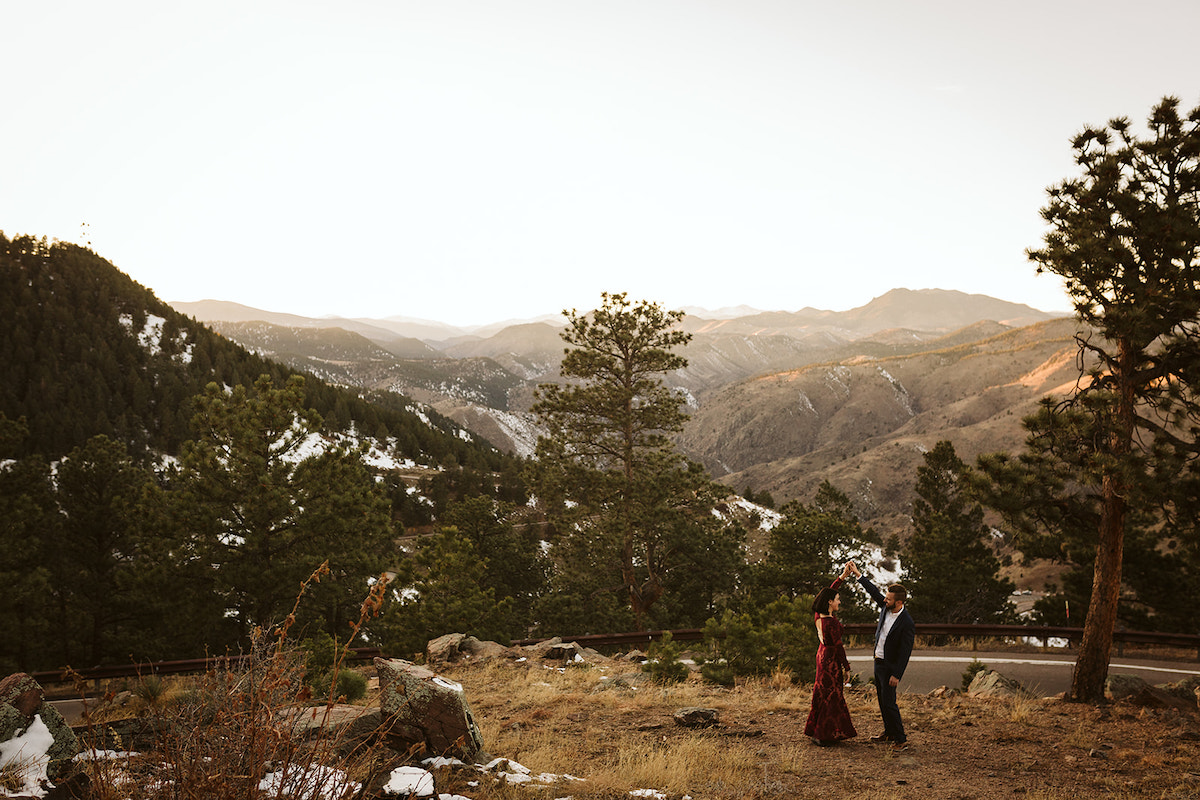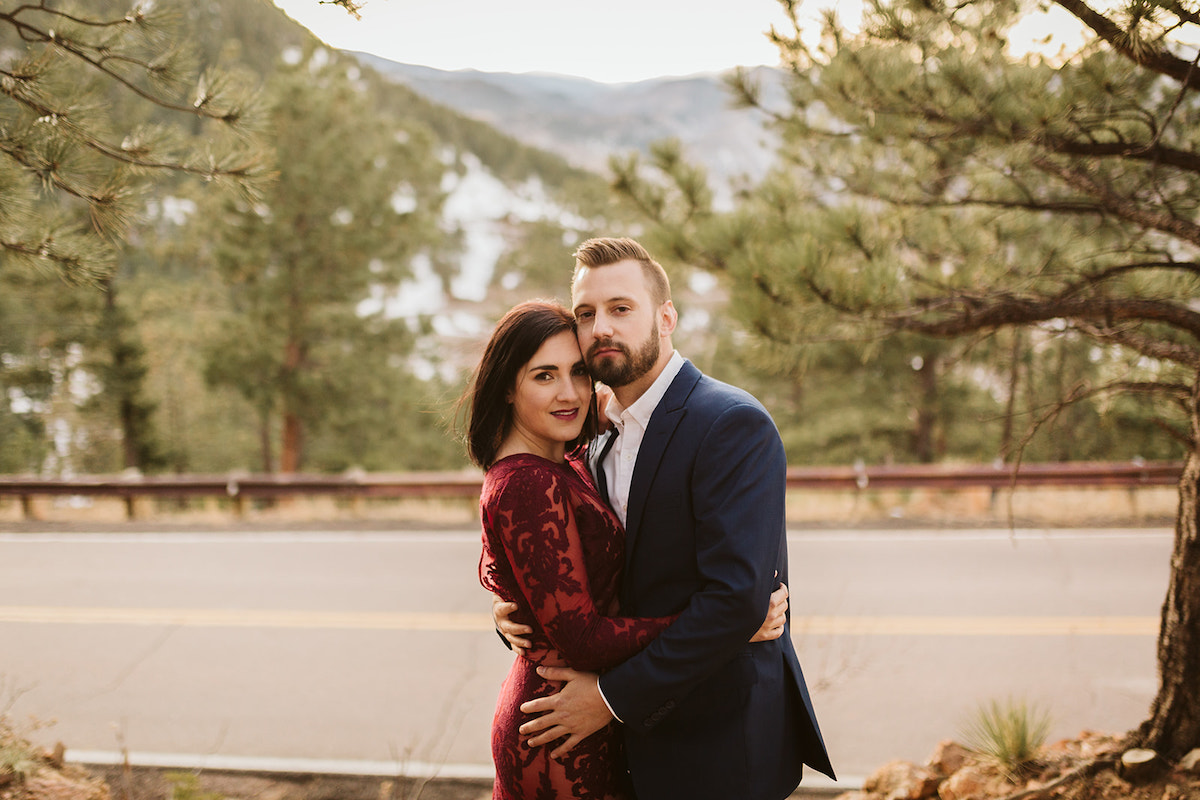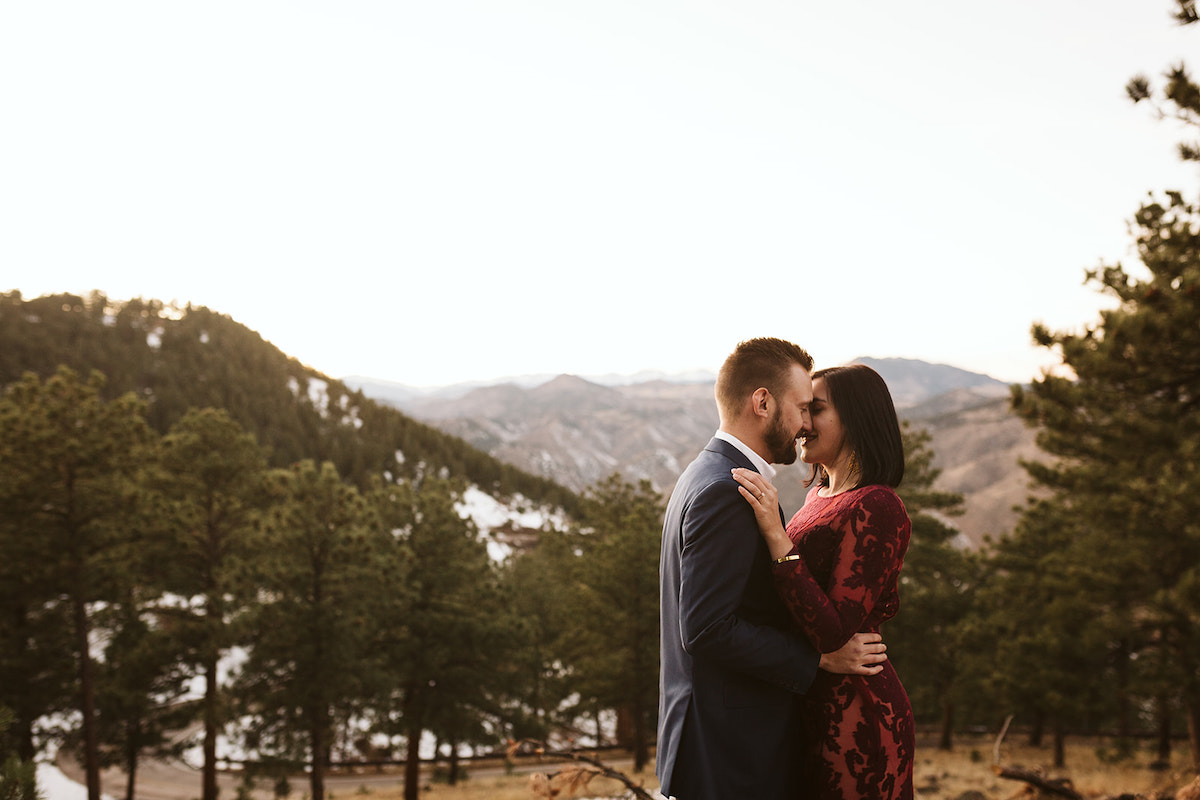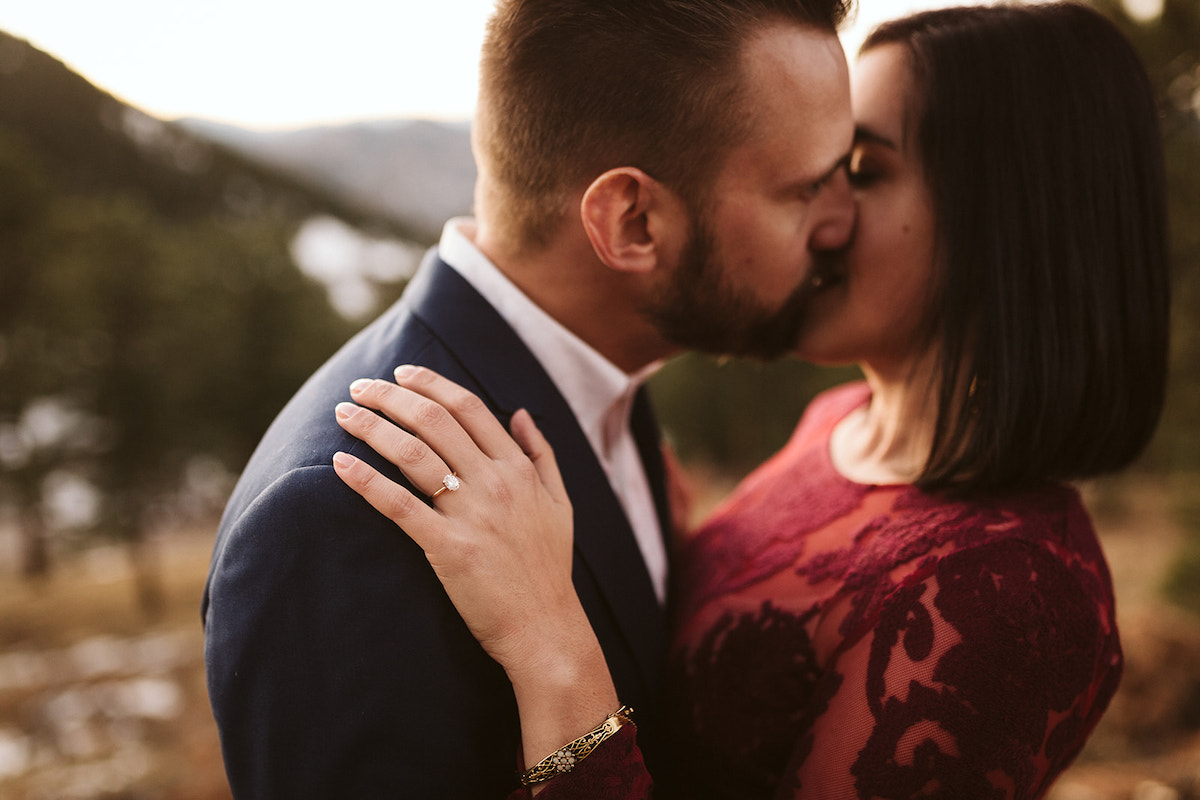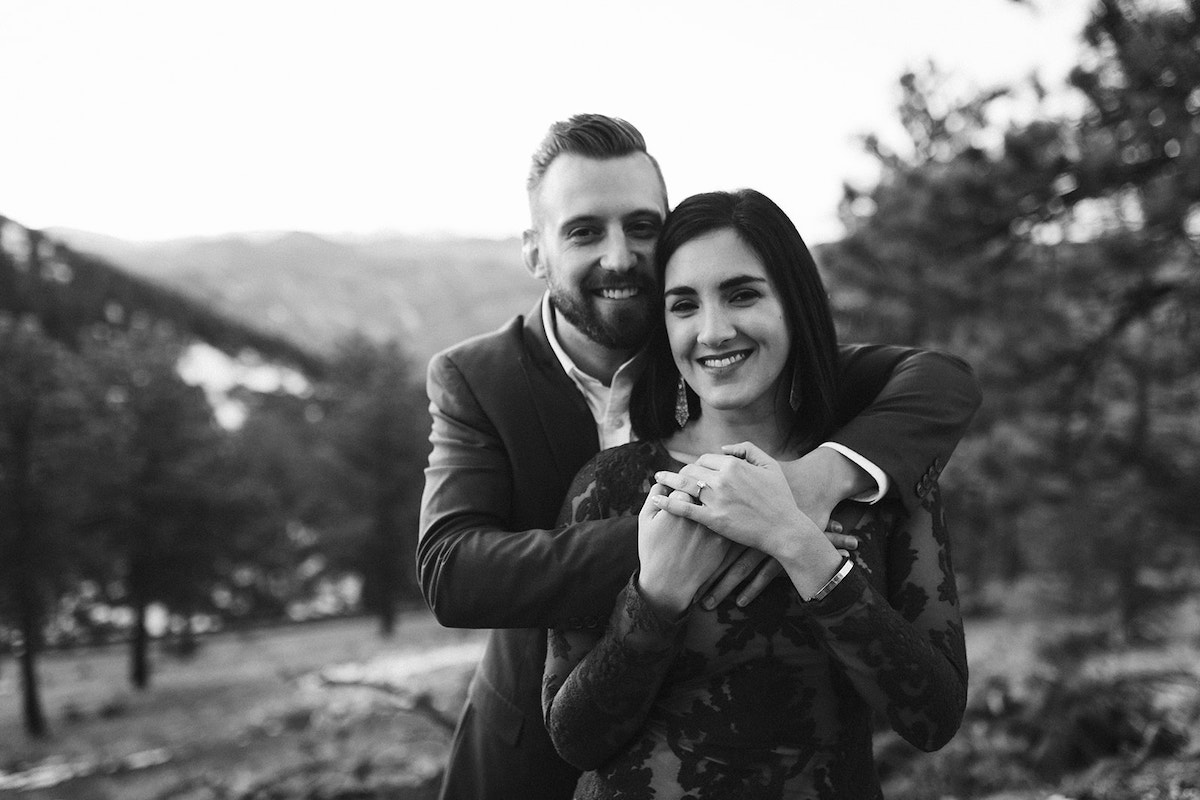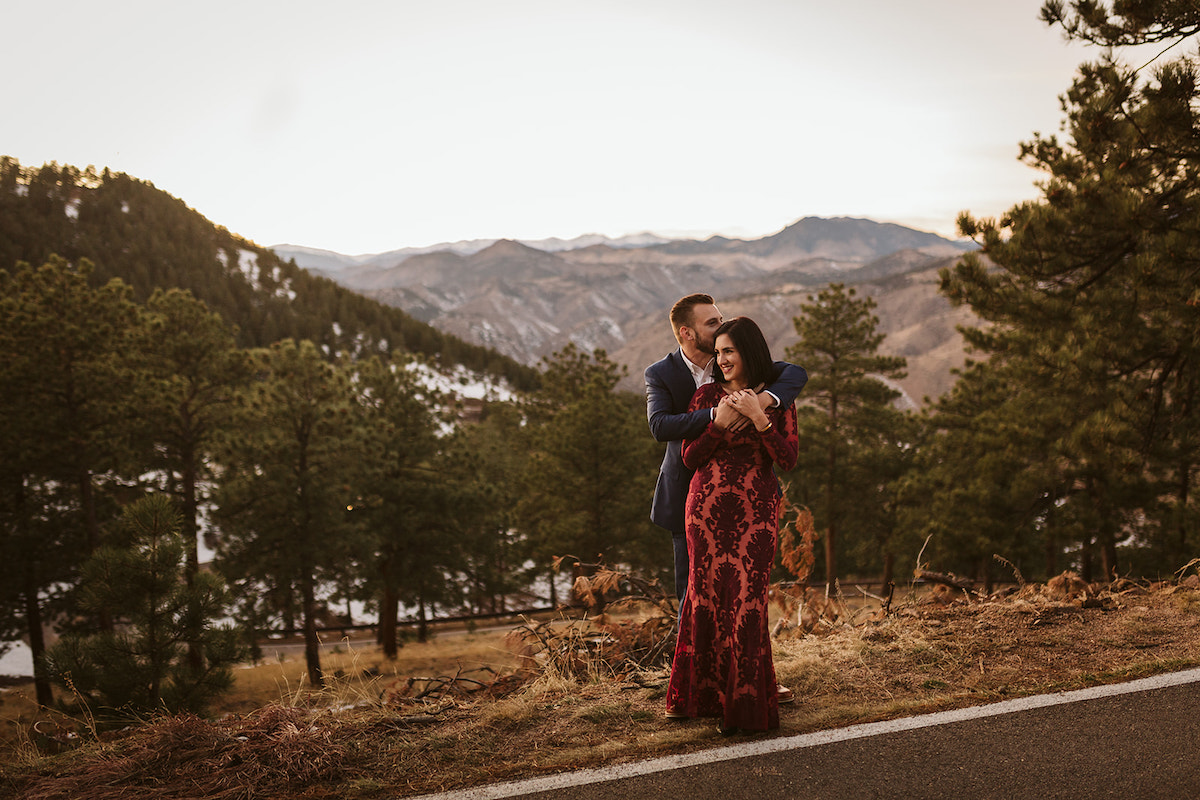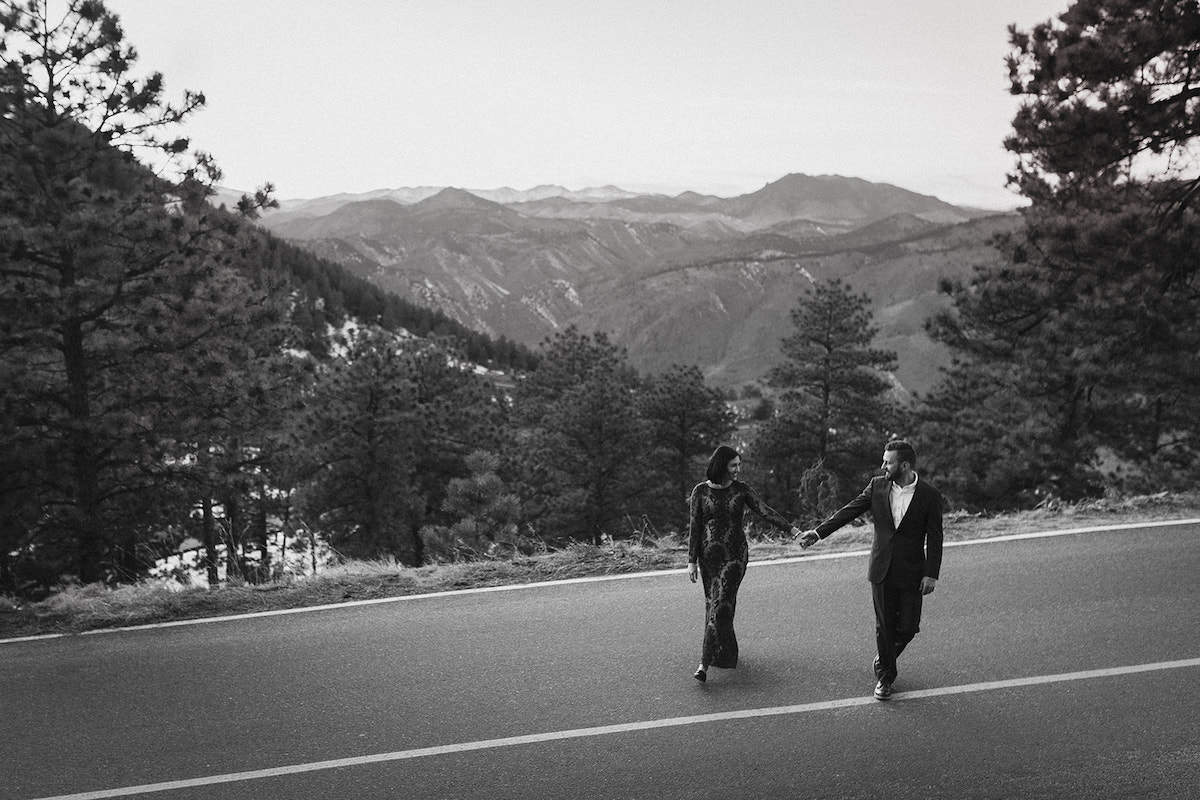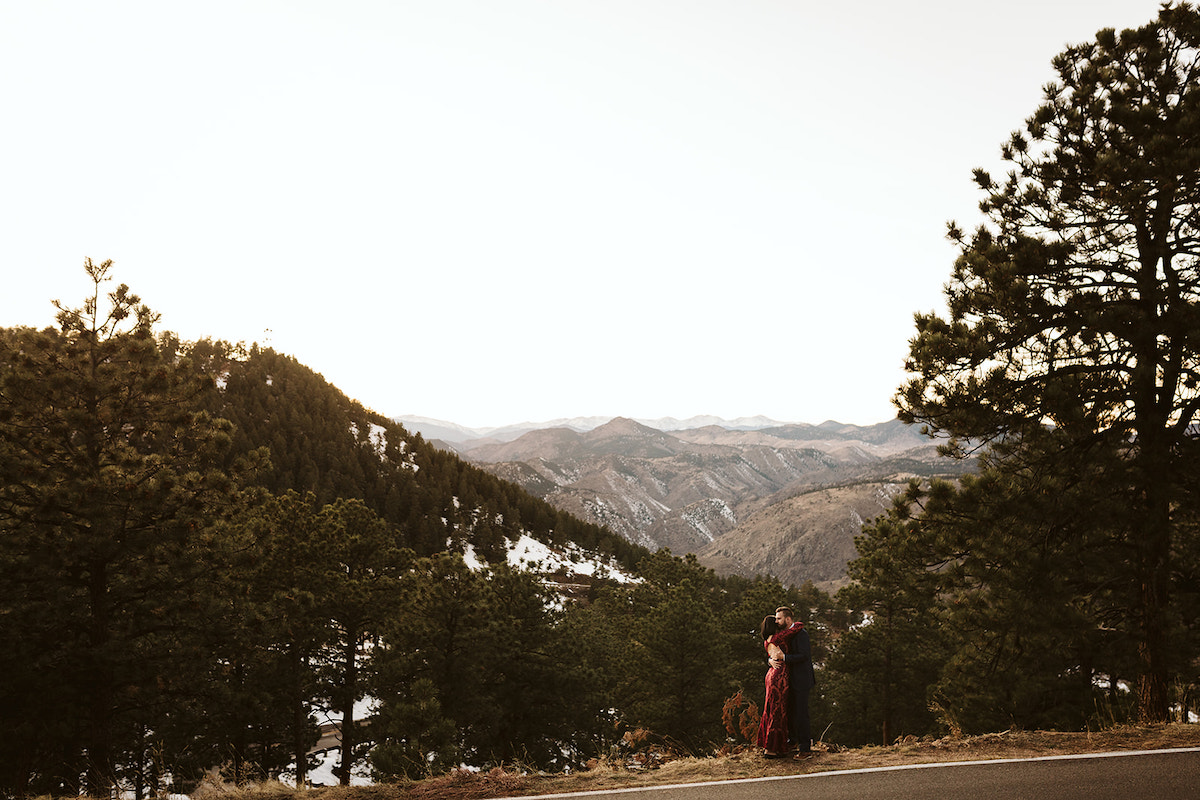 After wrapping up their photos on Lookout Mountain, we drove into town, grabbed tacos and margaritas, and just hung out. We used this time to finish planning their wedding timeline, and I shared a few Chattanooga vendor recommendations. I really like being able to help couples in this regard and share some of my own wedding expertise!
Andrew and Farrah, I loved getting to hang out with you in the Denver area! Thanks for bringing me out for your engagement photos. I can't wait for your wedding in Chattanooga later this year!
---
Did you know my most frequently booked wedding photography package includes an engagement session?! Professional engagement photos are a great opportunity for you to get used to being in front of a camera. Whether you want formal or relaxed portraits, this session allows for a photoshoot without the additional pressure of the wedding day timelines and busyness.
Whatever your vision is for your engagement session or your wedding, I'm here to capture the details. As your wedding photographer, I know just how much this day matters to you, and I am so excited to document it.
Contact me
today so we can start planning together!
Hi, y'all! I'm Rachael Crowe of OKCrowe Photography. For couples booking me from out-of-state, bringing me to your place for photos is always on the table. I love being a travel wedding photographer as much as a hometown Chattanooga wedding photographer. If you liked Farrah and Andrew's engagement photos in Denver's RiNo District, check out Liz and Andrew's winter elopement in Zion National Park. Liz and Brock's couple's portraits in Joshua Tree National Park is another one for inspiration! If you're planning a destination wedding in Chattanooga, check out Jim and Emily's destination wedding blog for ideas!