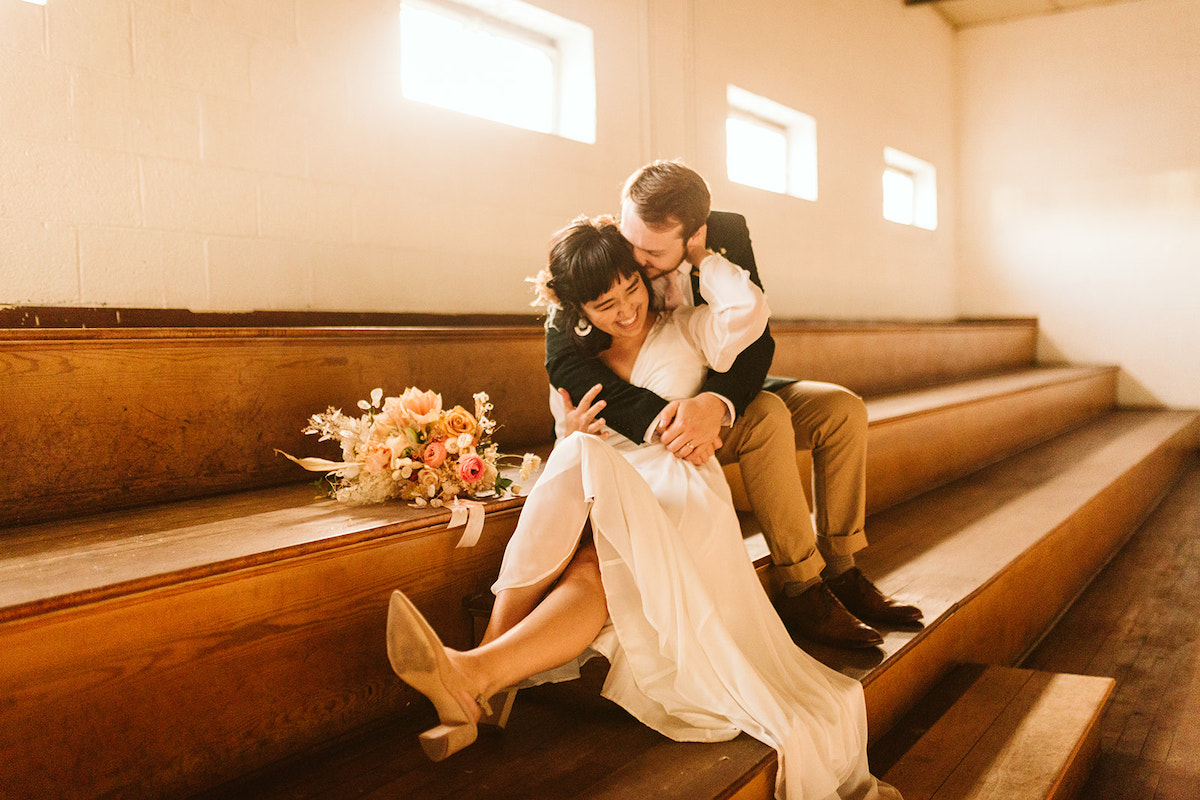 Abbey and Graham, holy cow. What a sweet couple from start to finish. Before I get into the wedding and photos, let me tell you just one thing. Abbey and Graham ended their wedding reception at Weaver's Room at The Old Woolen Mill in Cleveland (TN) dancing and screaming "You make my heart explode!" from The Terror Pigeon Dance Revolt!'s song "Ride Friendship." If each couple and wedding had its own theme song, this is the perfect one for these two. I won't judge if you play it while you scroll through their gallery. 😉 Enjoy!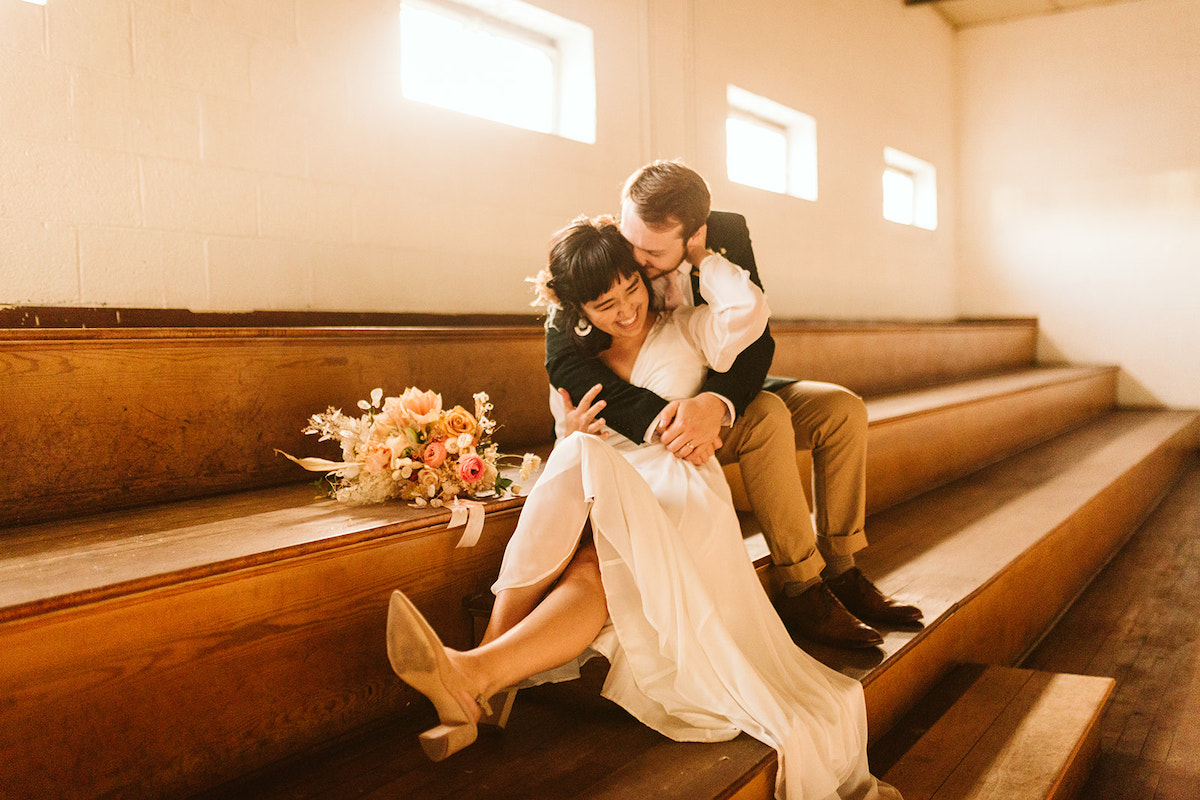 Ahead of their wedding, I ask each couple to complete a questionnaire so I get a few important phone numbers, a shot-list, and some other wedding day details. On my questionnaire, I also ask for the couple to share an abridged version of their love story with me. Abbey and Graham have built a friendship over the past 9 years. At a few points, they wanted to start dating, but the timing never seemed to work out. Once they decided to finally go for it, it didn't take them long to realize they wanted to be partners for life. No matter the complications, the joy would be worth it!
How to set the tone for your wedding, Part 1: Location
Abbey and Graham planned their wedding ceremony in a former elementary school gymnasium. Yes, you read that correctly. The school now houses several non-profits, including the couple's church, so they felt right at home hosting their wedding here.
I love what Abbey wrote about their ceremony location on her blog. "Being in a gymnasium for our wedding speaks to the youthfulness of mine and Graham's relationship. We're a couple of weirdos crushing on one another, who just like playing together." (Is your heart exploding yet?!)
Shaking things up a little bit from a traditional processional, the couple's parents walked them each to meet under the wedding arch at the same time. Abbey and Graham used this moment to symbolize equal forces coming together and the efforts they and their families have made to bring the moment of their marriage into fruition.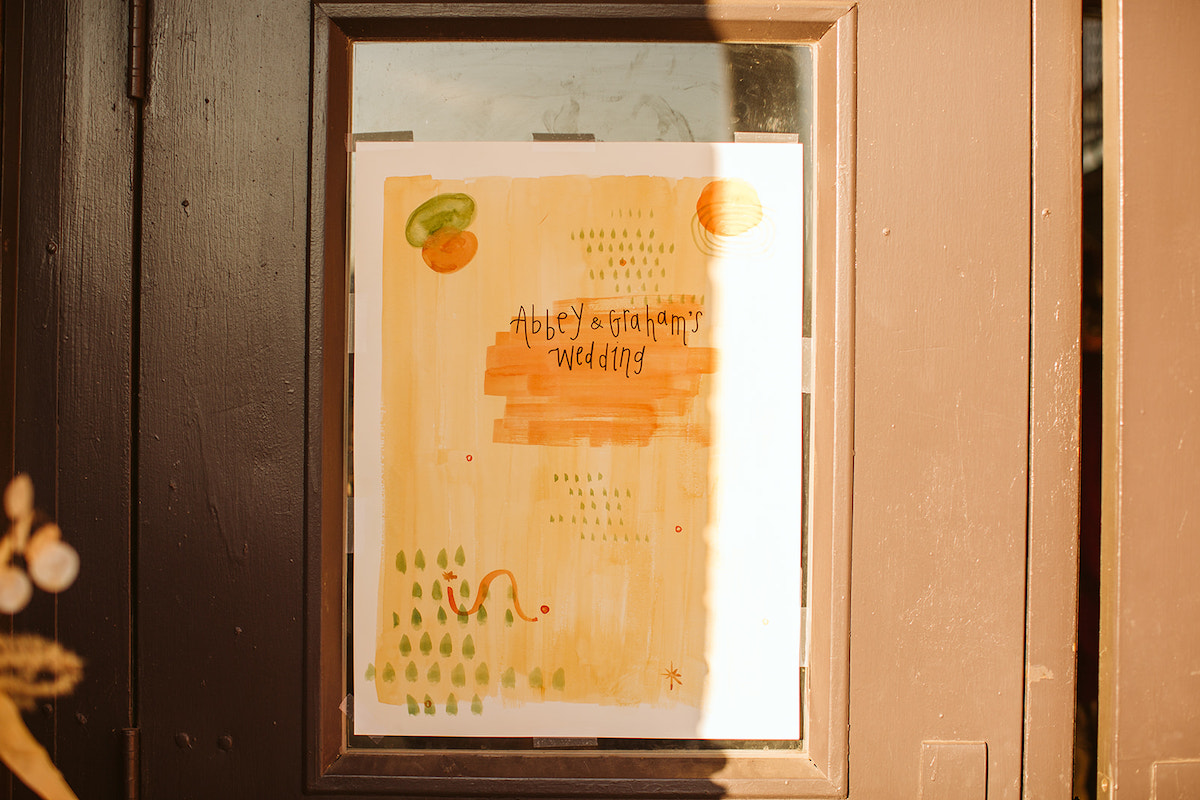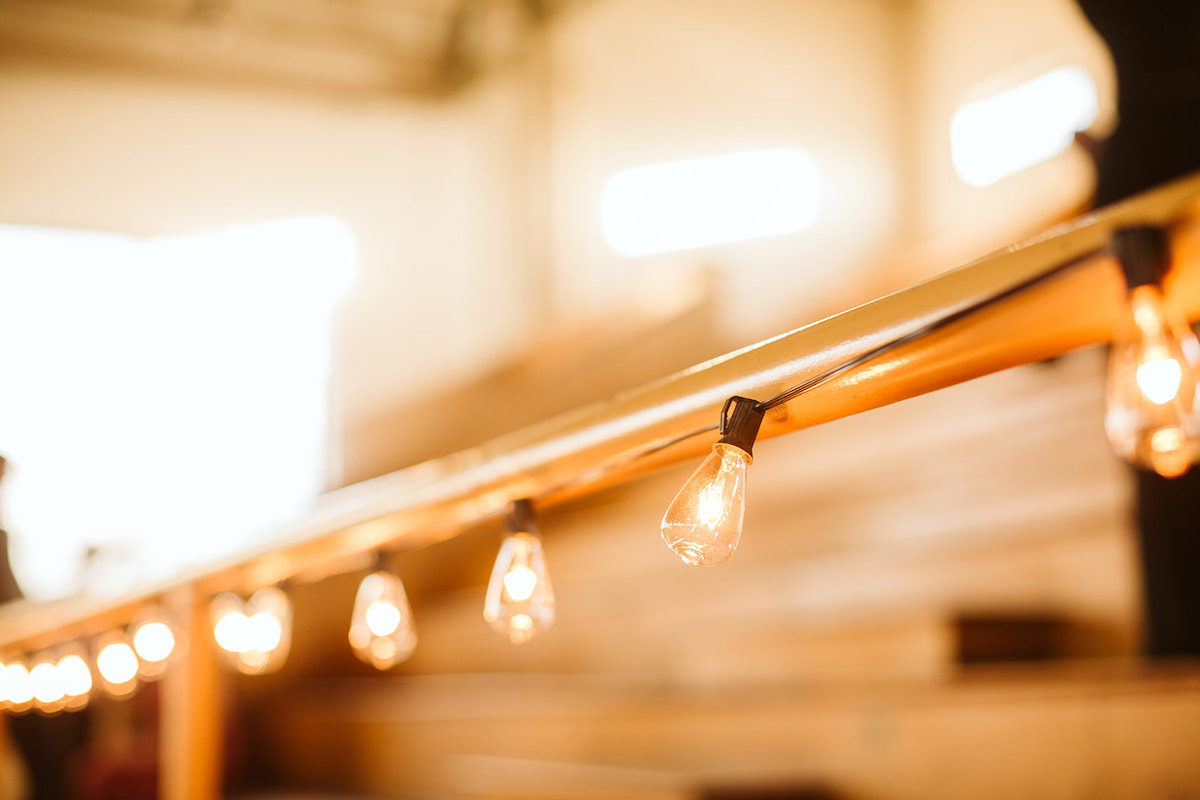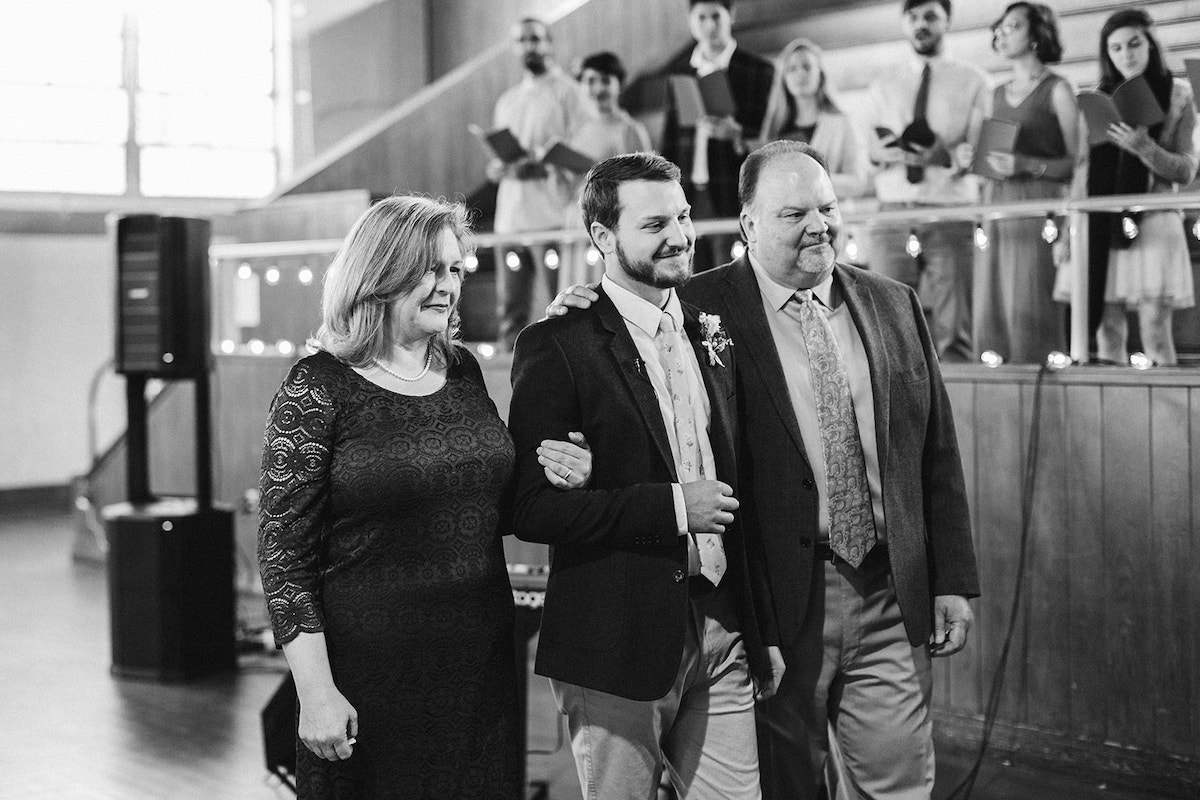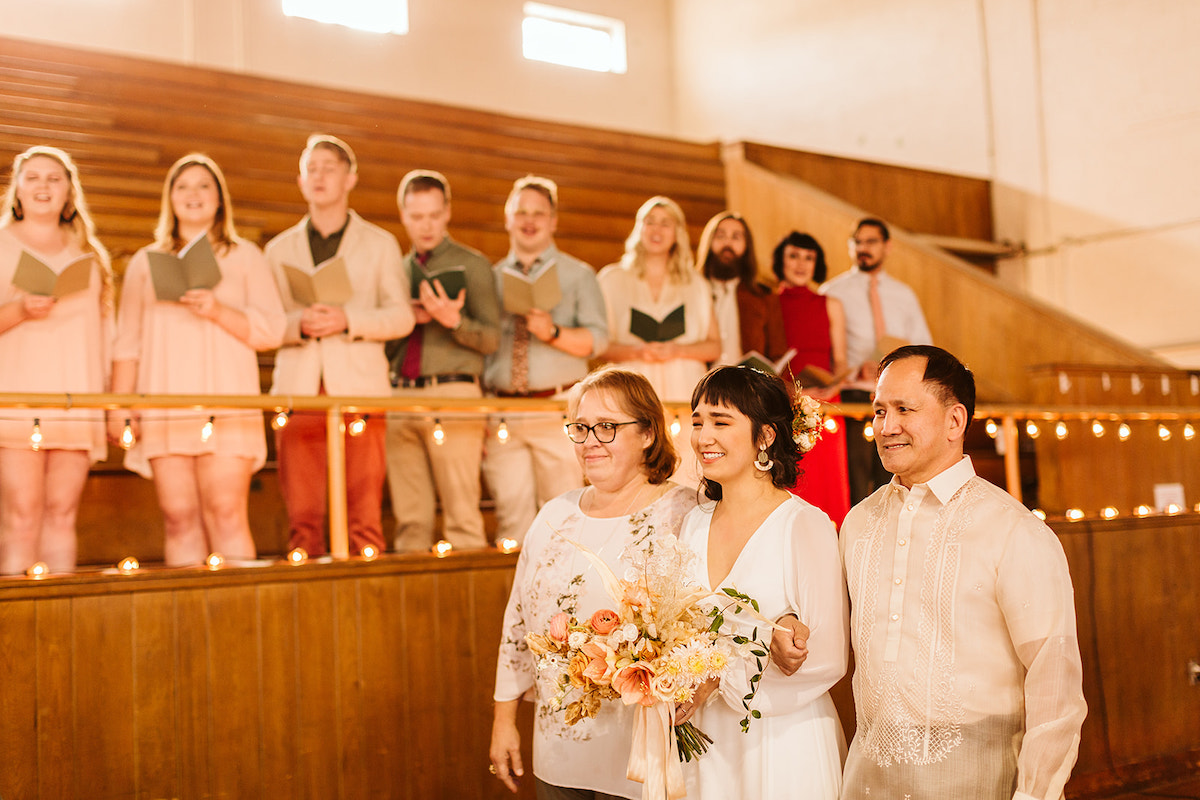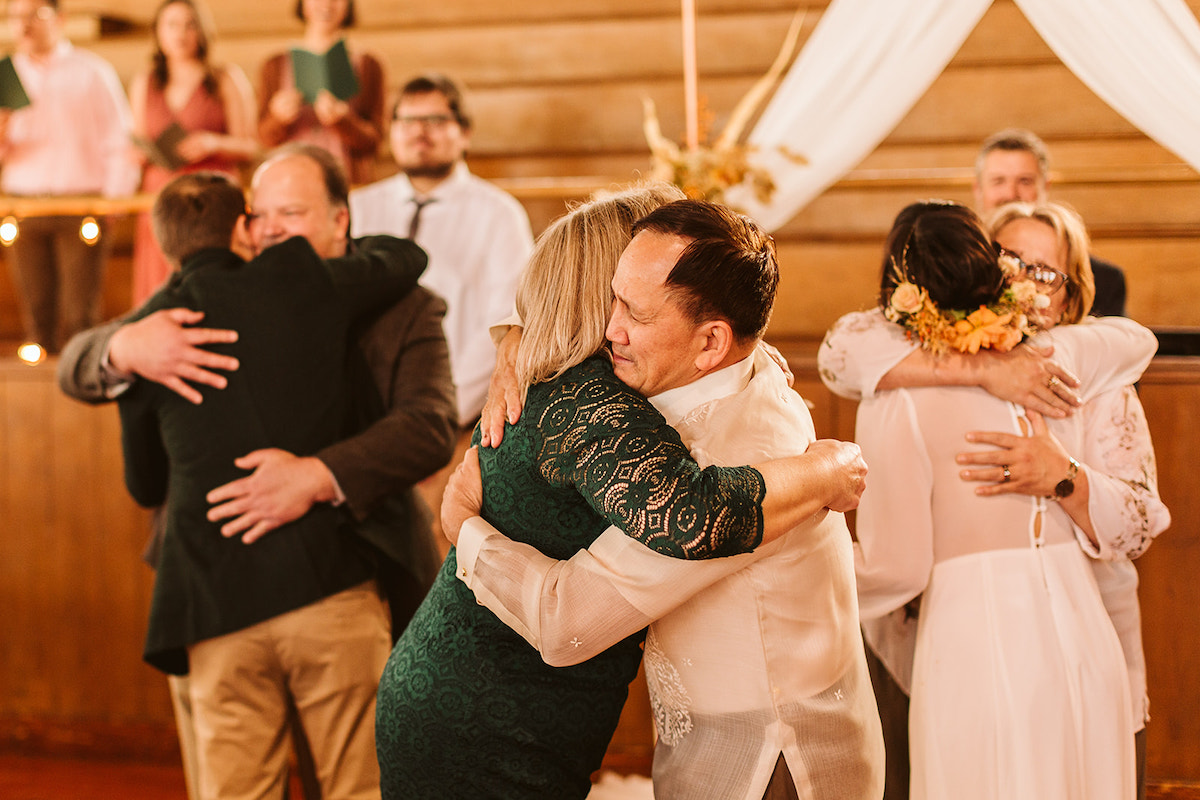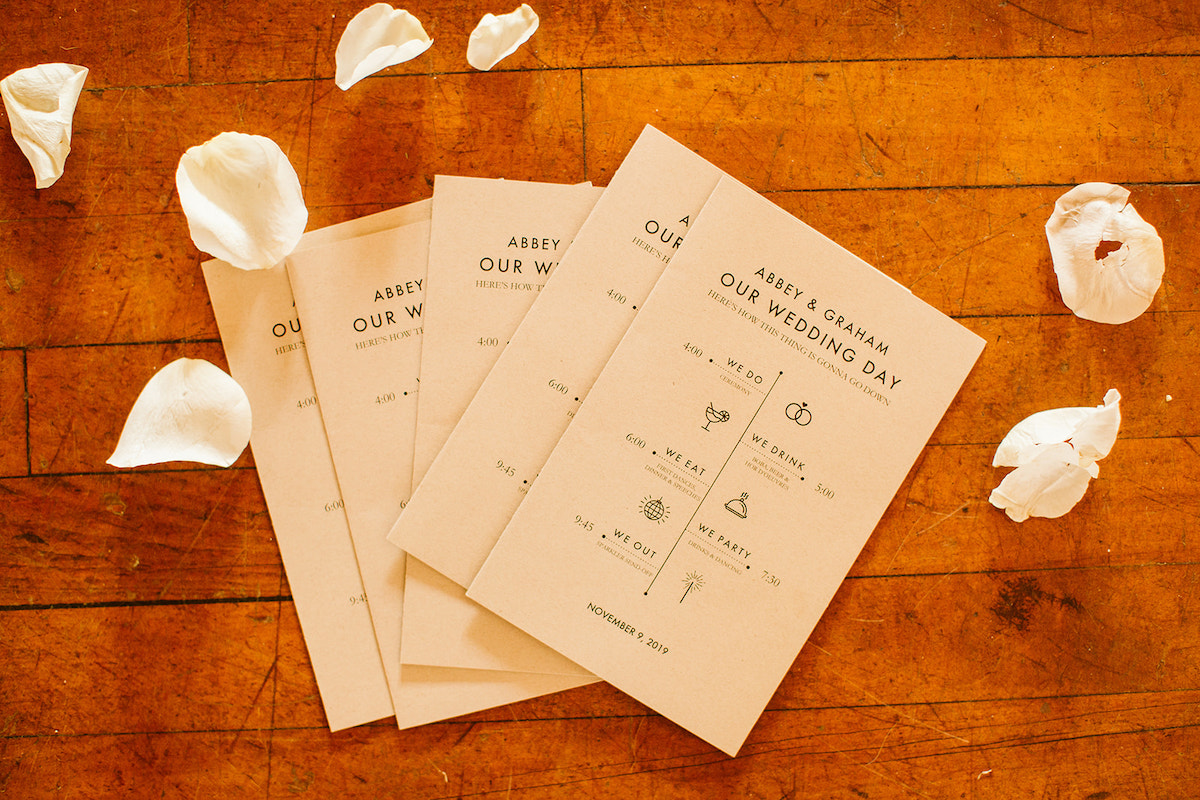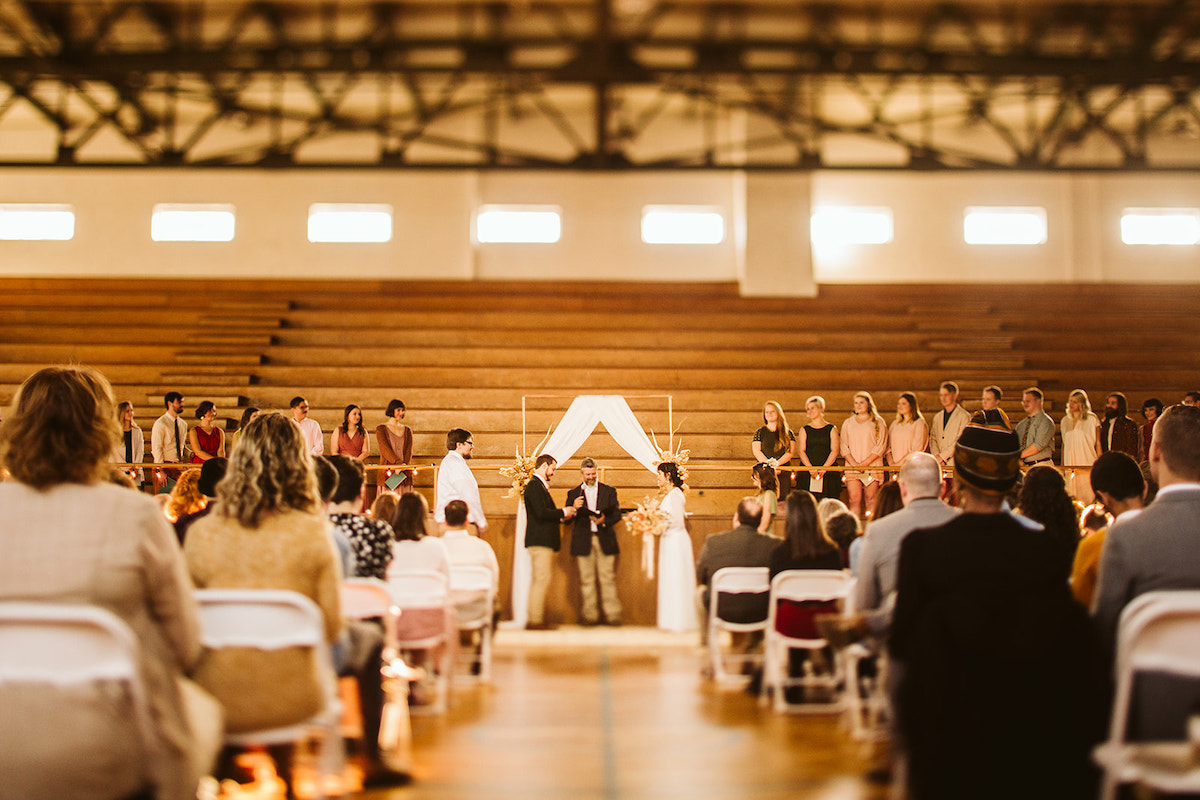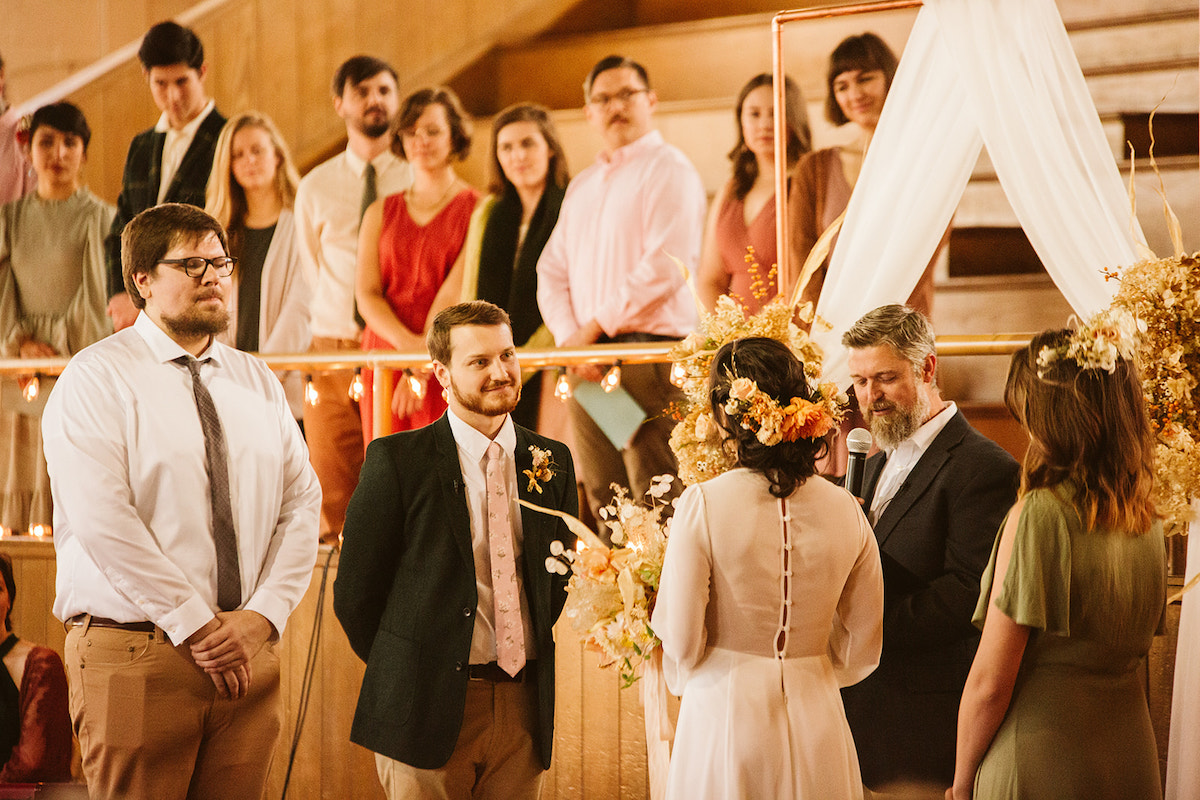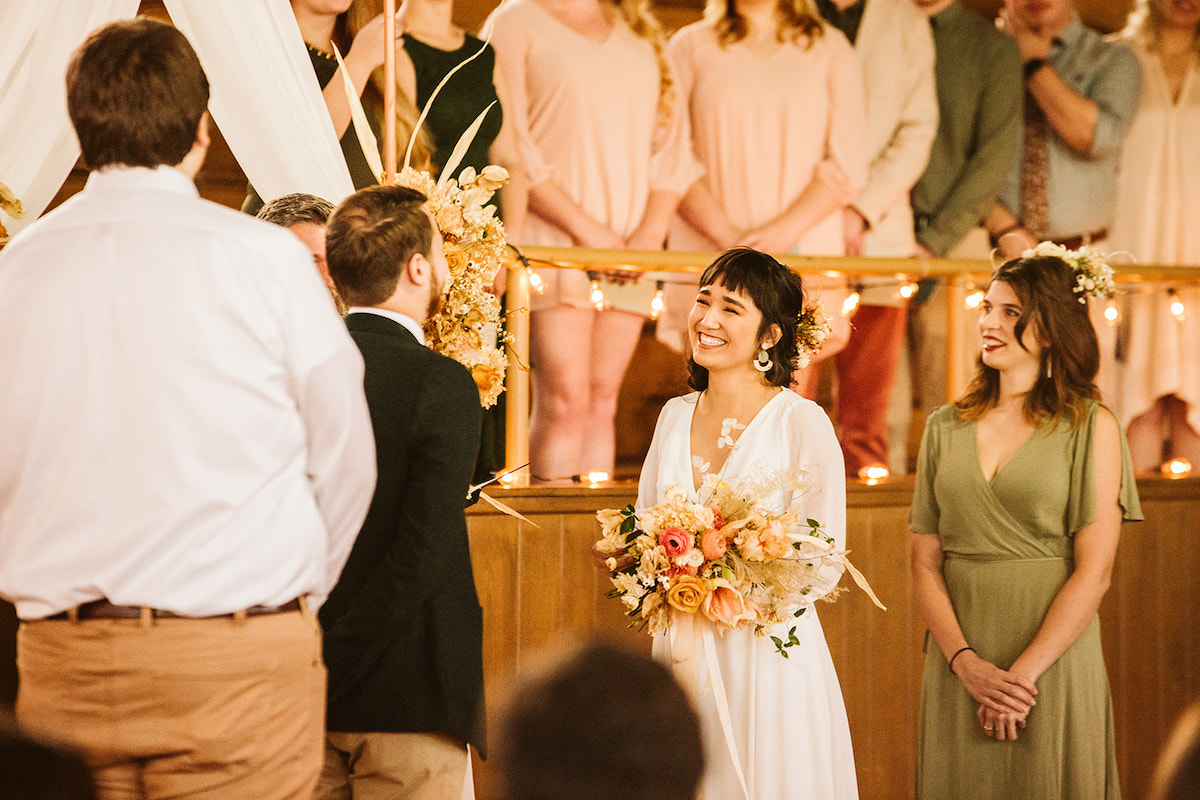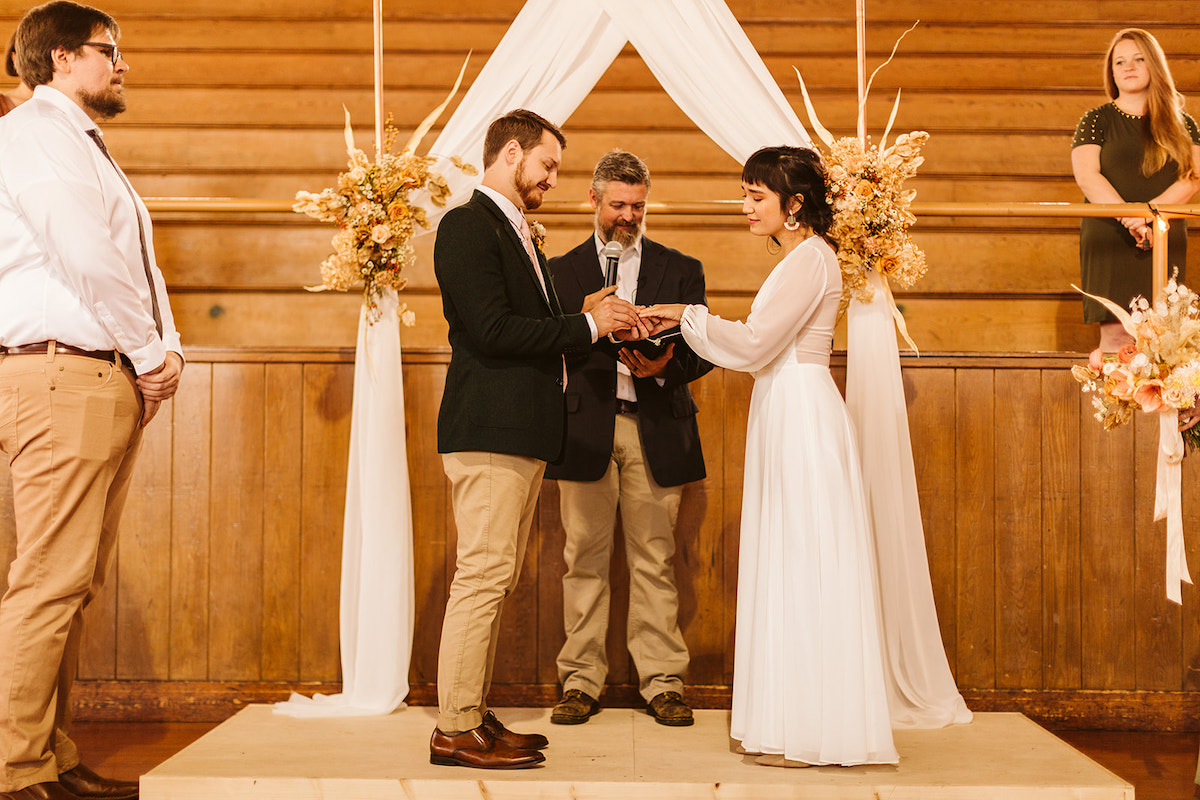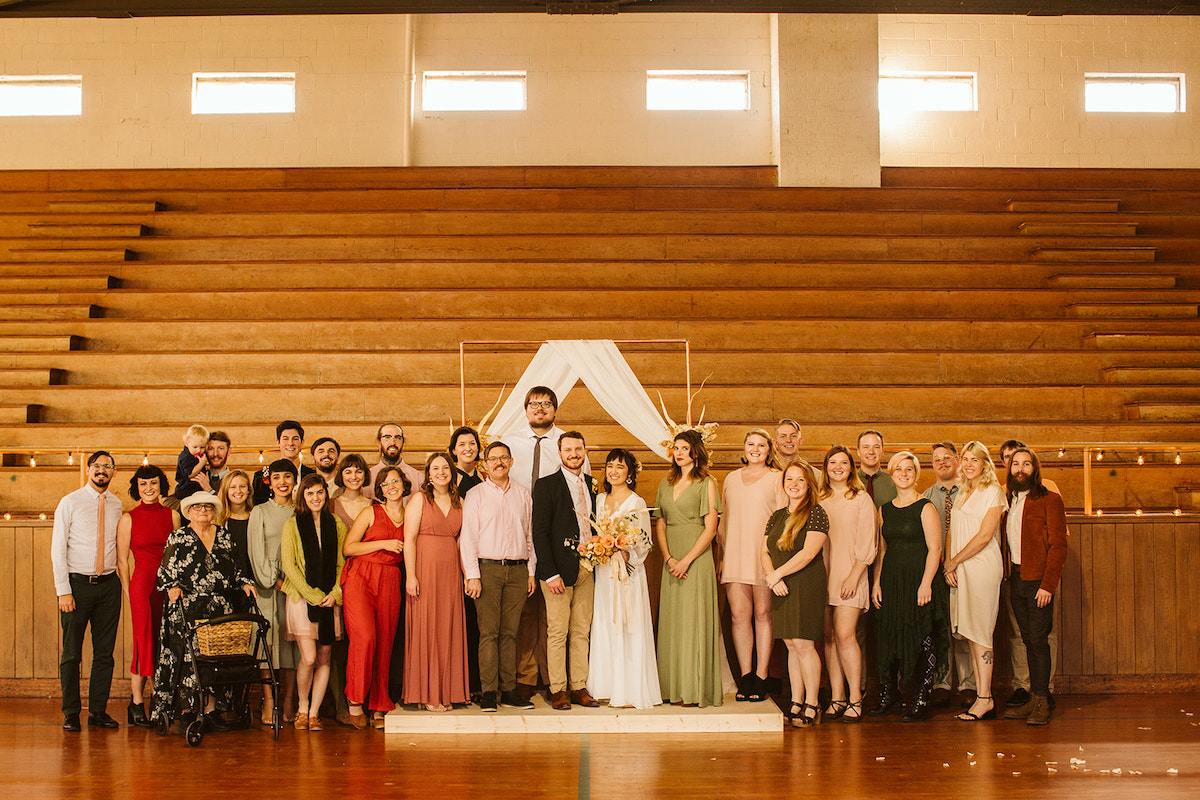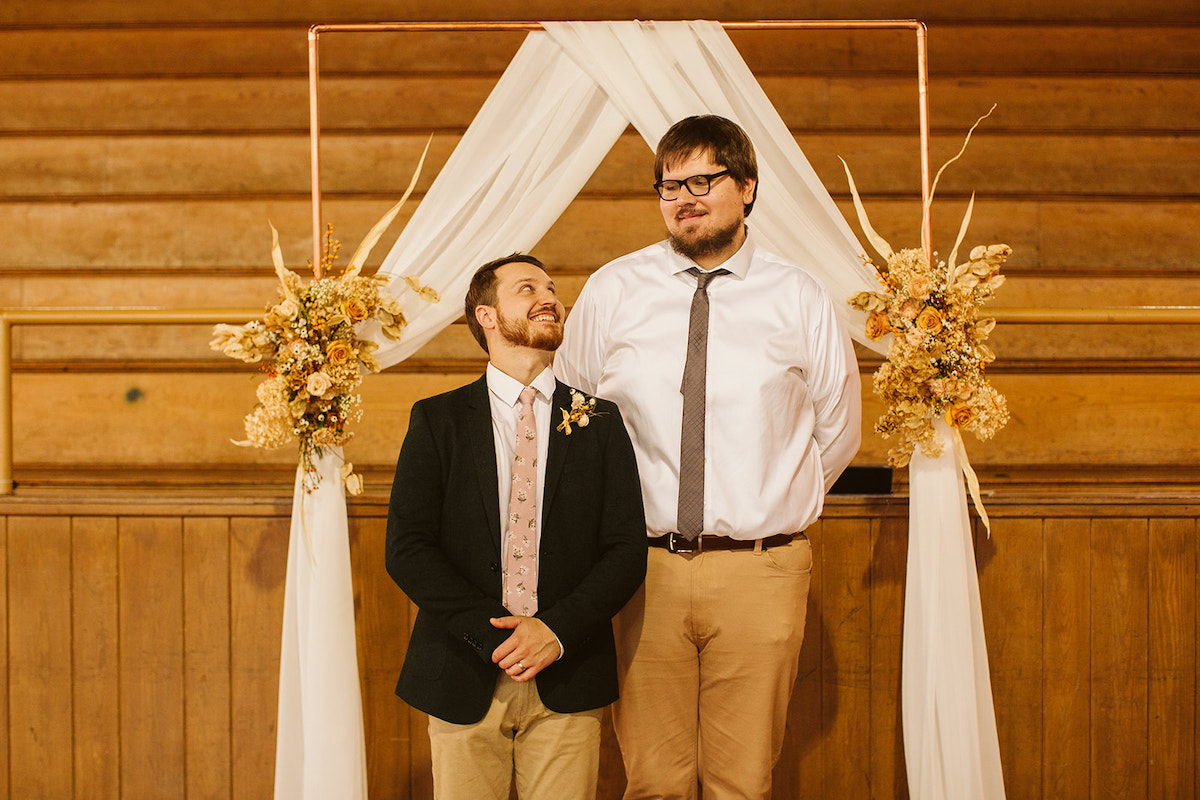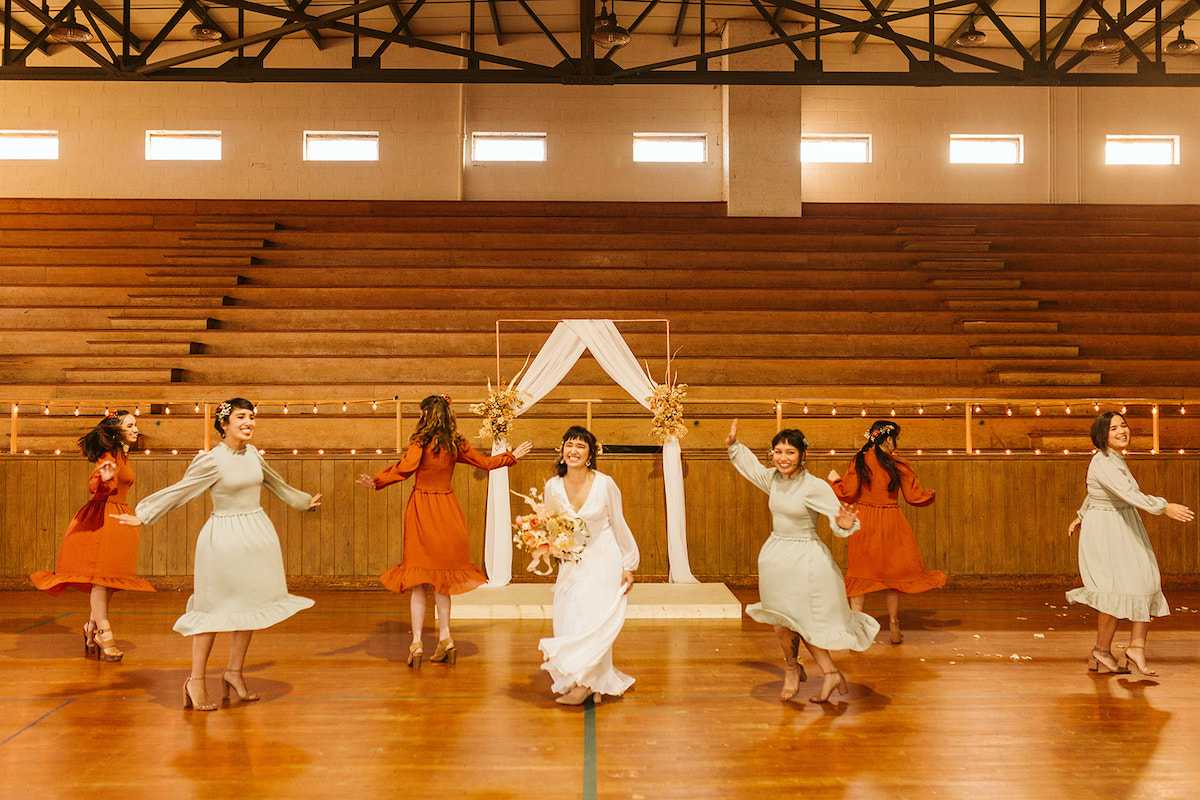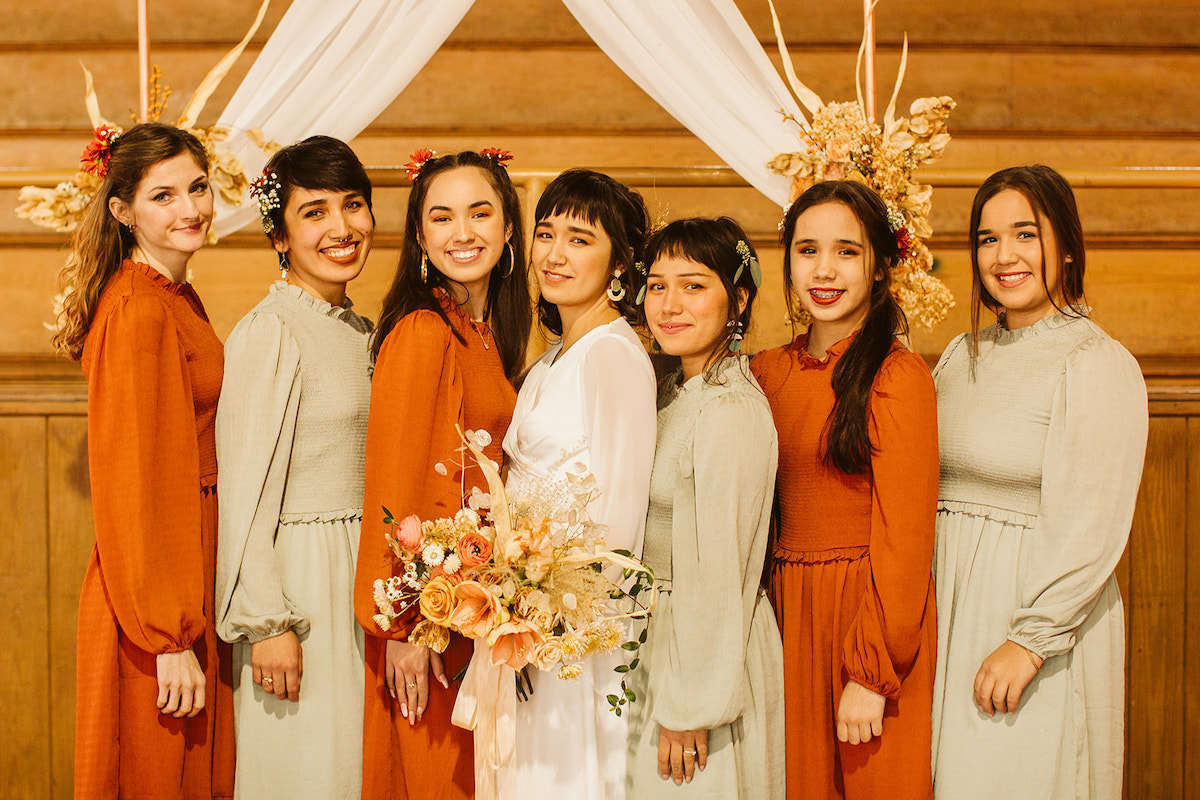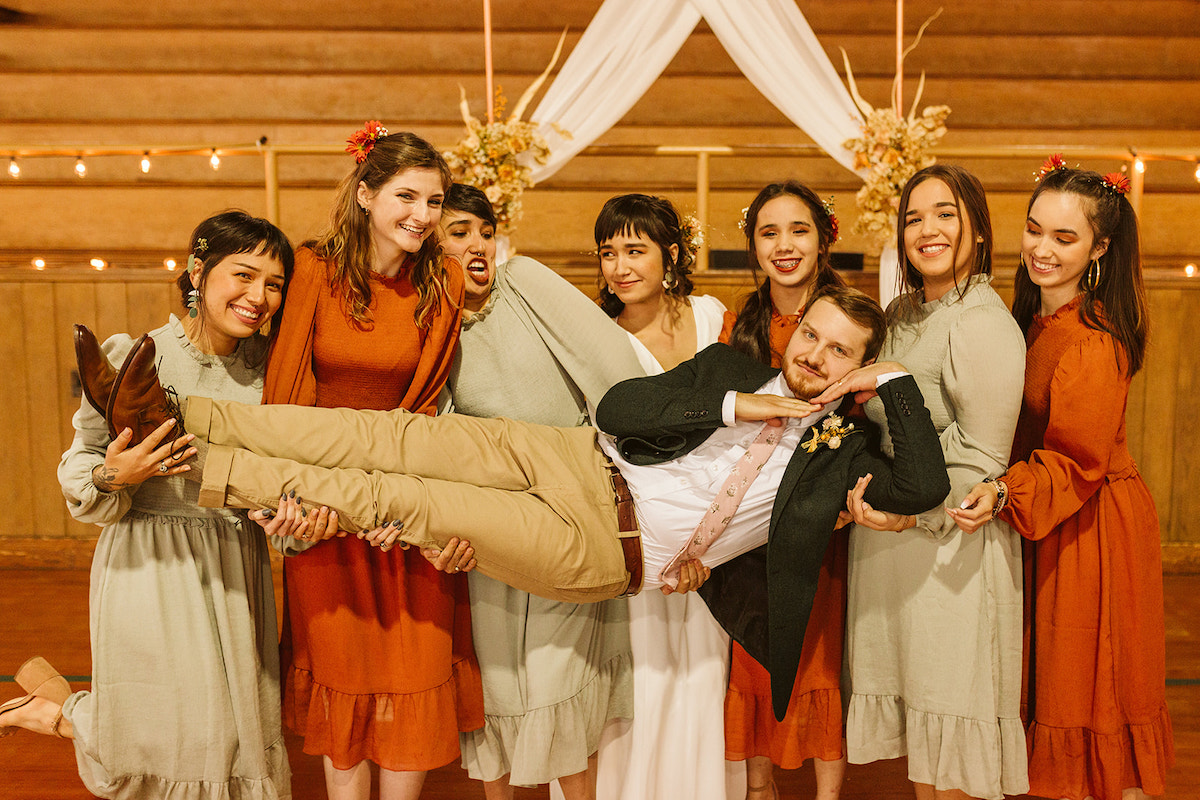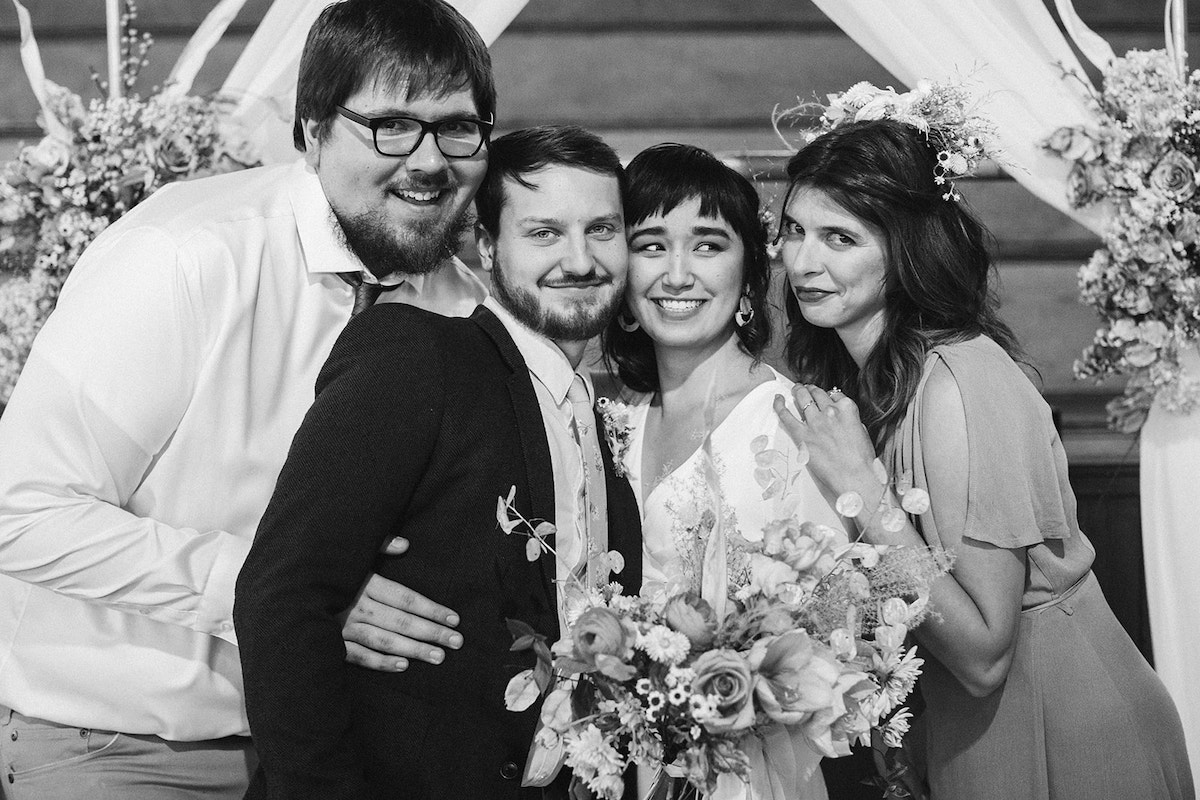 Setting the tone for your wedding, Part 2: Florals
AKA Southerly Flower Farm with another big win
The team at Southerly Flower Farm created stunning floral arrangements for this wedding. Stunning. It's hard to match a couple's feelings of play and whimsy with a bridal bouquet, and Southerly Flower Farm nailed it. From the floral displays on the simple, copper pipe wedding arch to the reception centerpieces, each piece is a beautiful part of the playful tone of Abbey and Graham's wedding story. Abbey wore custom earrings from Olie & Co. which paired perfectly with the flowers in her hair. They were so cool! And I smile every time I see that close-up of Graham's pink flower tie. Such unique details for these two.
Between the florals and the shockingly beautiful lighting, I'm still totally floored at how gorgeous this wedding was.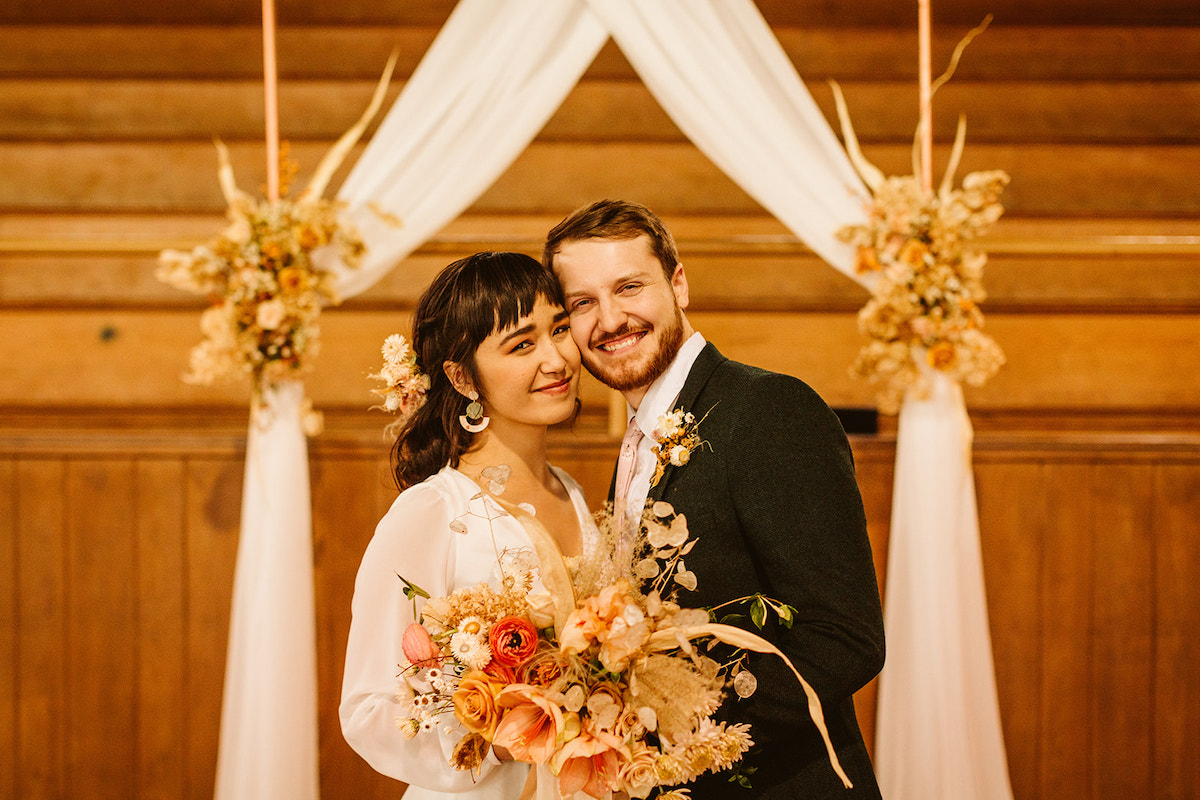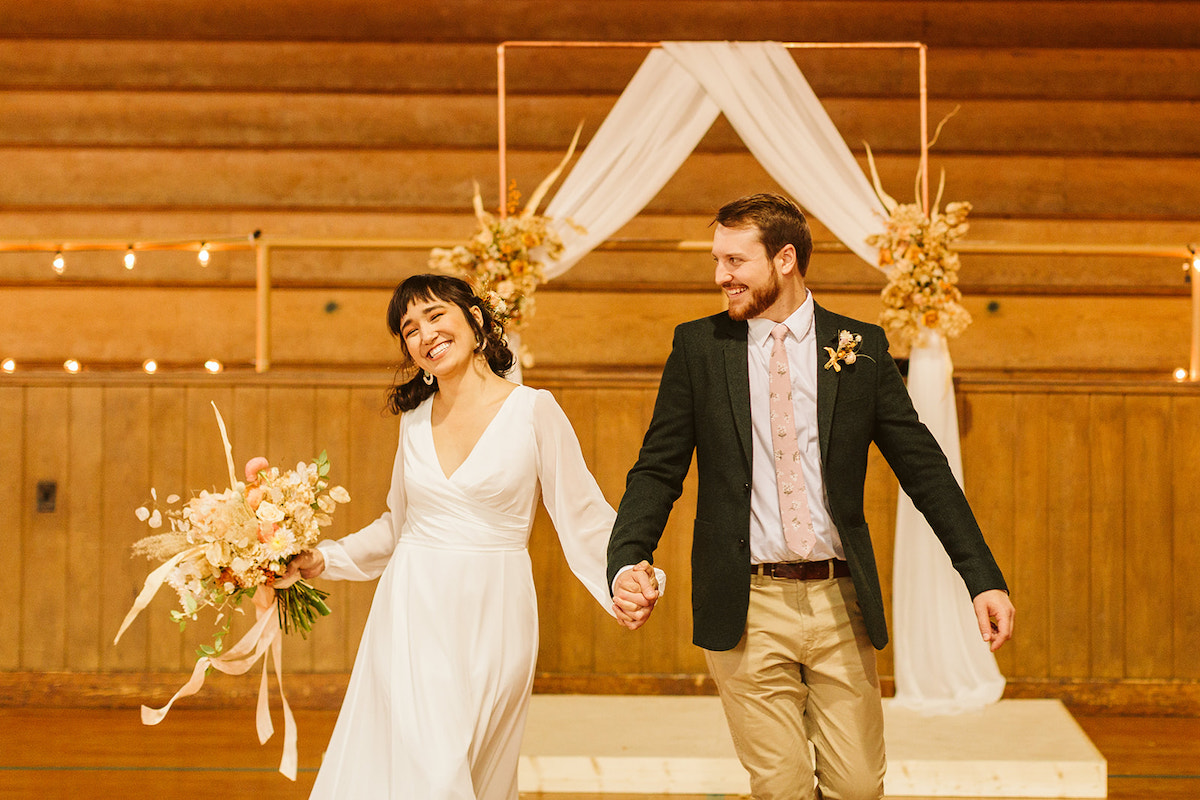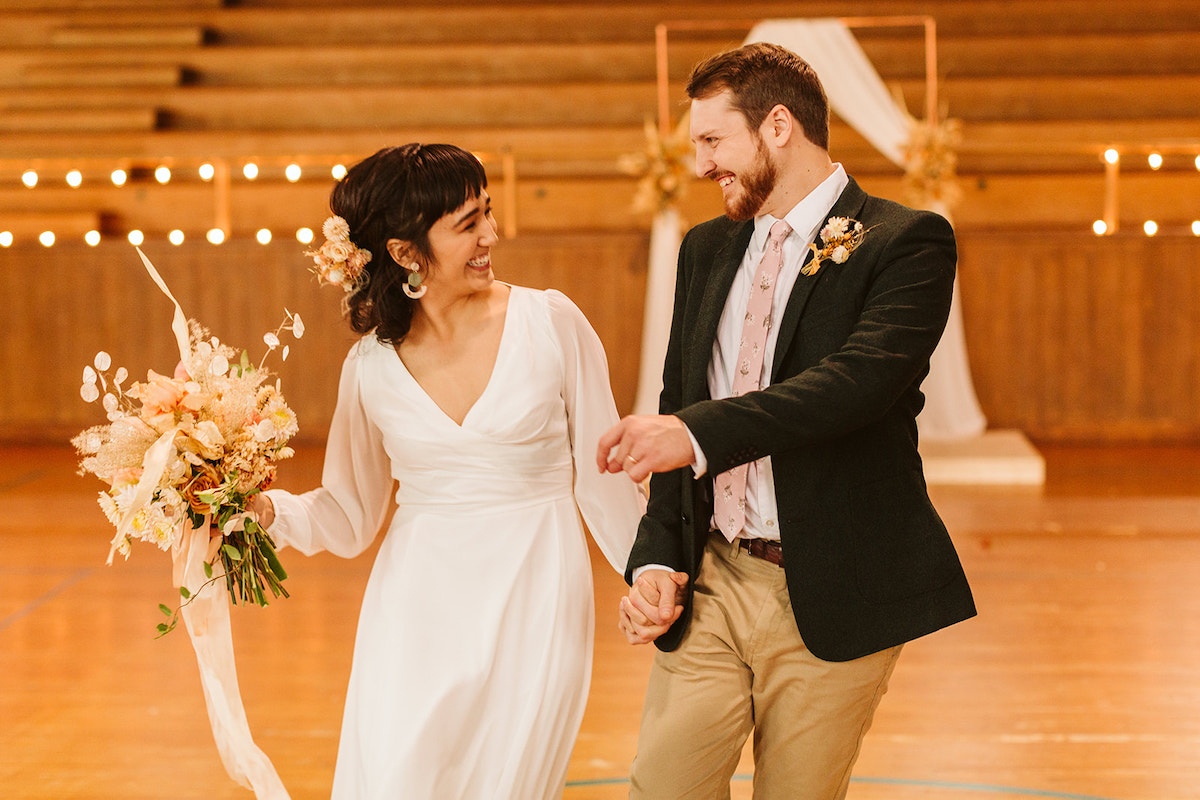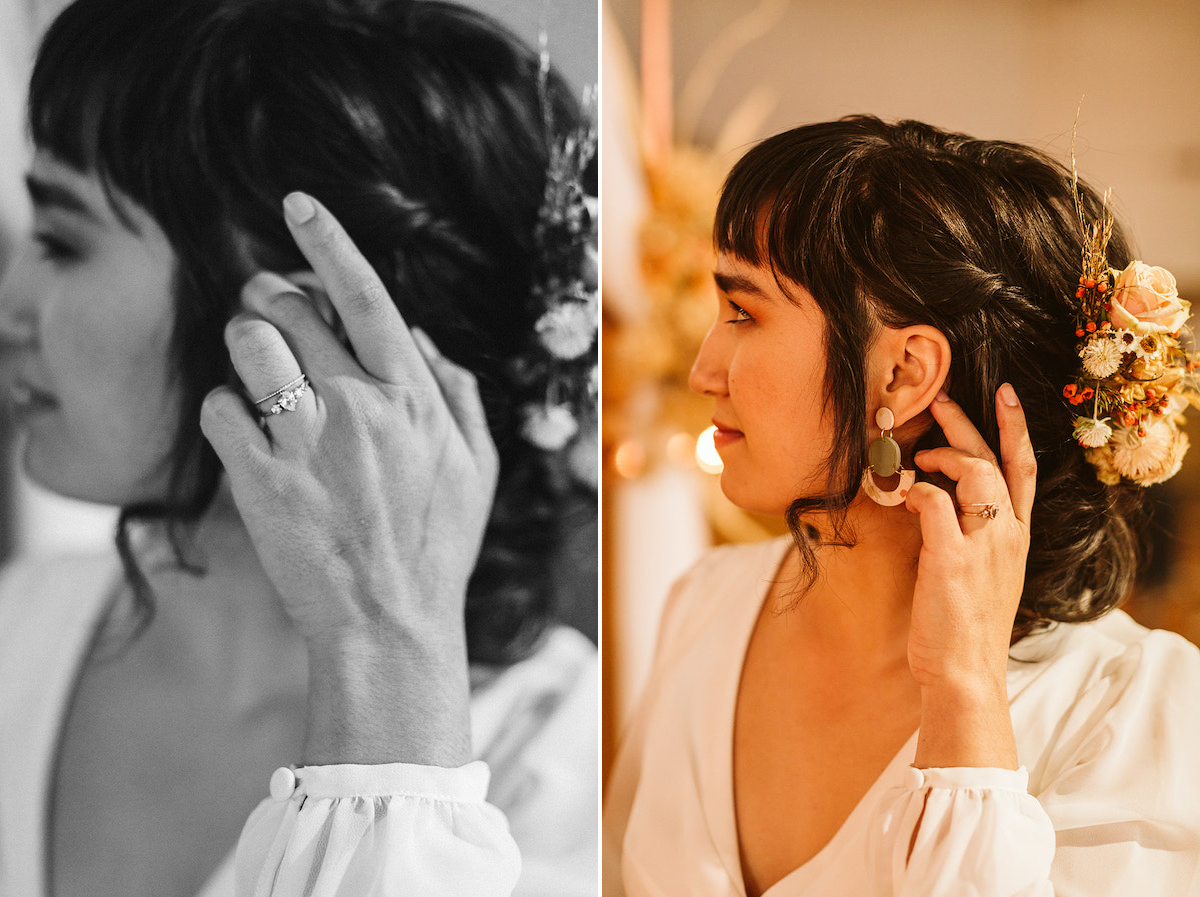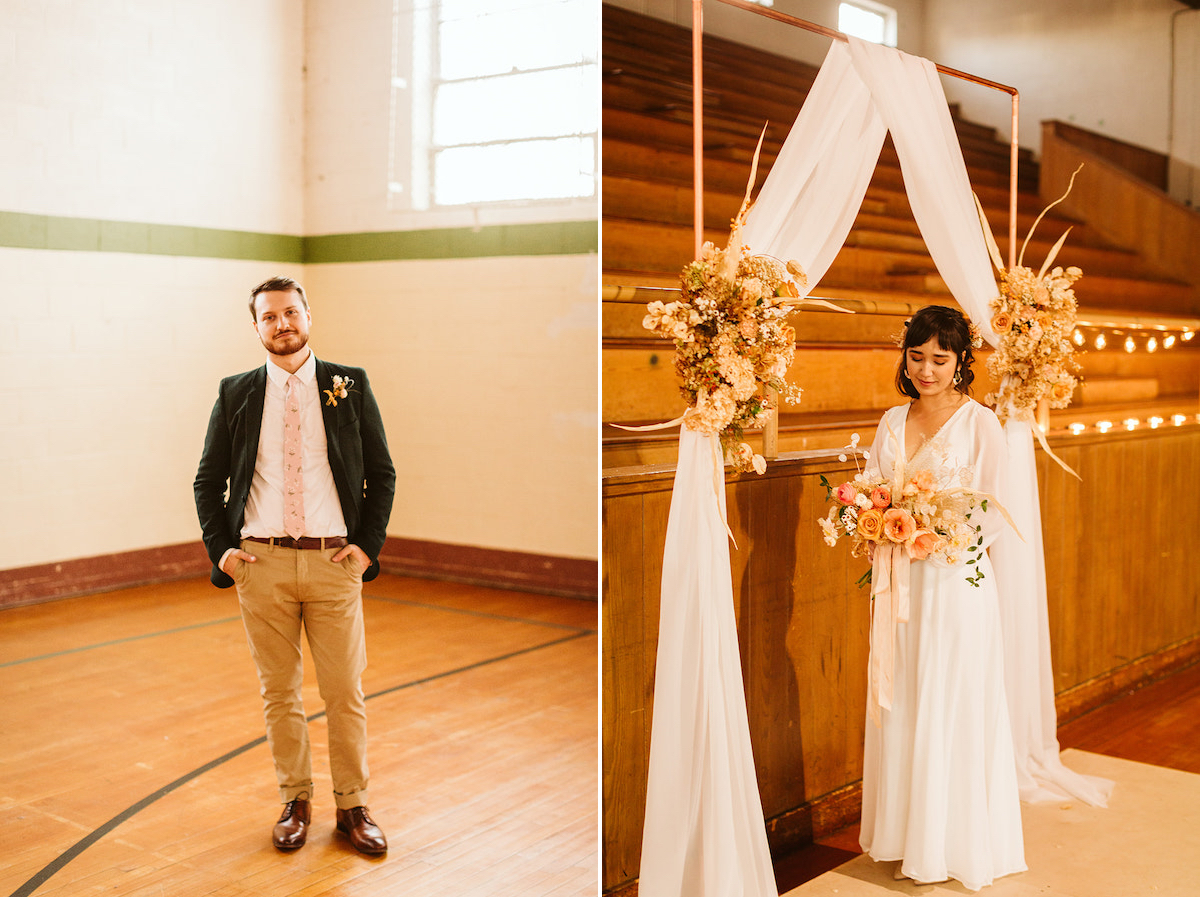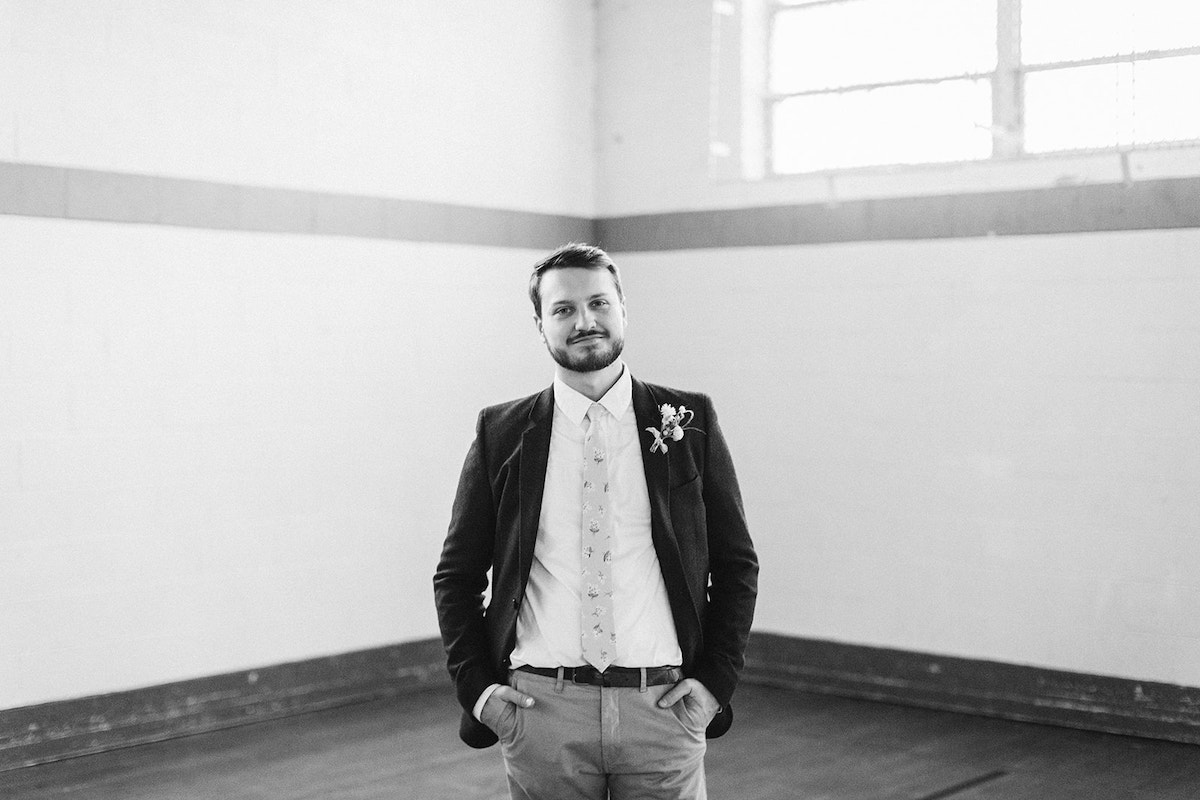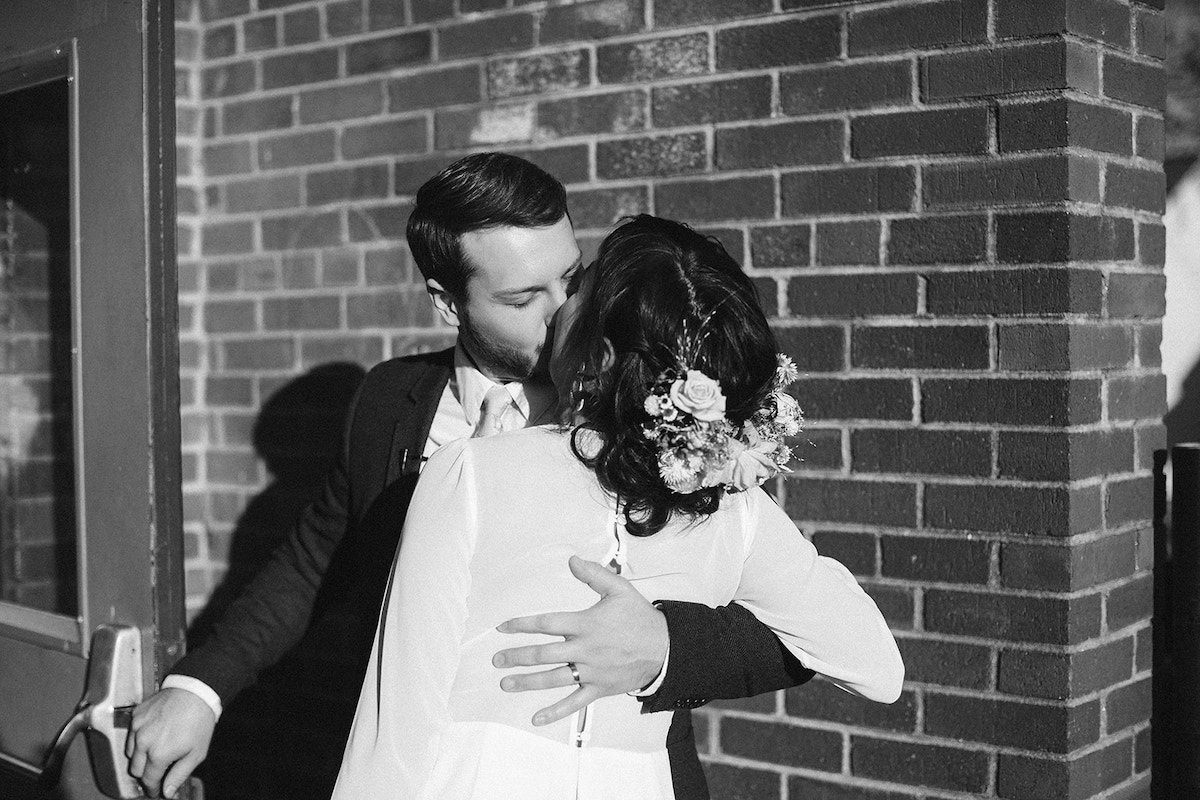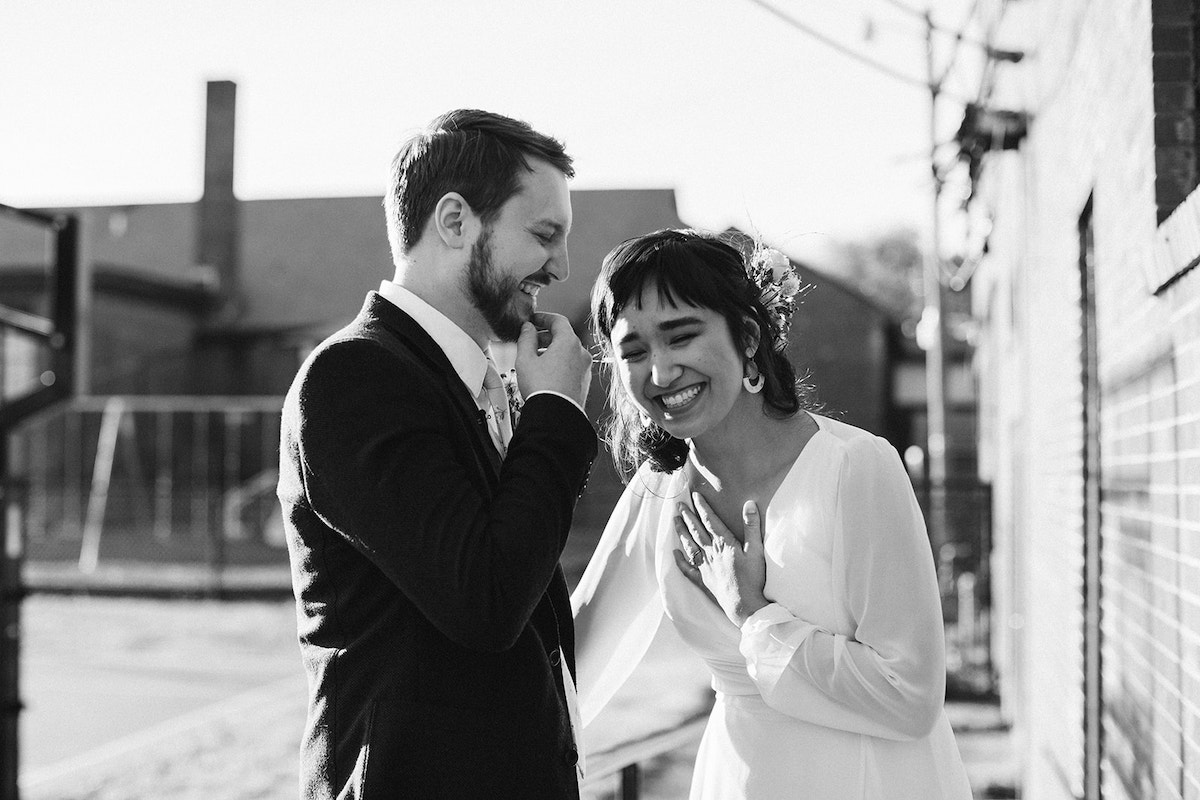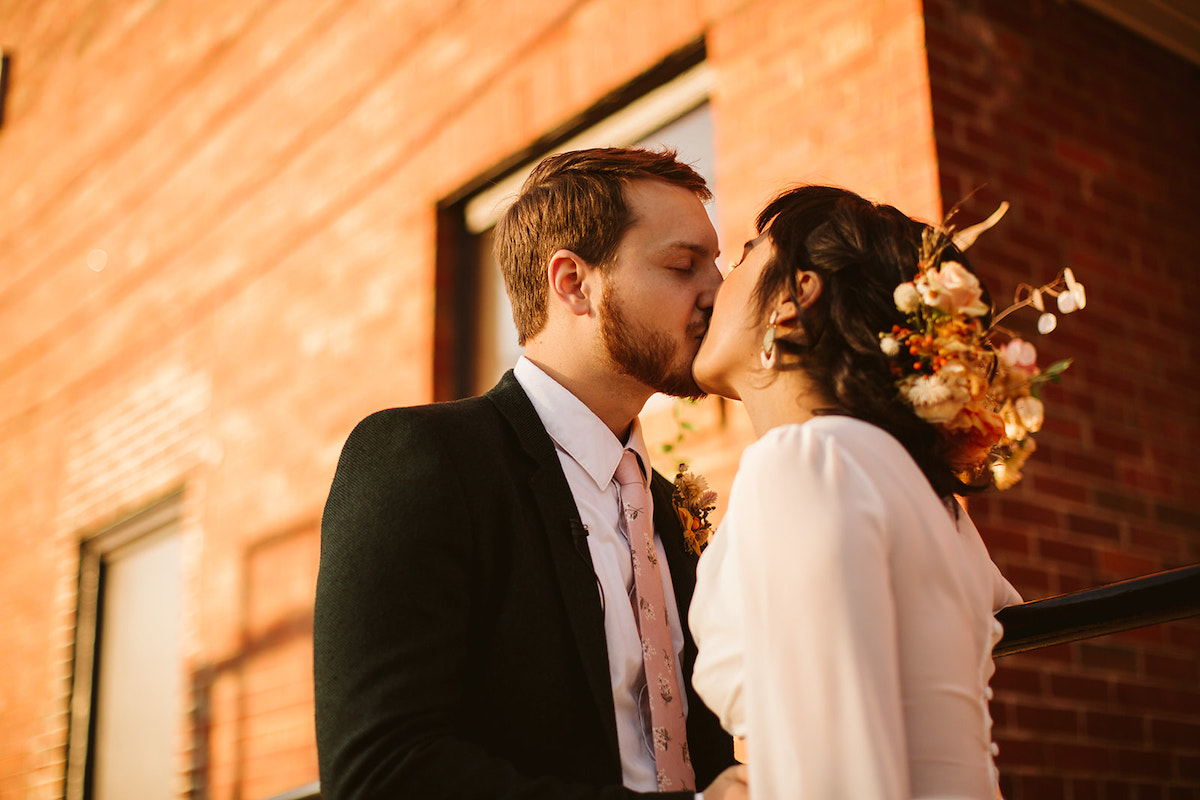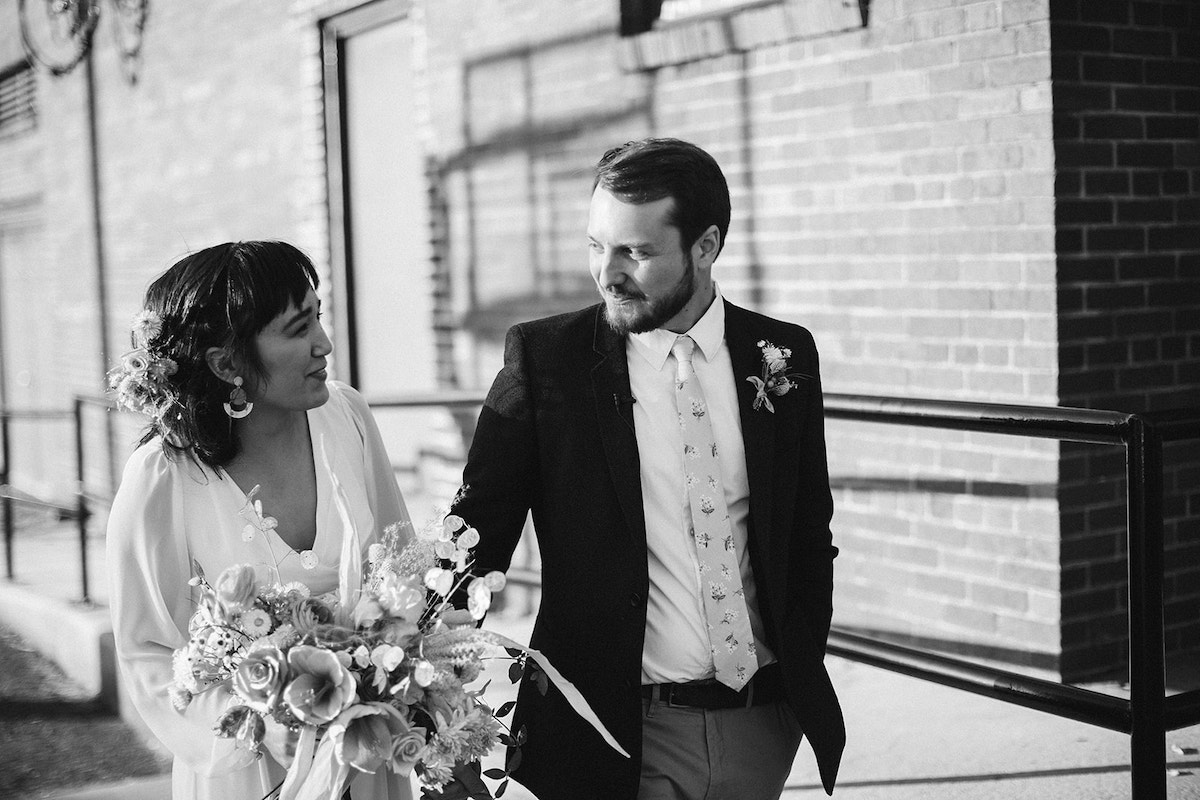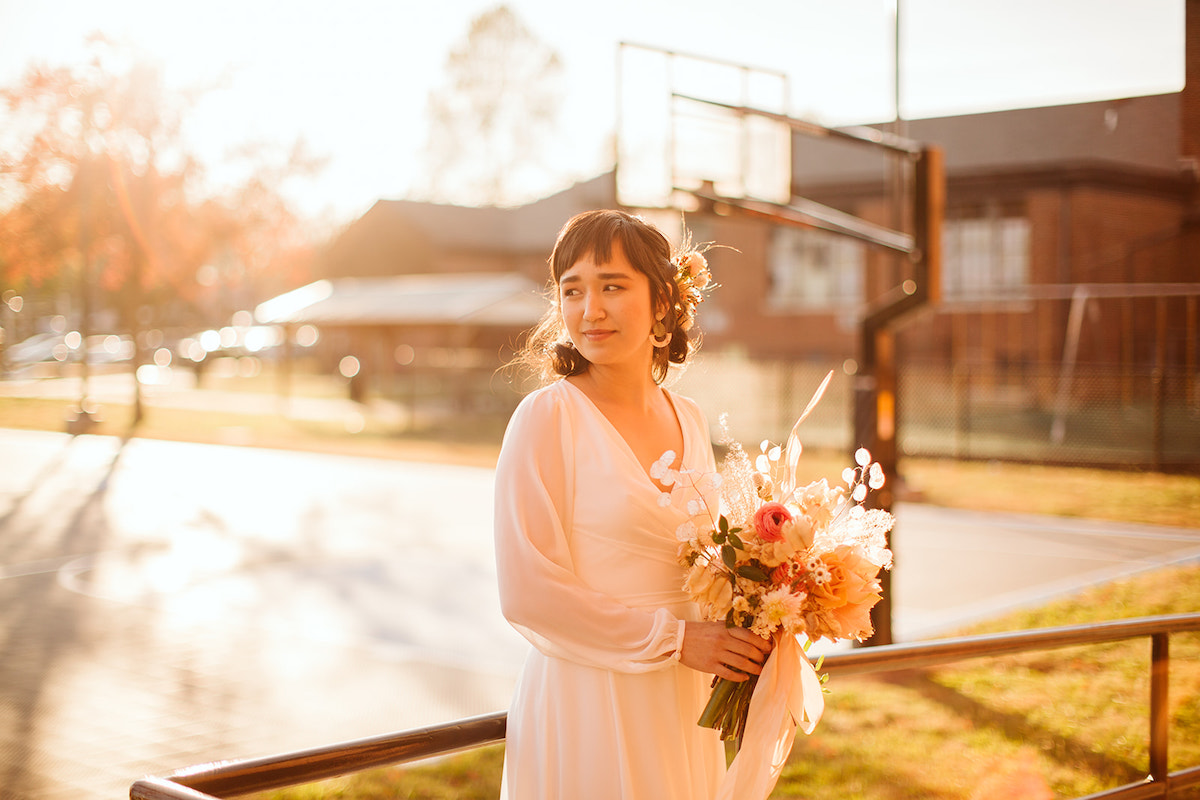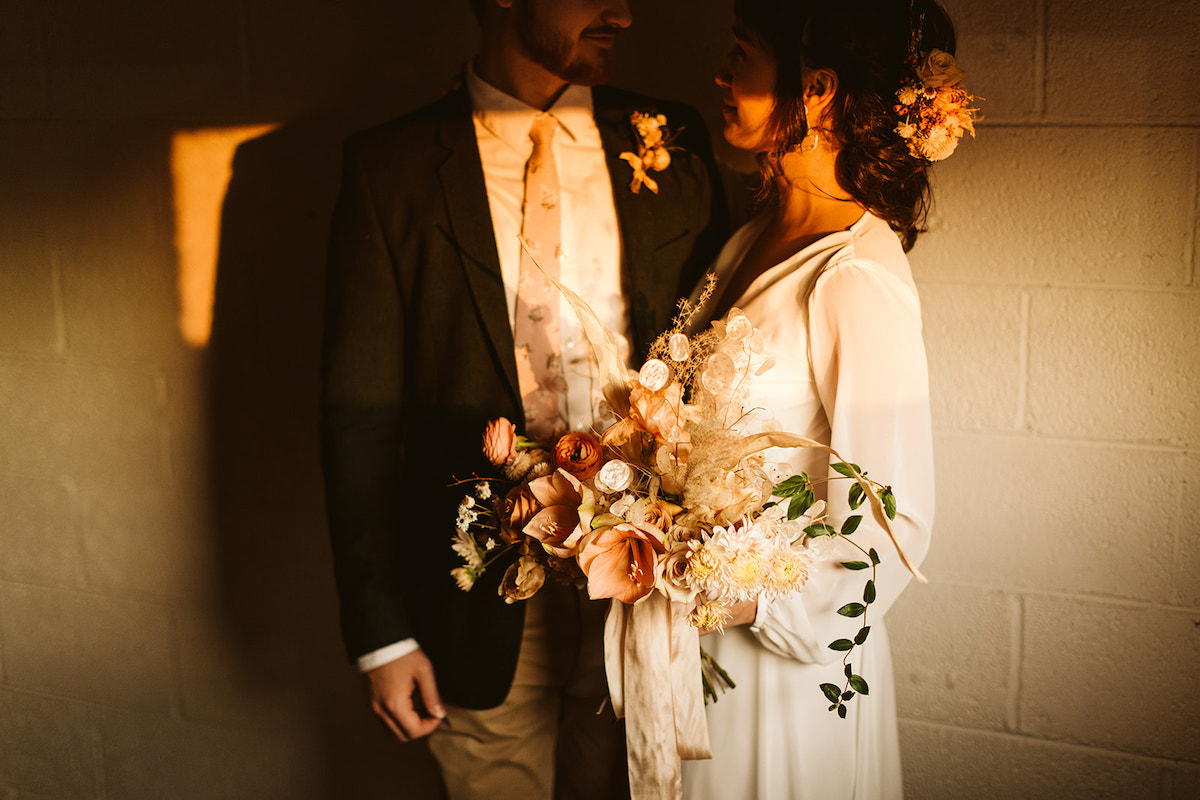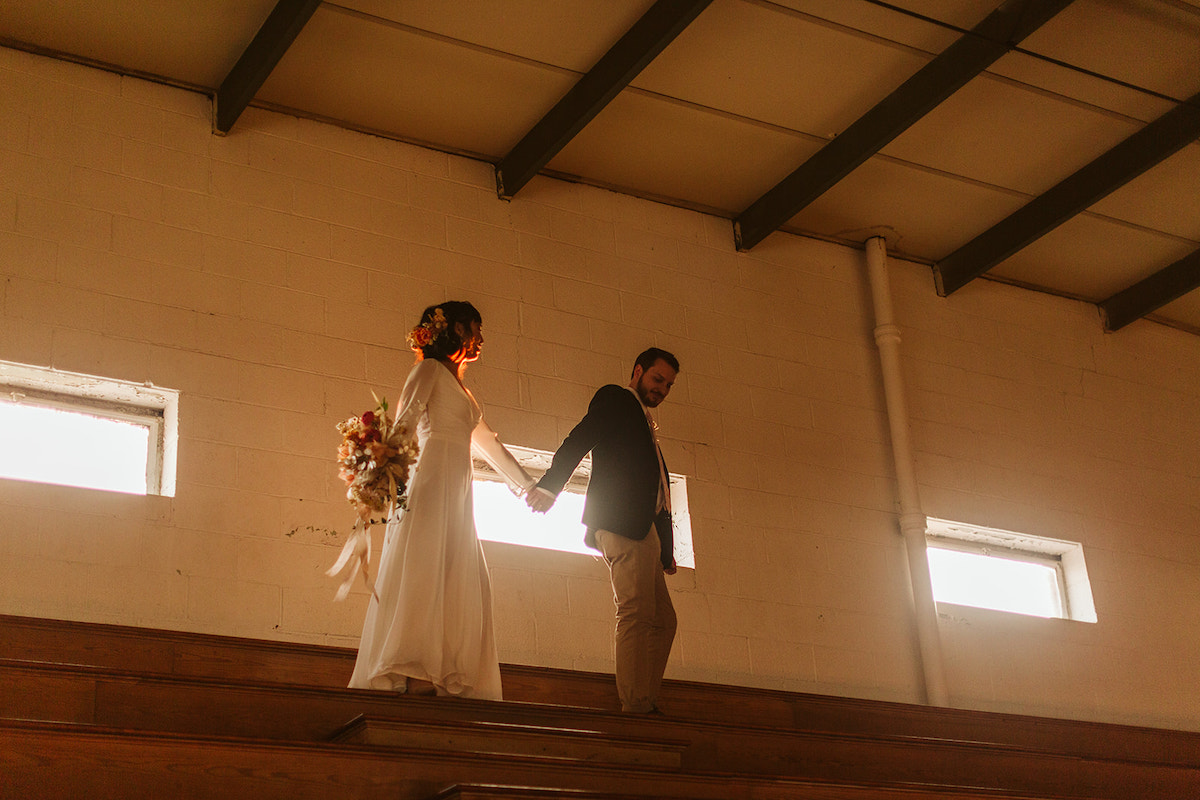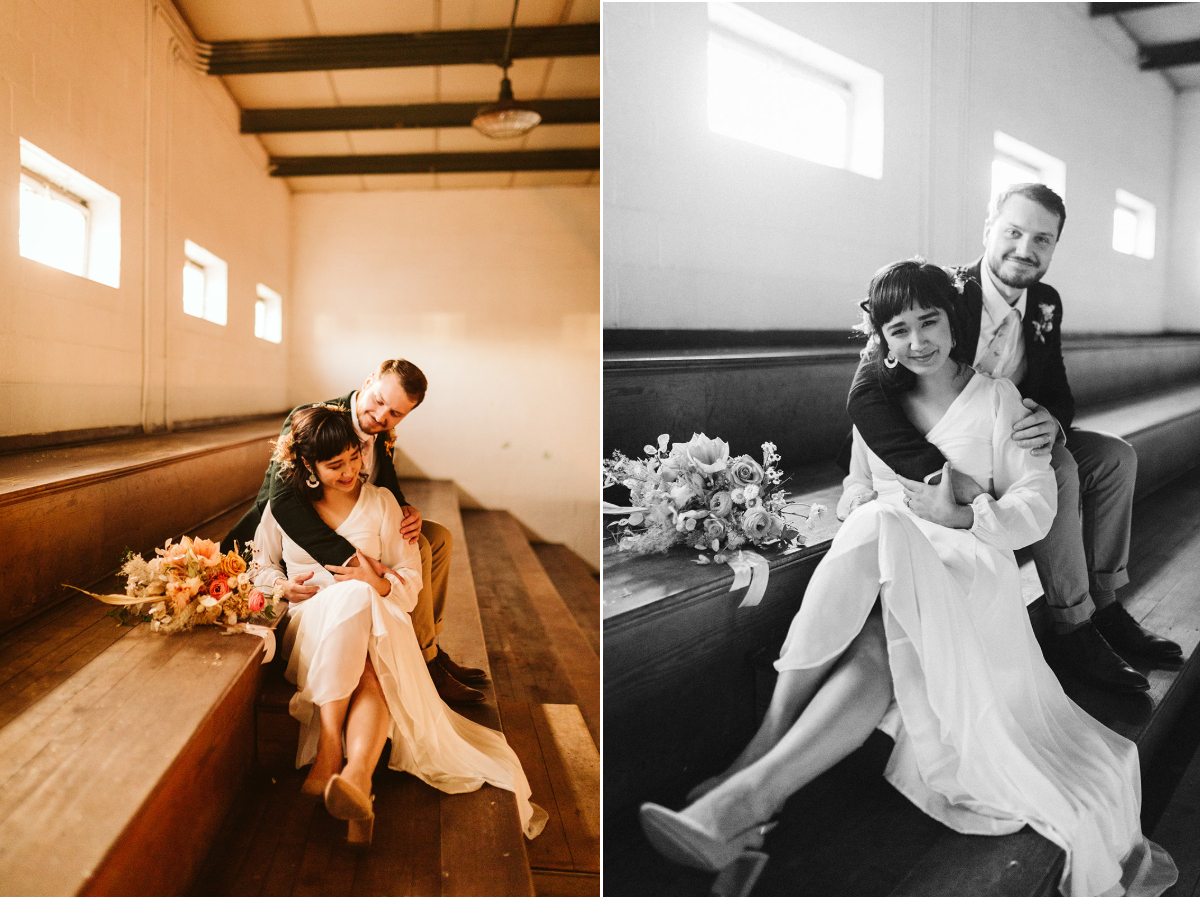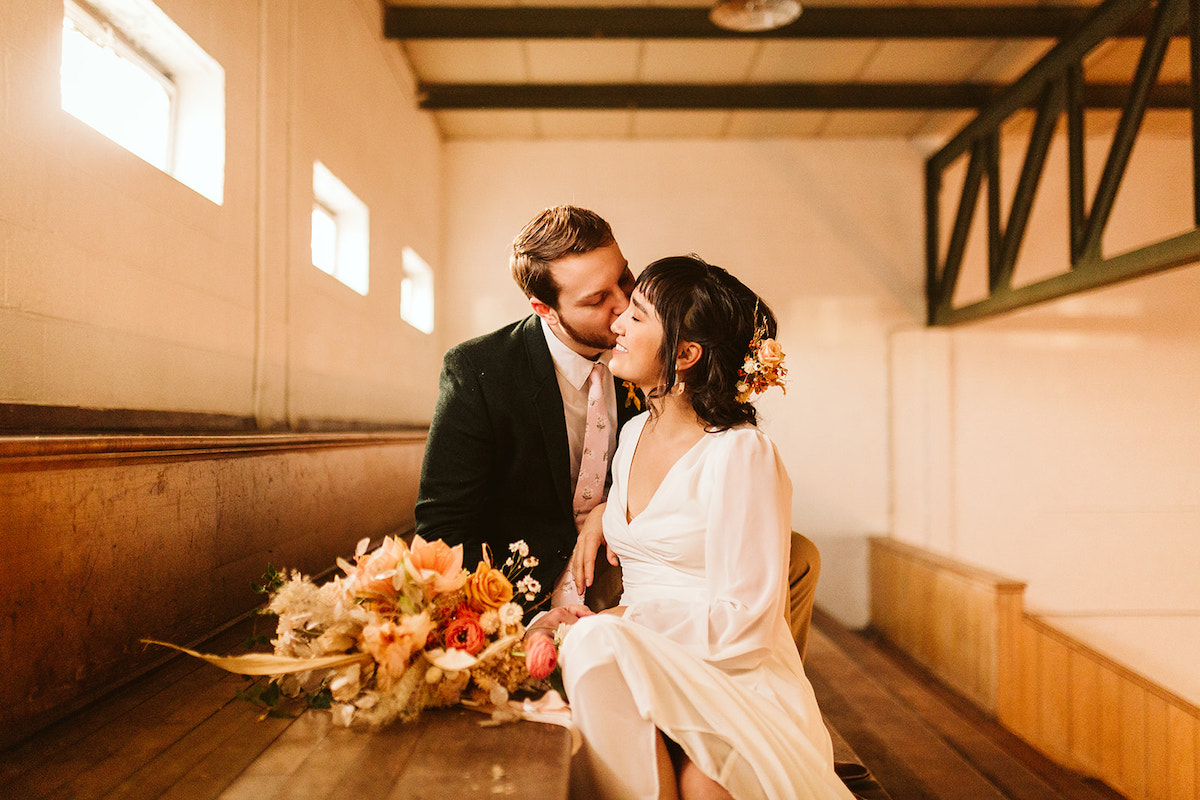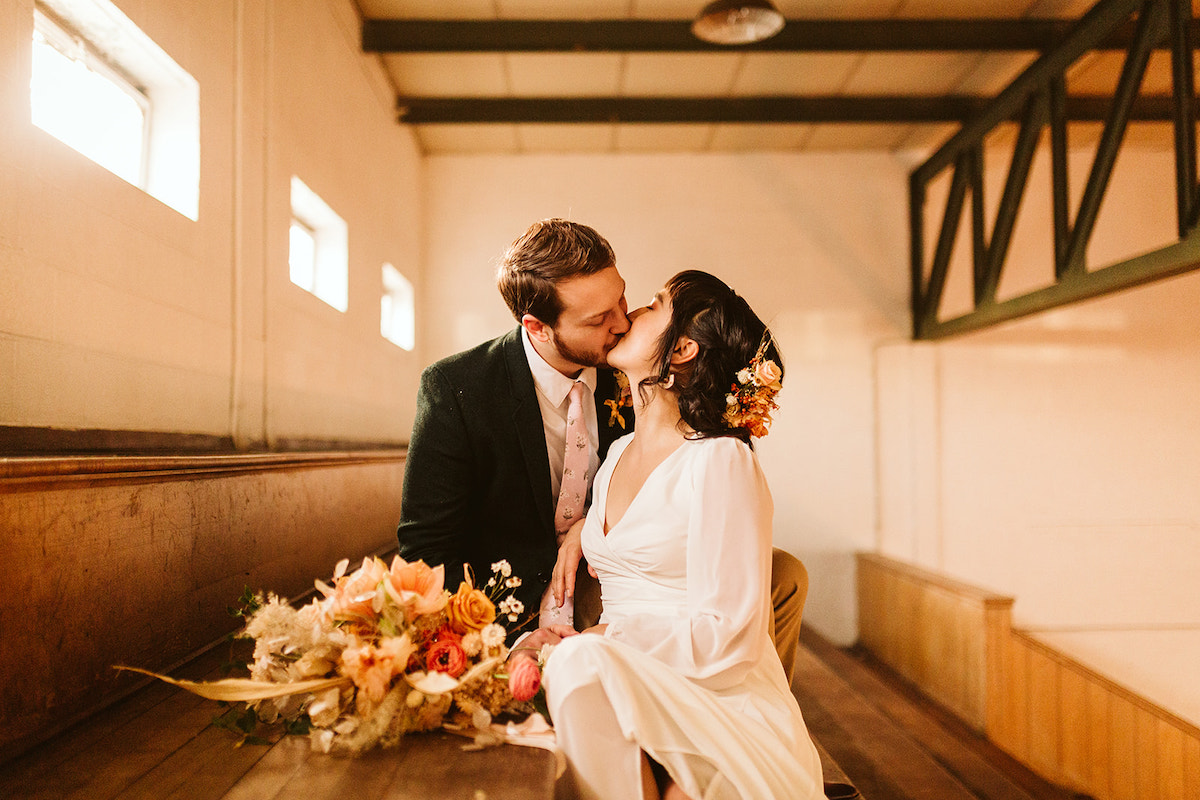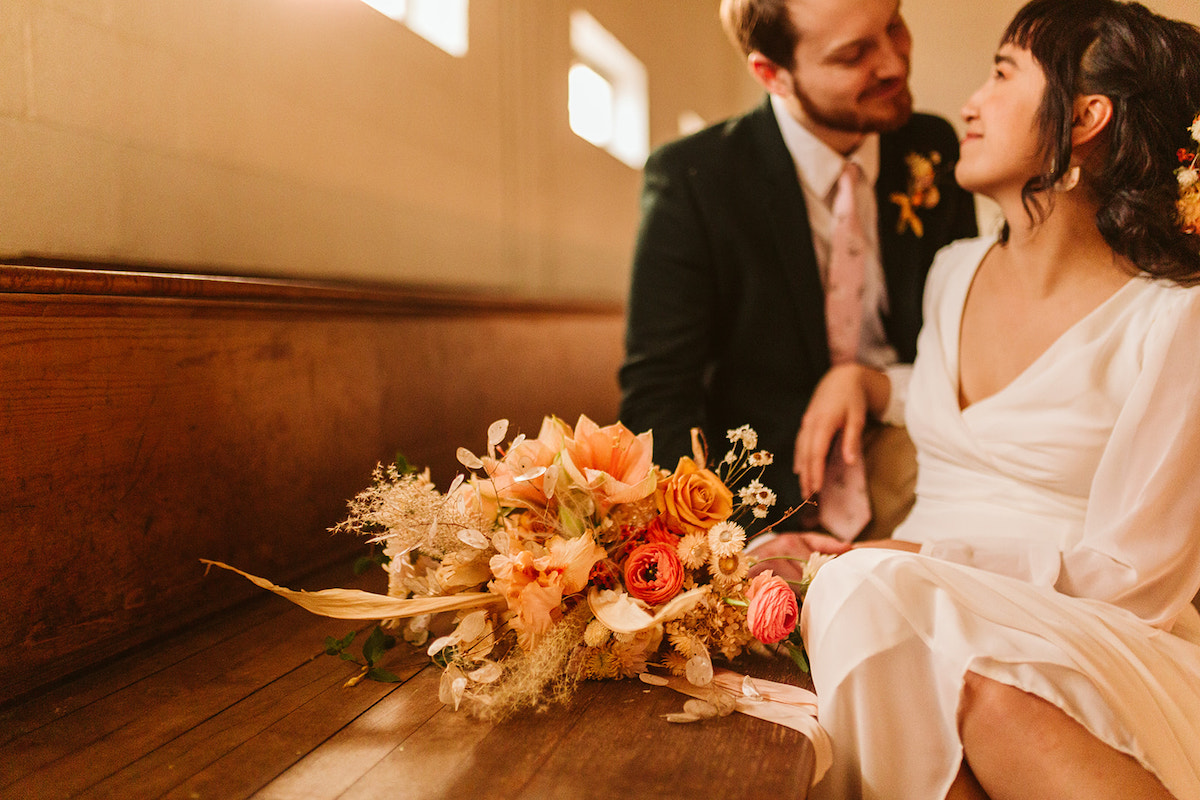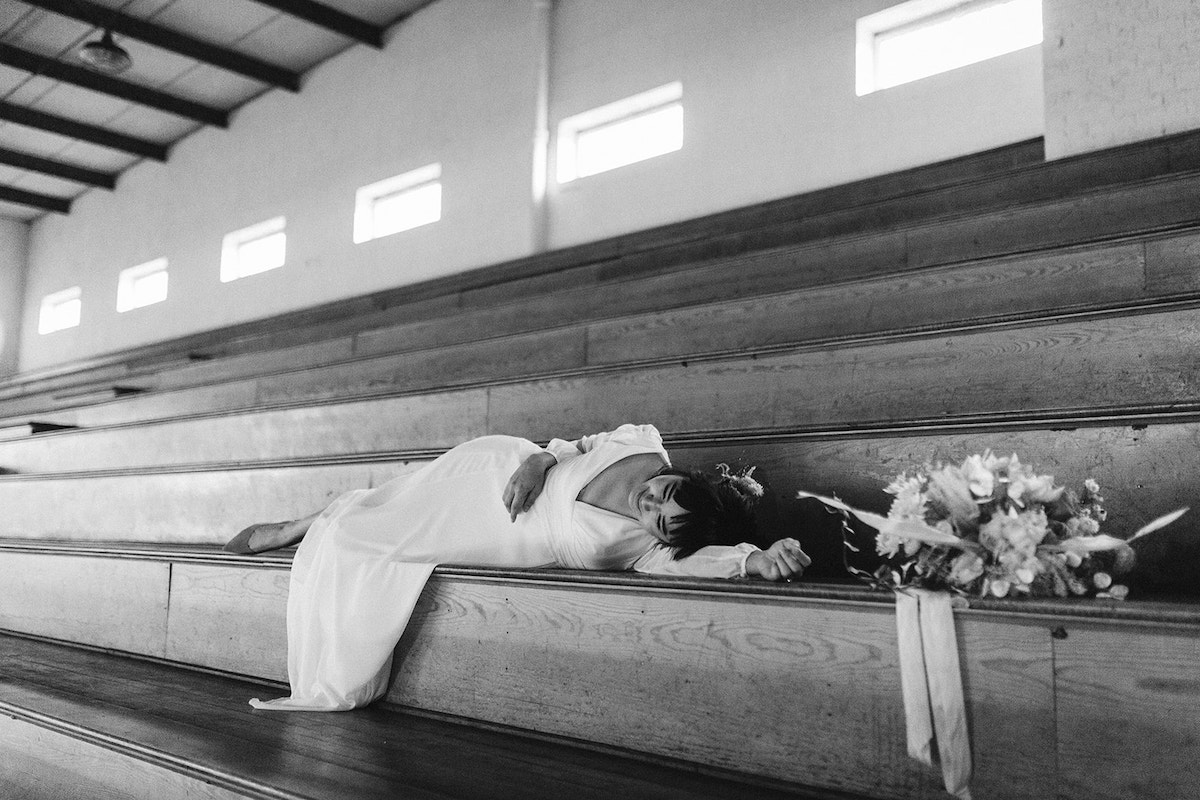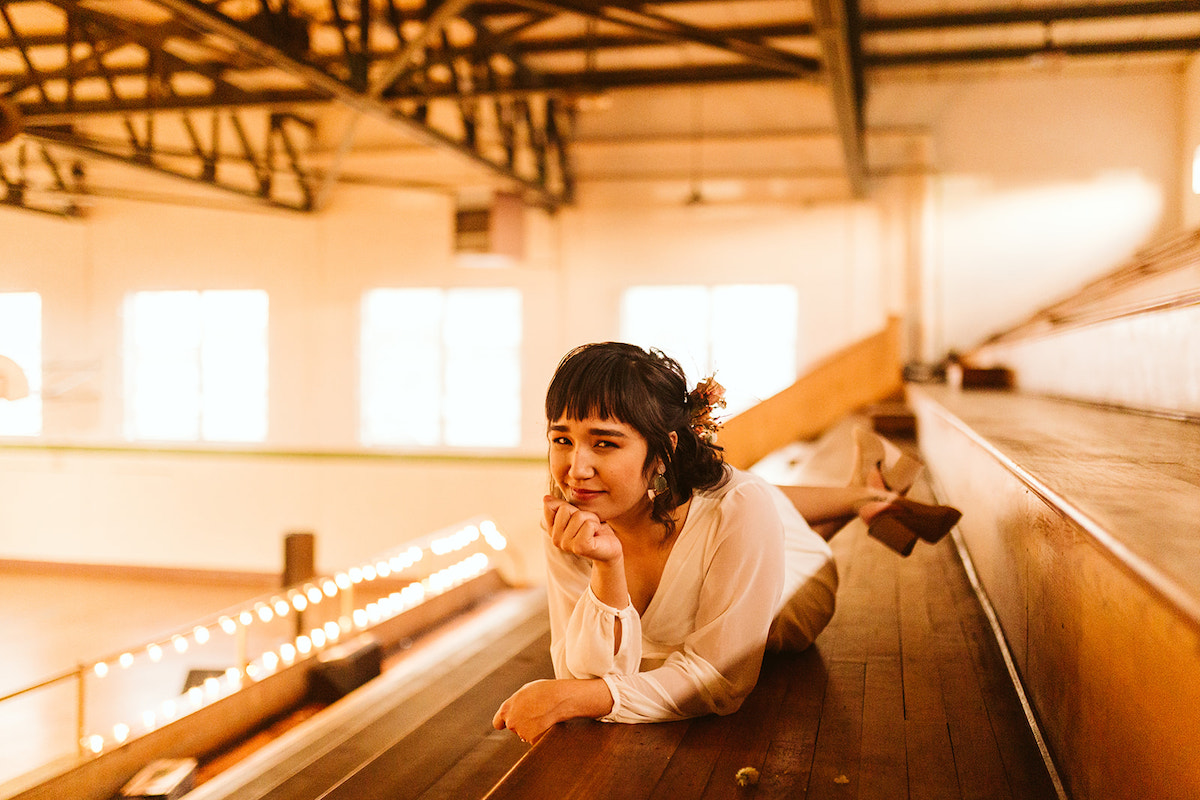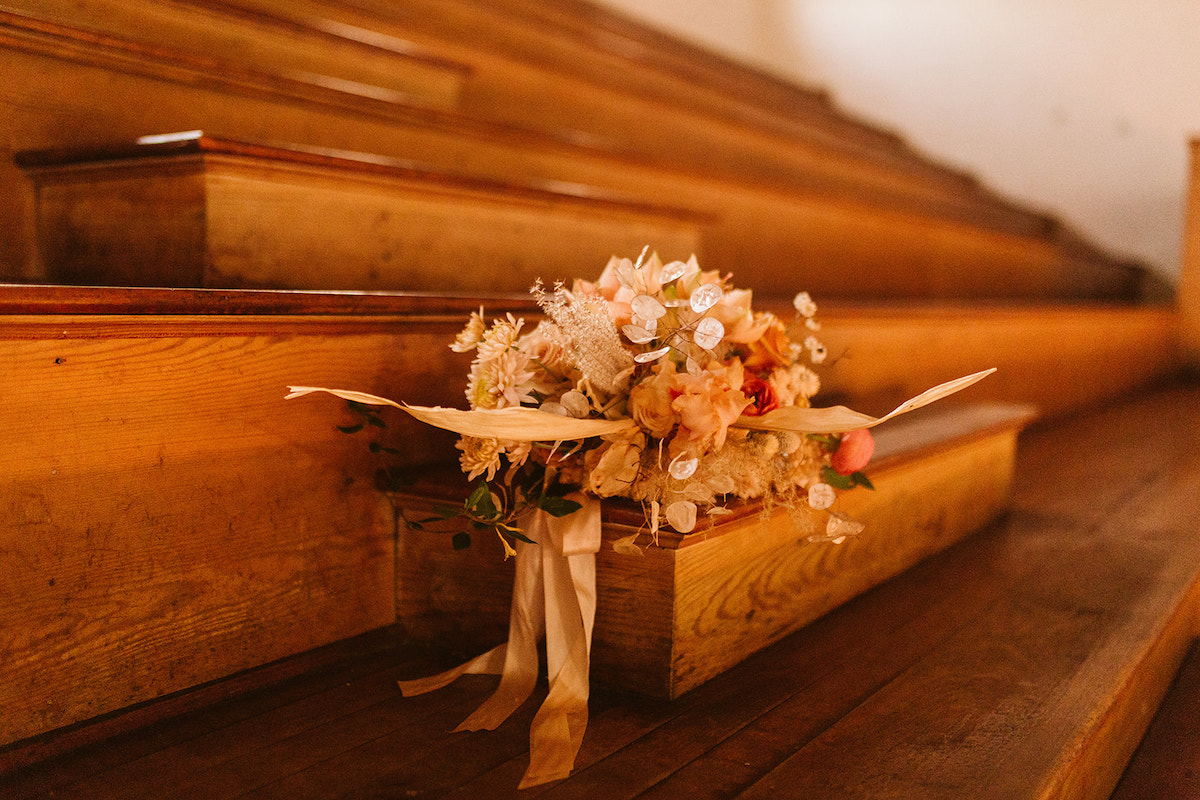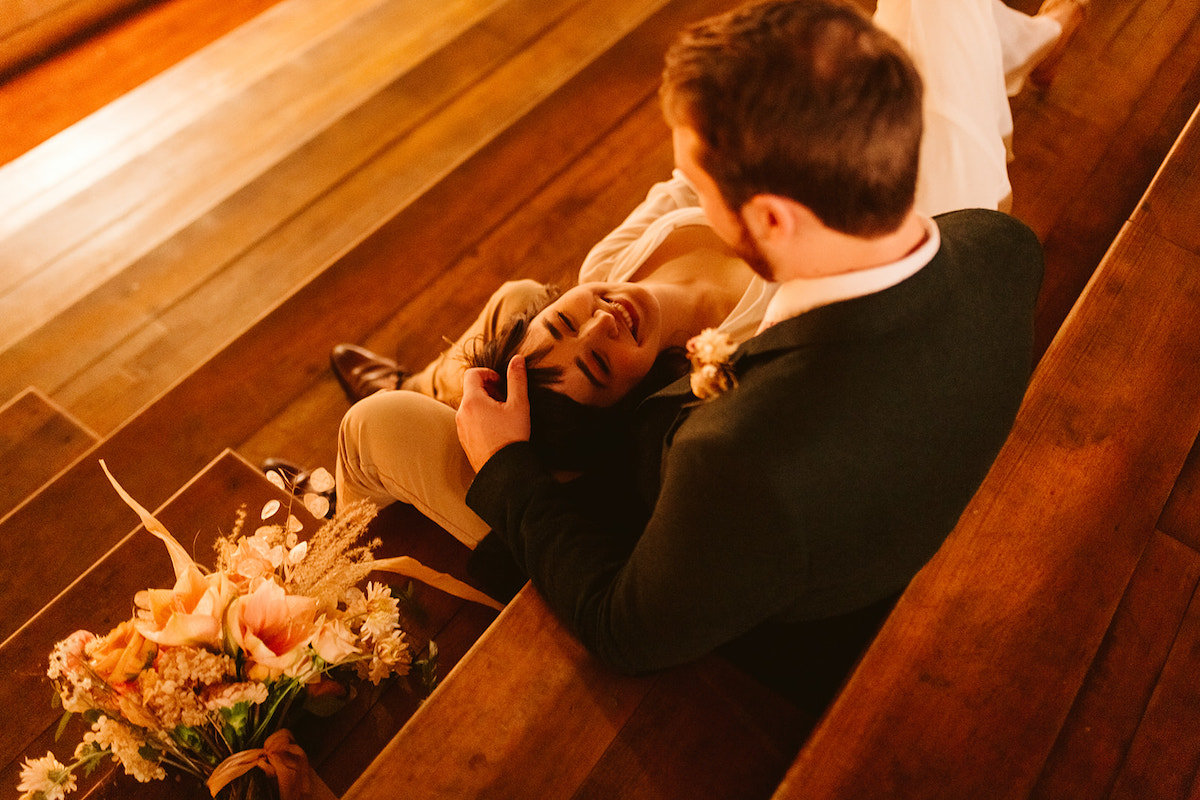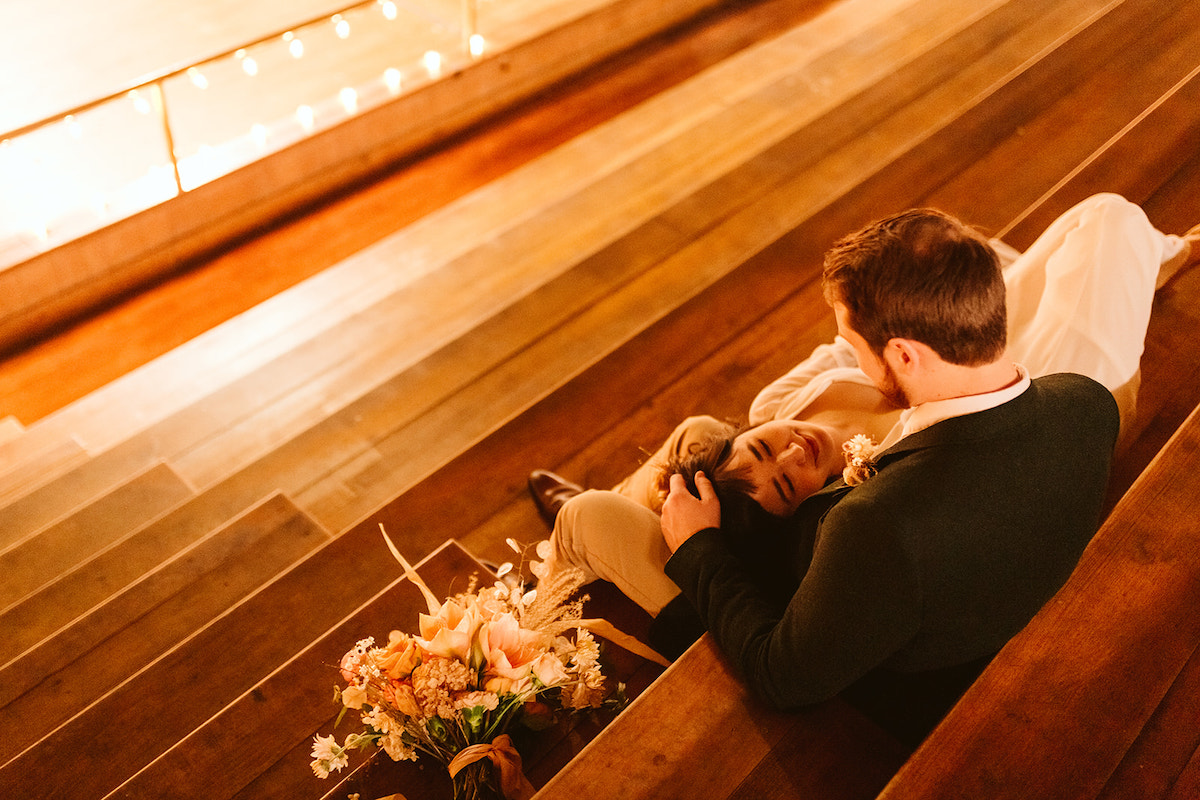 Weaver's Room at The Old Woolen Mill, Cleveland, TN
The Cleveland Woolen Mill was constructed in the late 1800s, but it went out of use in the 1970s. Recently the mill has been restored and given new purpose, including hosting wedding receptions, for instance.
At their reception, the couple presented a barbecue buffet for dinner, and Birch Tree Boba set up a boba tea stand. Such a fun addition to a reception! And Abbey's father made their wedding cake, which completely blows my mind. Abbey and Graham brought the copper pipe arch from their ceremony, set it up against an exposed brick wall, and created a photo booth for their guests. Several friends and family members gave emotional and heart-warming toasts, moving both Graham and Abbey to tears.
Setting the tone for your wedding and reception, Part 3: Music
On the wedding questionnaire, Abbey and Graham confessed that their biggest priority in planning their wedding was creating the perfect playlist for their reception! (Admittedly would probably be a main priority for me, too. Ha!) The couple is musical, so instead of a traditional "wedding party," they had a "wedding chorus" of about 20 people. During the processional, the wedding chorus sang a song that Abbey and Graham had written together.
Later, at their reception at Weaver's Room at The Old Woolen Mill, Cleveland, Graham and his mom set a sentimental pace with an acoustic version of Cindy Lauper's "Time After Time." Abbey and her dad danced together to a Billy Joel song they both really love. Then Graham and Abbey broke it down to Youth Lagoon's "17.″
When the rest of the crowd joins them out on the dance floor, you can tell the night's just not gonna end anytime soon. And as I look back through the photos from their reception, I think their playlist was very well received!
I started this blog by telling you how this wedding ended. So I'll end with that as well. After Niel and Jen from The Terror Pigeon Dance Revolt! led the crowd in their song "Ride Friendship," Abbey and Graham headed into the night through a tunnel of sparklers.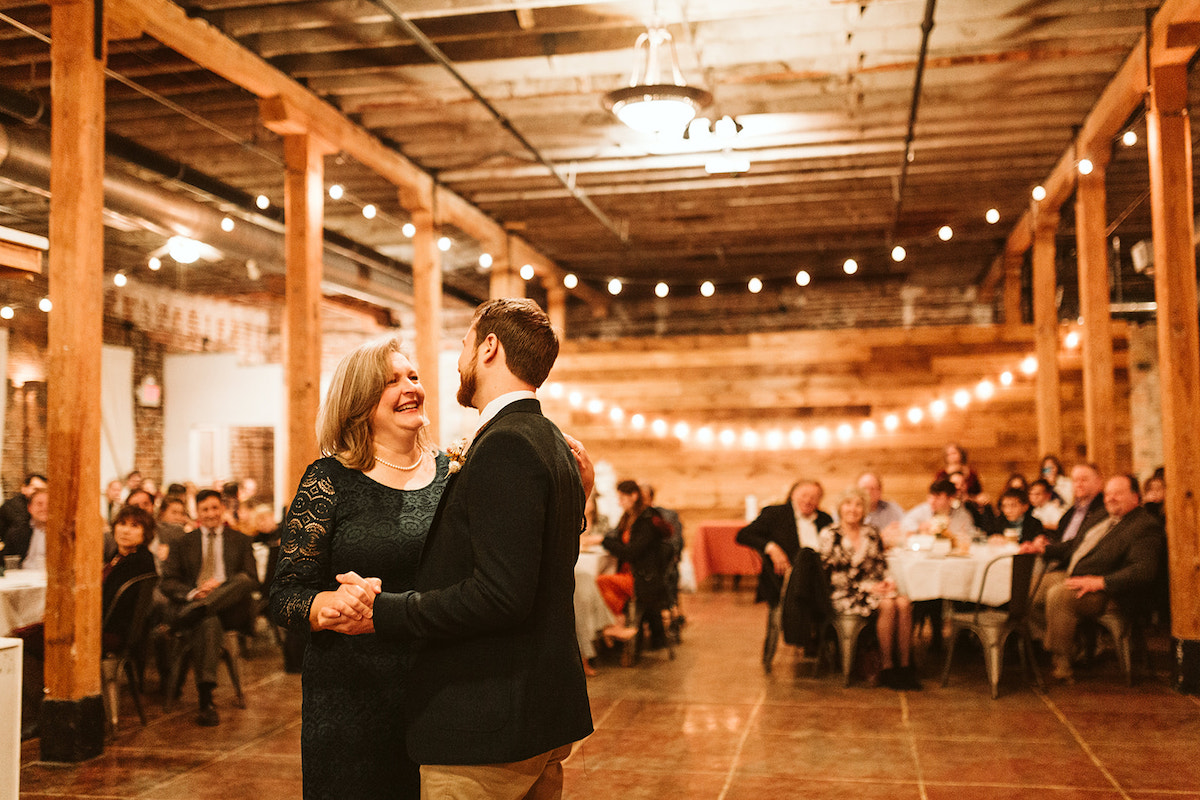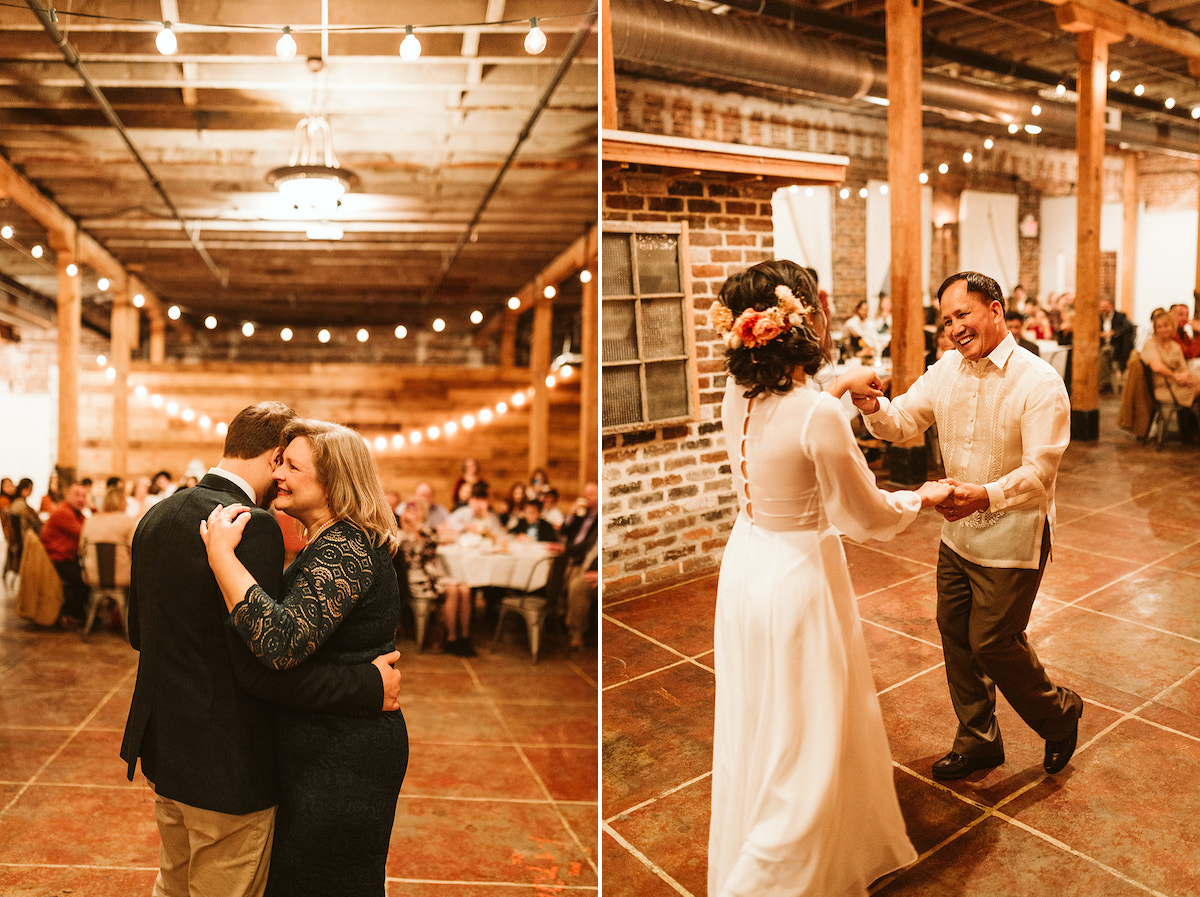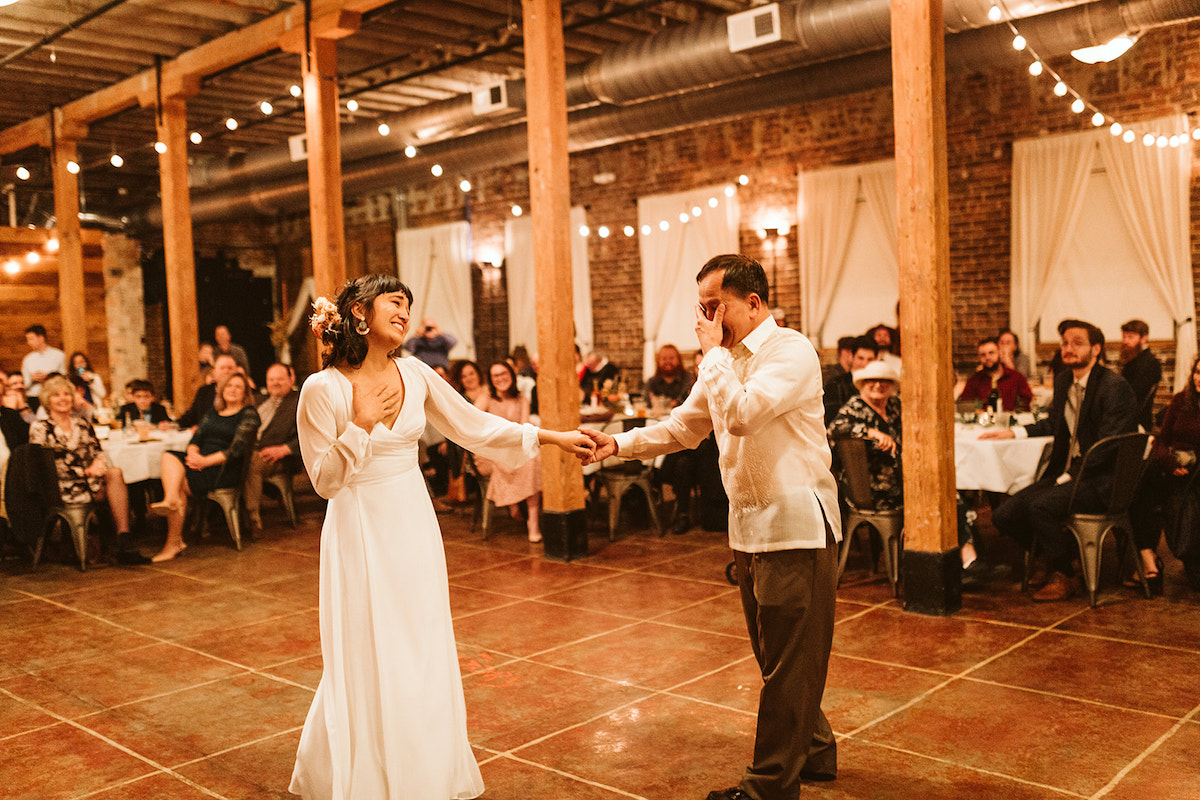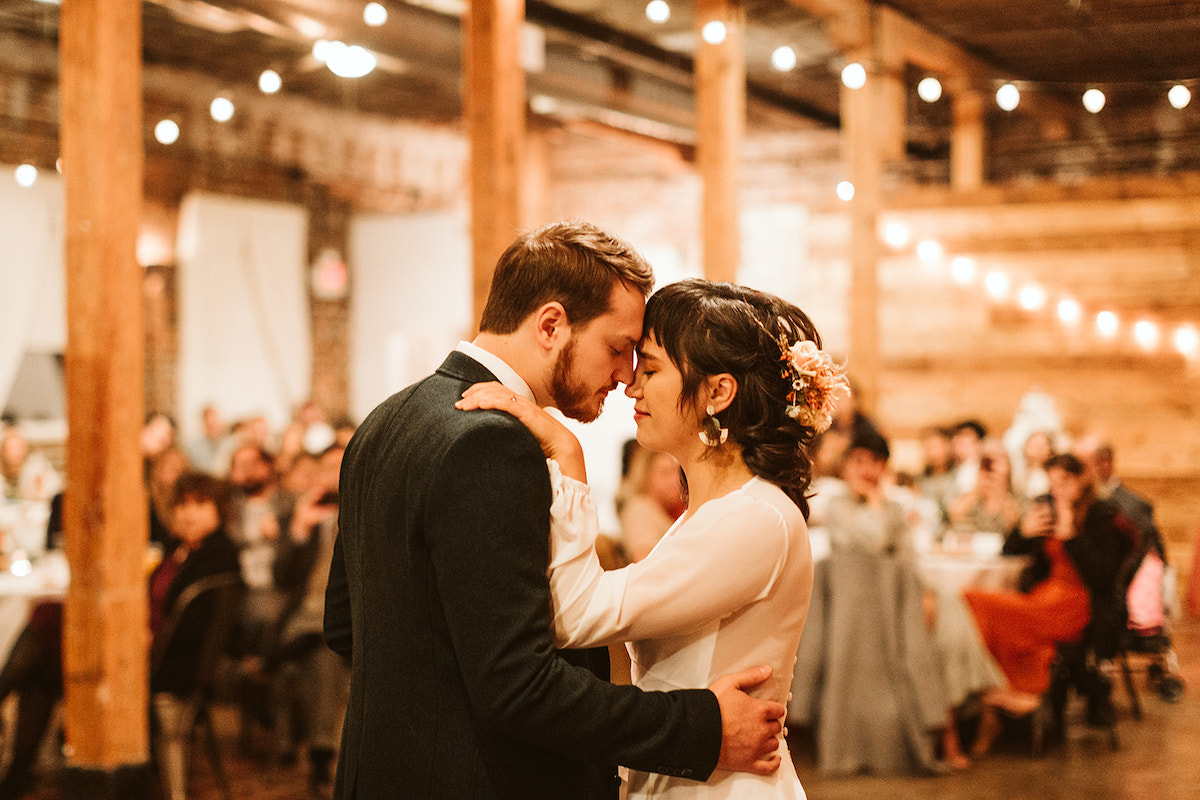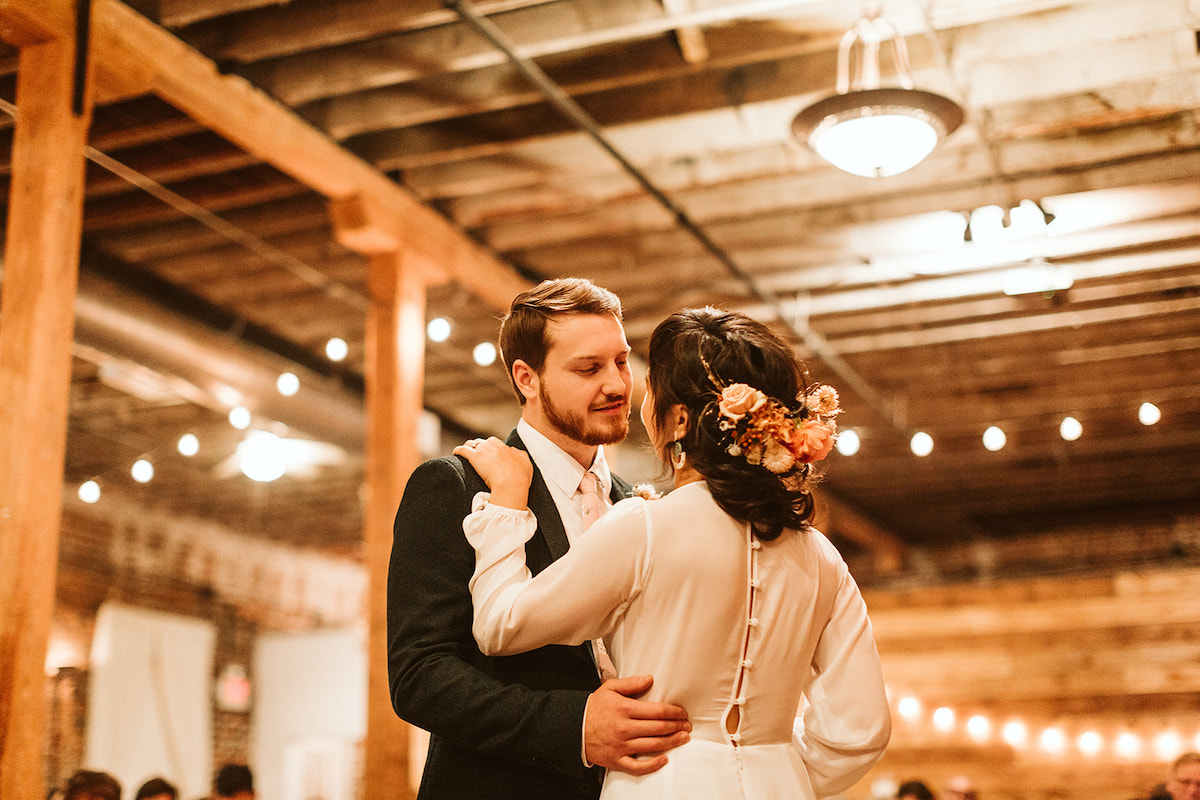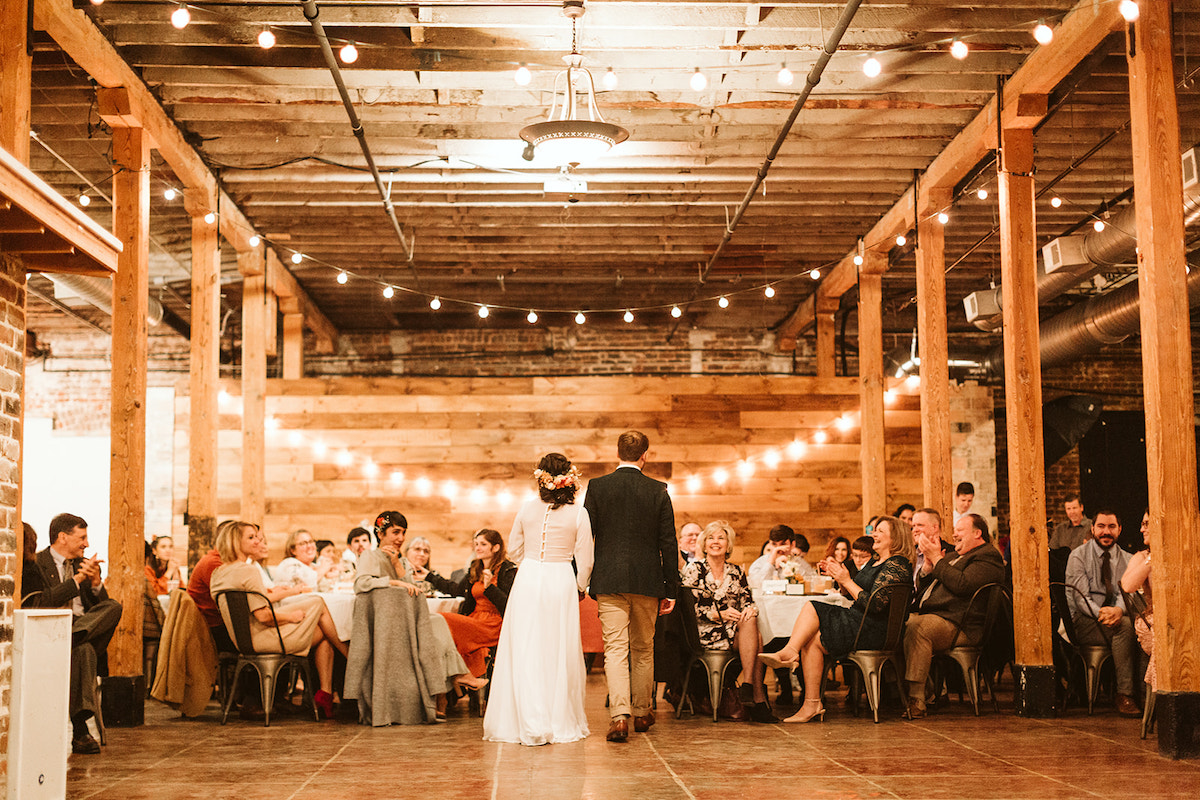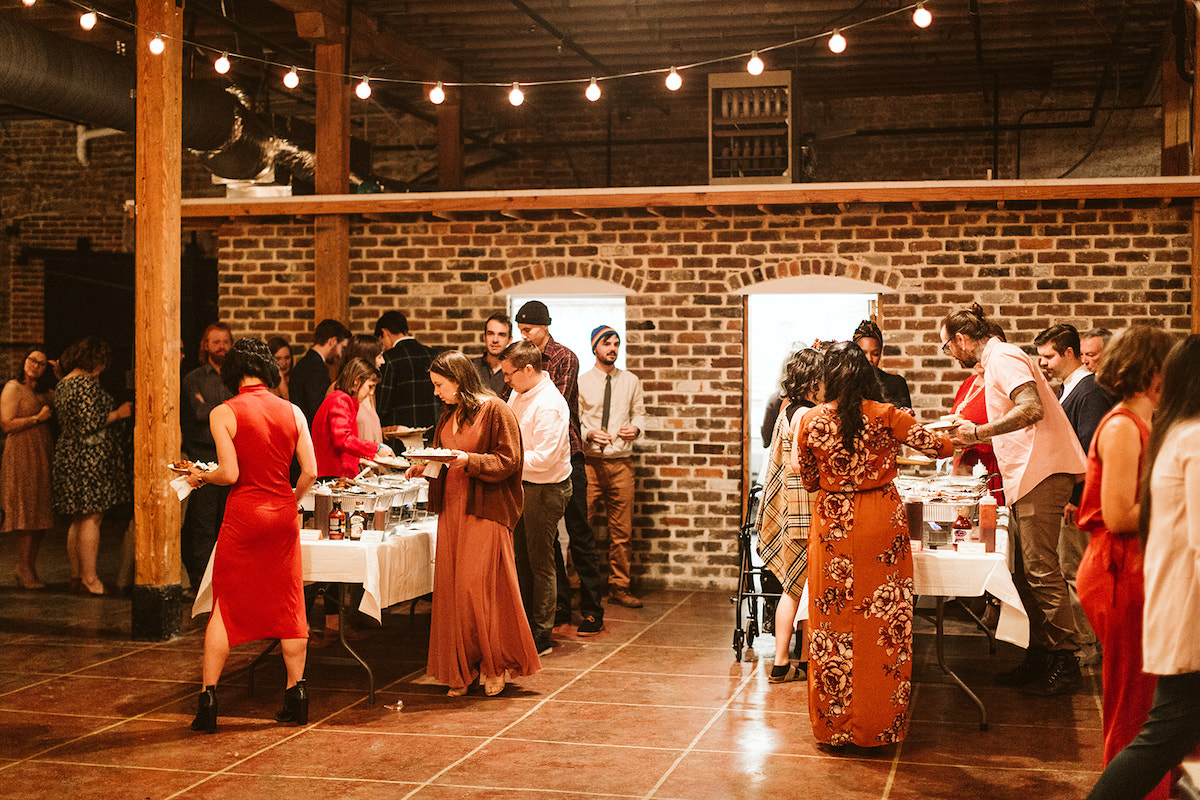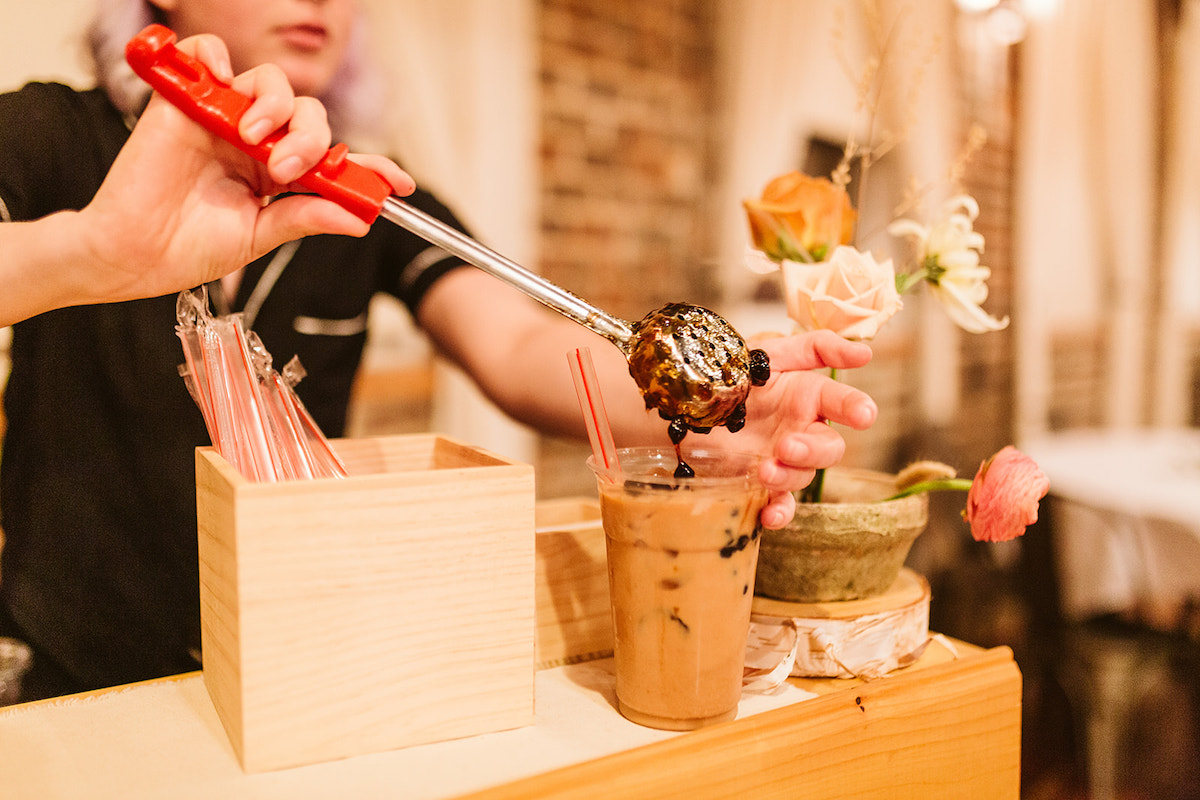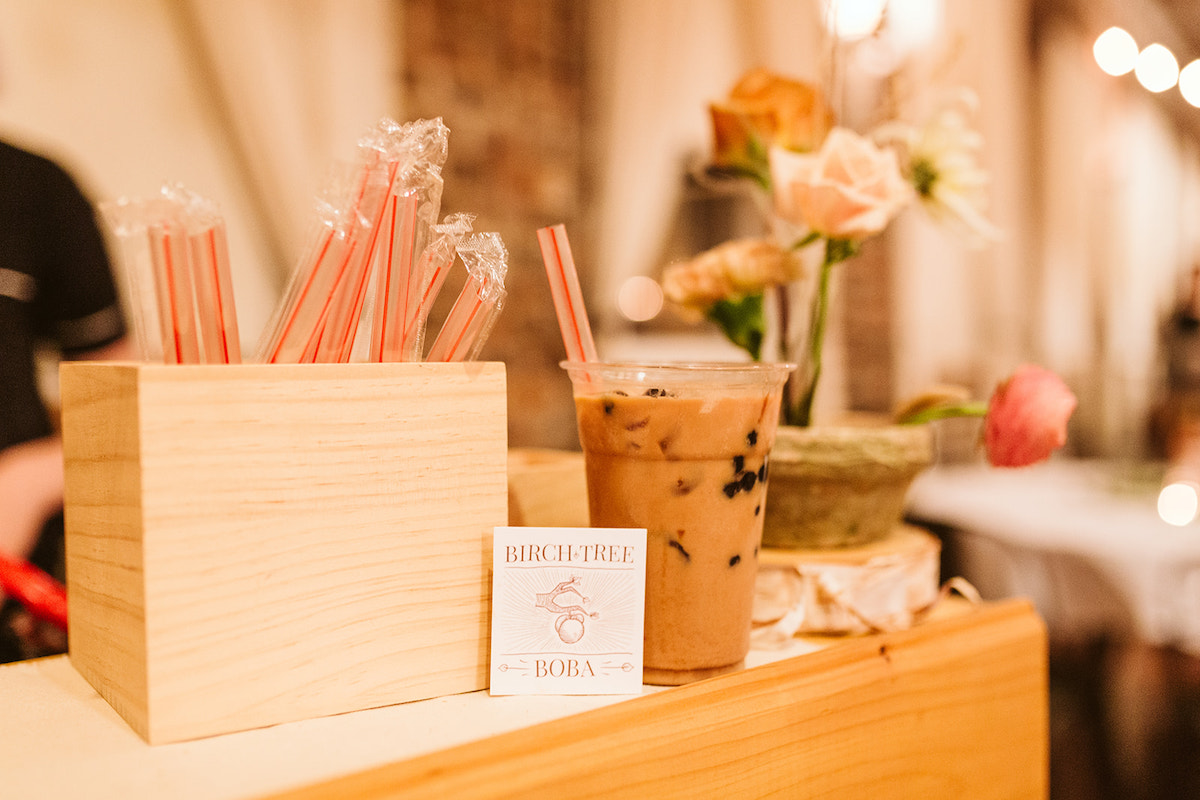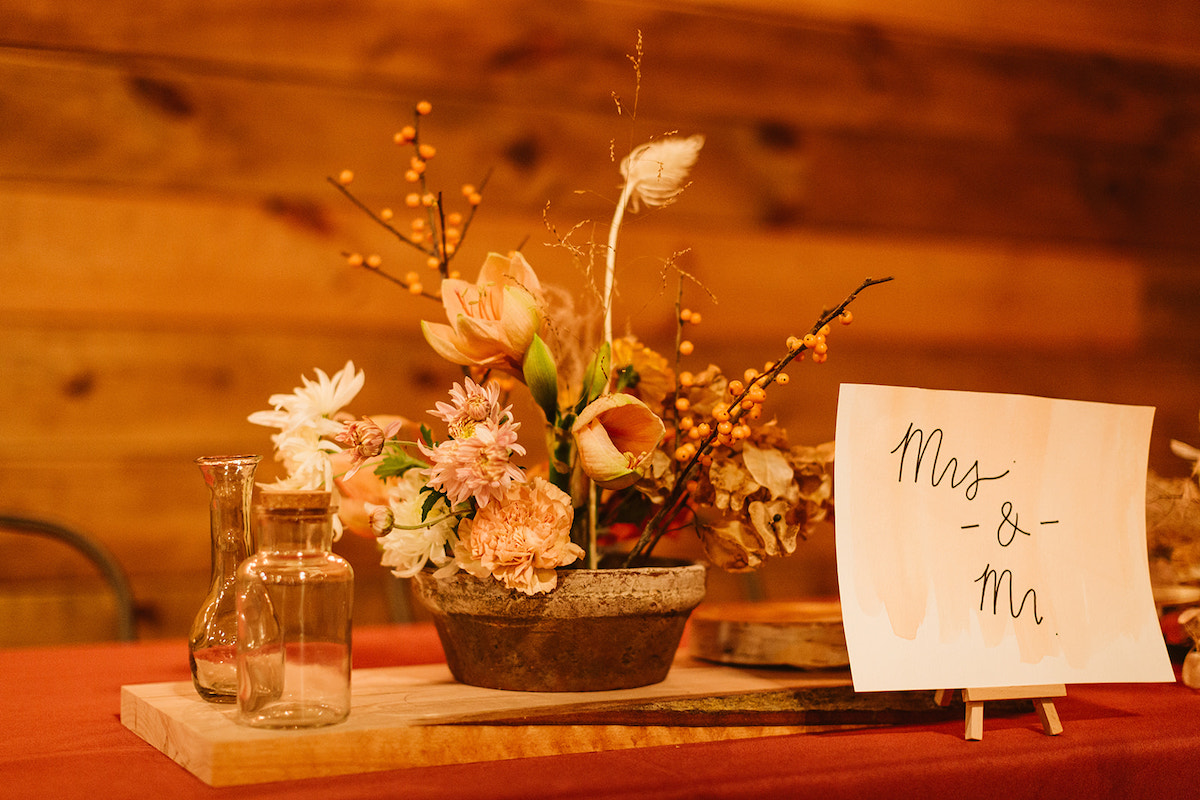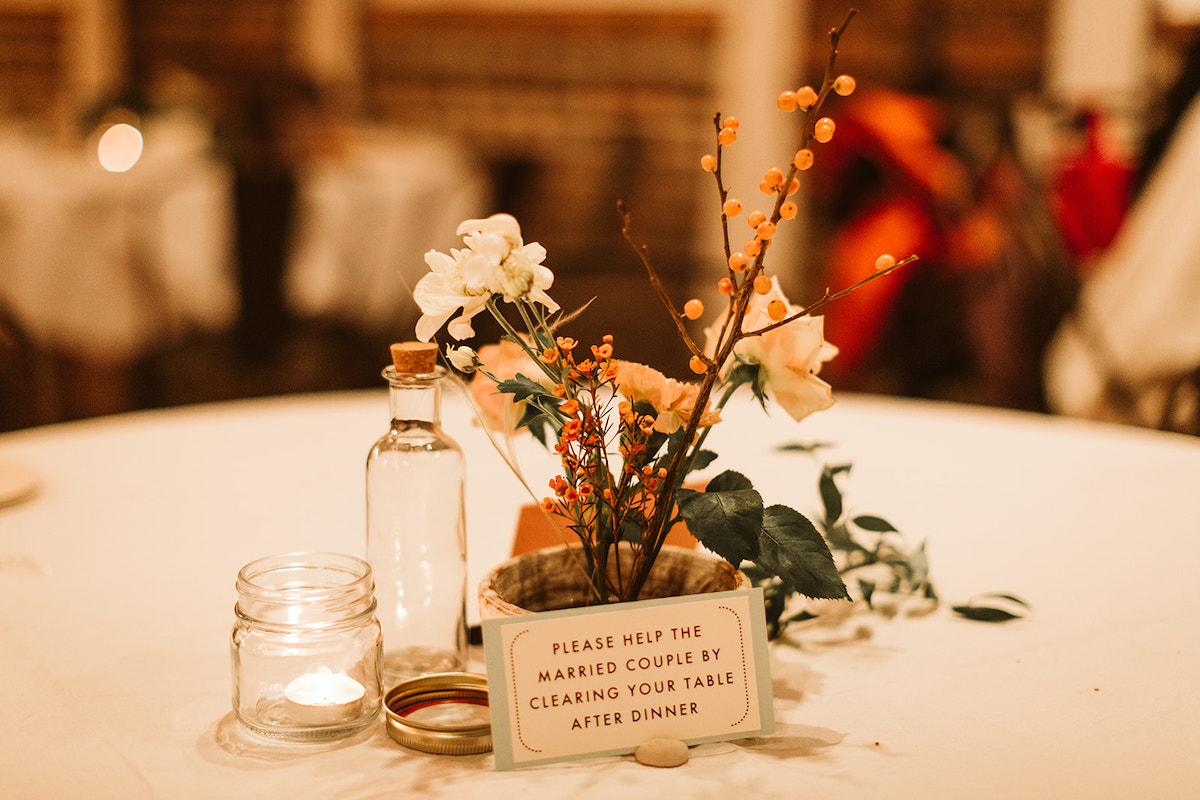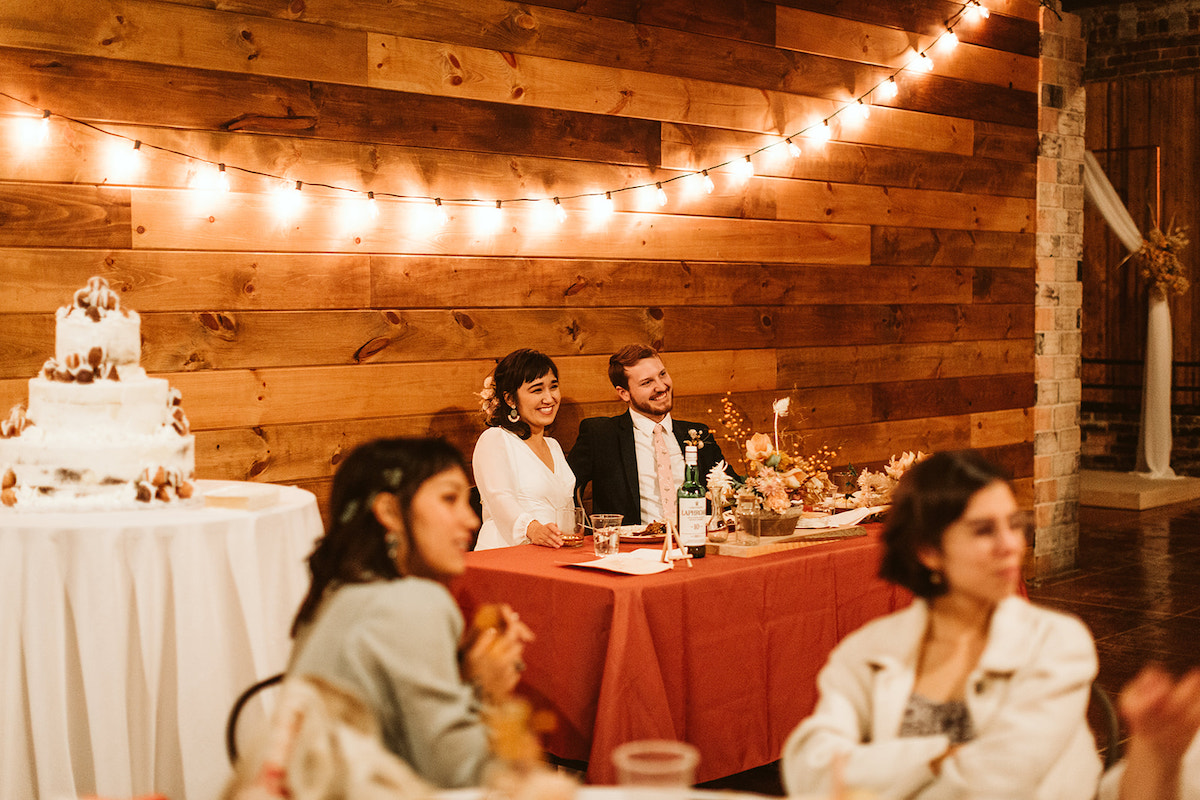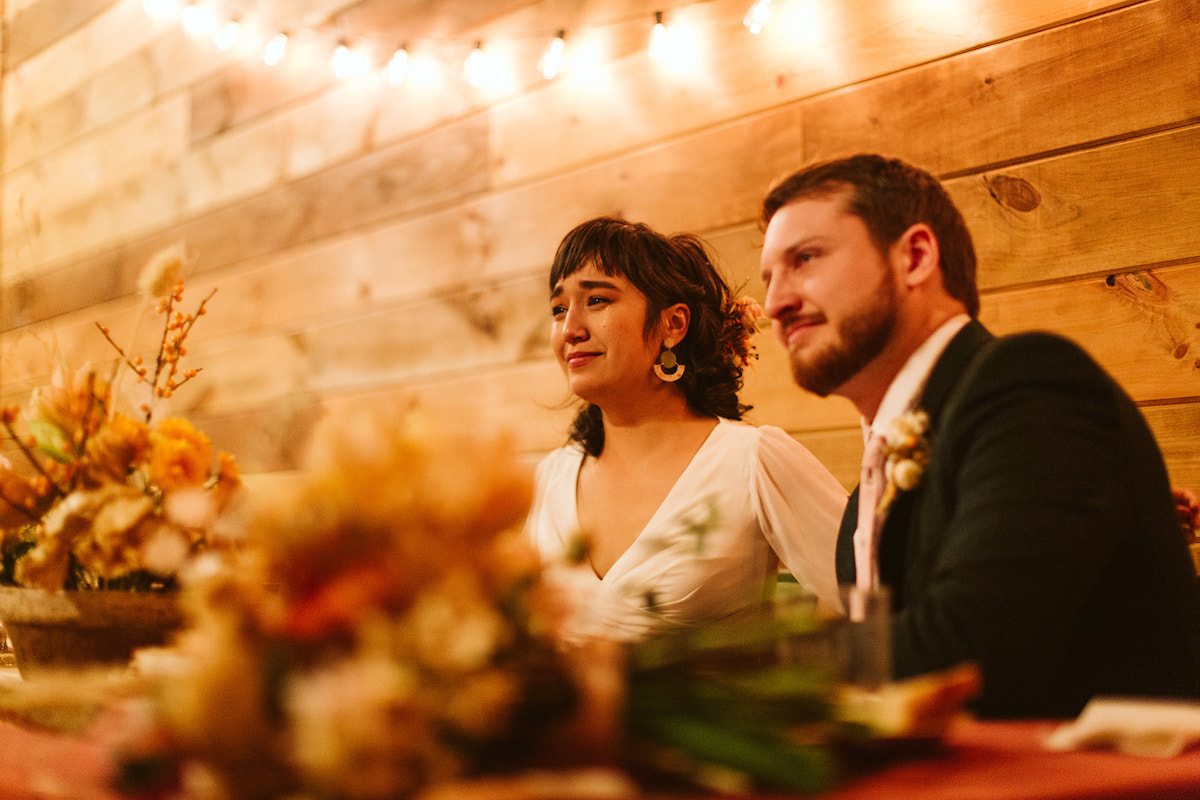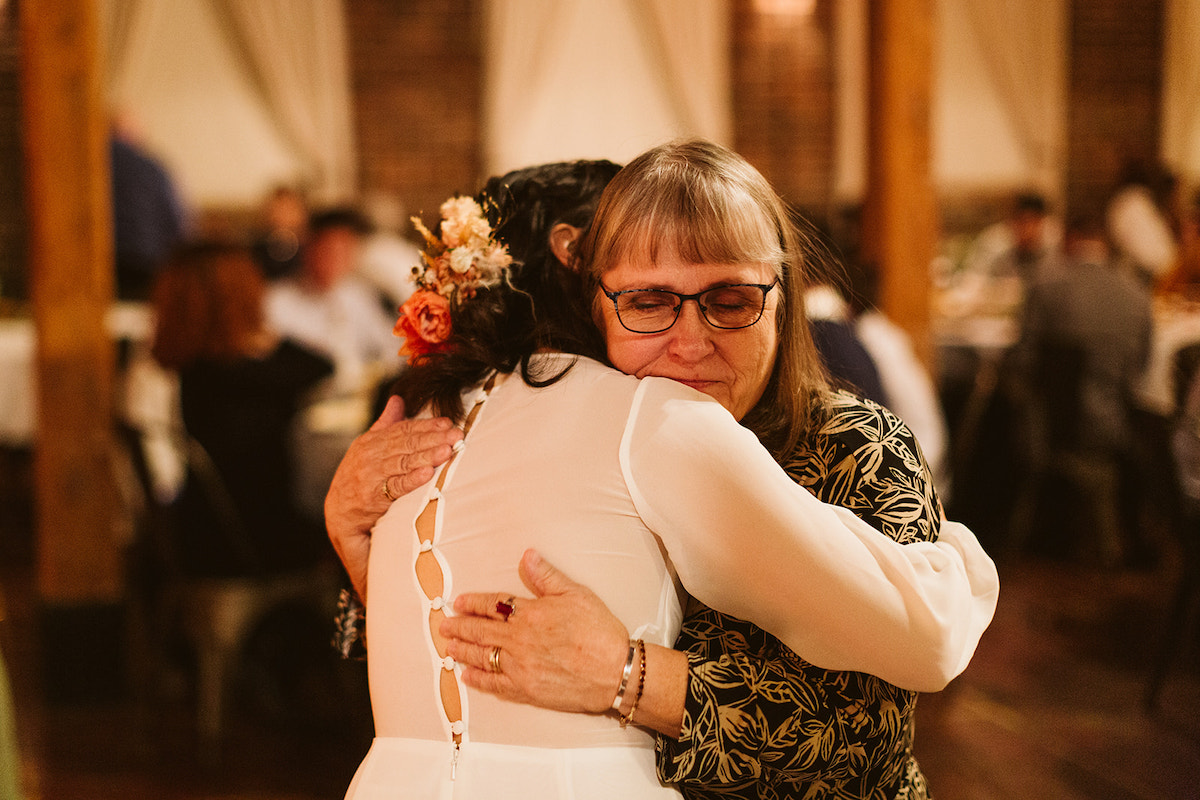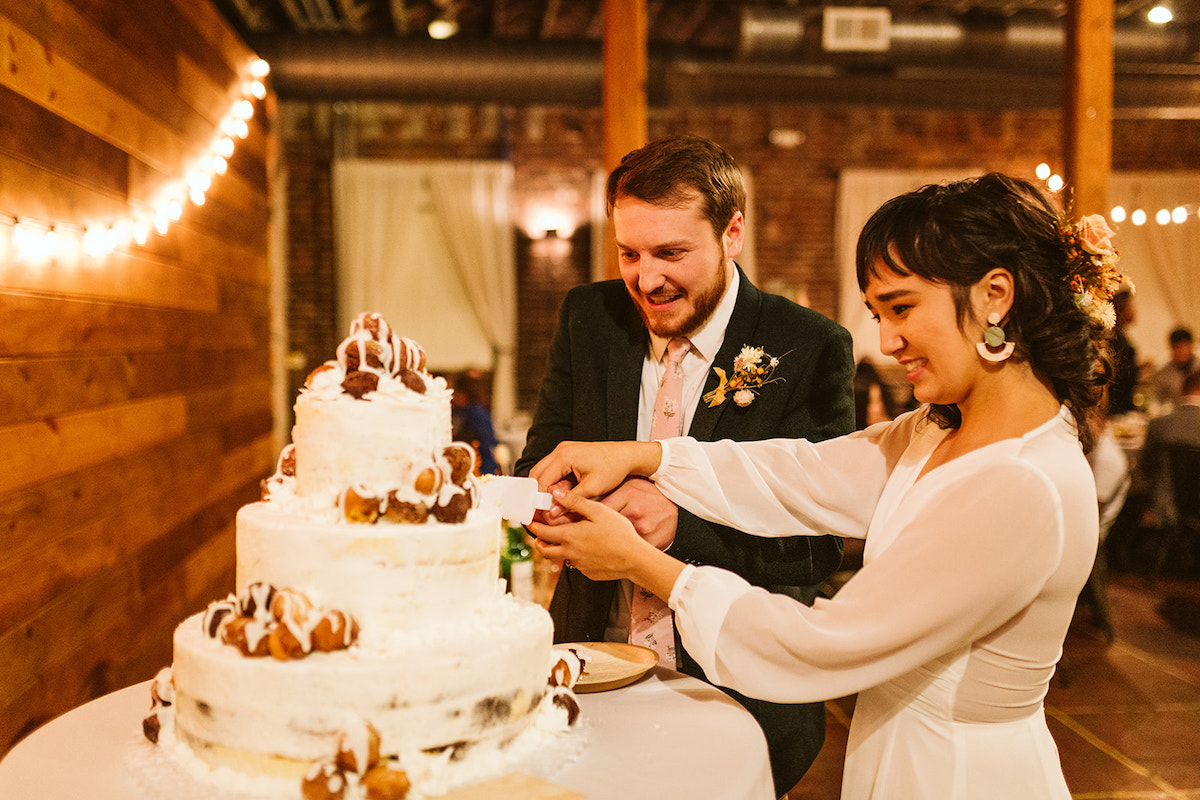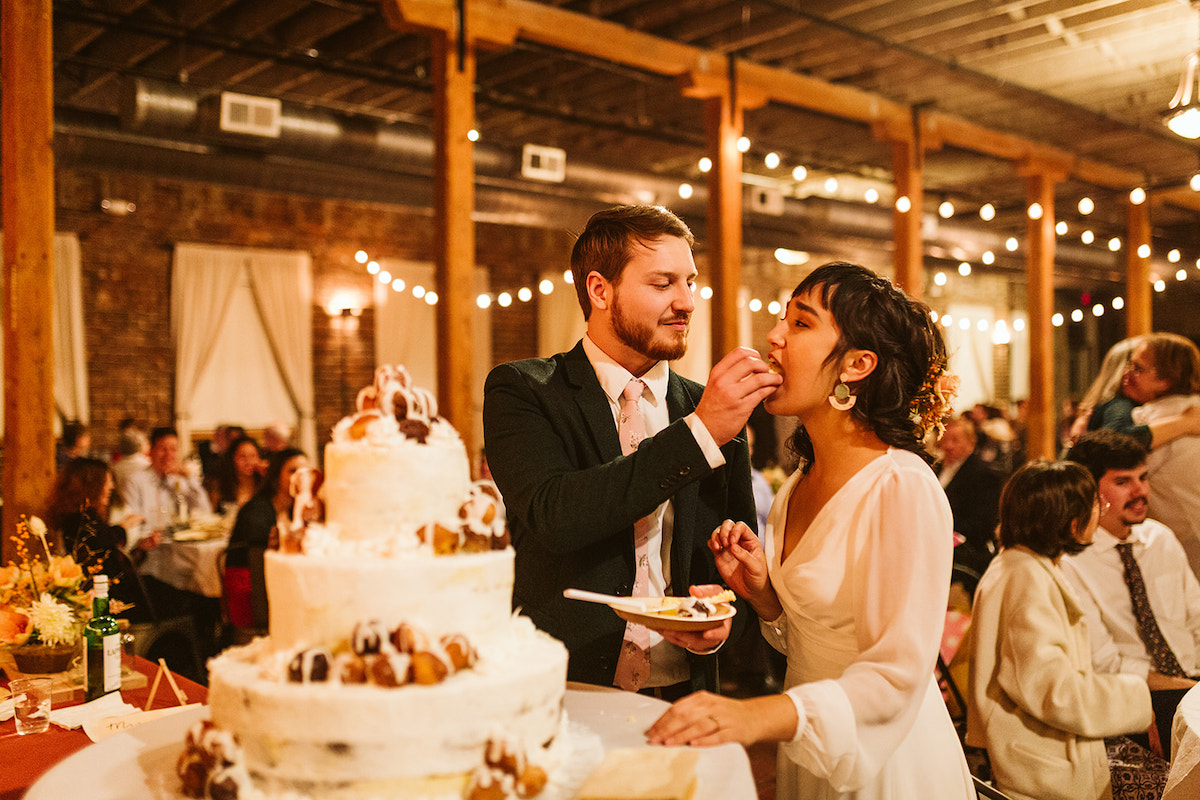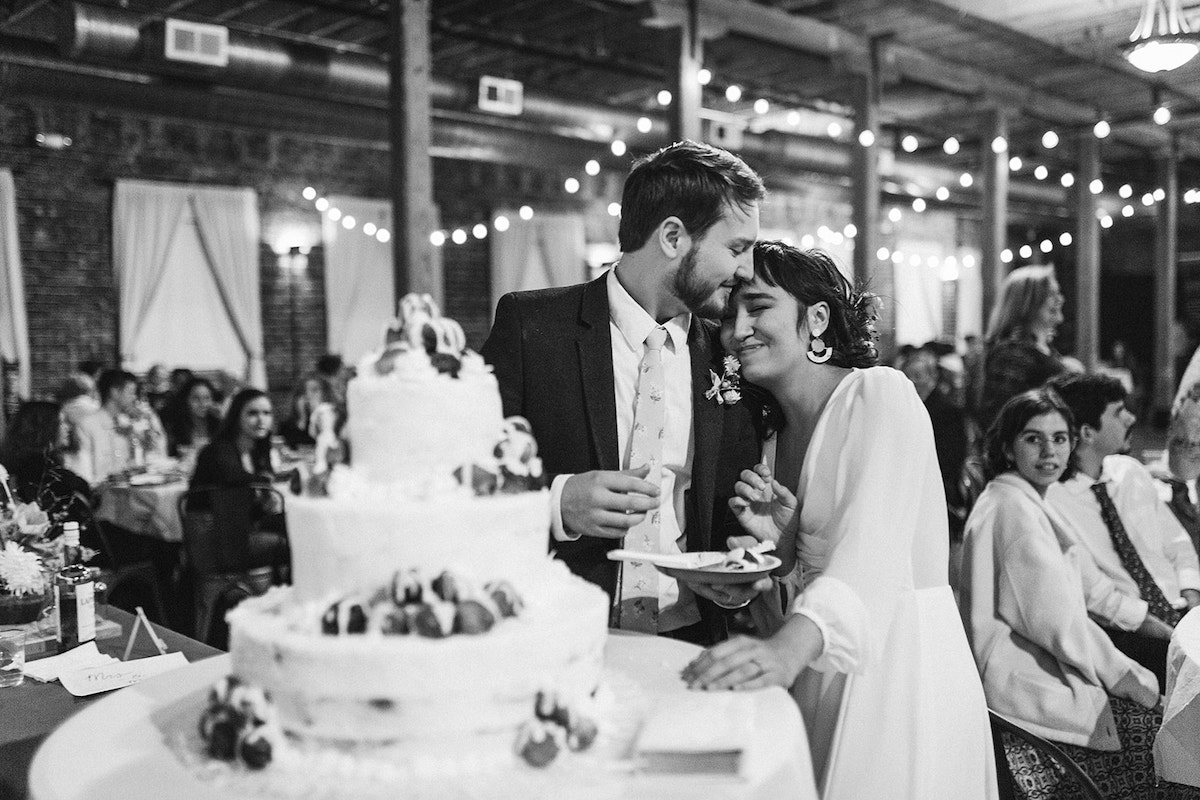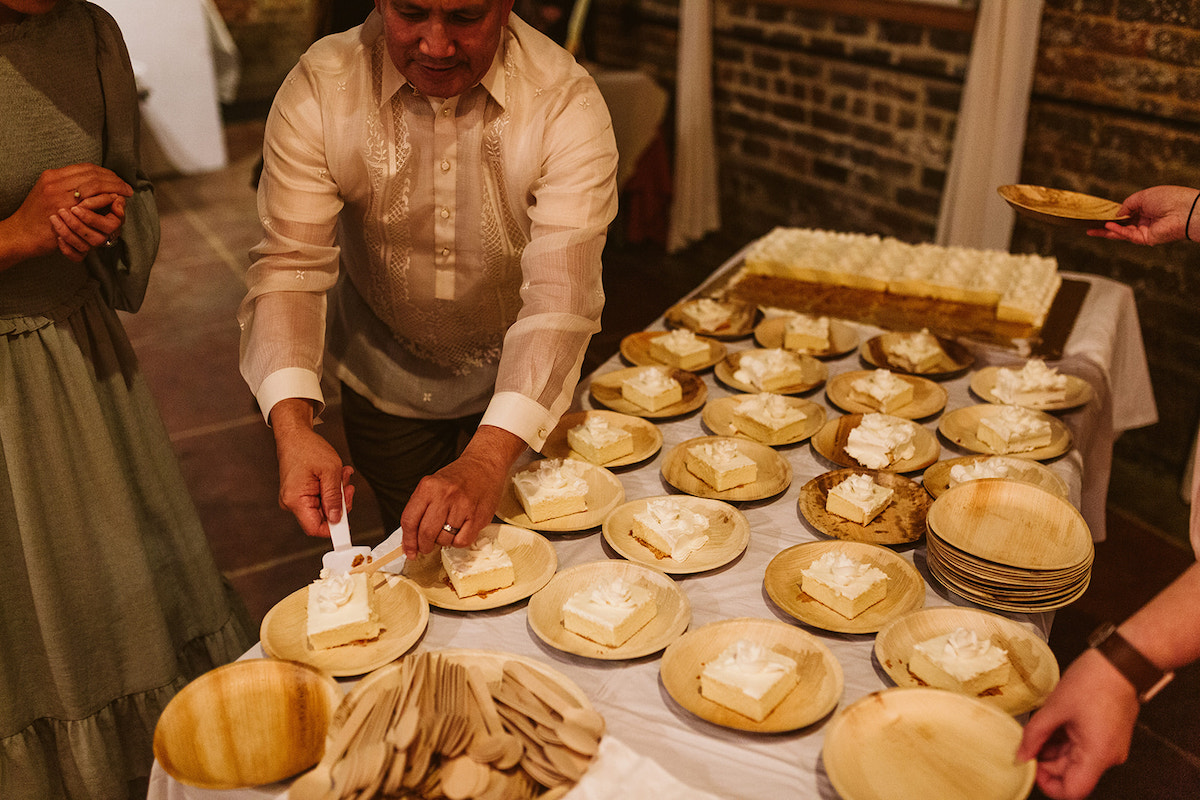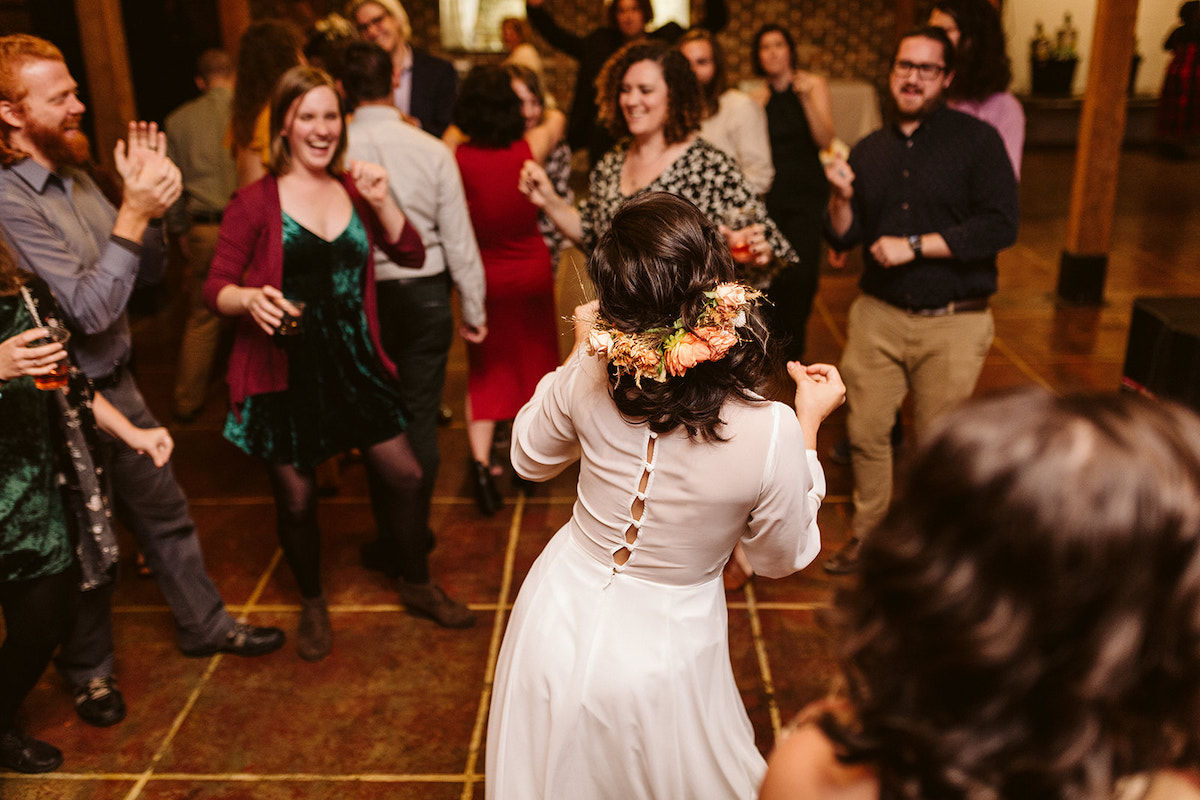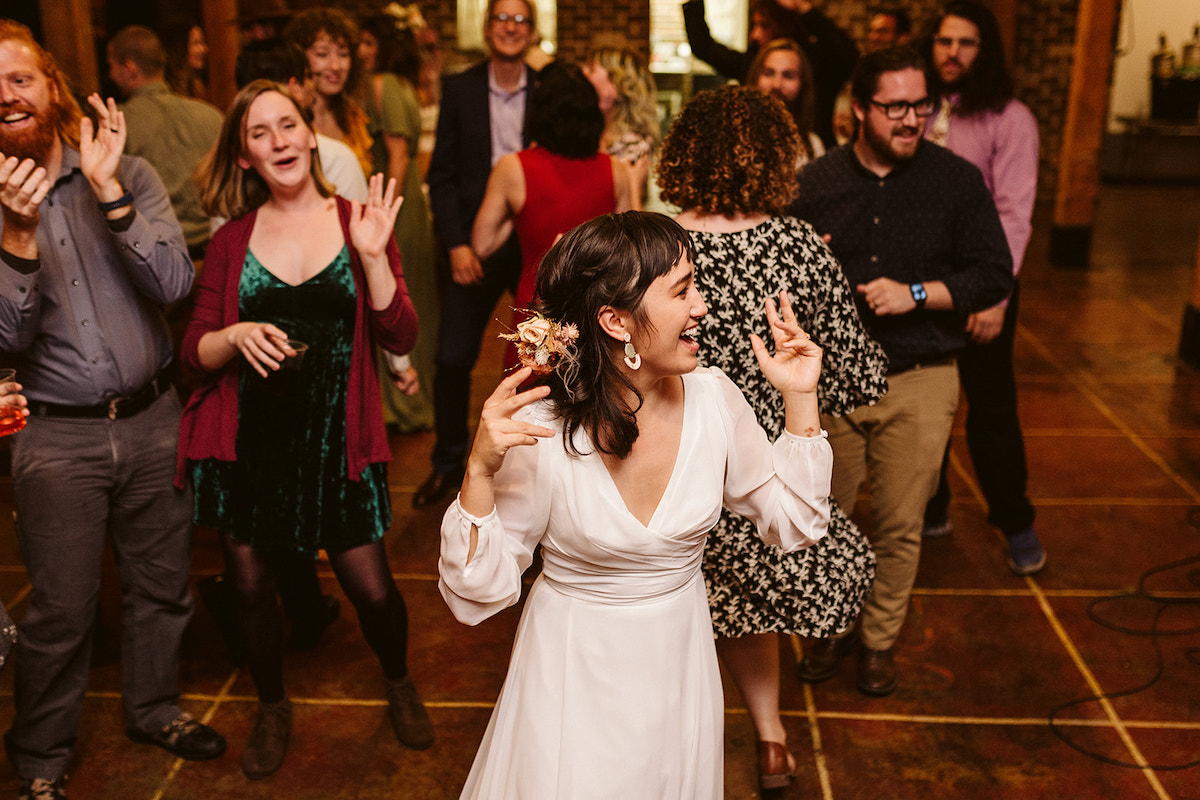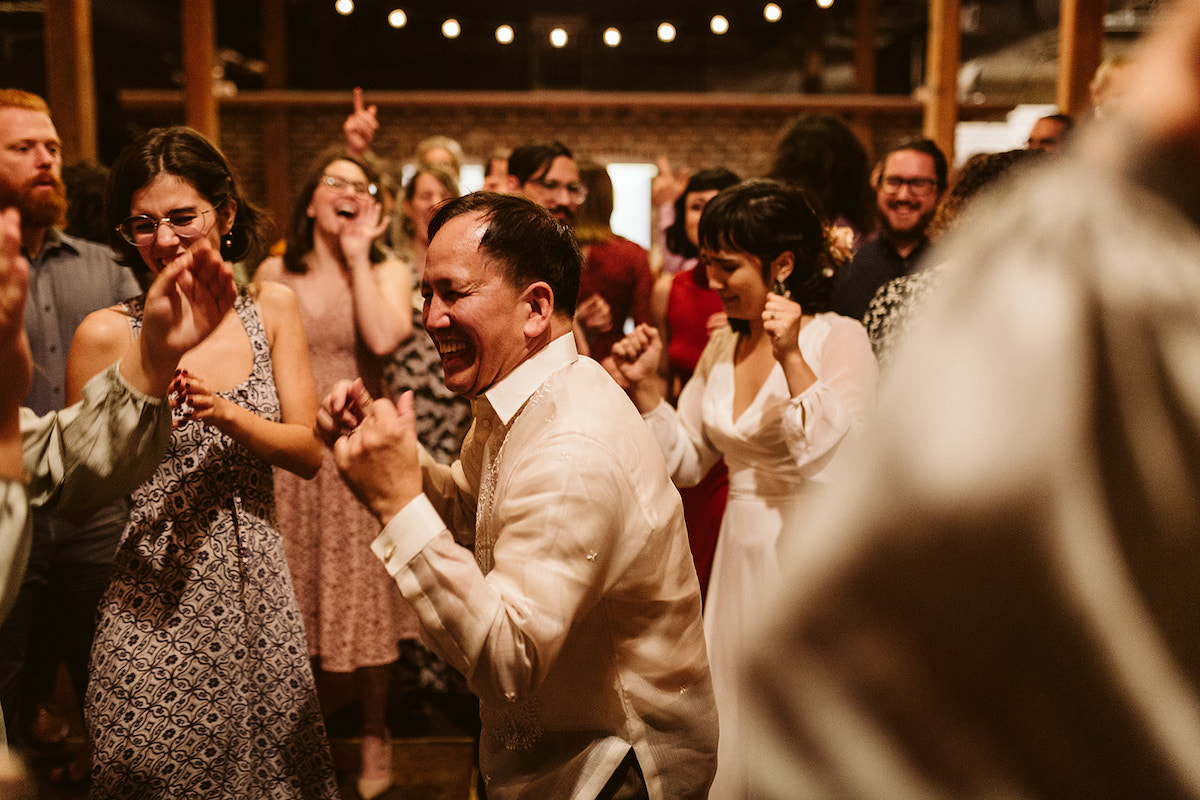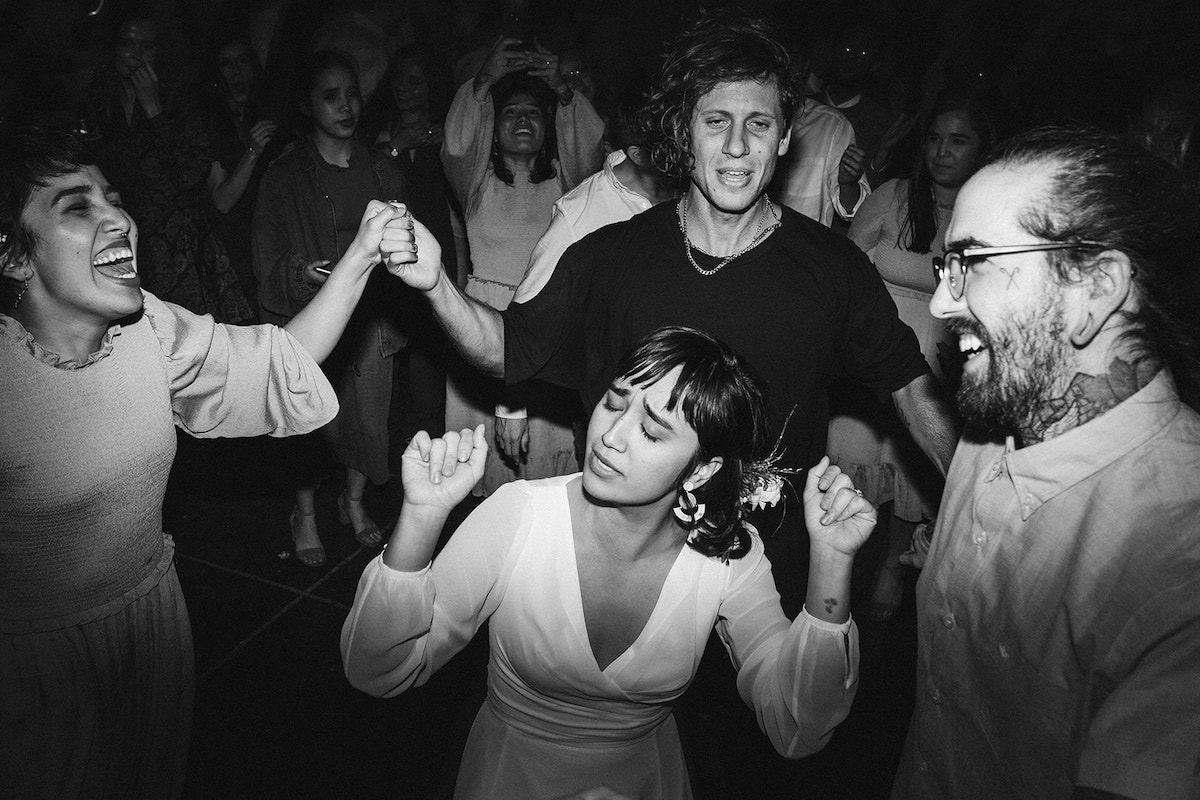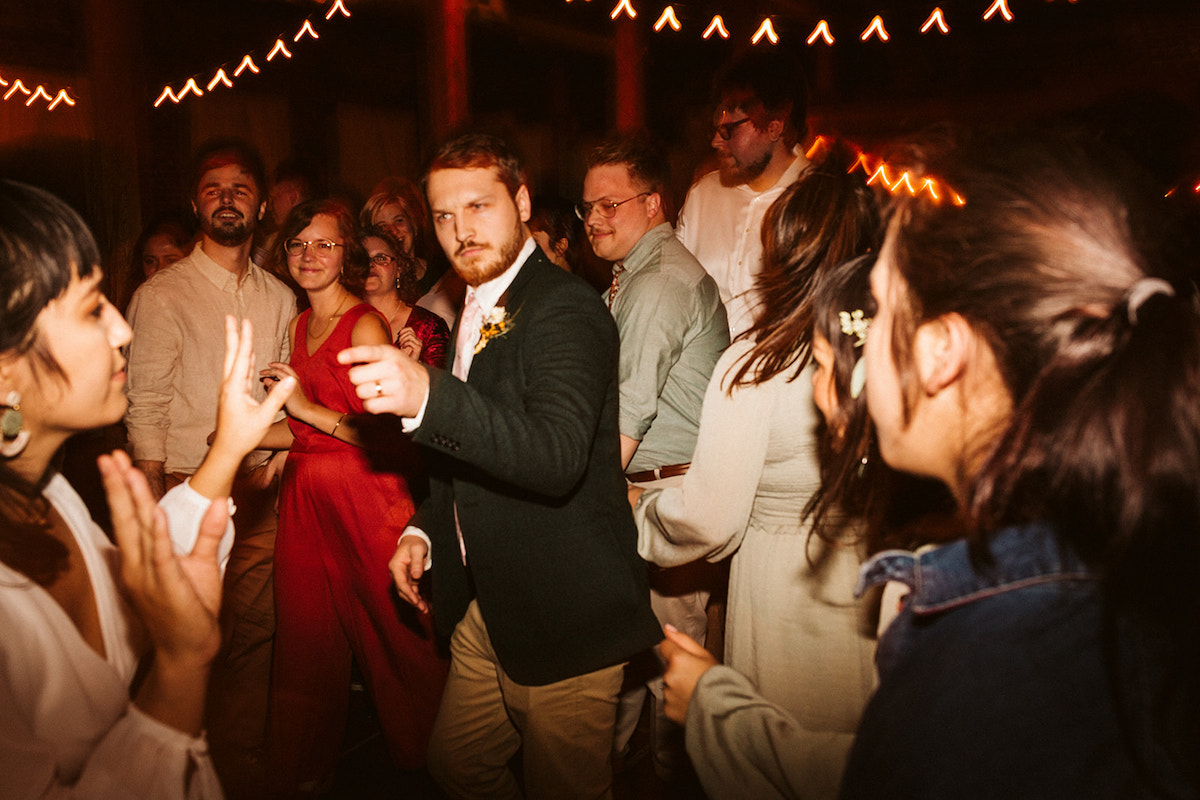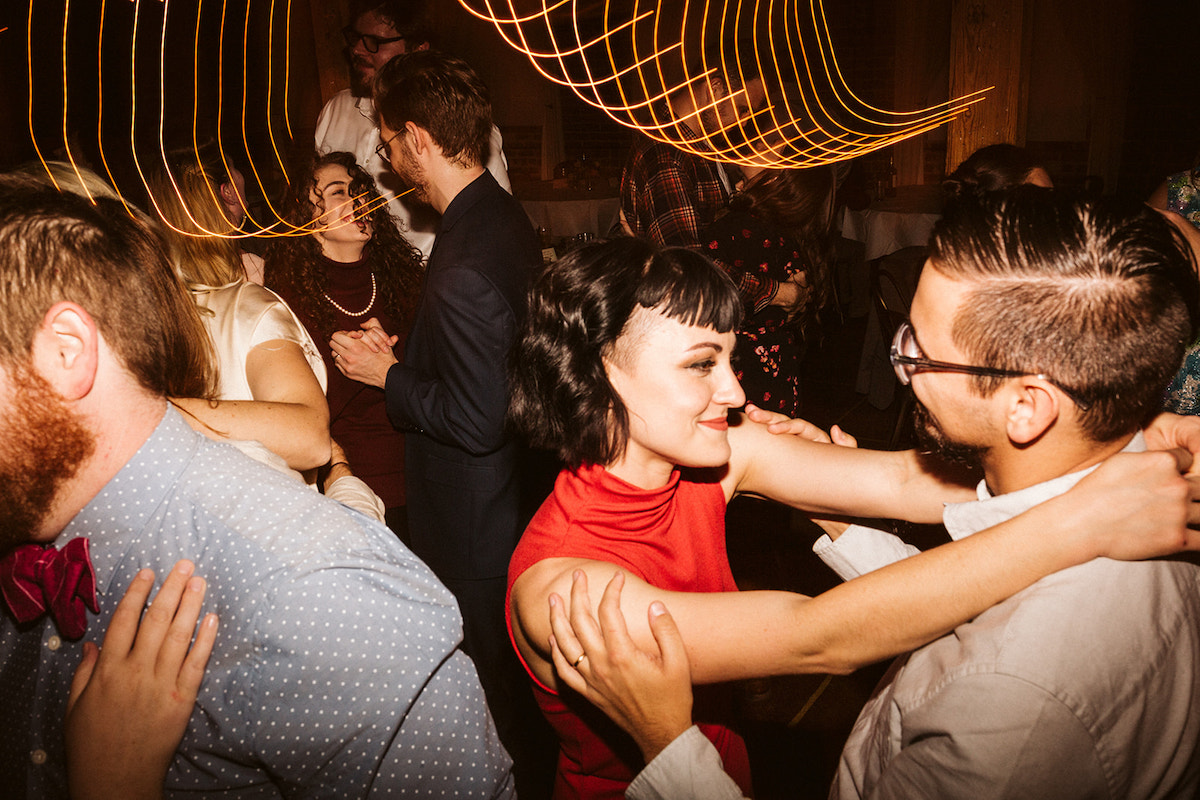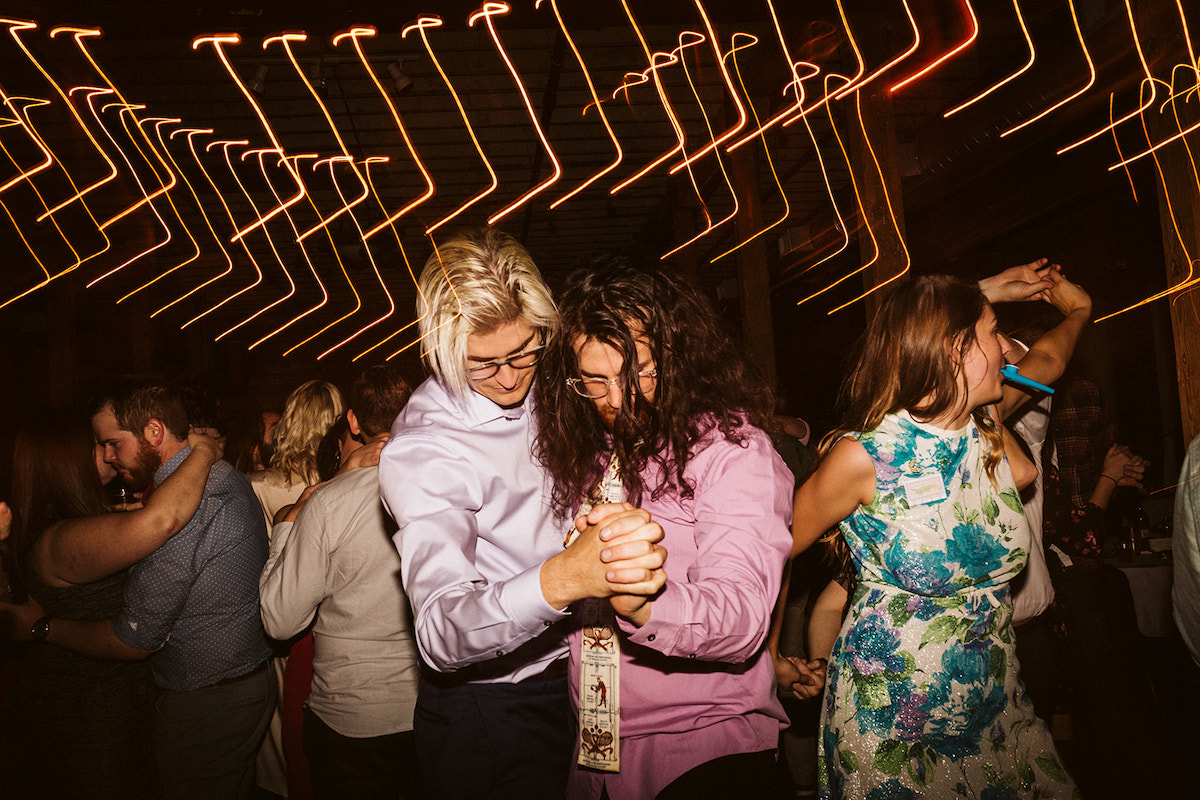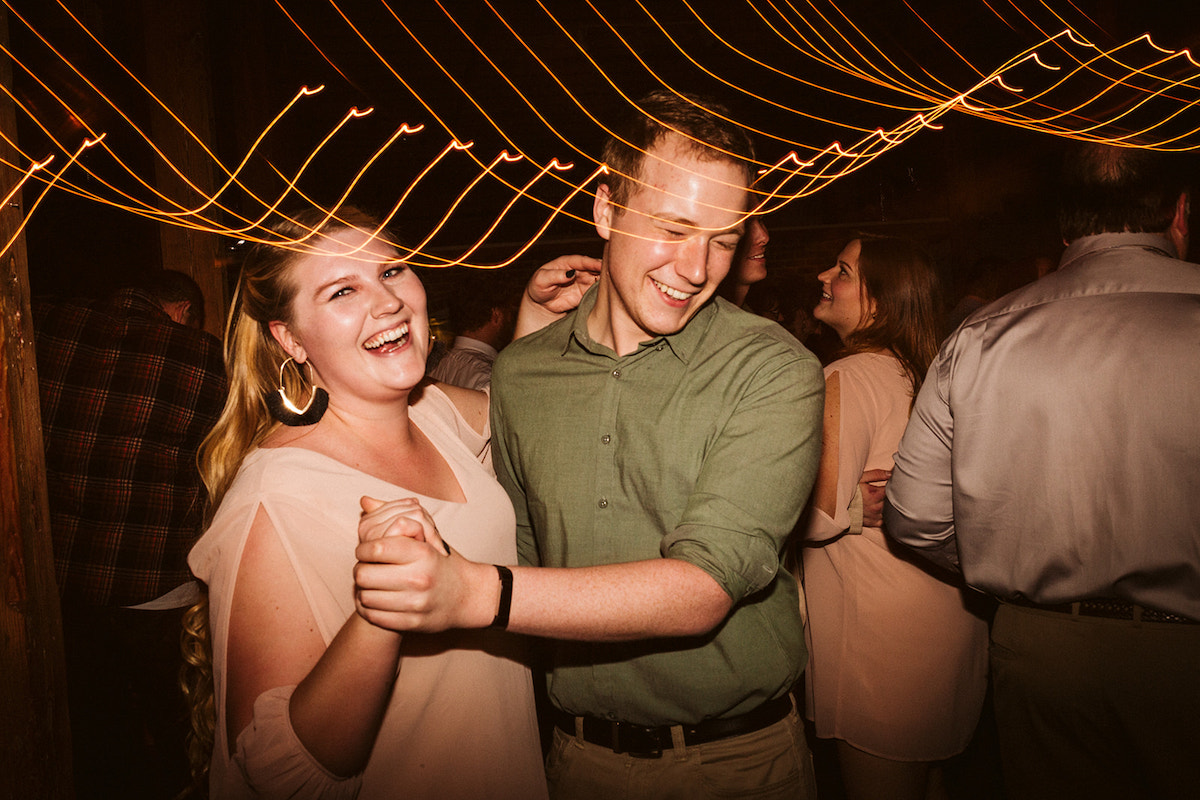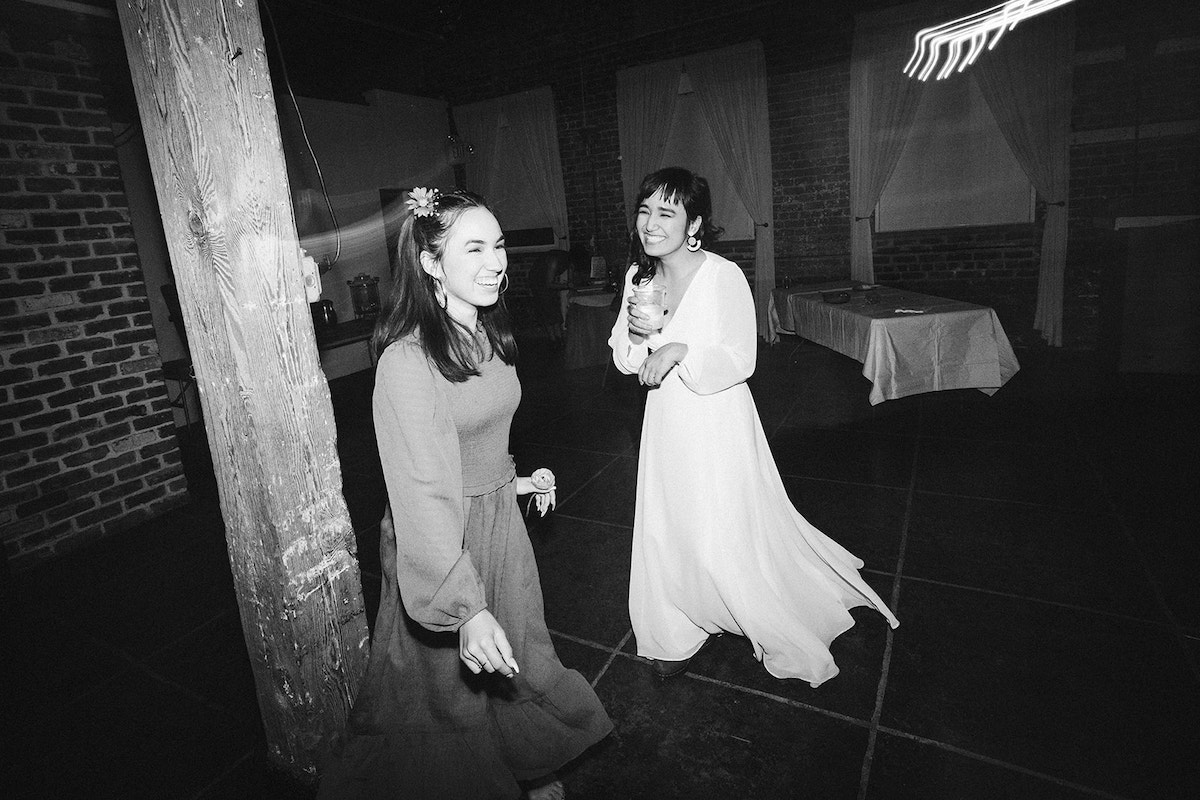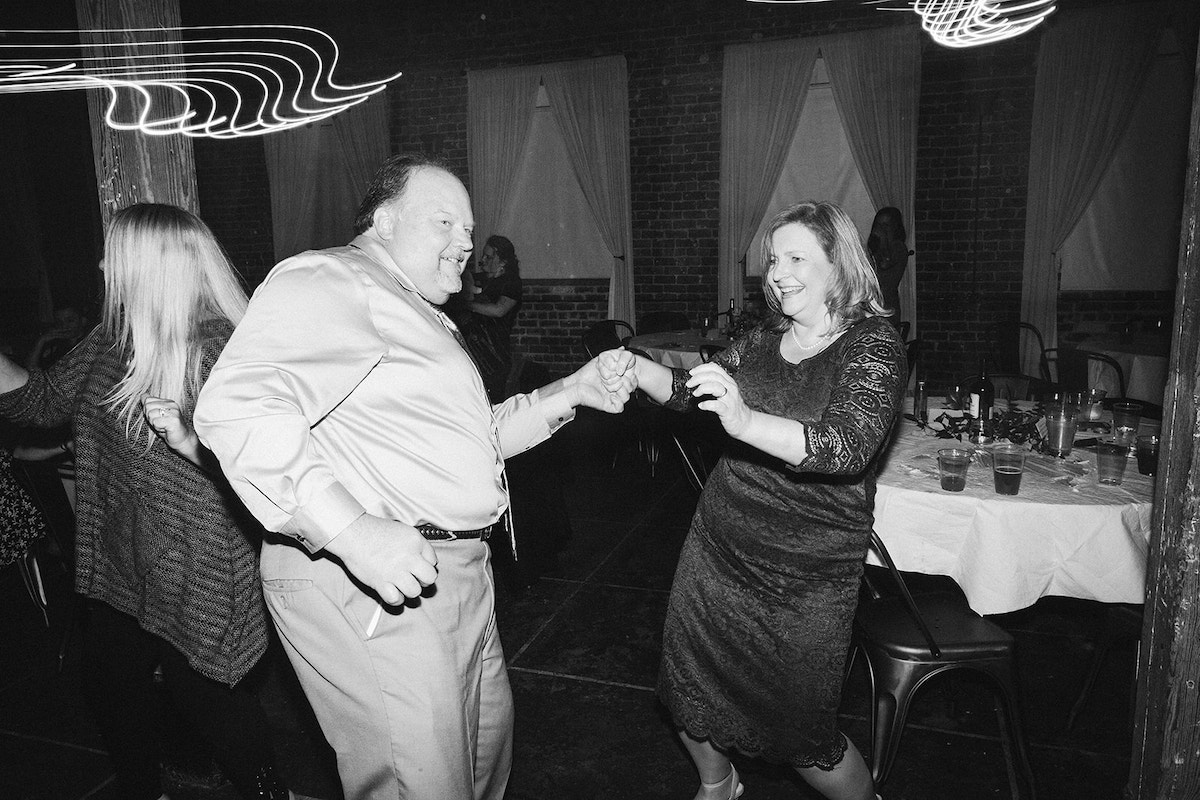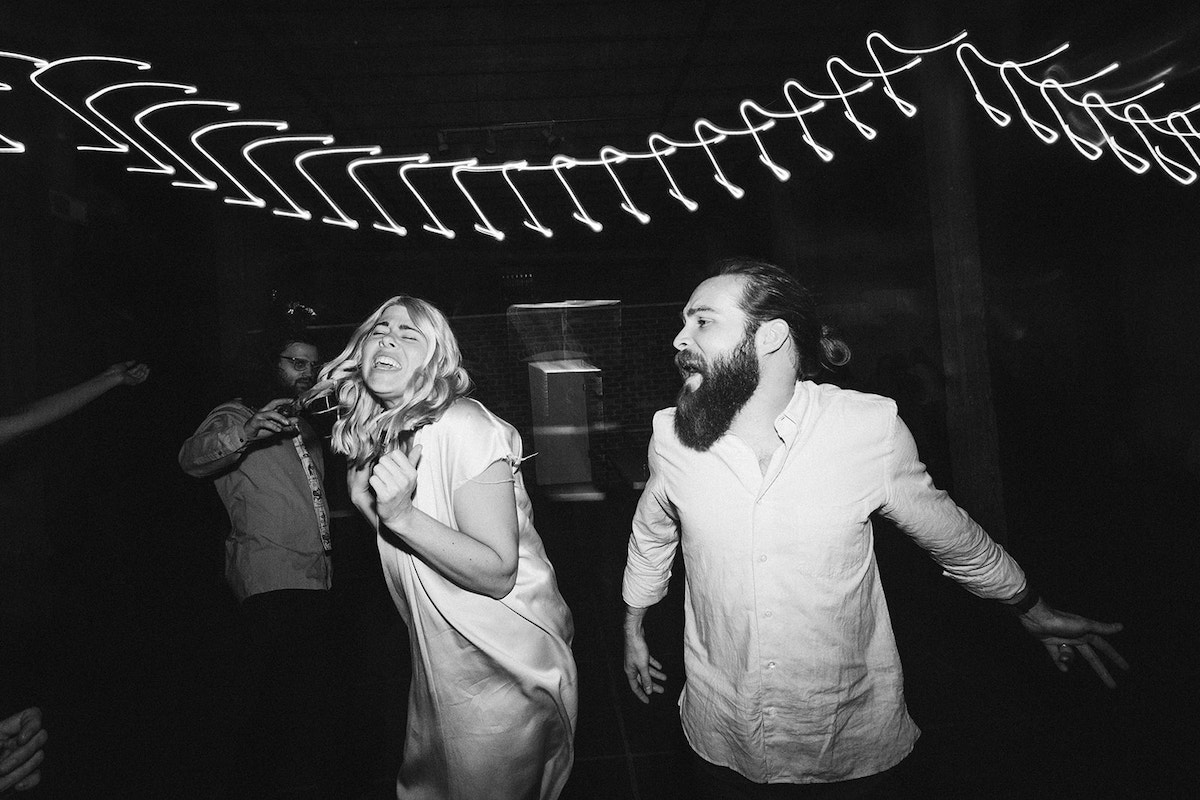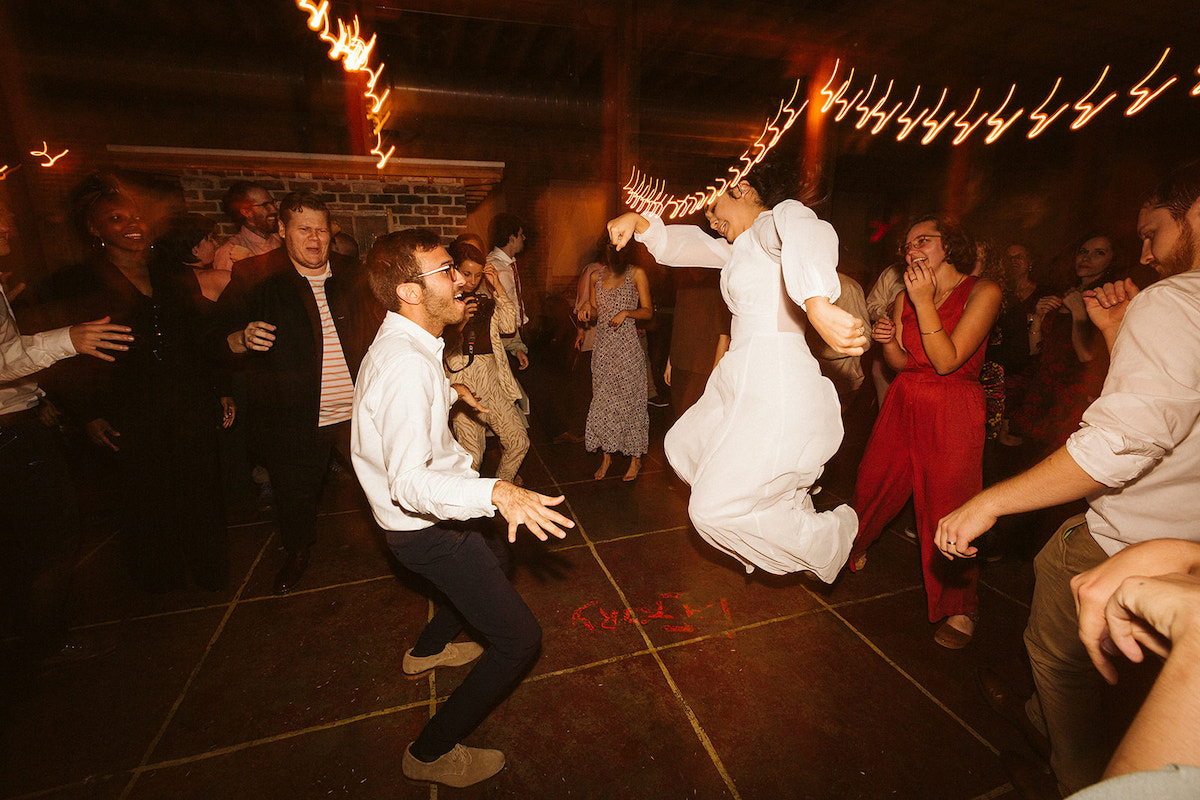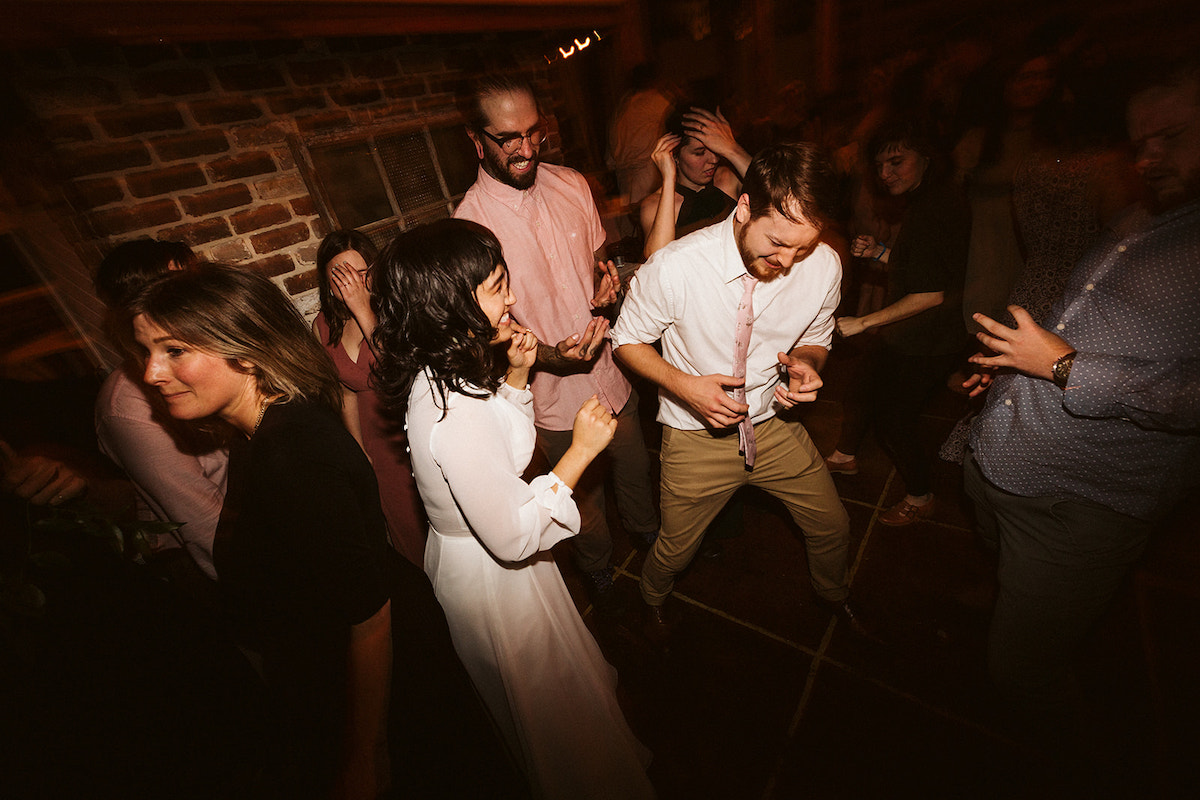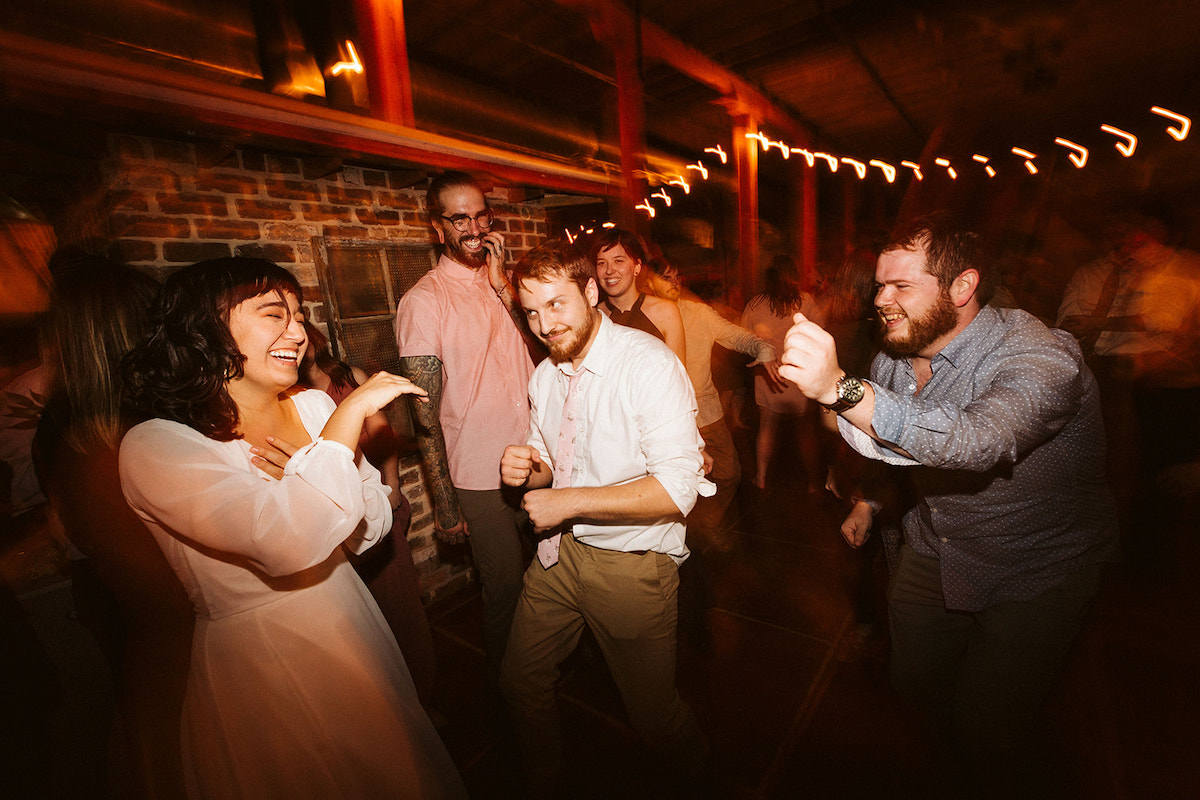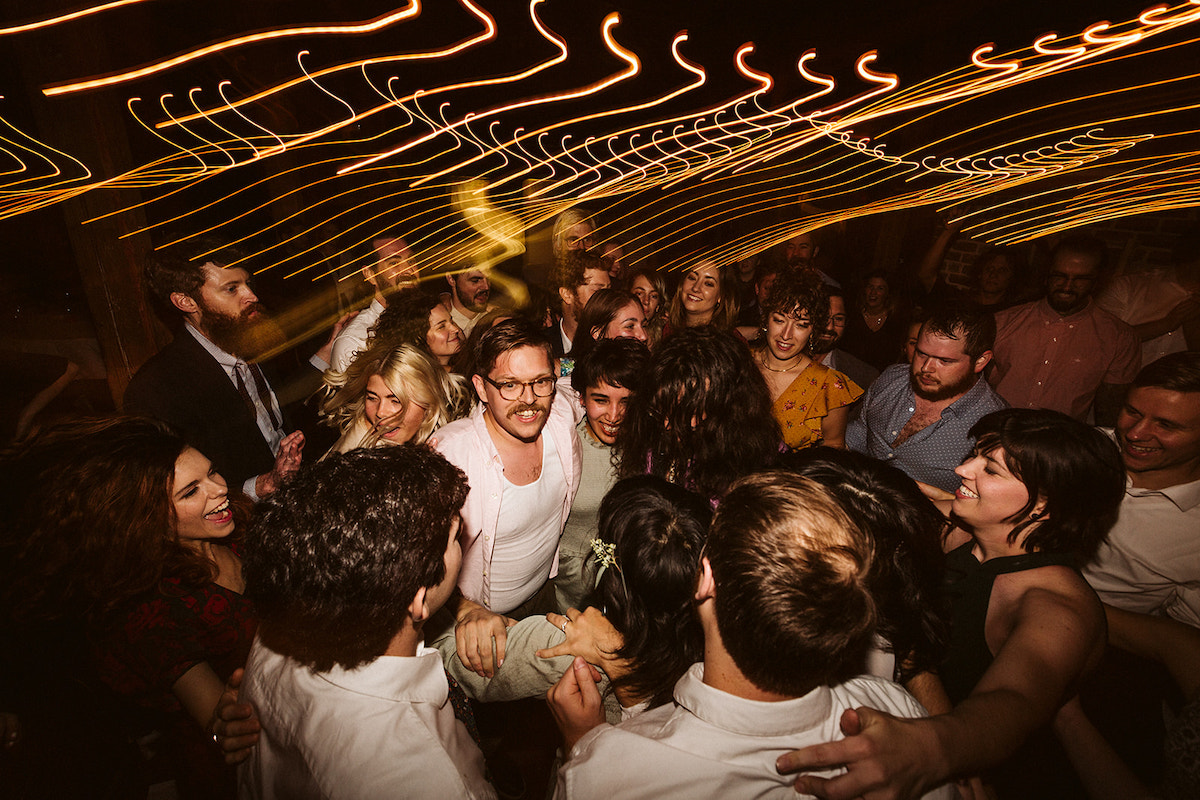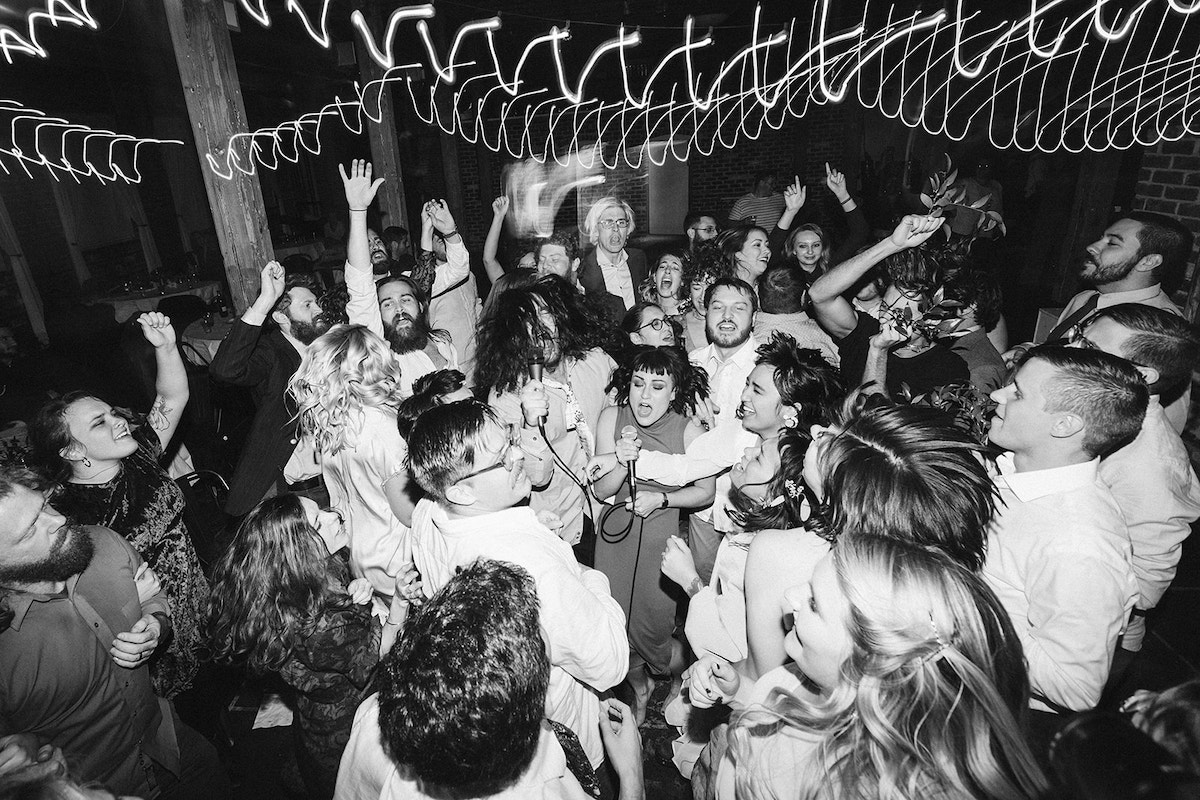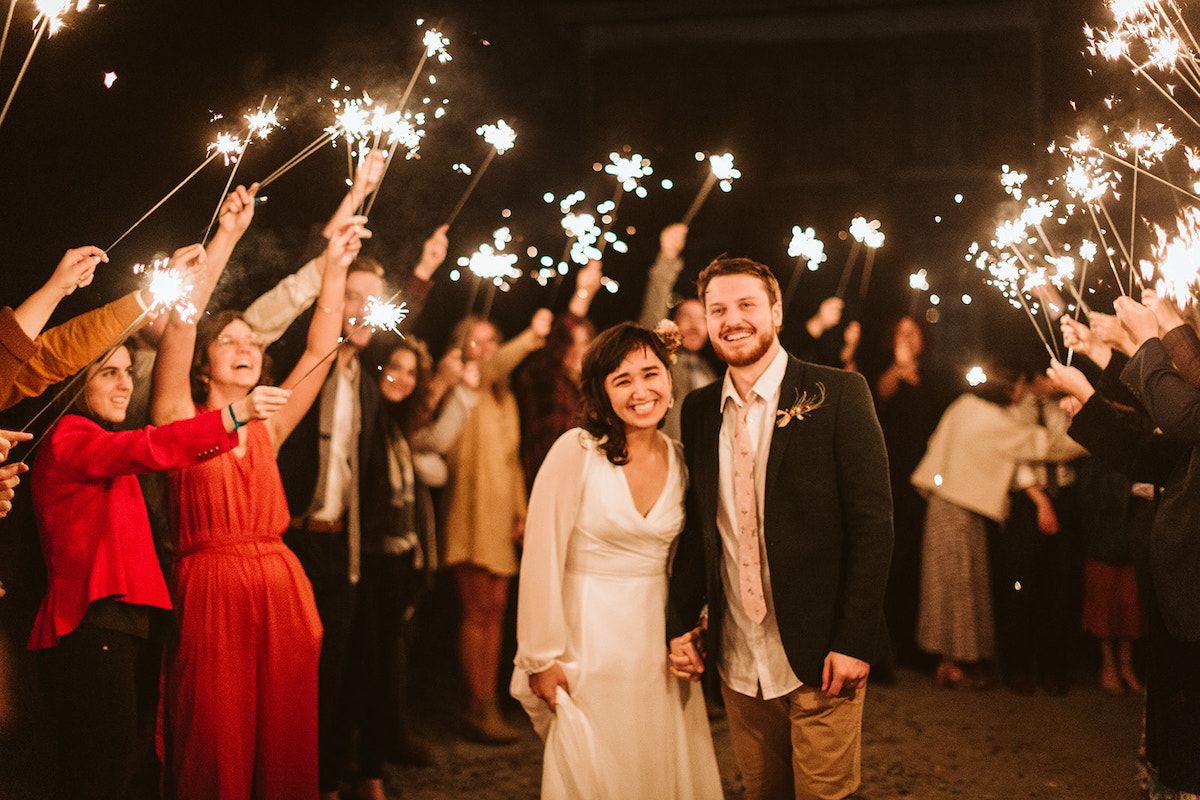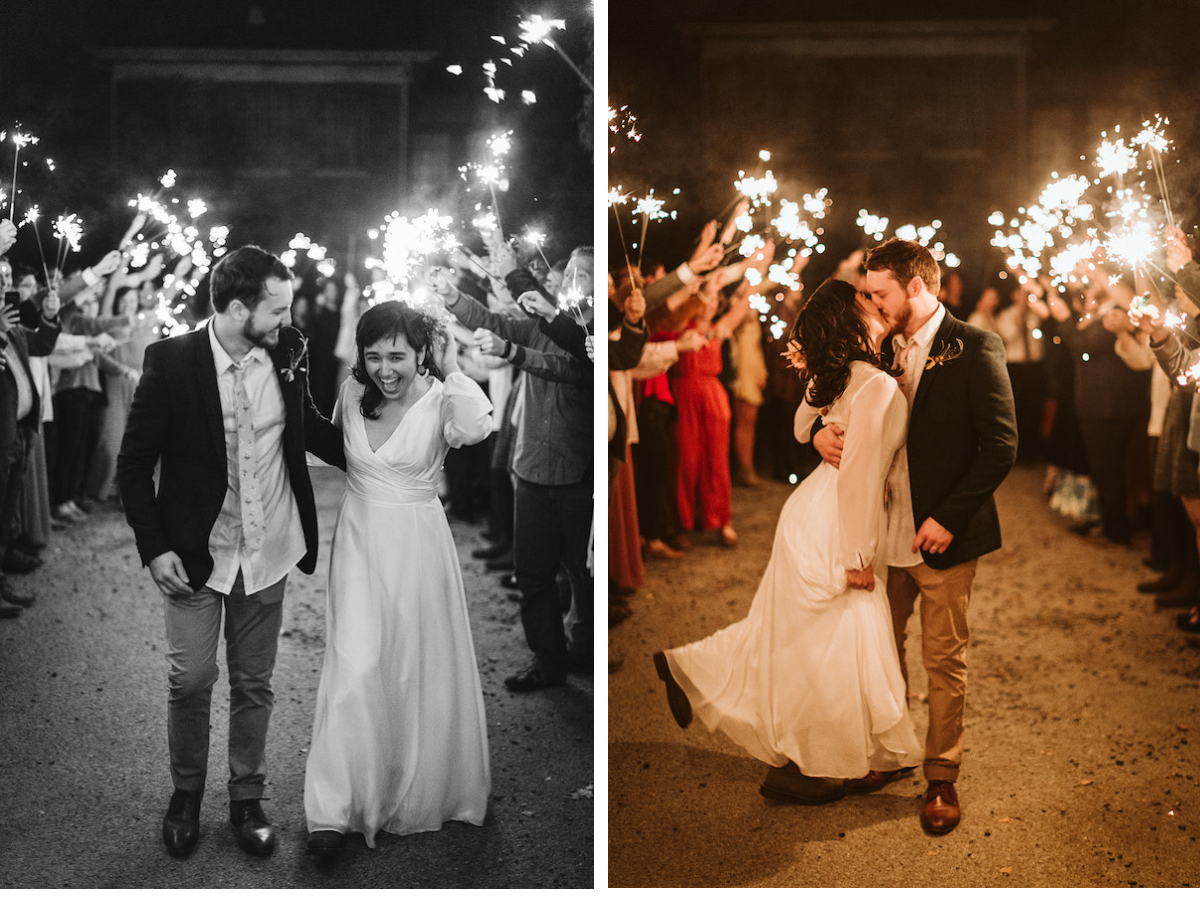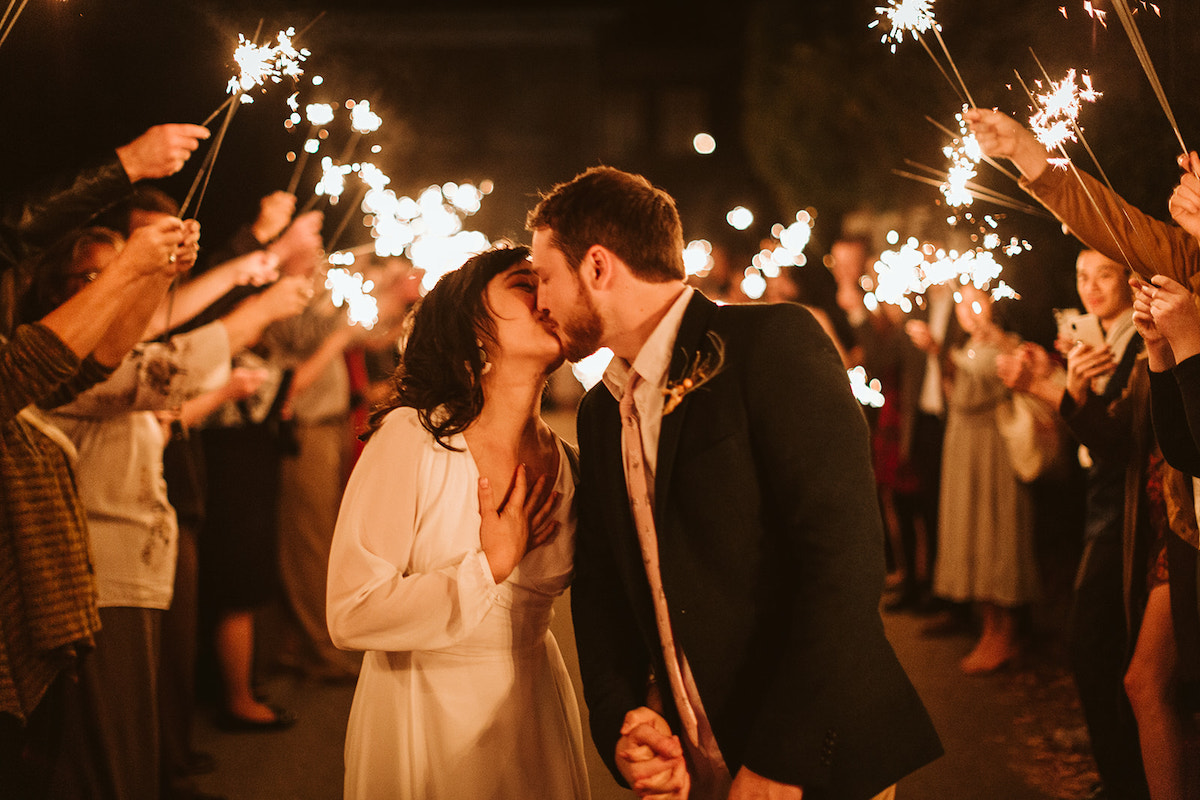 Abbey and Graham, You make my heart explode. You're alive! You're in love! You've got hope just because! (from "Ride Friendship") Thank you for the honor of documenting this part of your love story.
---
Thank you to the venues and vendors who helped create a memorable day for Abbey and Graham:
Florals: Southerly Flower Farm
Venue: Weaver's Room at The Old Woolen Mill
Custom earrings: Olie & Co.
Boba stand: Birch Tree Boba
Day-of Event Coordinator: Billie Burns
Sometimes I feel like I'm a professional wedding crasher. When I look through these galleries days, weeks, or months later, I still connect to the emotional energy of that day. I hope you do, too. As your friendly Chattanooga wedding photographer, my aim is to capture the feelings of your day as well as the moments themselves. If you're hoping for this sort of storytelling on your wedding day,

contact me

! I'd love to treat you to coffee to see if we're a good fit.
Hi, y'all! I'm Rachael Crowe of OKCrowe Photography. I hope you enjoyed looking at through Abbey and Graham's gallery. For a few minutes there at the end of this reception, I felt like I was at a concert photography gig! What a fun time. If you liked Abbey and Graham's alternative to a traditional church wedding, you might also like Margaret and Garrison's Bohemian Festival Wedding or Liz and Andrew's elopement in Zion National Park. I love finding new locations to get creative with you!