Margaret and Garrison's bohemian festival wedding is one of the most interesting weddings I've had the honor to photograph. I'm so excited to show it to you!
This couple are eclectic masterminds: Margaret is the creator and entrepreneur behind Bohemian Seed, modernizing and upcycling vintage clothing, and Garrison is a concert promoter. While planning their wedding, they knew they wanted their wedding to be a combination of their favorite things – nature, vintage decor, vegetarian food, good music, and community.
This wedding has been featured on:
Festival Brides // Sisters in Law // Boho Weddings // Hometown Bride Guide
From music festival to bohemian wedding festival
Margaret shared with me how they met. "We actually lived in the same city for four years and had so many mutual friends–it's a wonder we didn't meet sooner. We met briefly at a show that Garrison was promoting, but we didn't get to know each other until months later when we were both at a music festival in Nashville. My favorite band at the time, Edward Sharpe and the Magnetic Zeros, was performing on stage. At one point, the lead singer jumped into the crowd and was passing the mic to members of the audience to join in on singing along. I ran as close to the front as I could, and somehow he handed me the microphone. The cameras panned to me, and Garrison recognized me from the big screen. We met up after the show and have been inseparable ever since."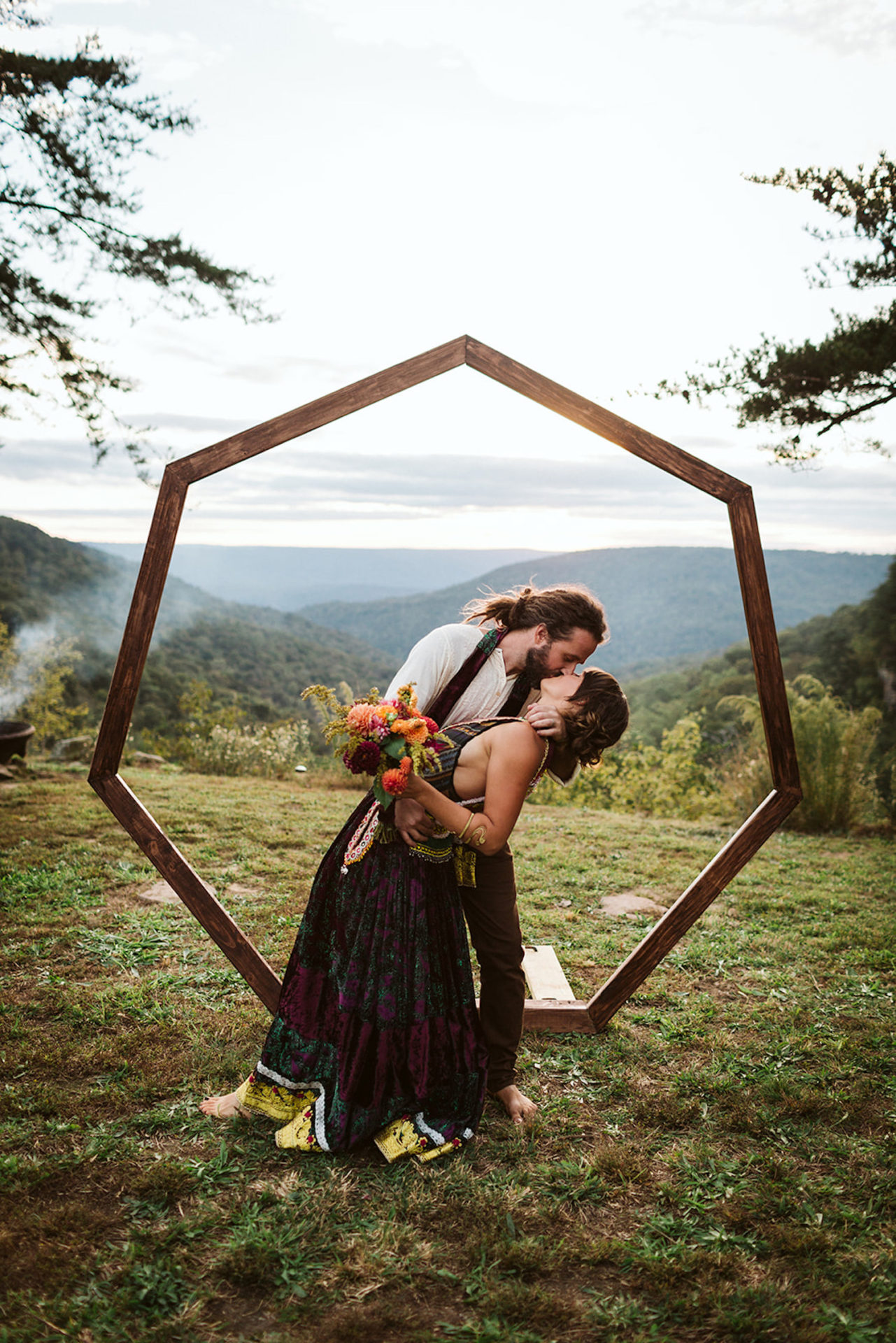 Bride and groom waterfall portraits at Foster Falls near Chattanooga, Tennessee
We started off Margaret and Garrison's wedding day by hiking to Foster Falls for their bride and groom portrait session. They got ready along the path, helping each other into their unique, bohemian bazaar-themed wedding garb.
Margaret wore an antique Afghan wedding dress that she modernized into the bohemian wedding dress of her dreams. Garrison wore his favorite pair of pants, a vintage Russian wedding shirt, and a scarf that Margaret made from the remnants of her dress alterations. They were both barefoot as well, though Margaret adorned gold gypsy anklets with jingle bells for pizzaz! Truly one-of-a-kind duds for their one-of-a-kind wedding.
These forest and waterfall photos are swoon-worthy. I loved capturing such tenderness between Margaret and Garrison.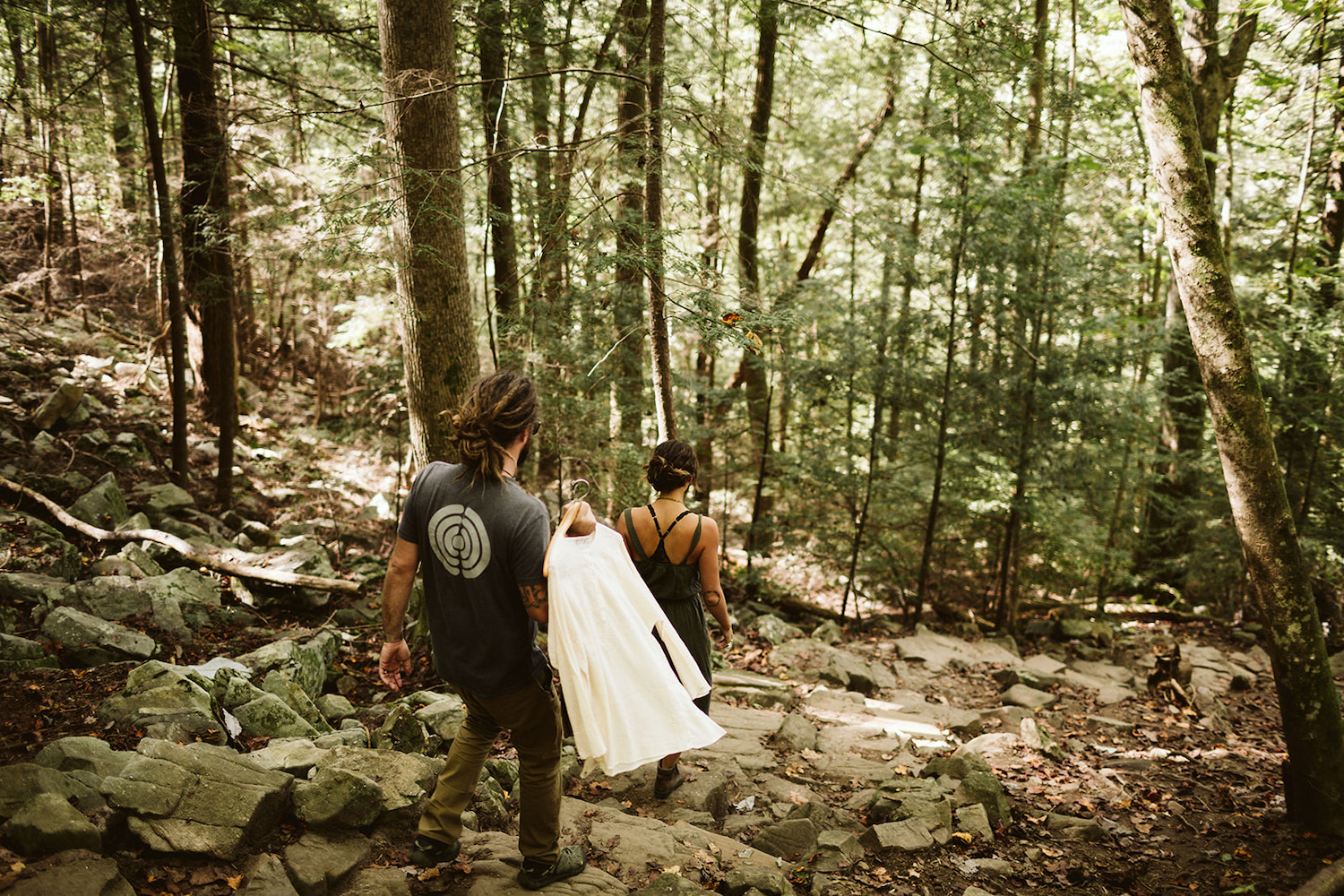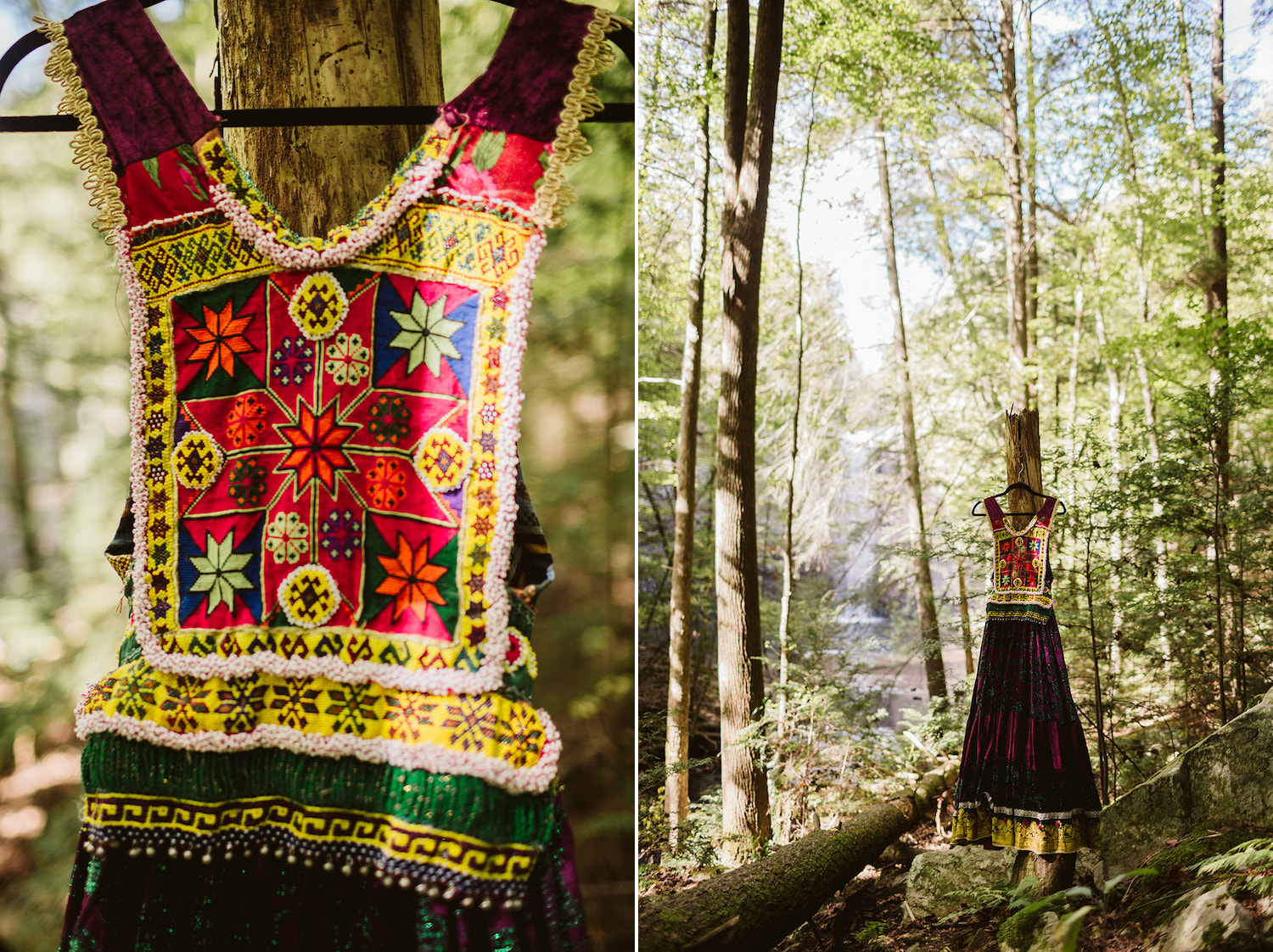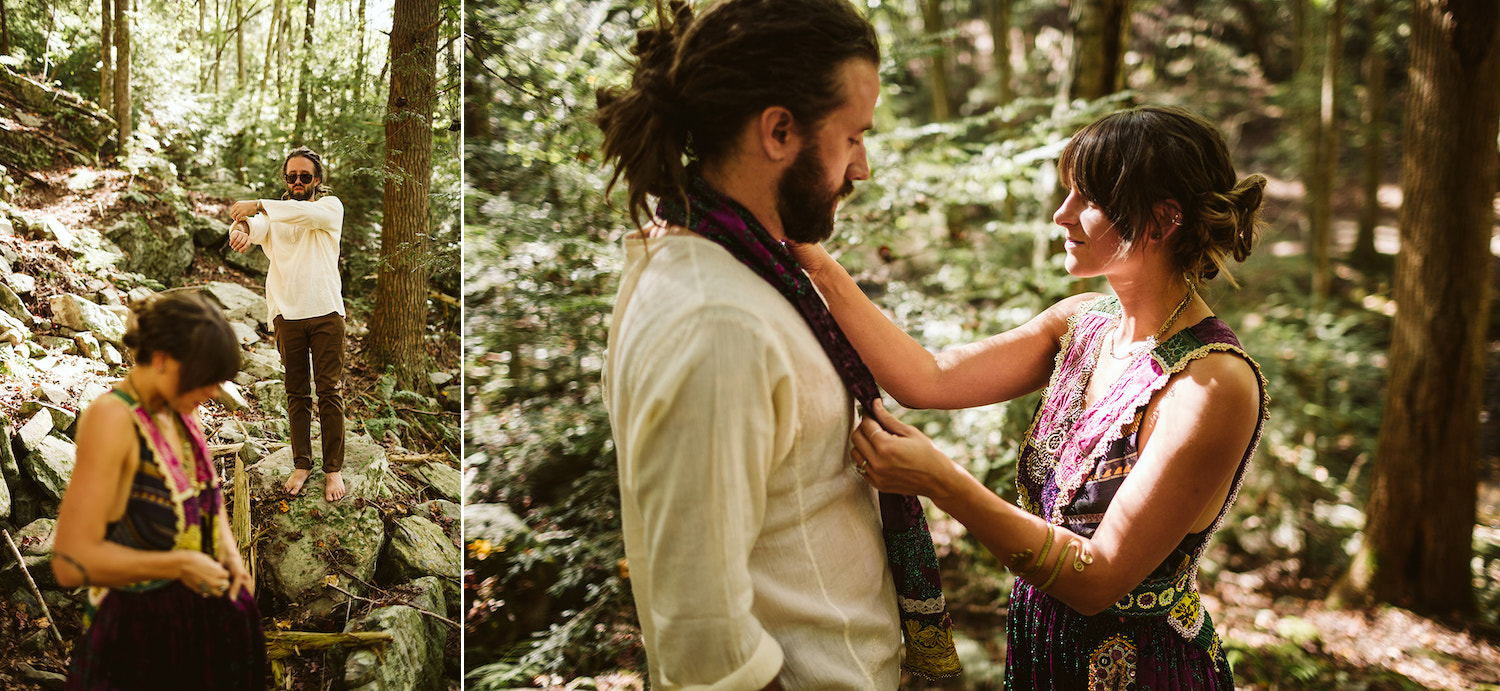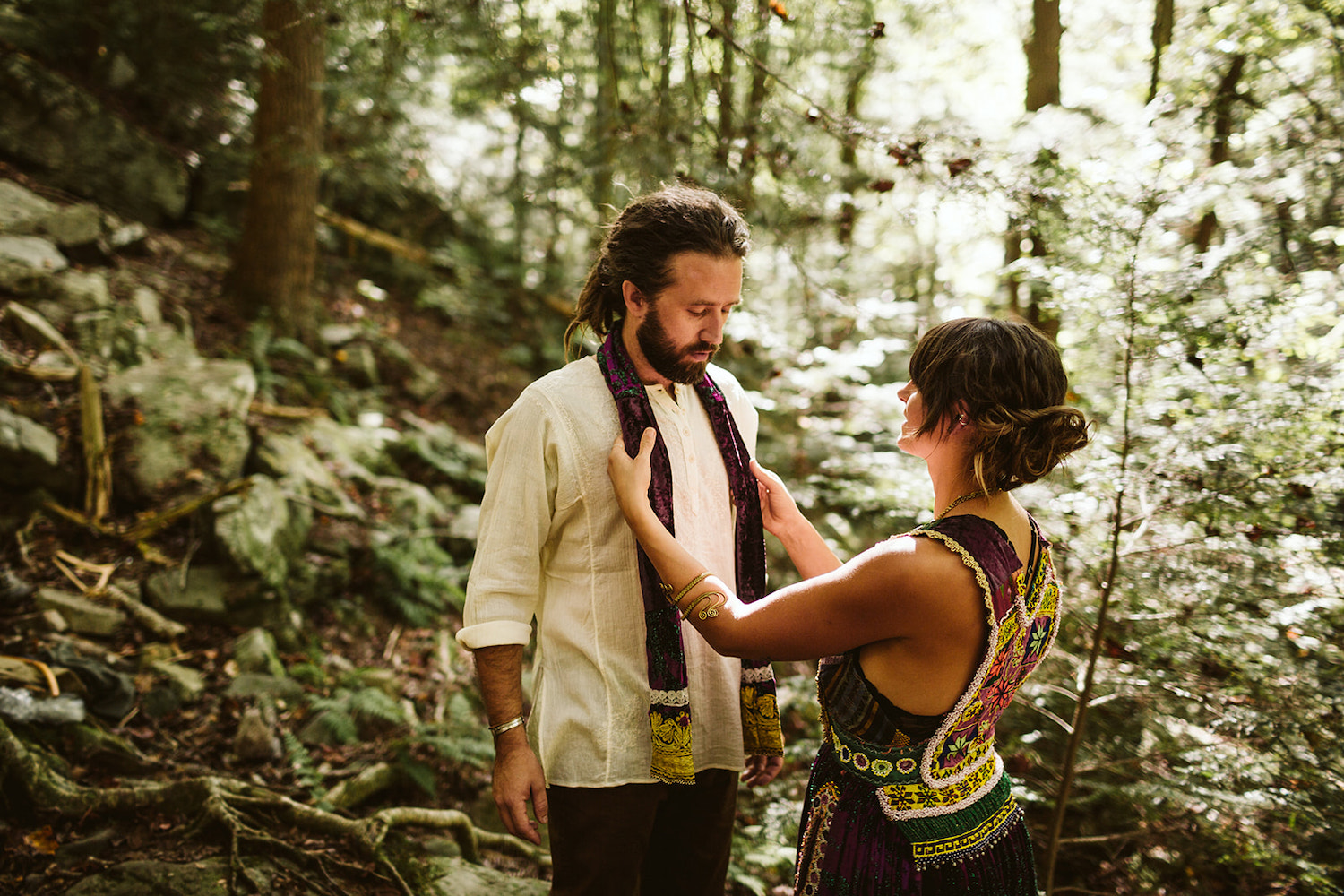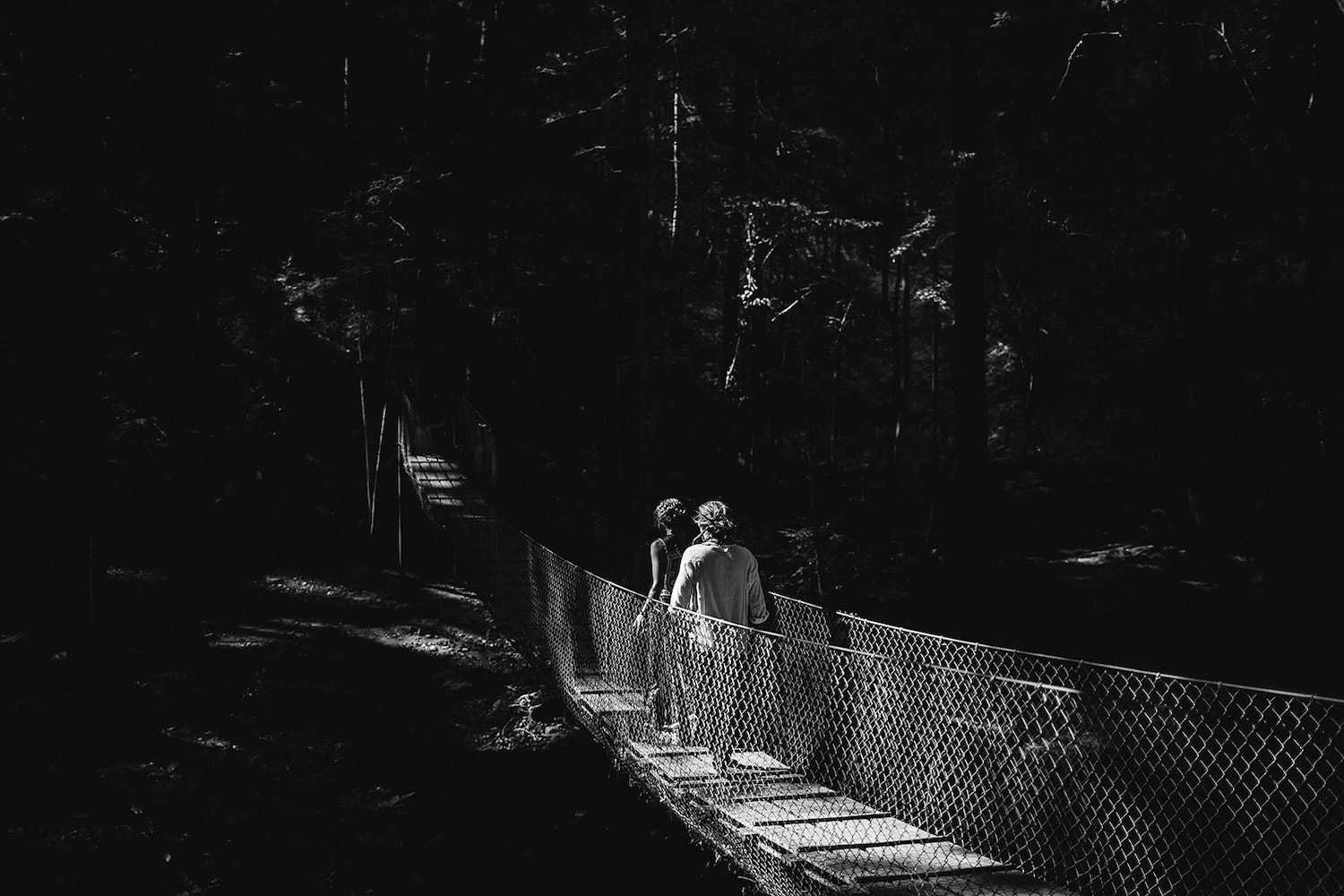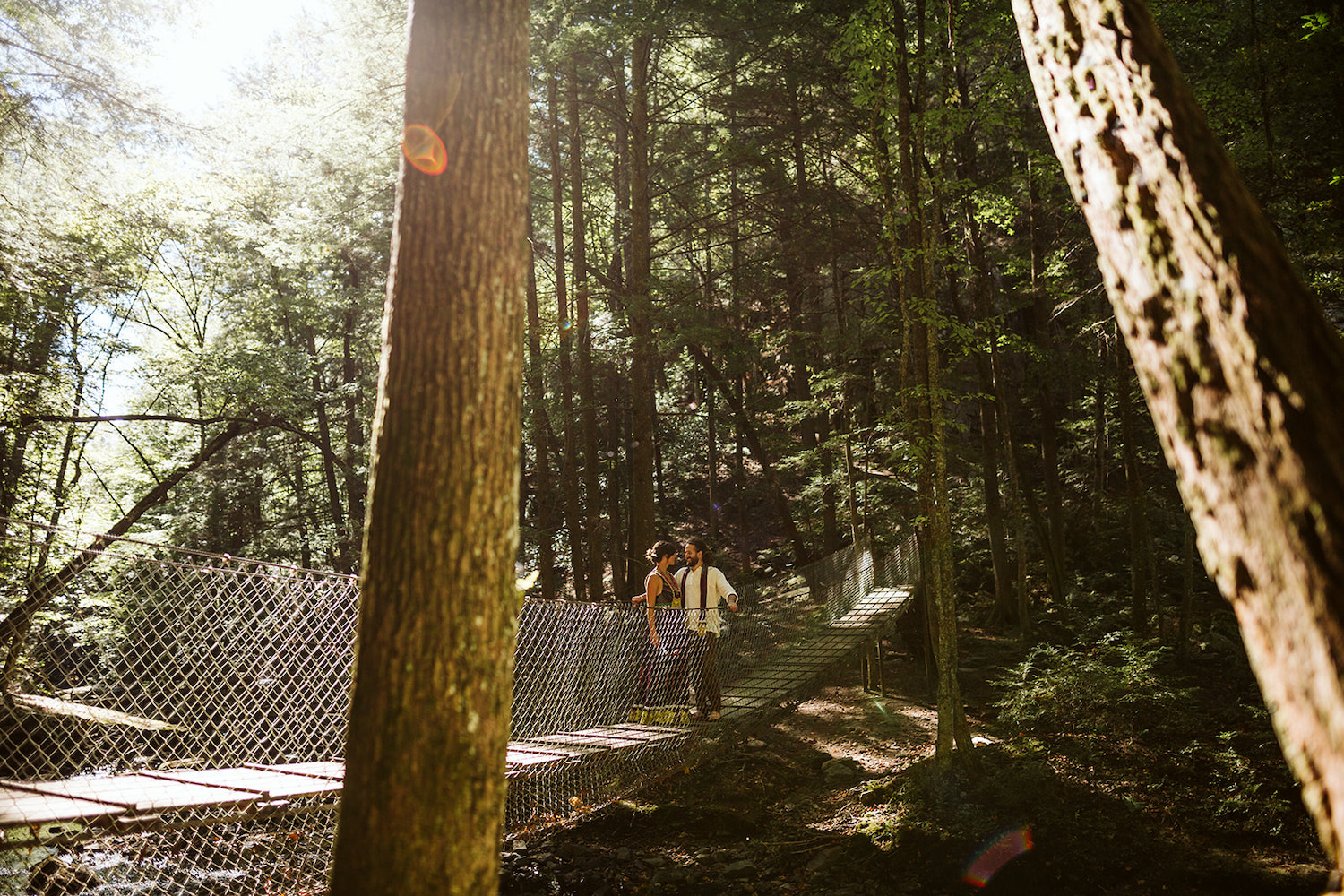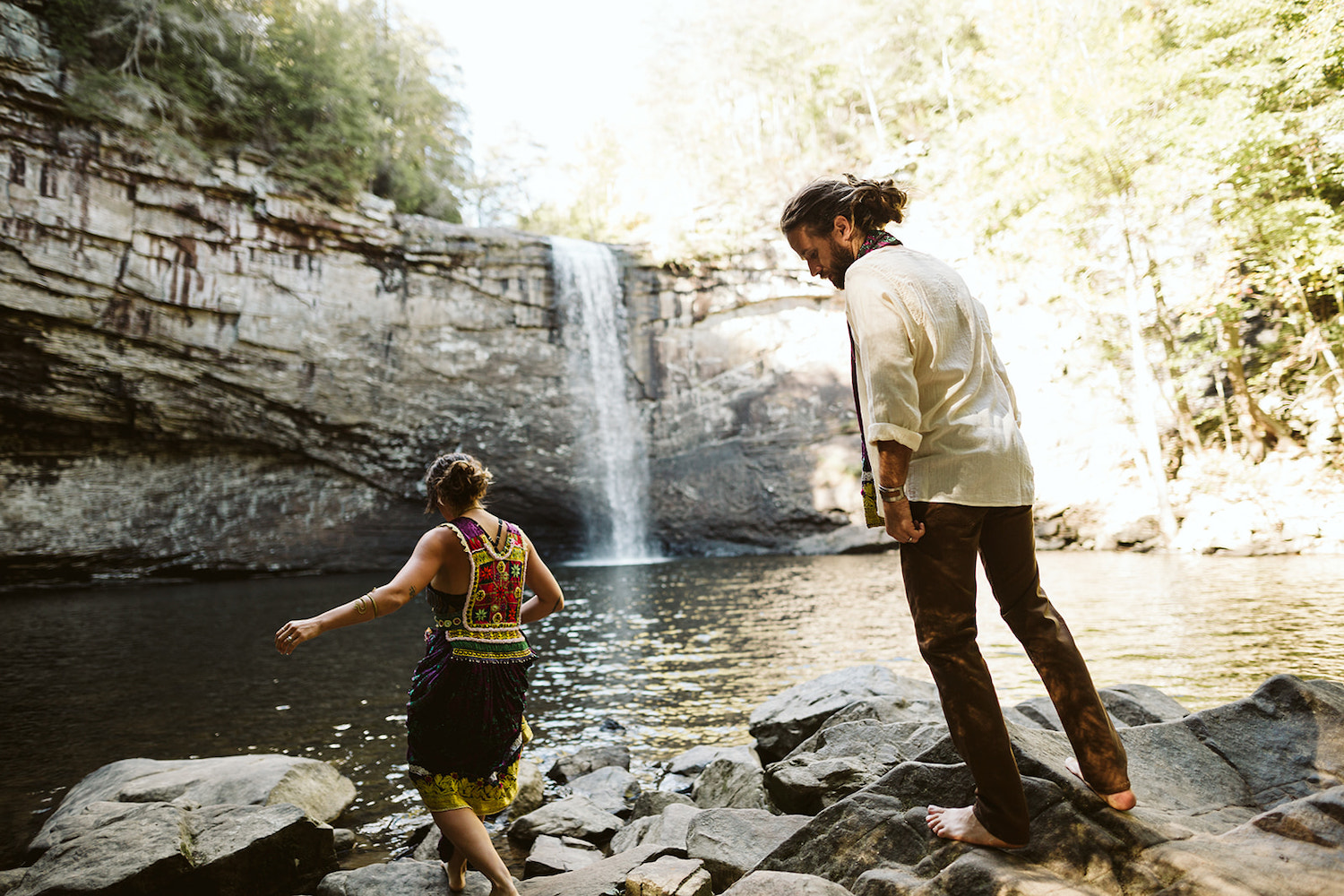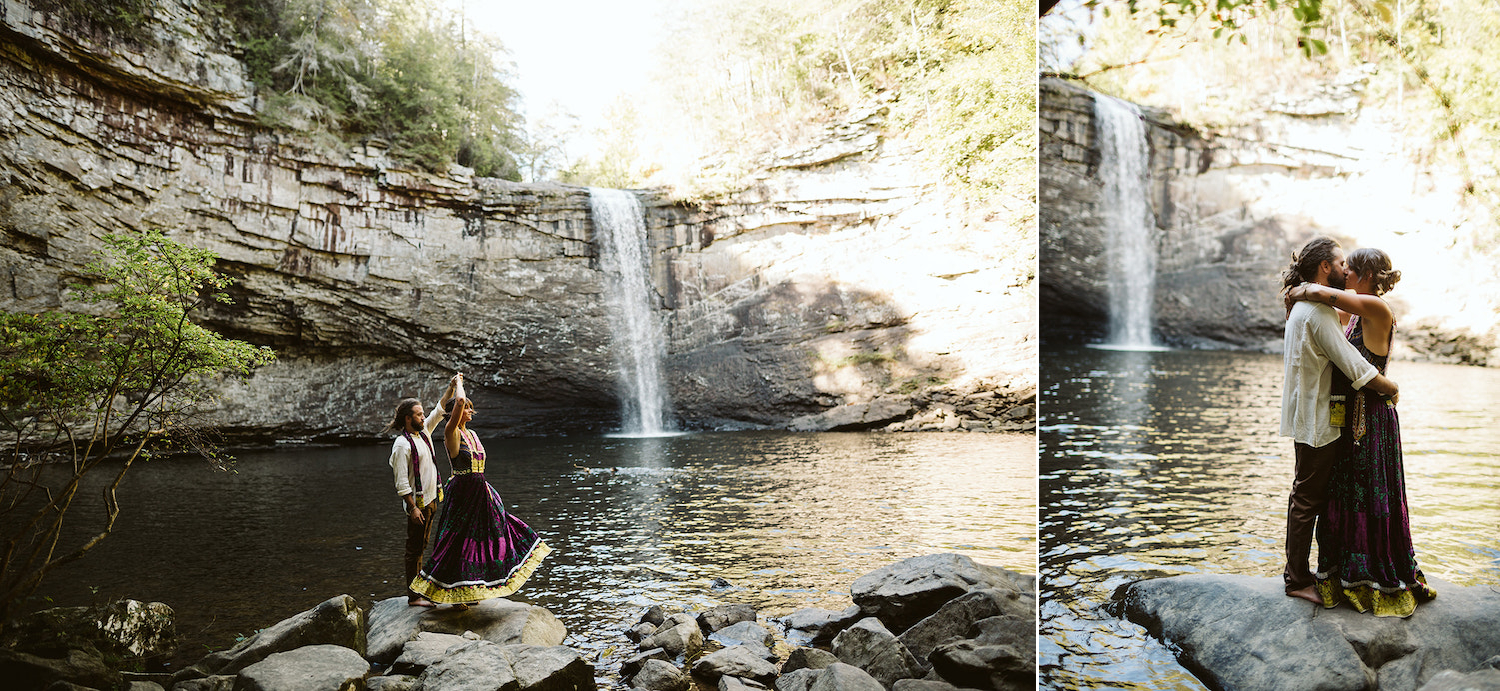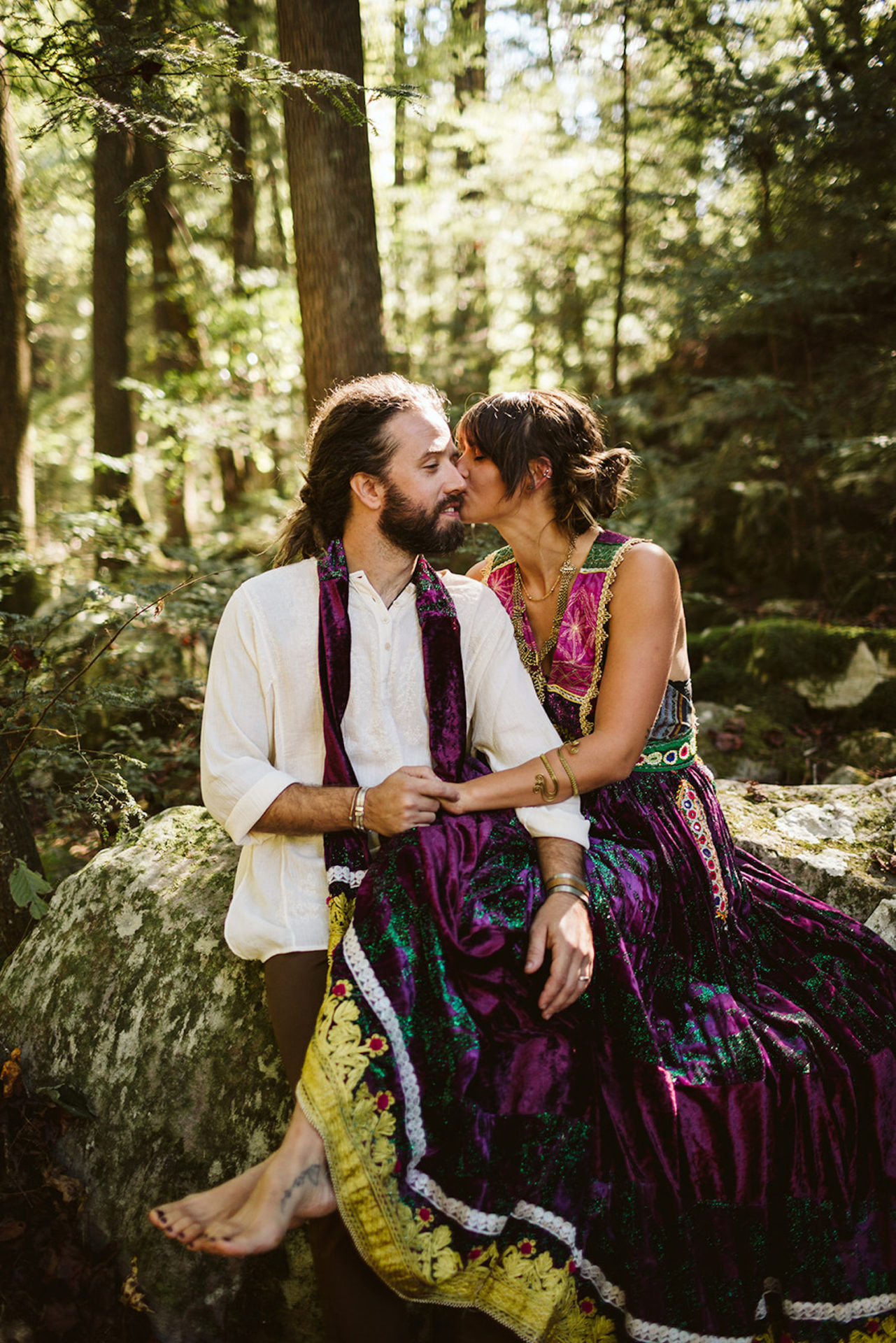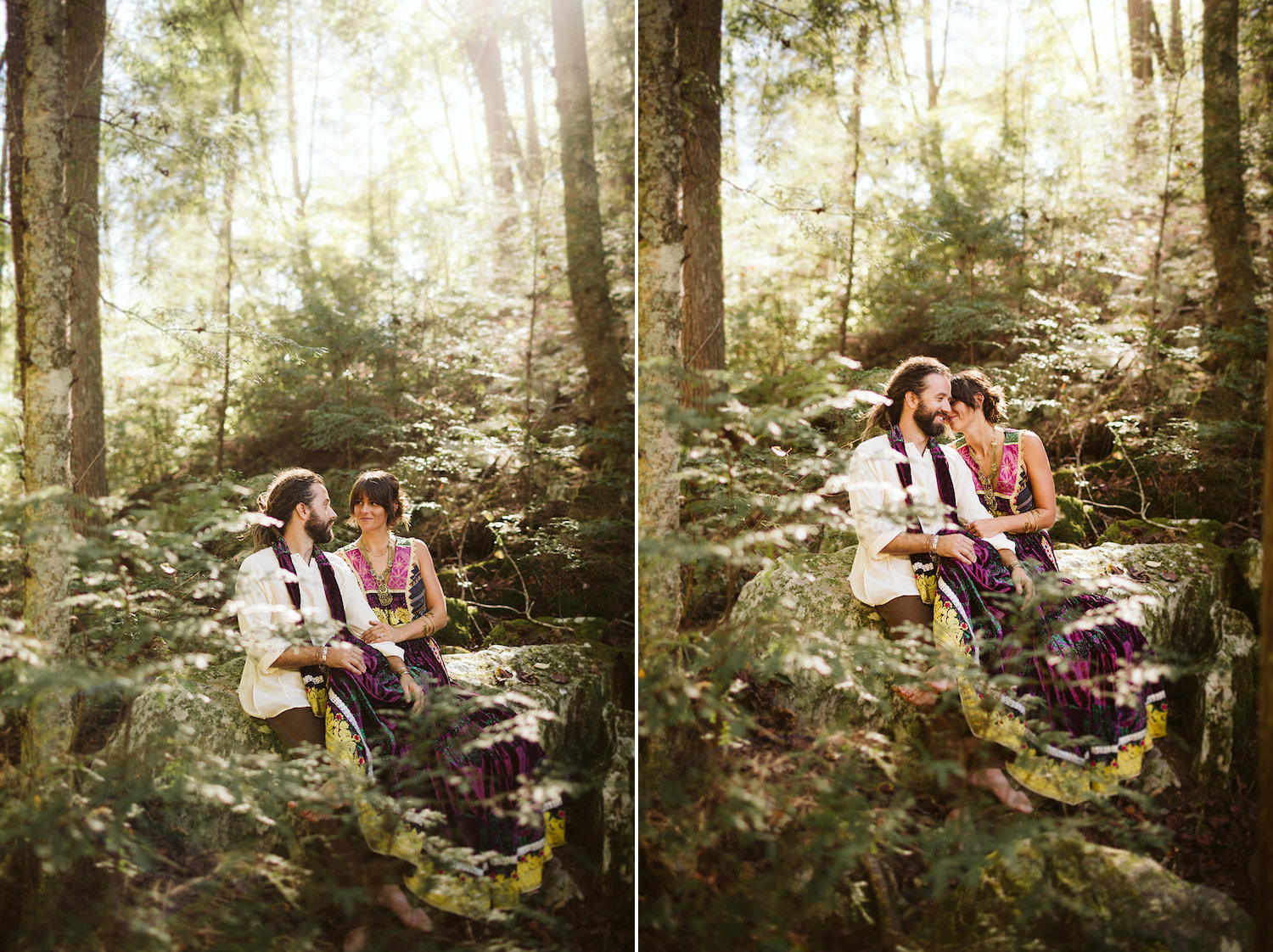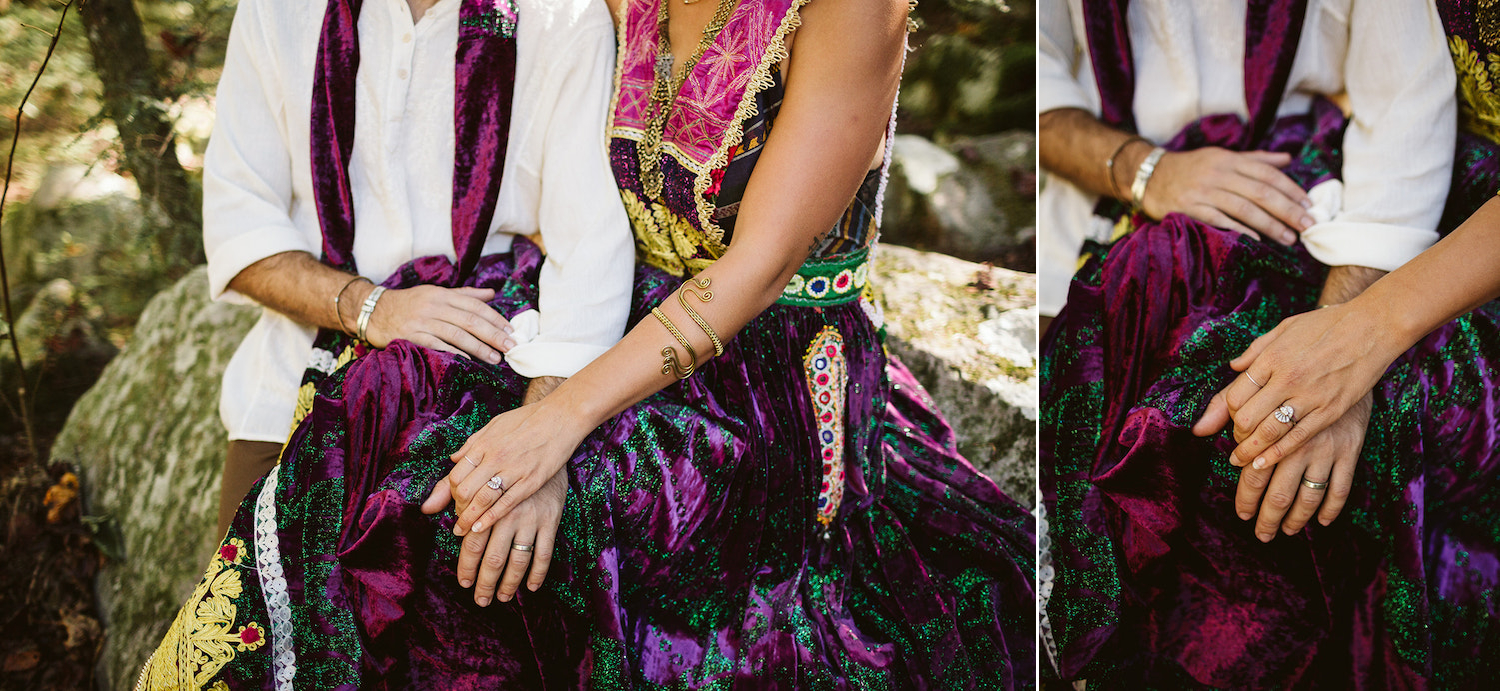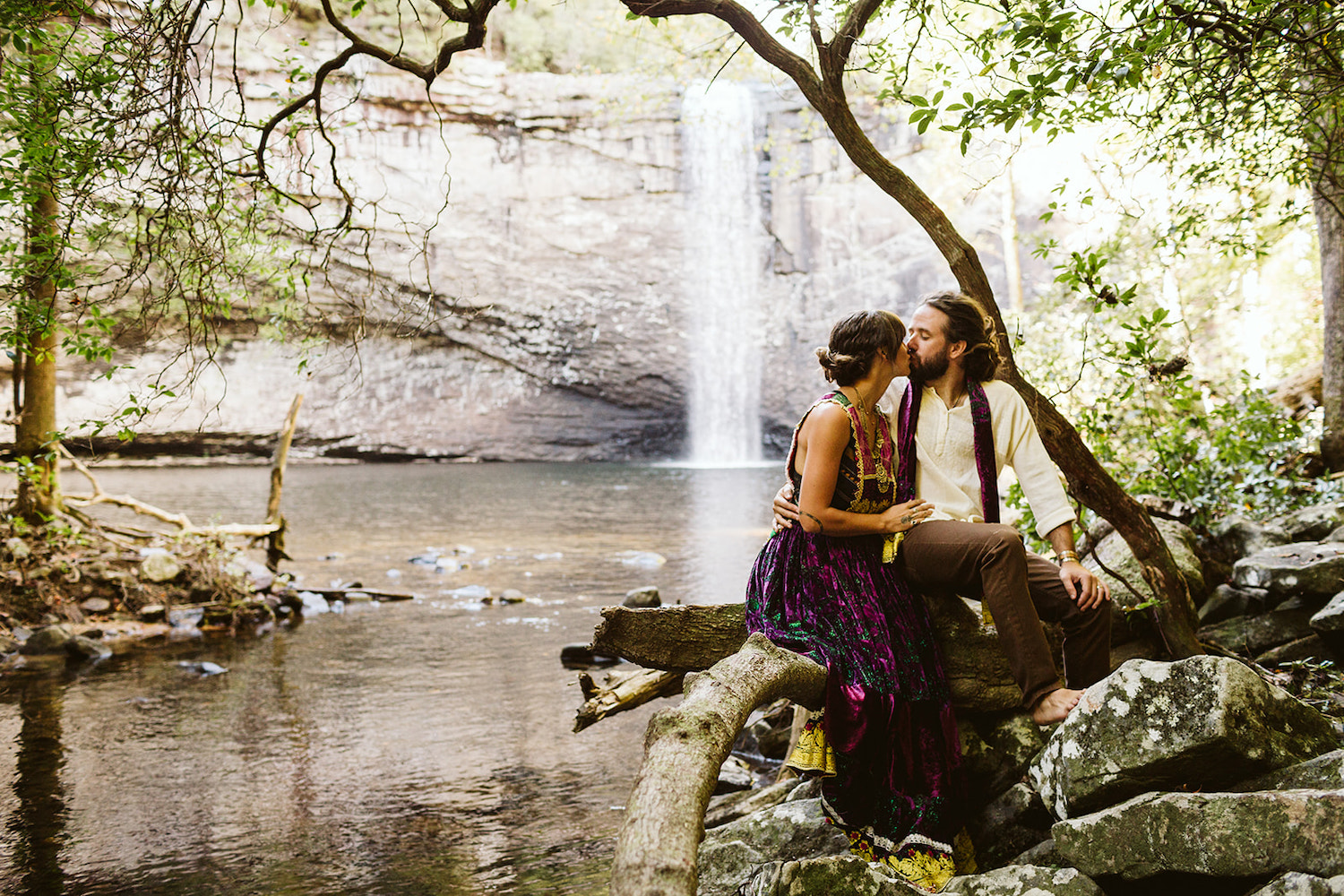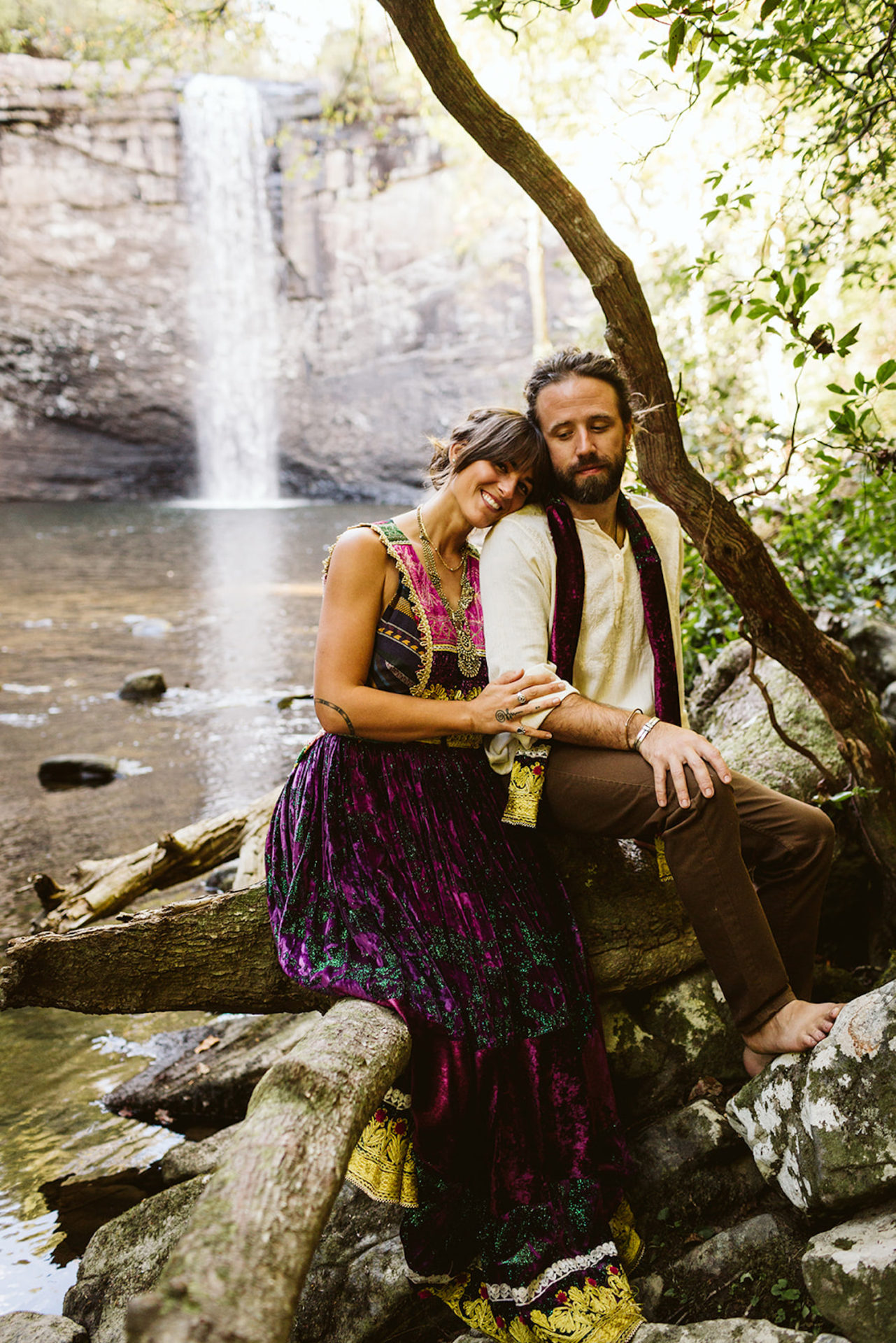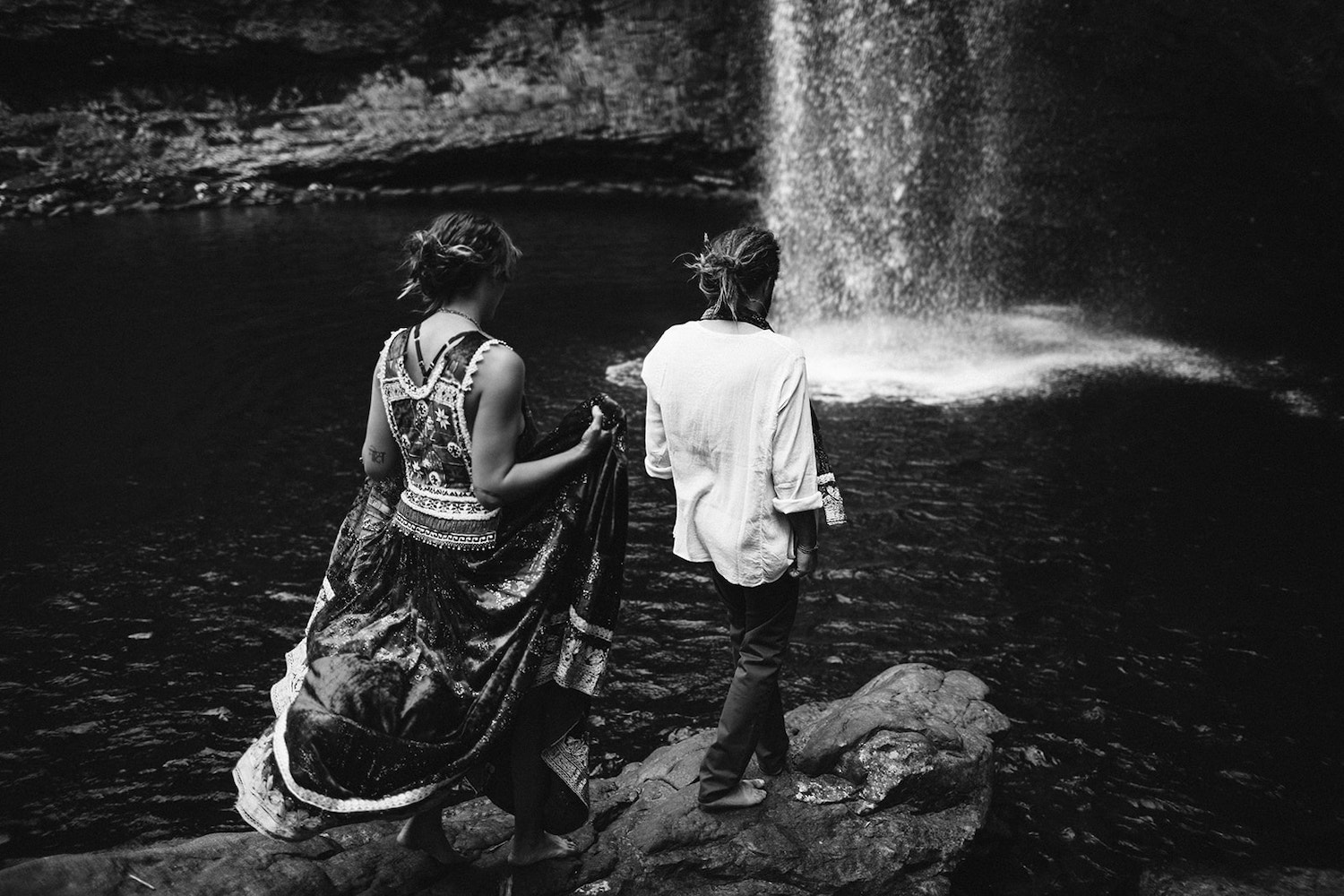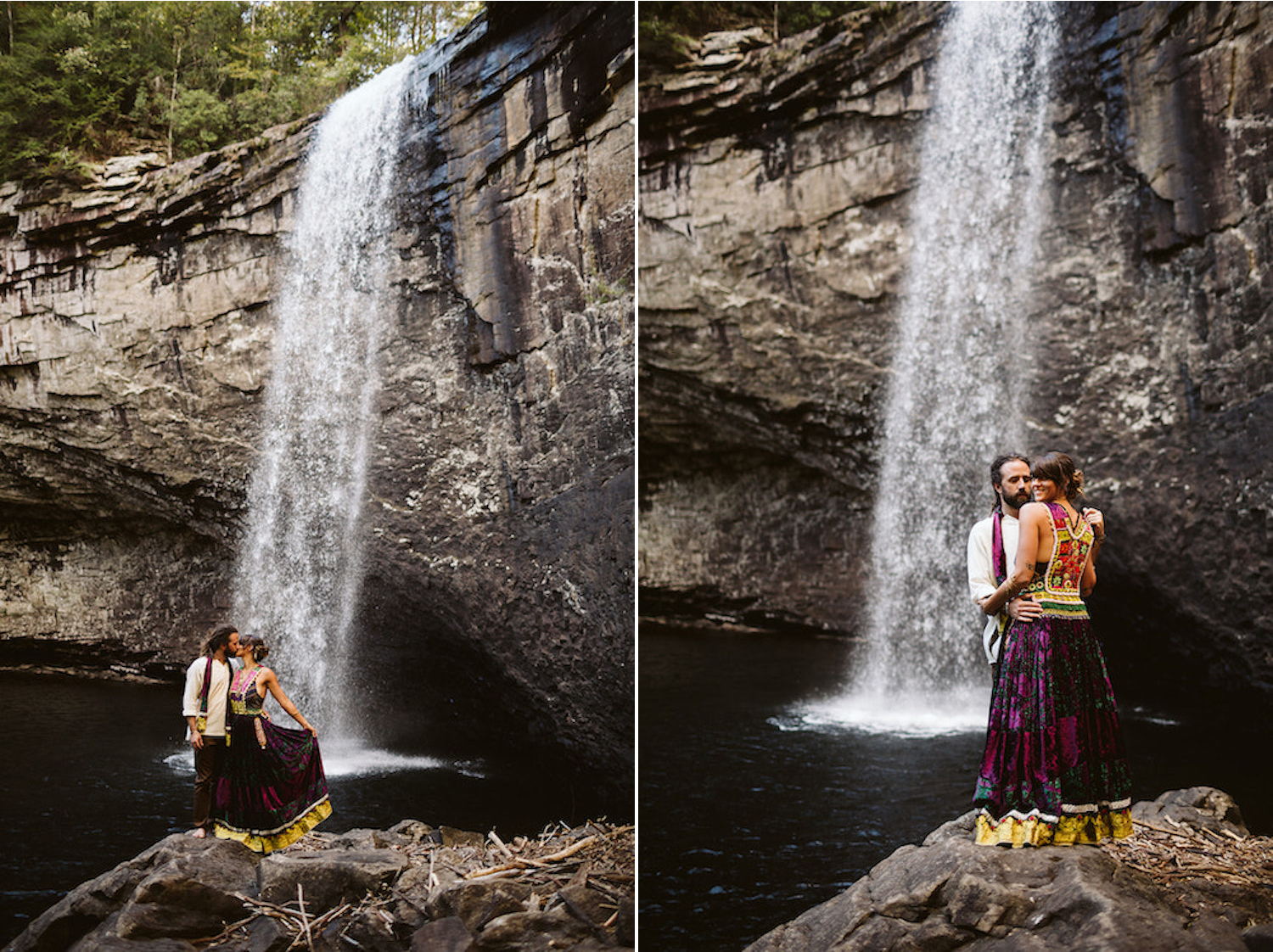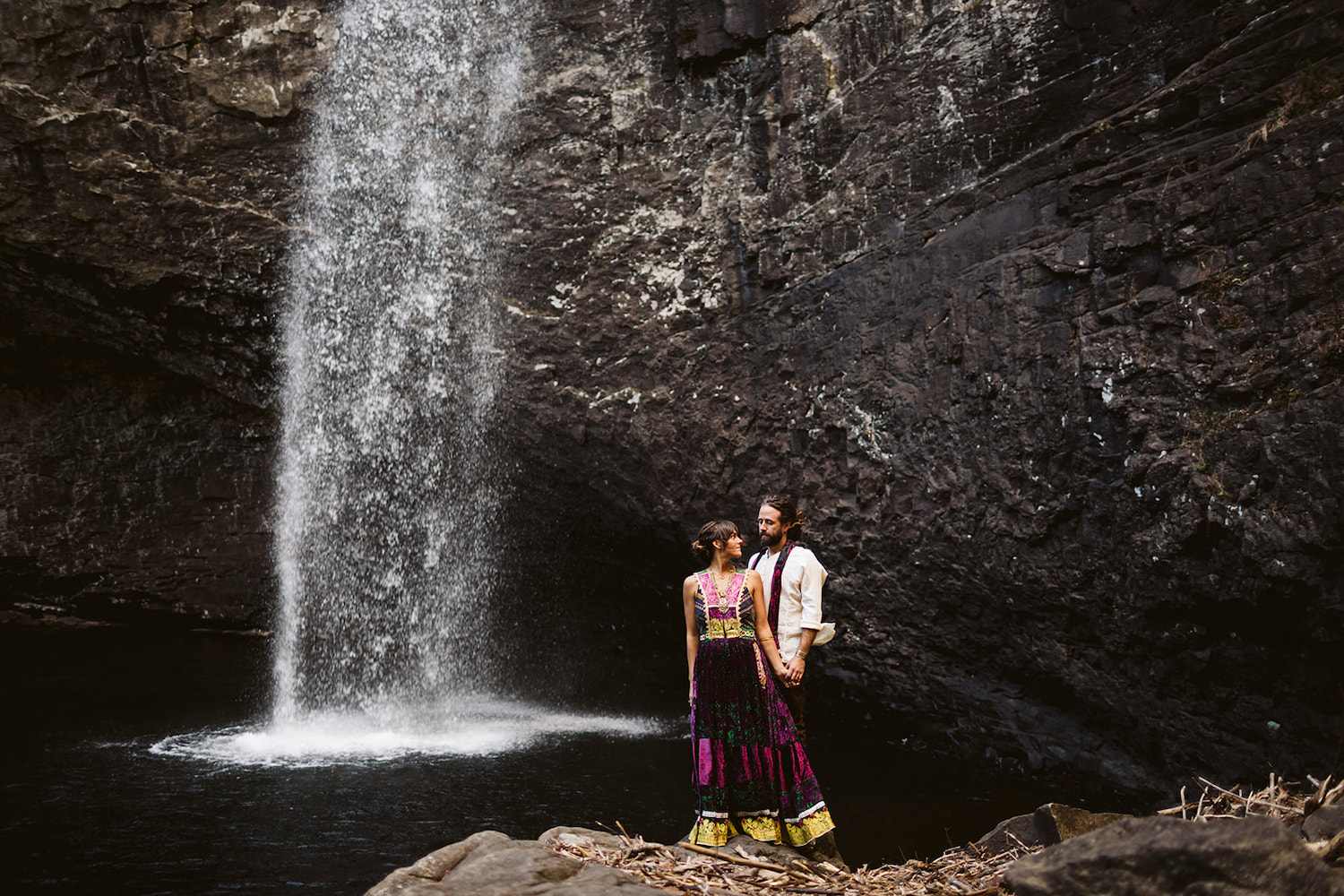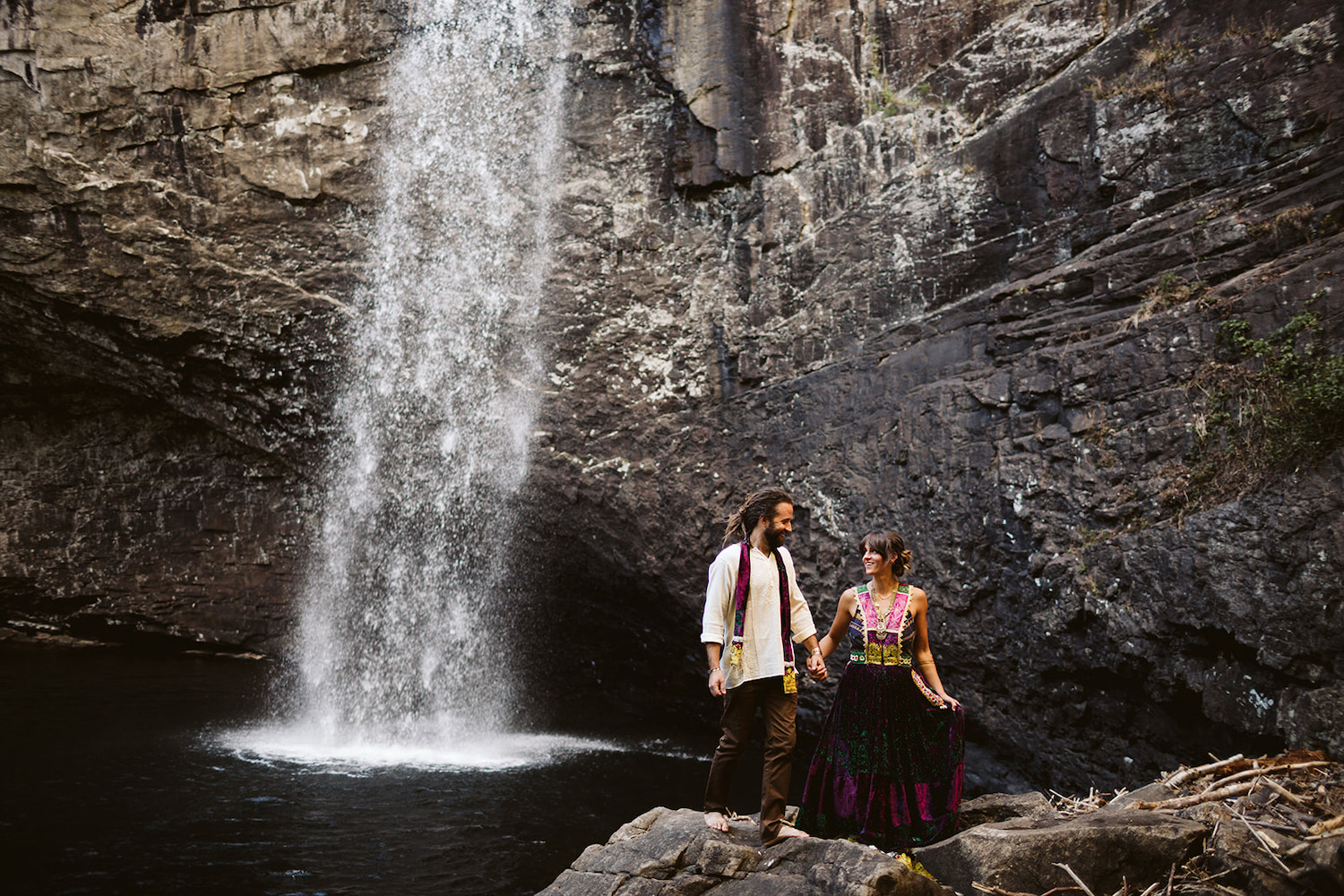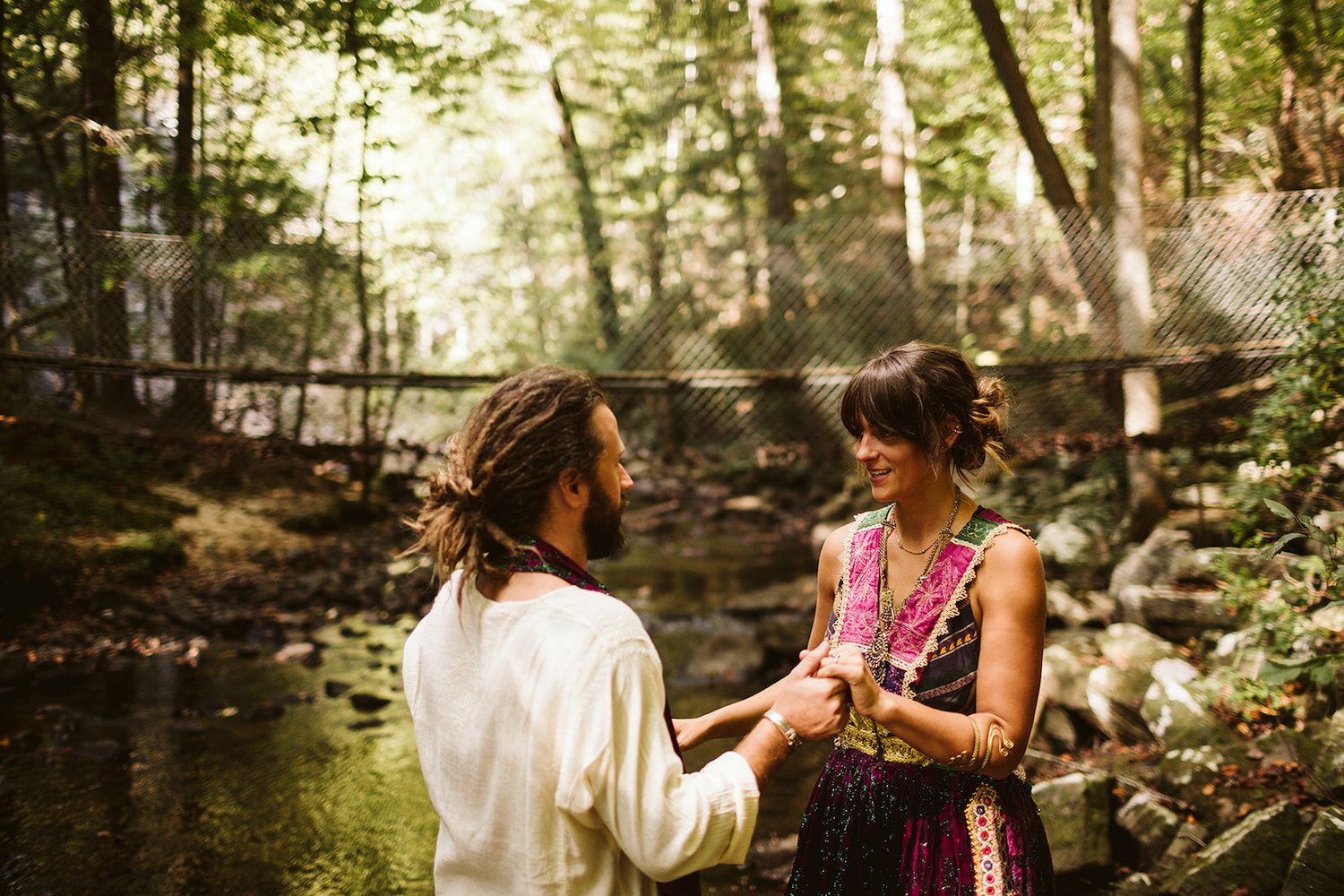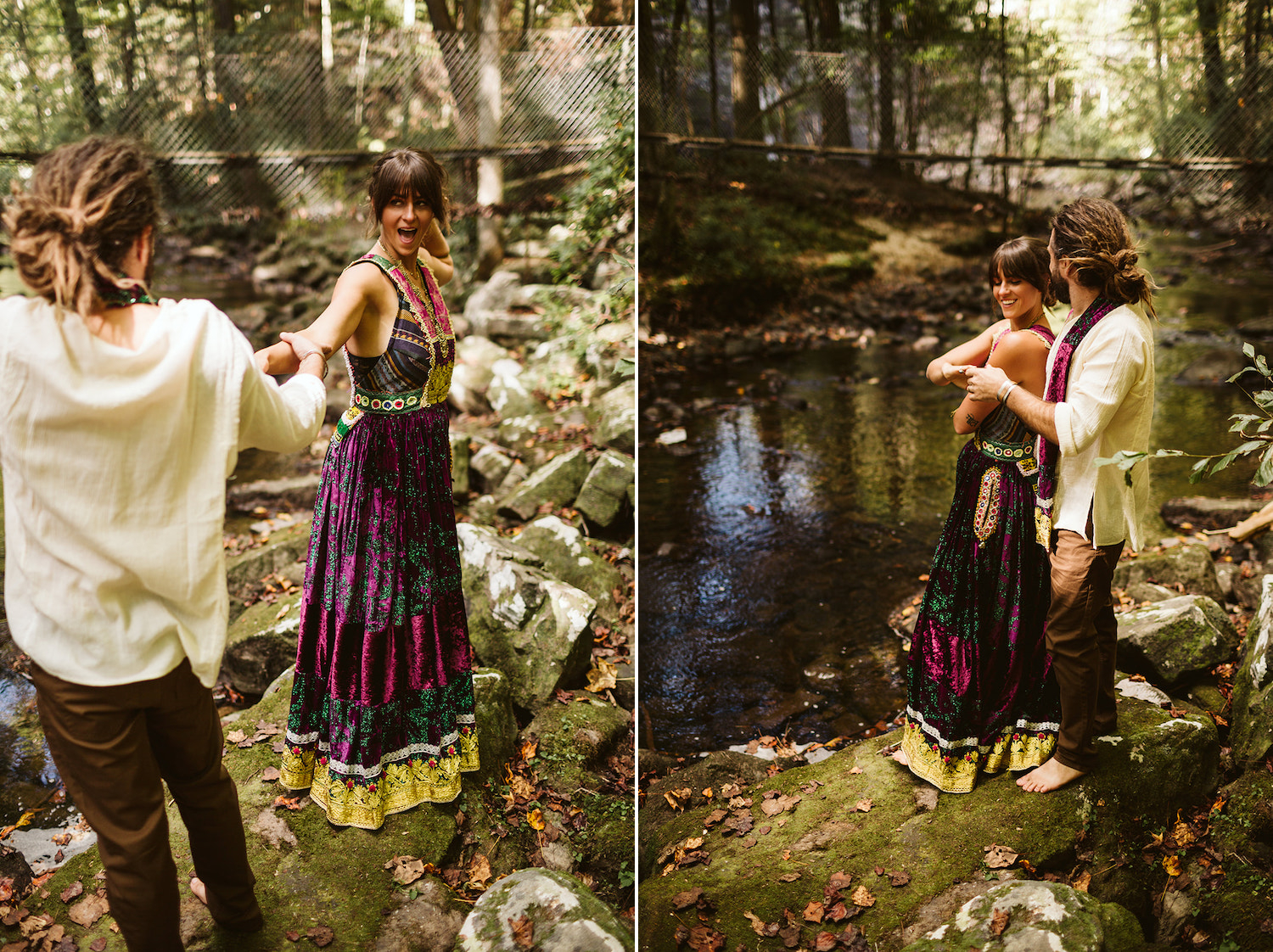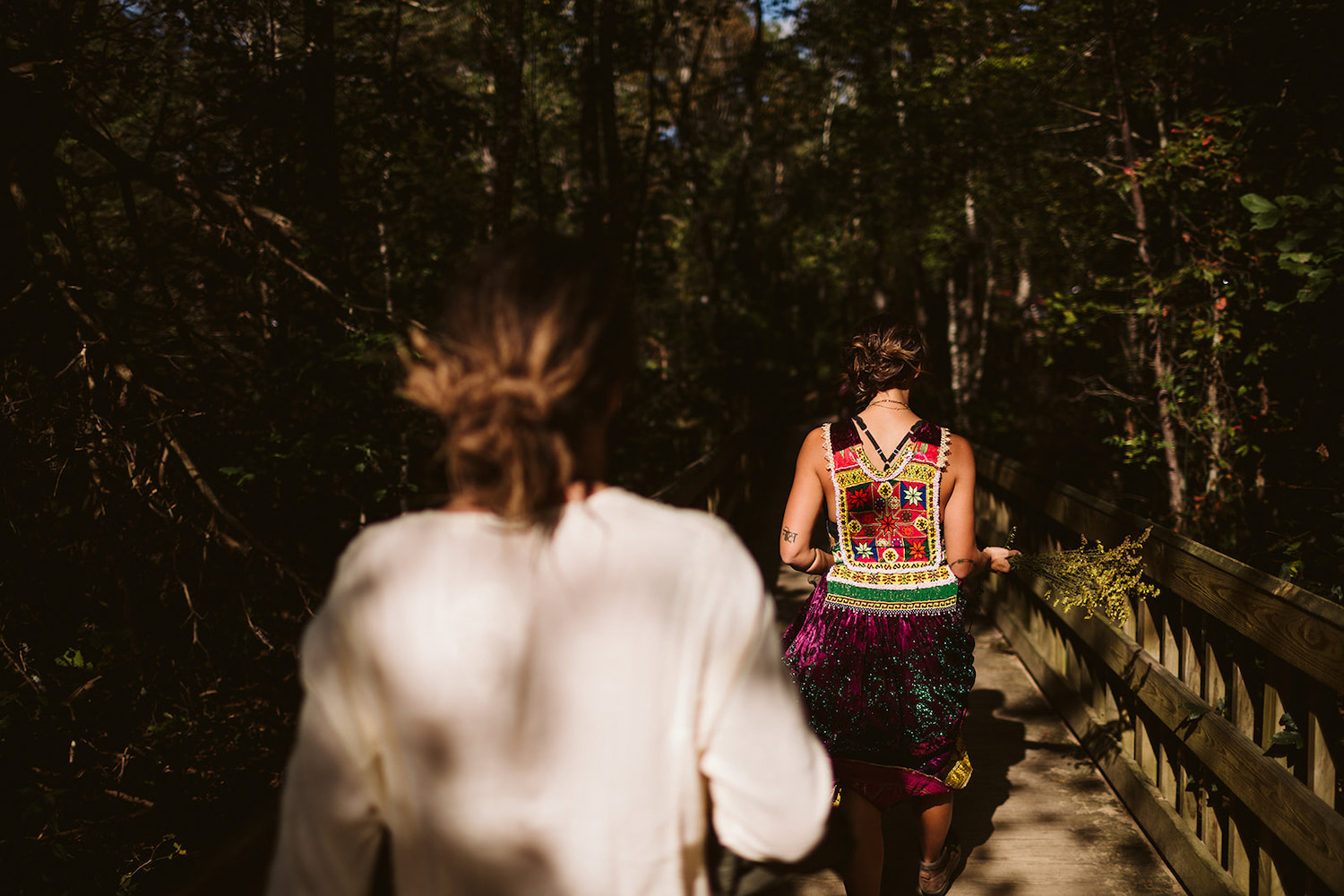 Bohemian festival wedding at Hemlock Falls
After their portraits at Foster Falls, we headed back to Hemlock Falls for their boho-bazaar wedding ceremony.
To keep everything entirely DIY, Margaret and Garrison pulled together borrowed pieces from friends and family, pieces they had collected specifically for the event, and even incorporated pieces from their own home into the ceremony and reception. One of their close friends officiated with a script written especially for them. They didn't even purchase florals for decor! Margaret used Japanese lanterns growing behind her family friend's house, bowls of fruit, and flowers foraged along the path to Foster Falls.
I personally love how they used these rugs to line the aisle and create a dance floor! Such a cool idea.
When it comes to planning such a big event, Margaret offers this advice to other couples: "Don't put too much pressure on yourself. Don't overthink it. Be present, and enjoy each moment because what they say is true: months and months of planning goes by in just a few hours. It all happens SO fast. Take a deep breath and just enjoy each other."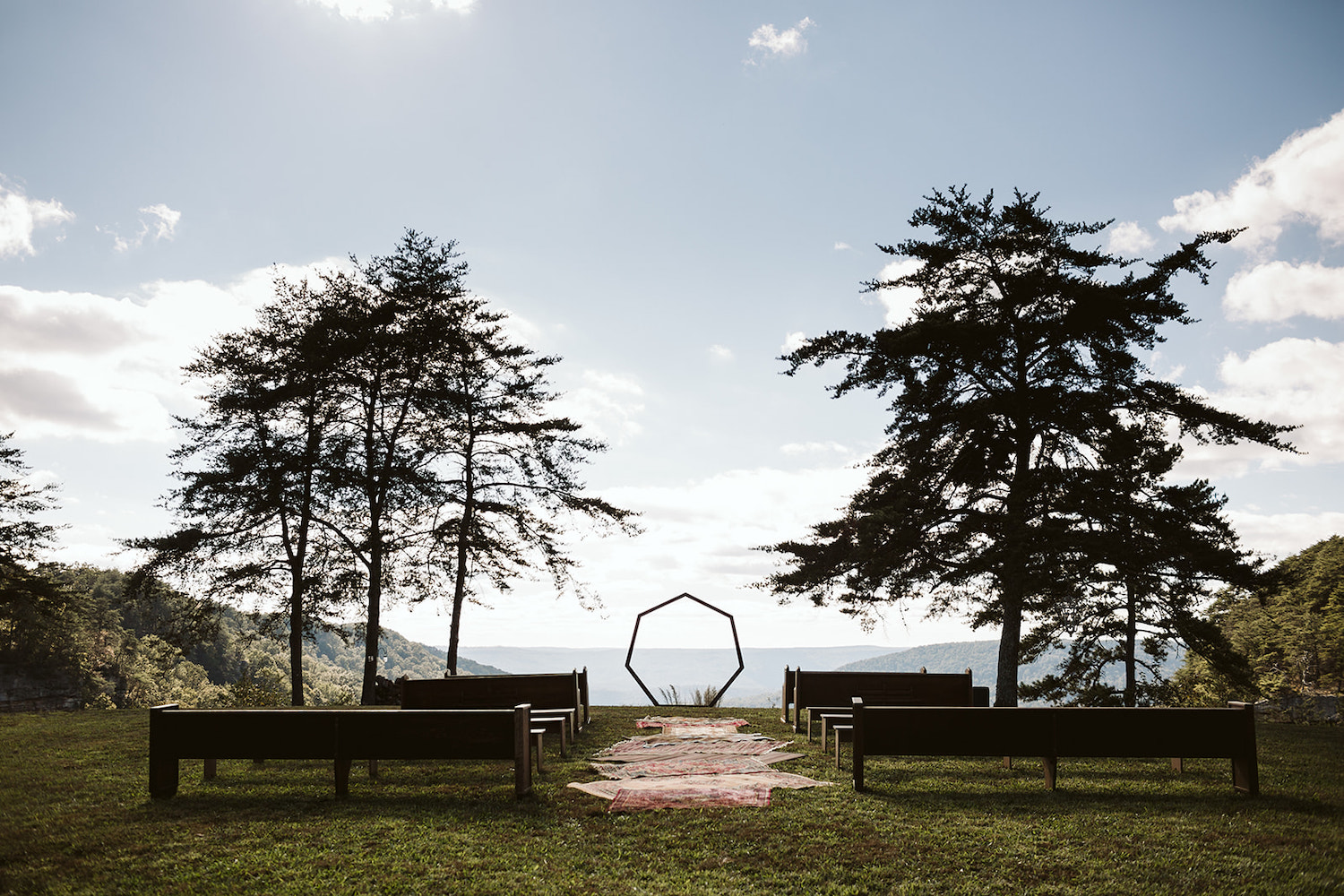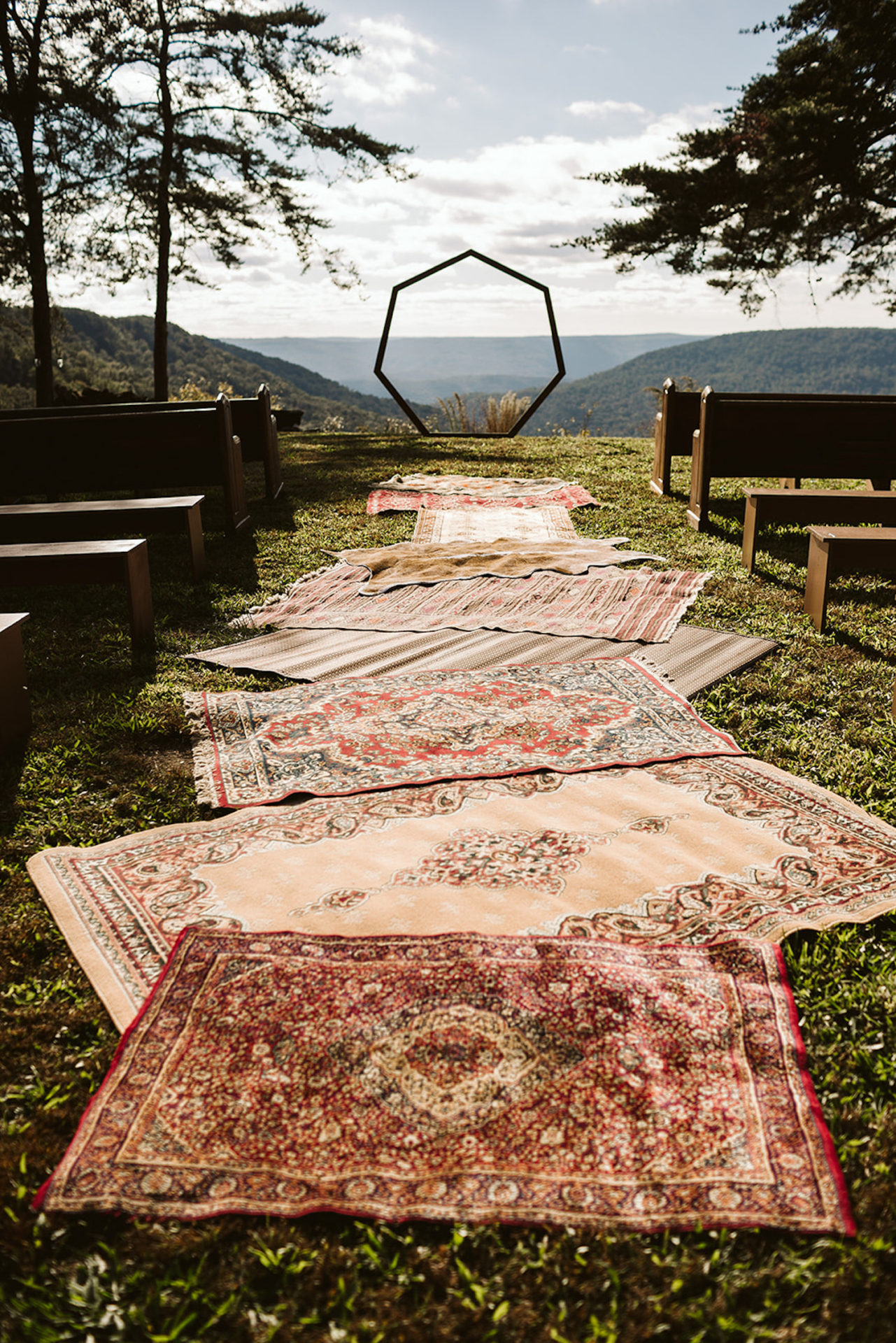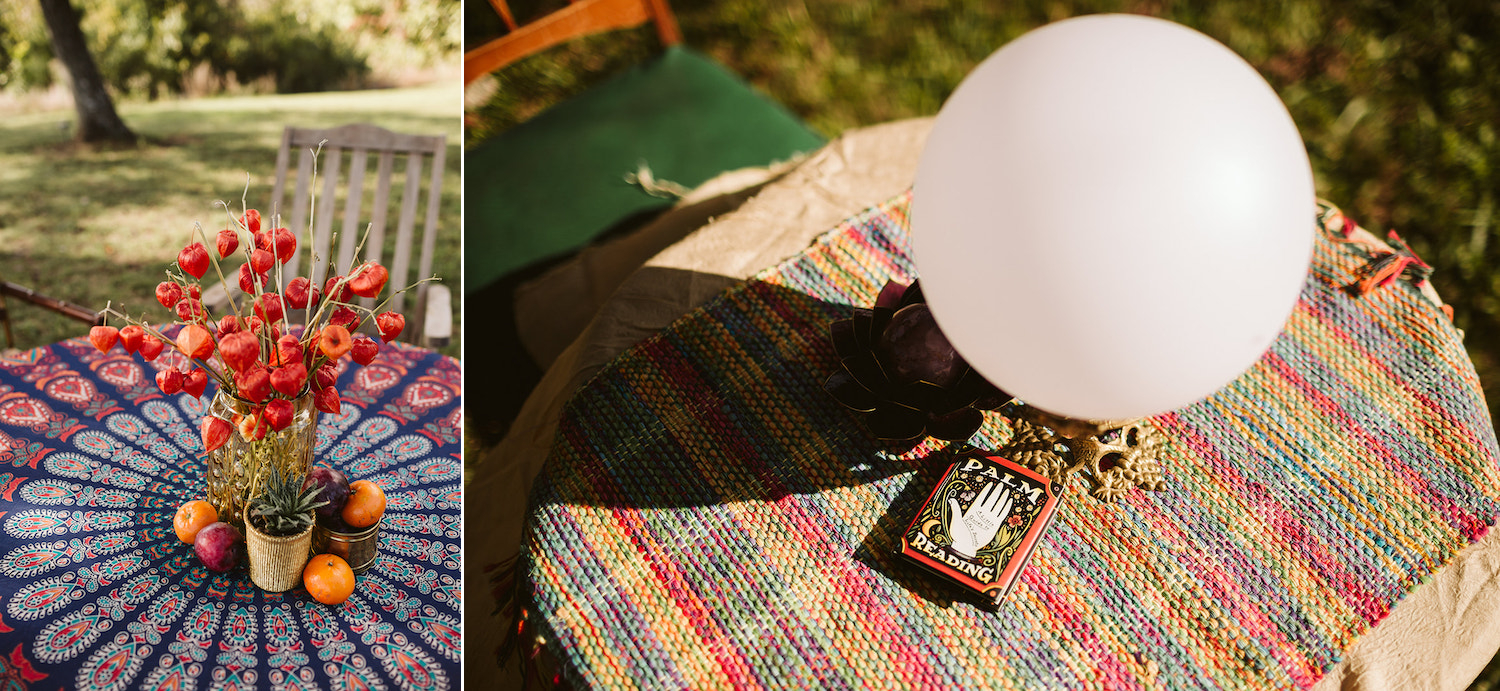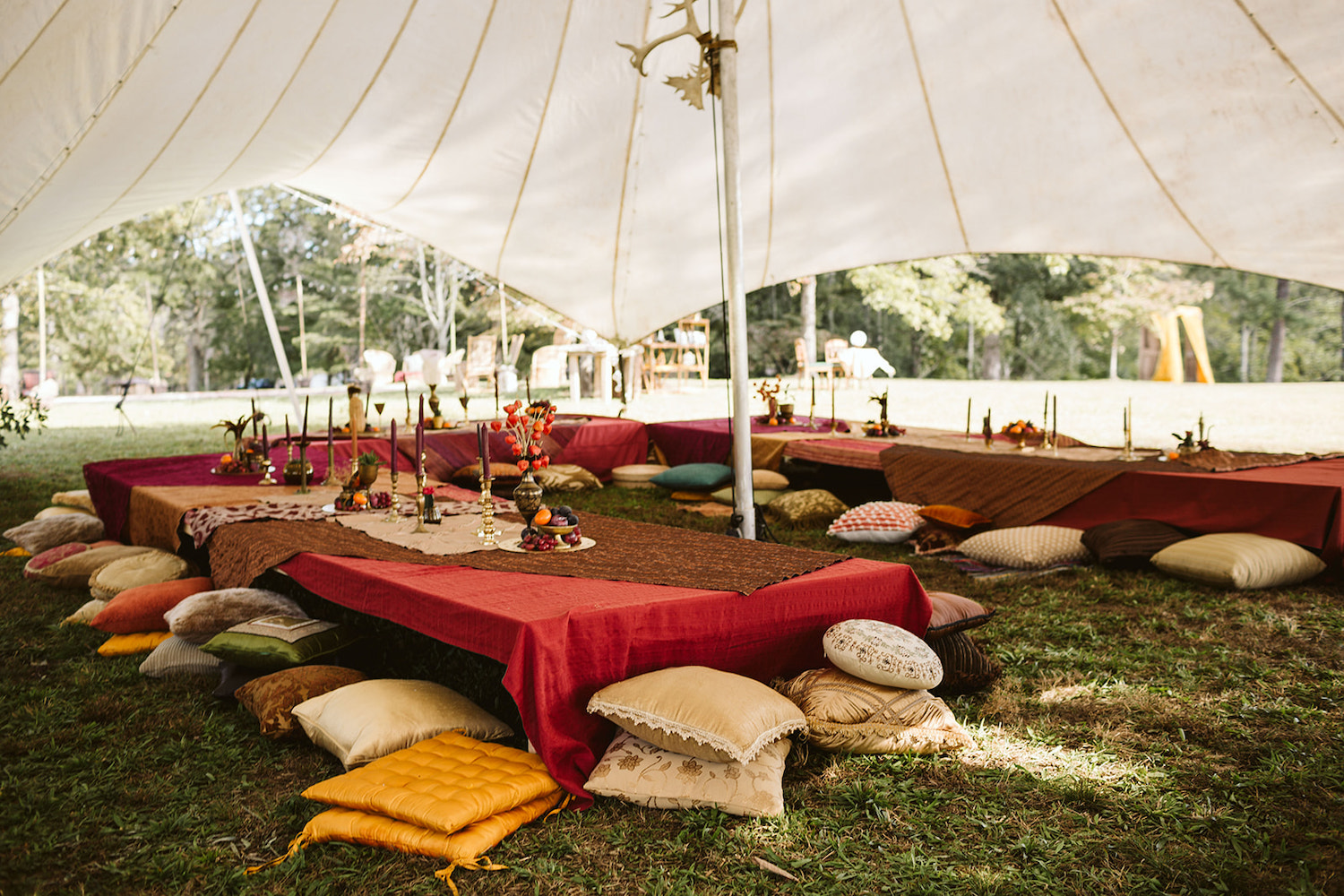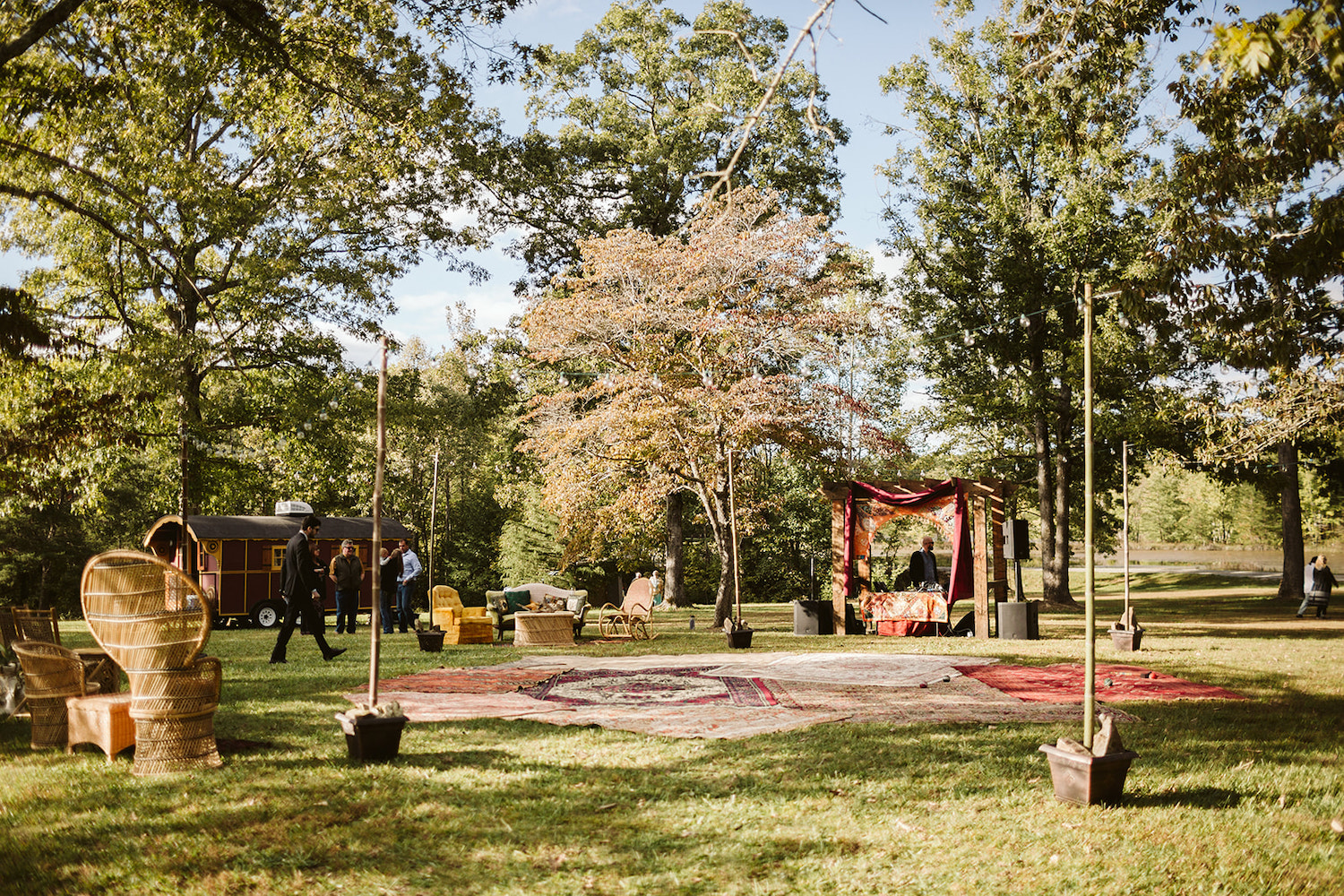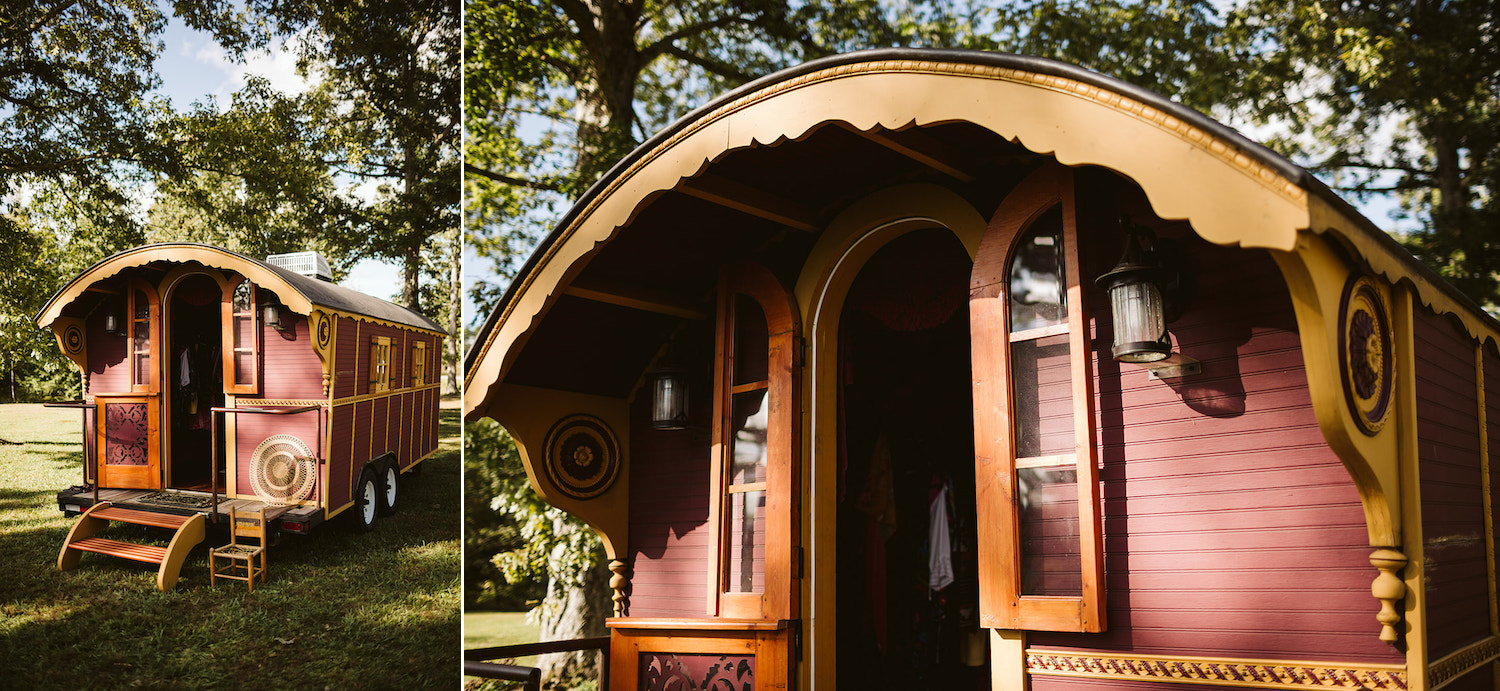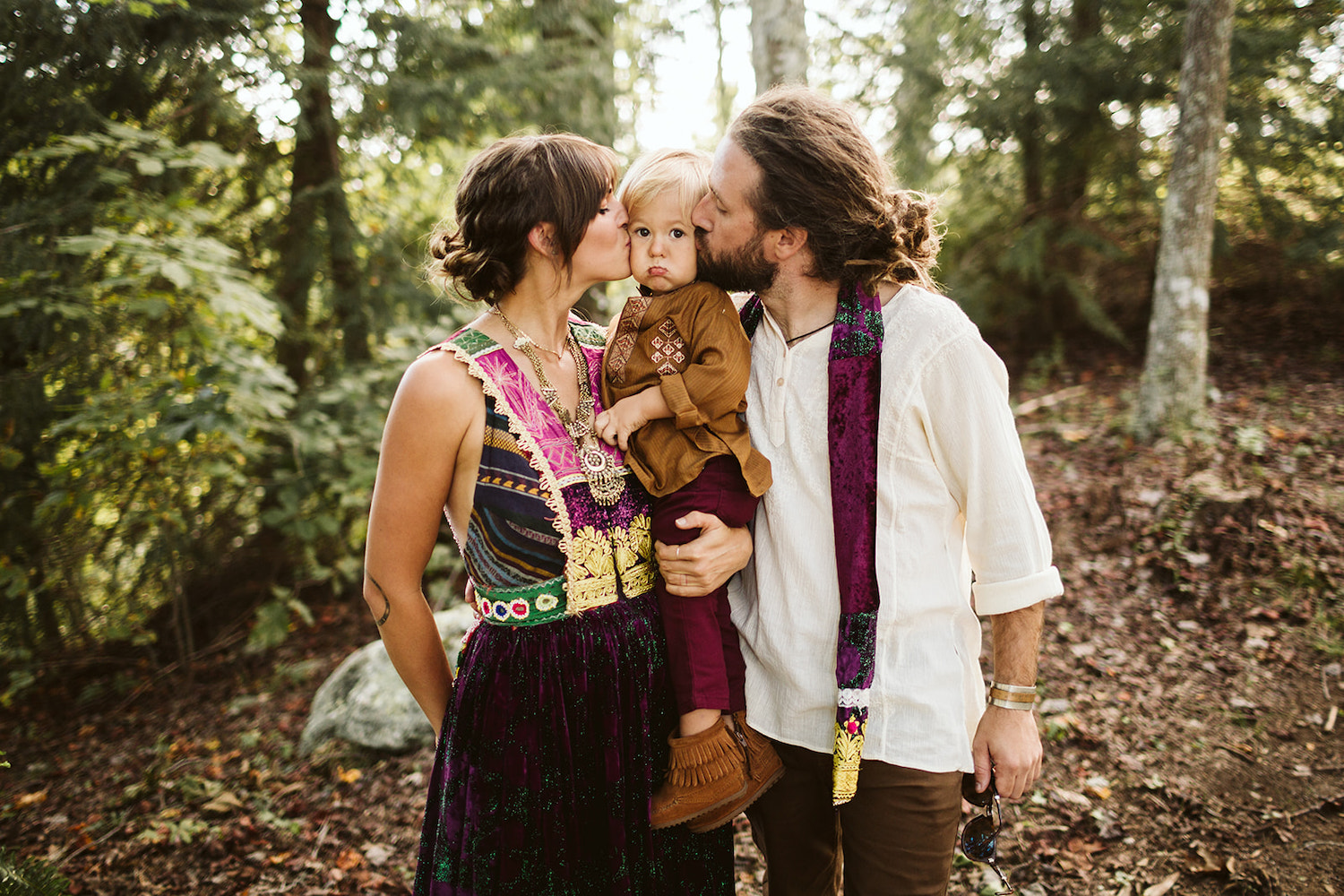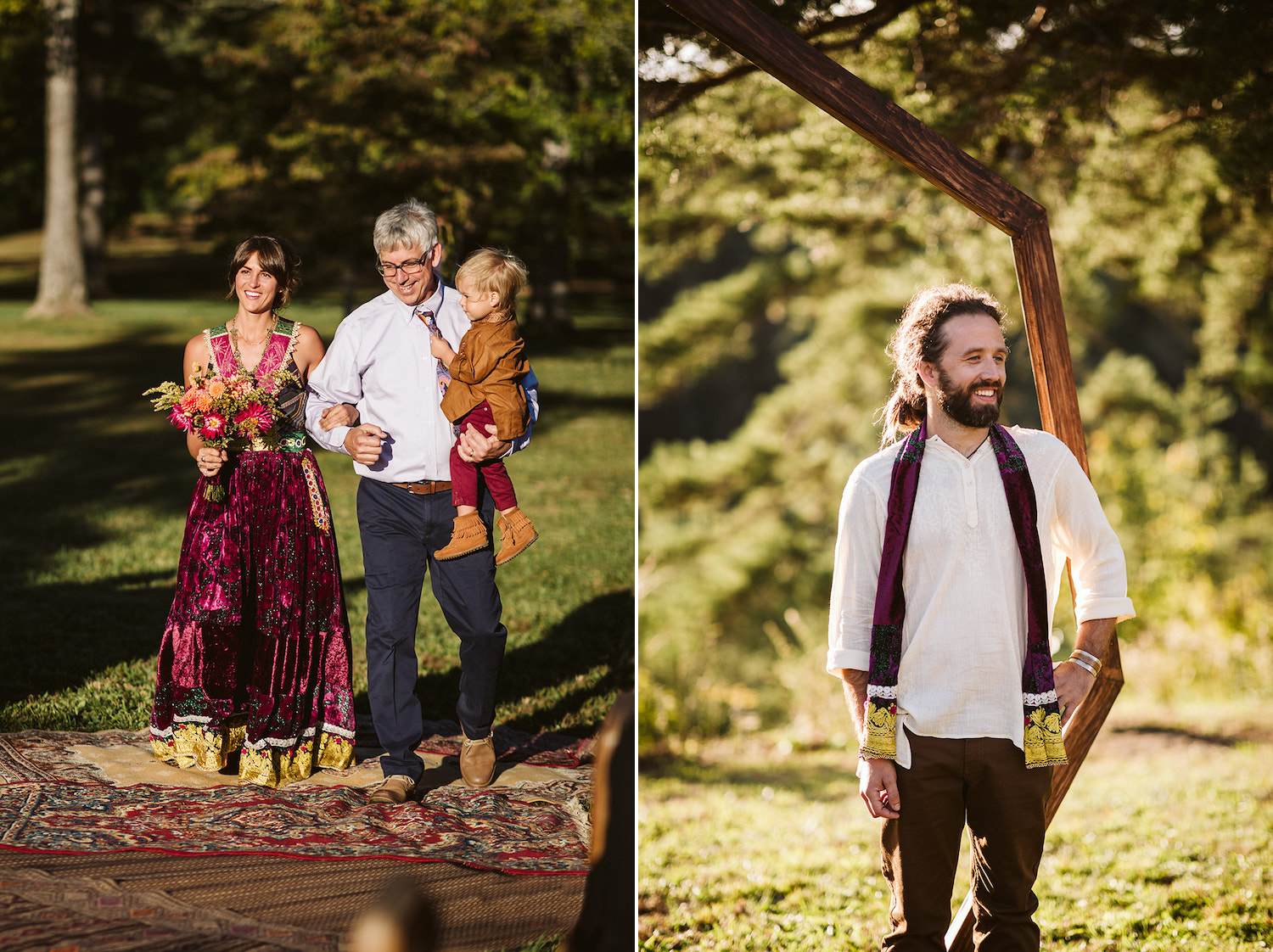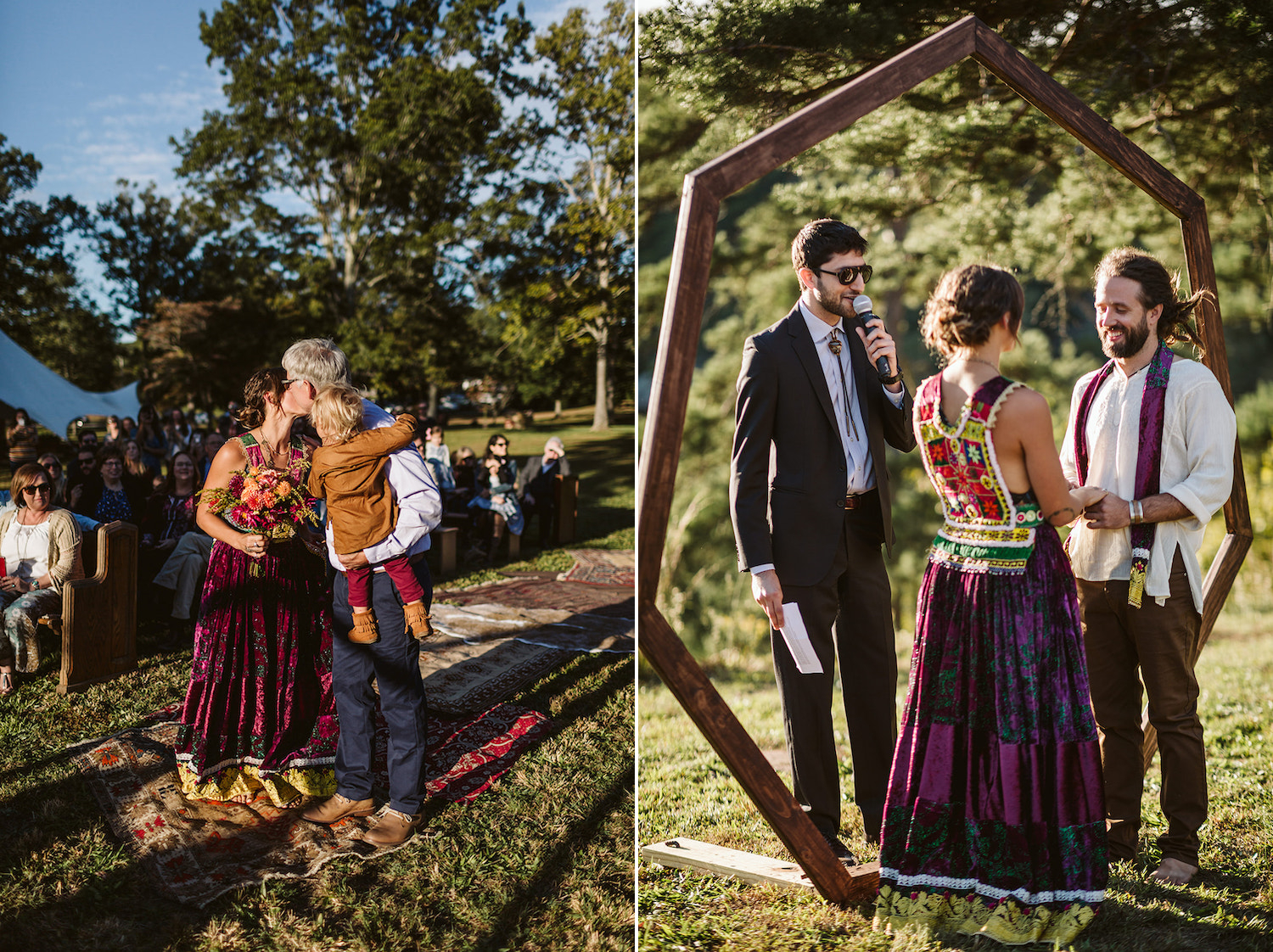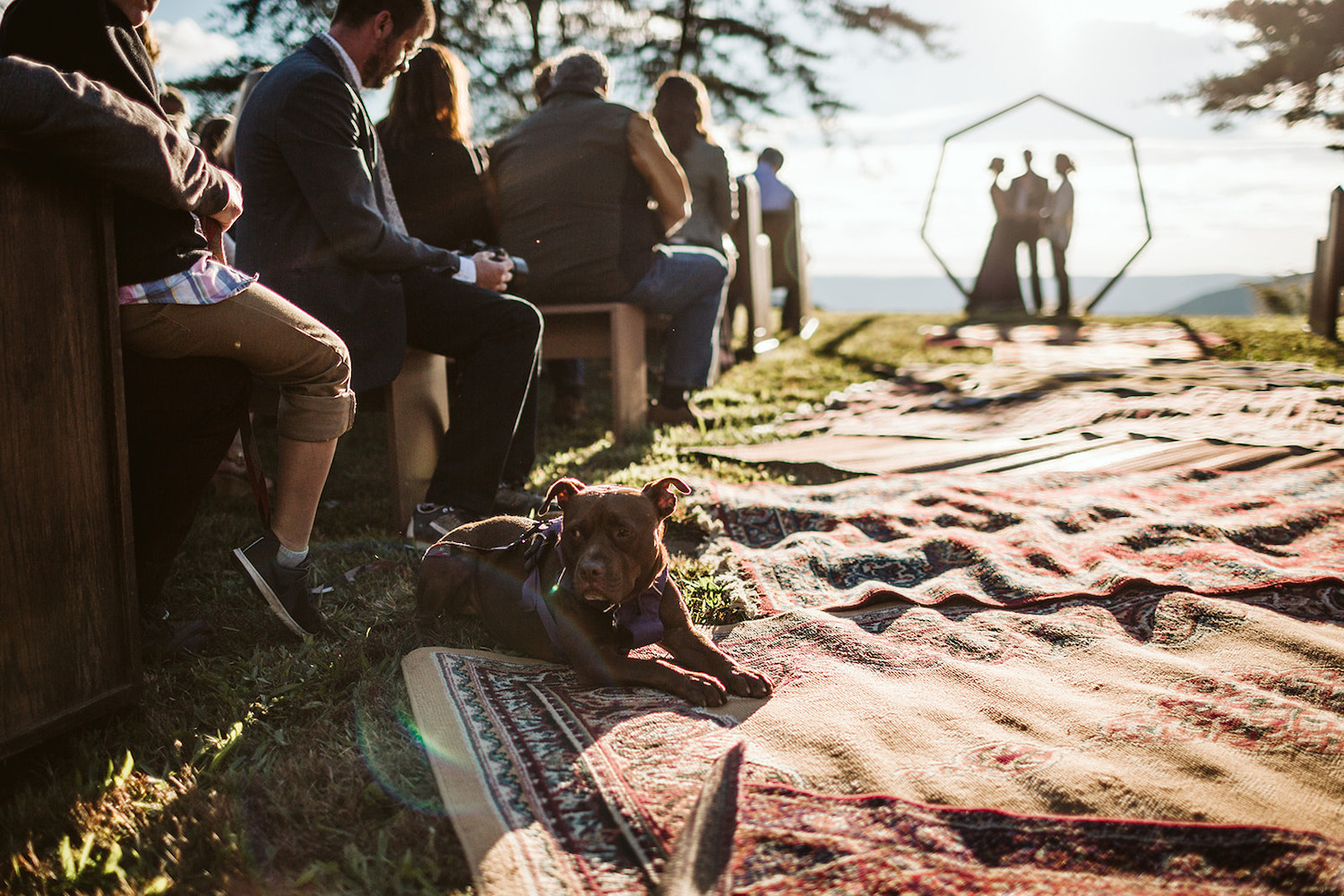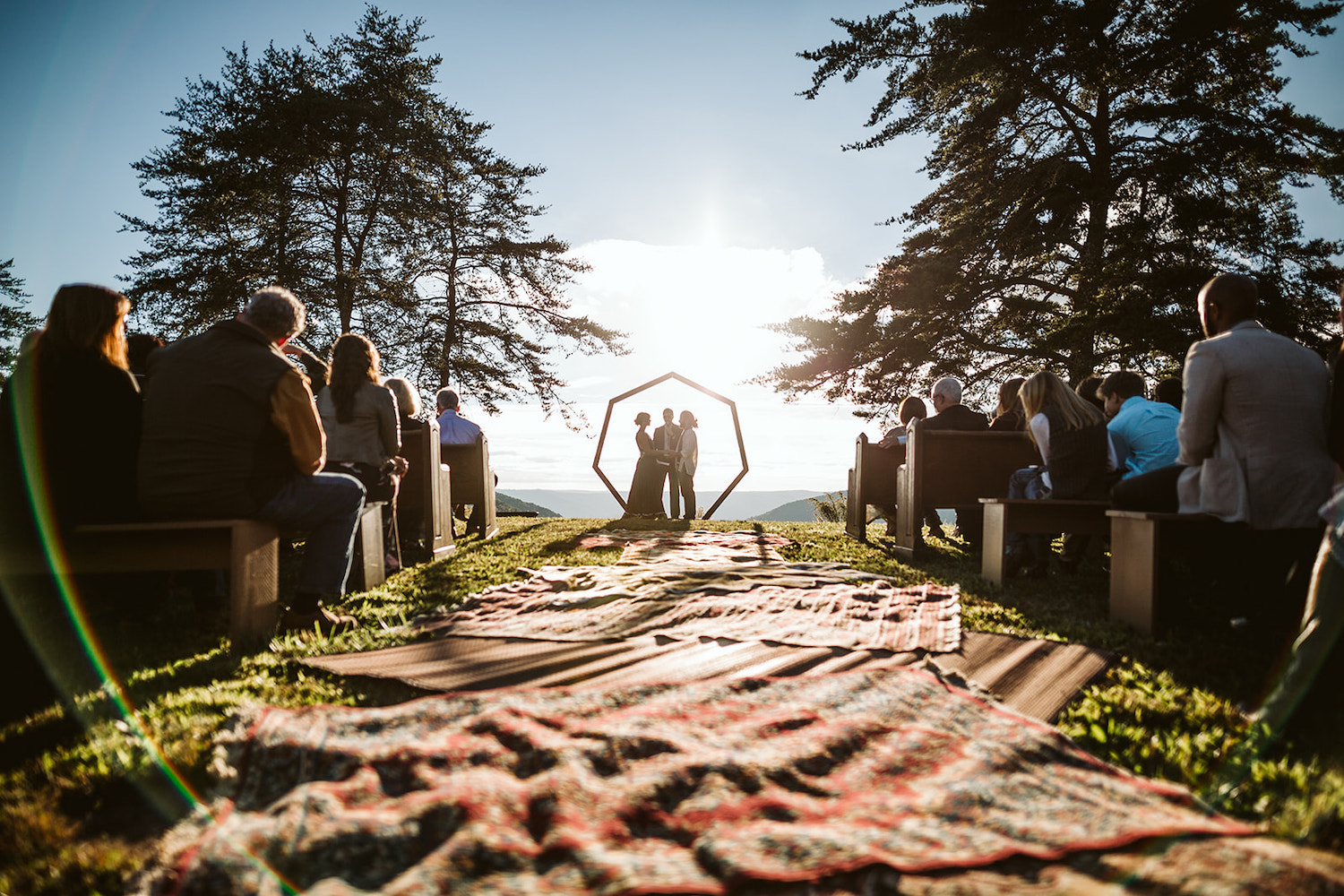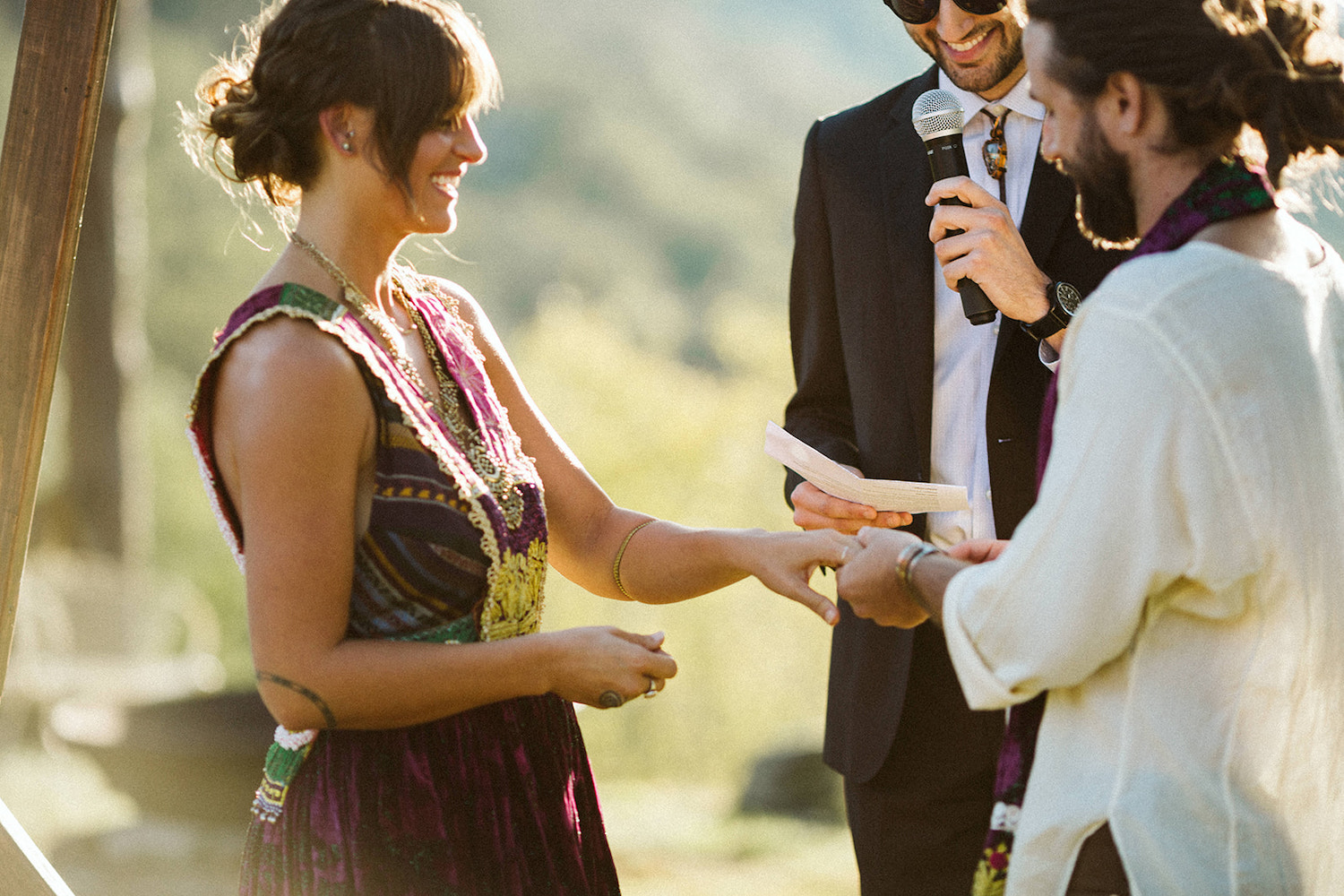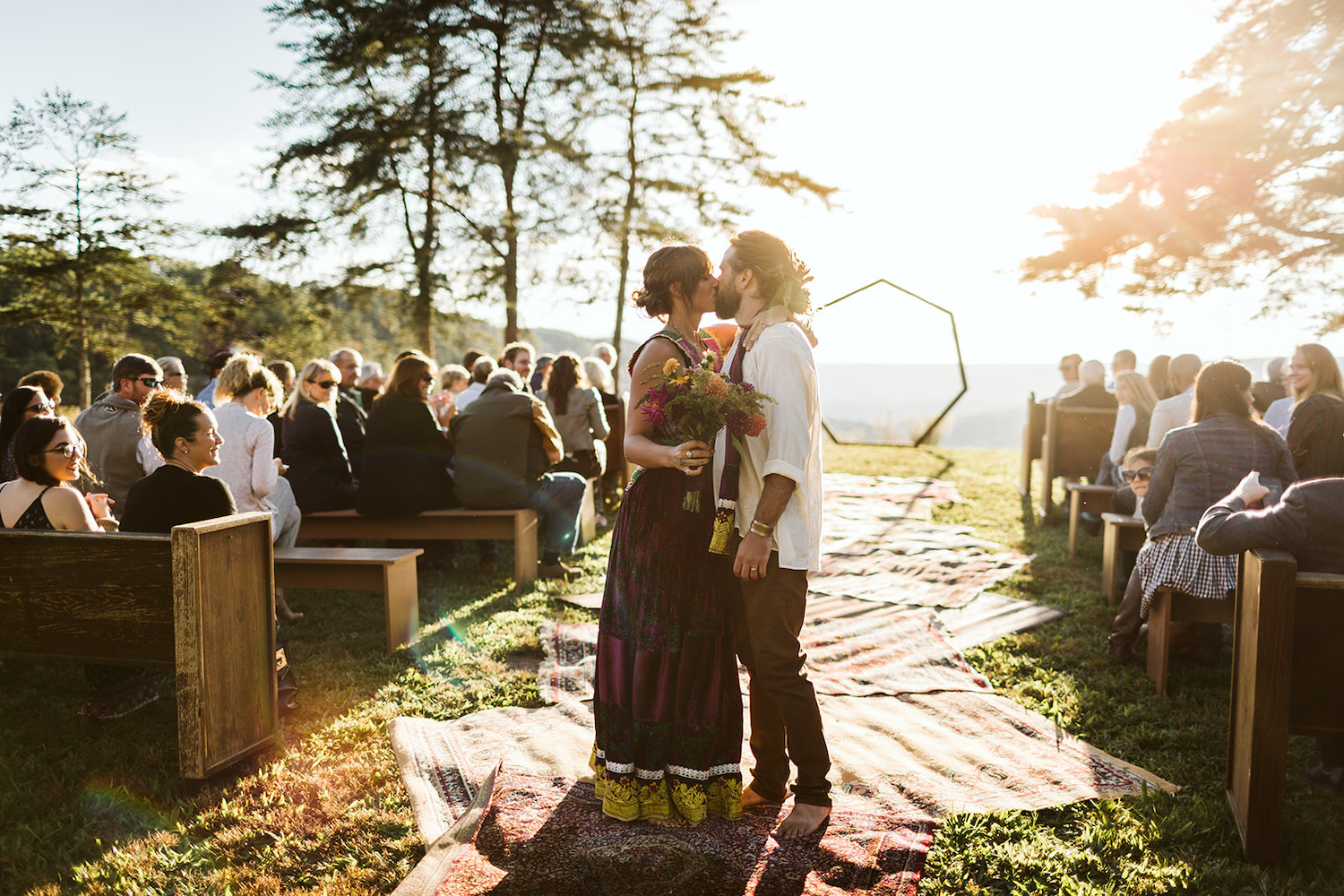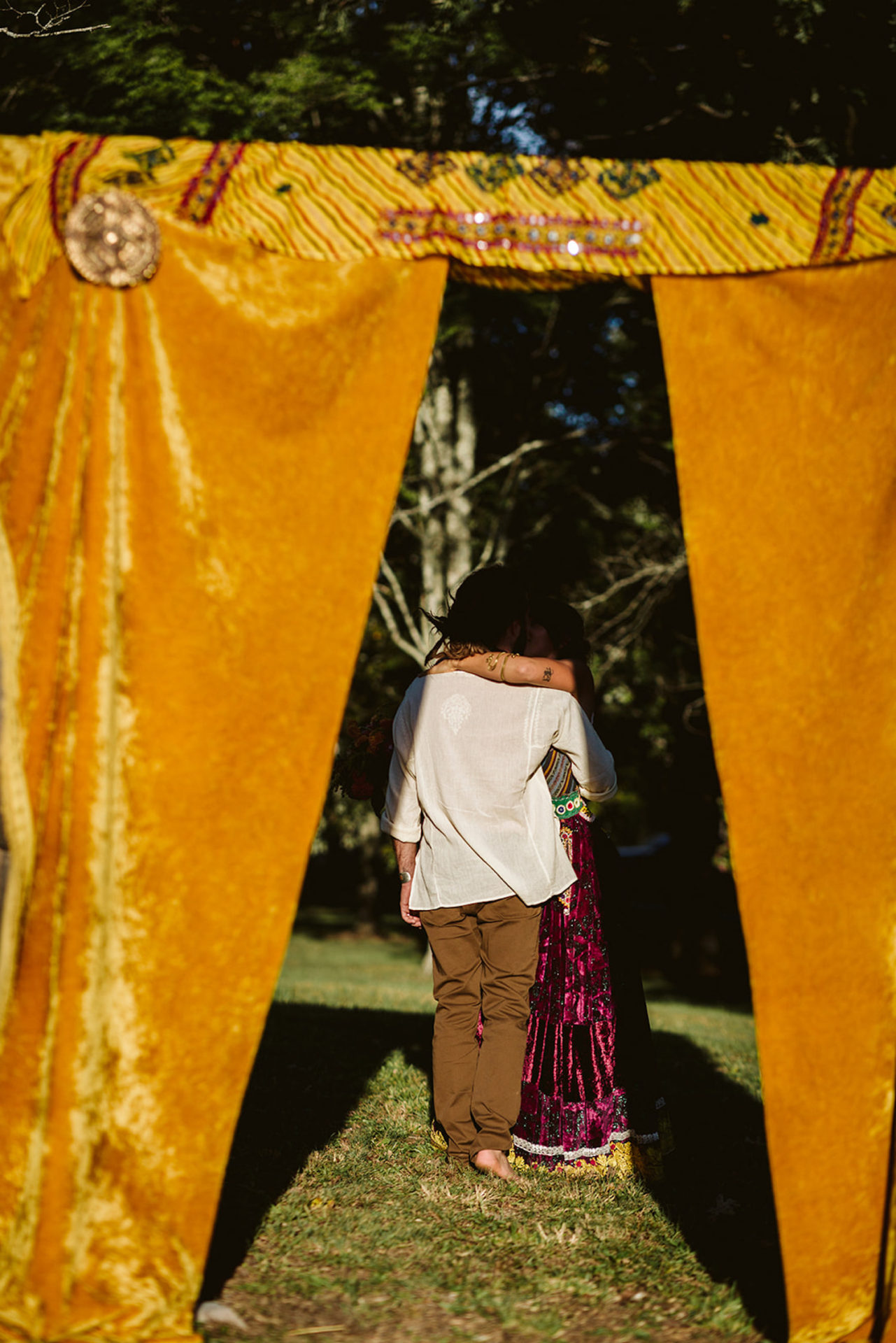 Boho Bazaar-themed wedding reception
With our bellies full of vegetarian catering provided by Kabob-ster and kombucha from Muse + Metta at the reception, we danced the night away under twinkle lits and a magical Burning Man tent on the vintage carpet dance floor. It was a bohemian festival wedding to the very end of the night!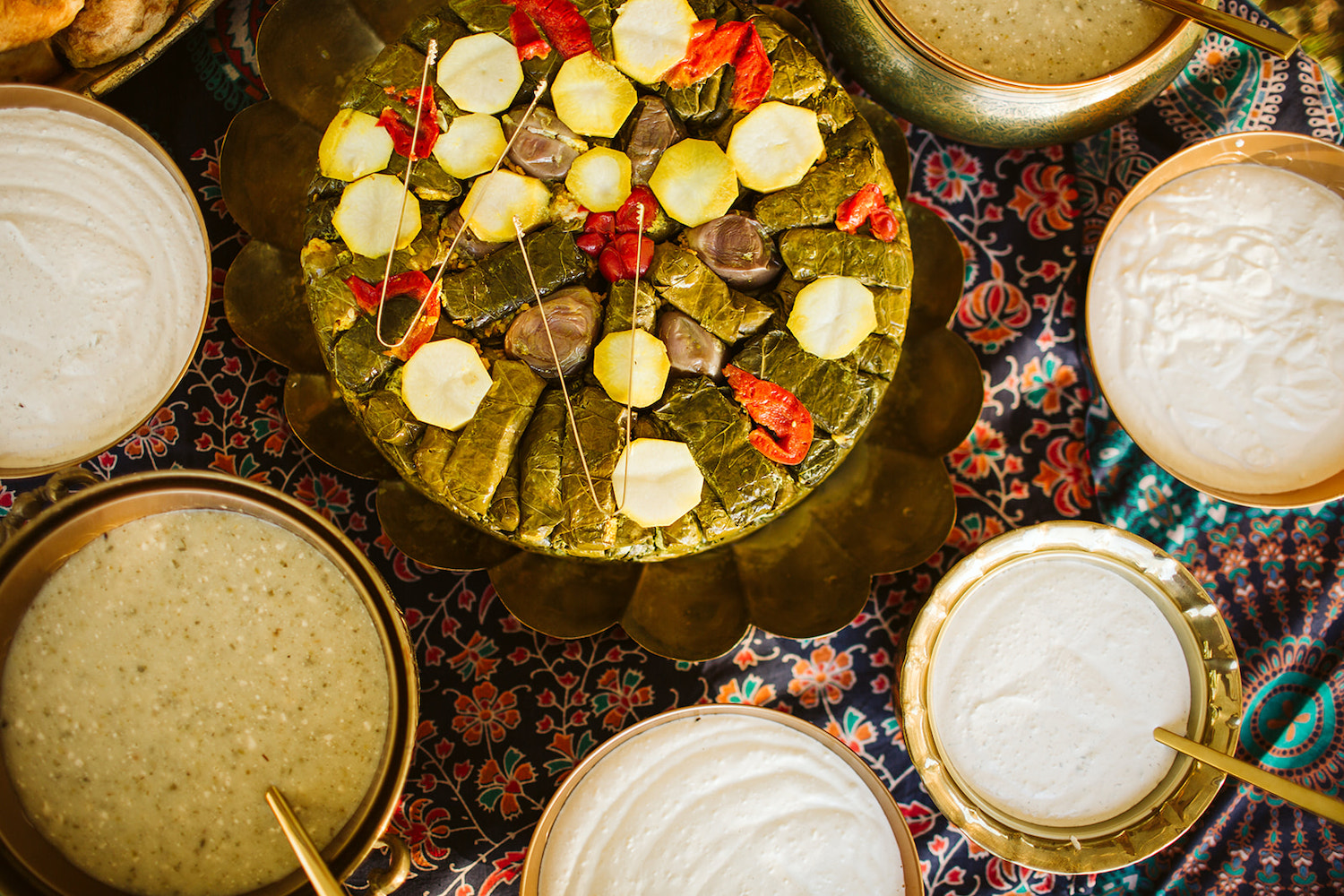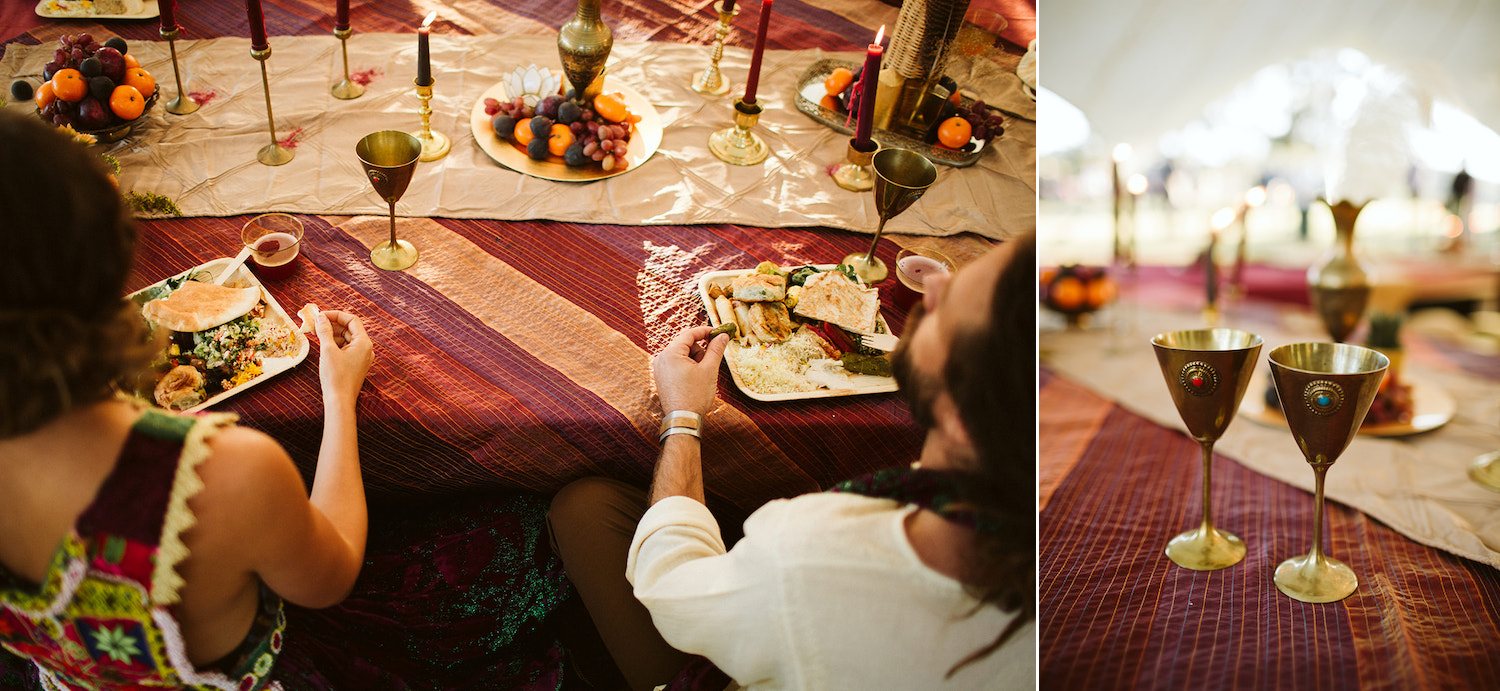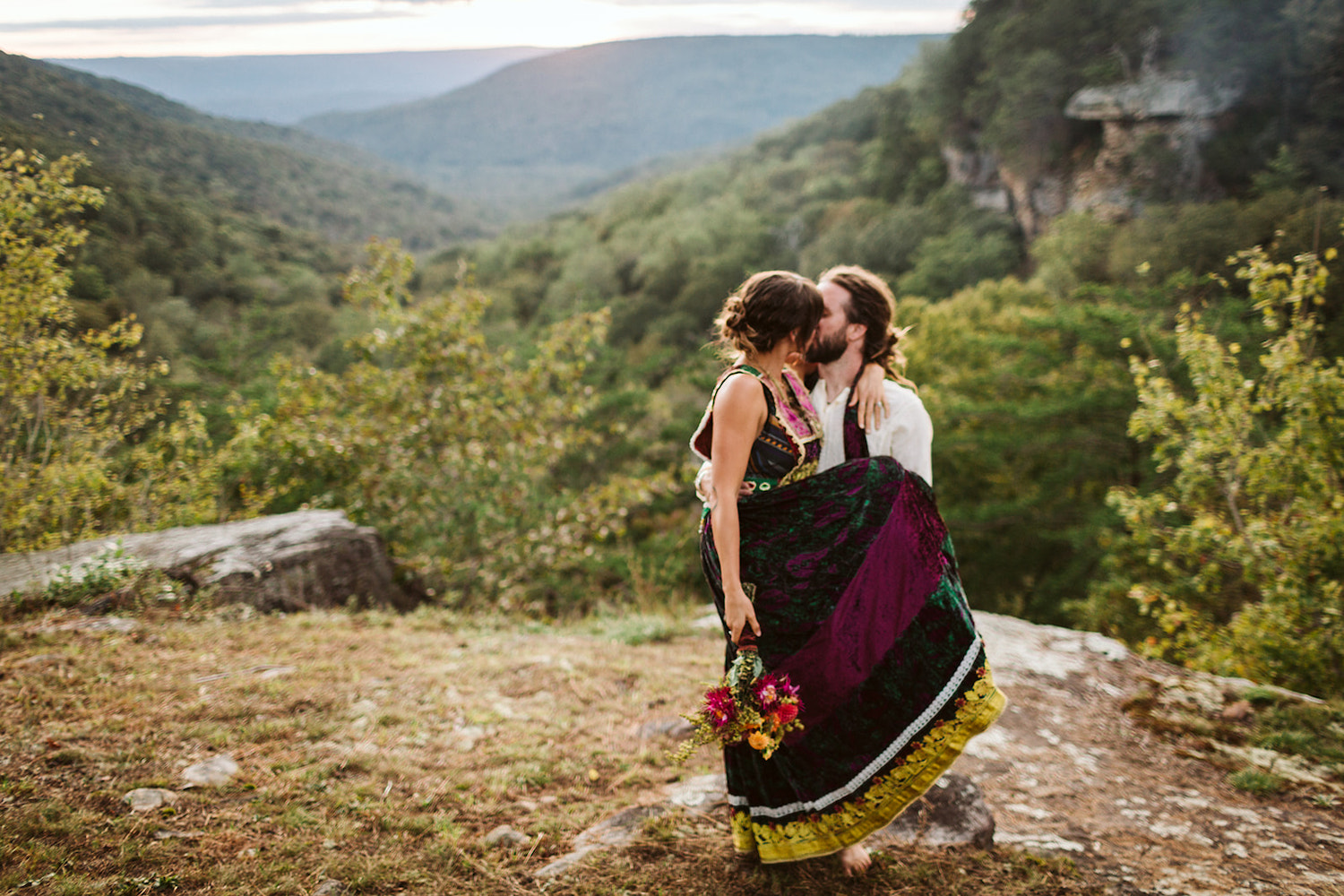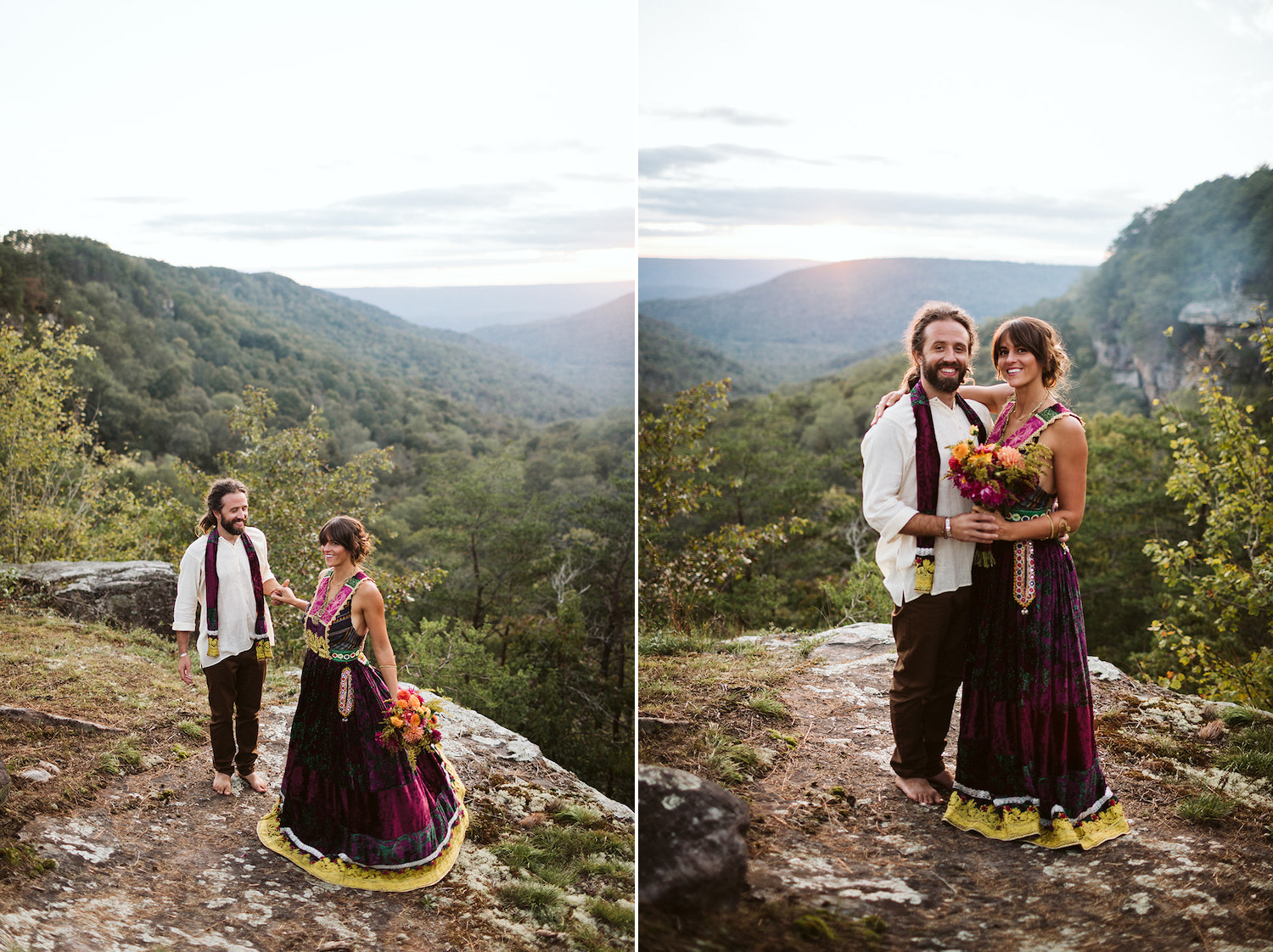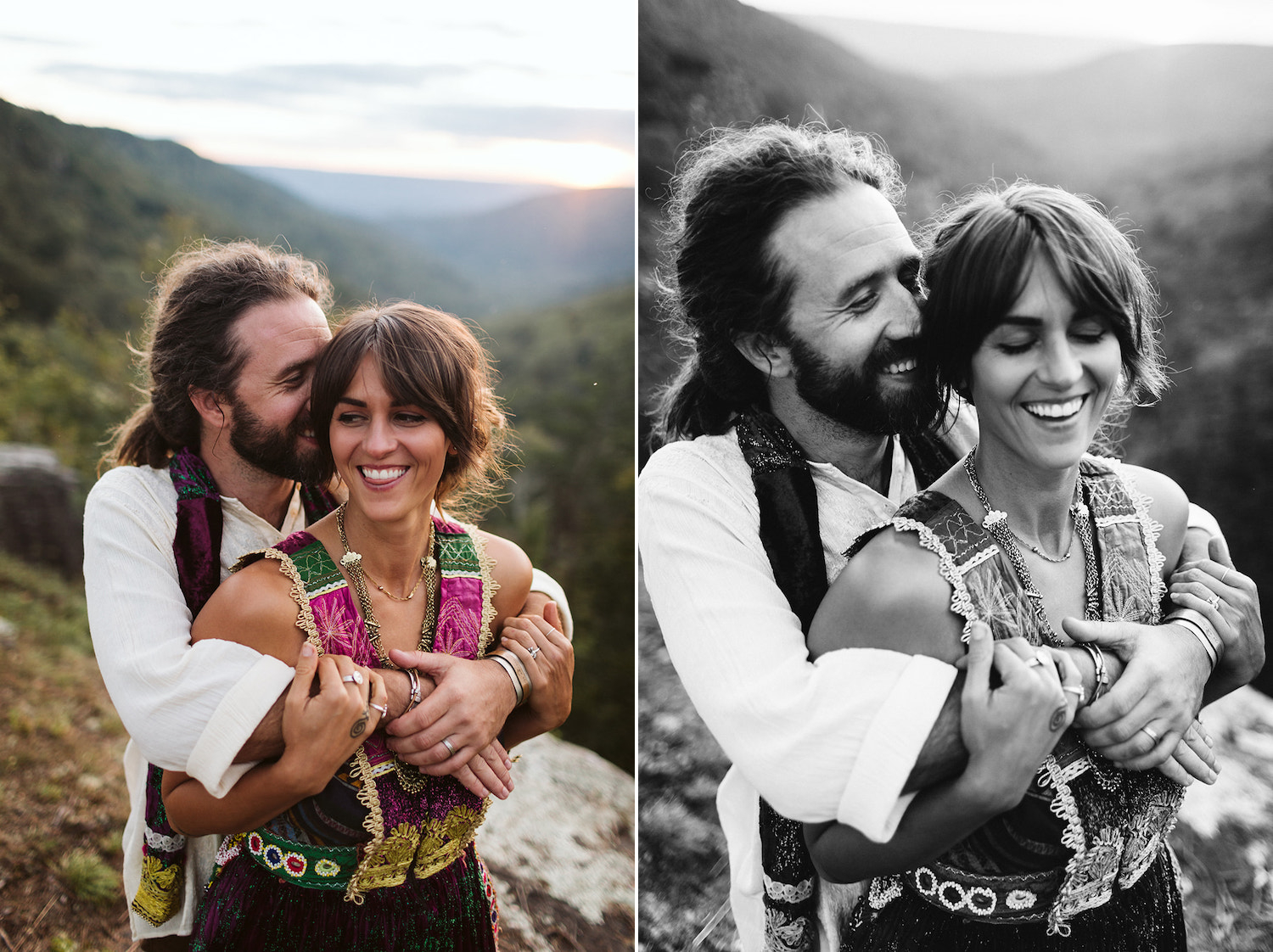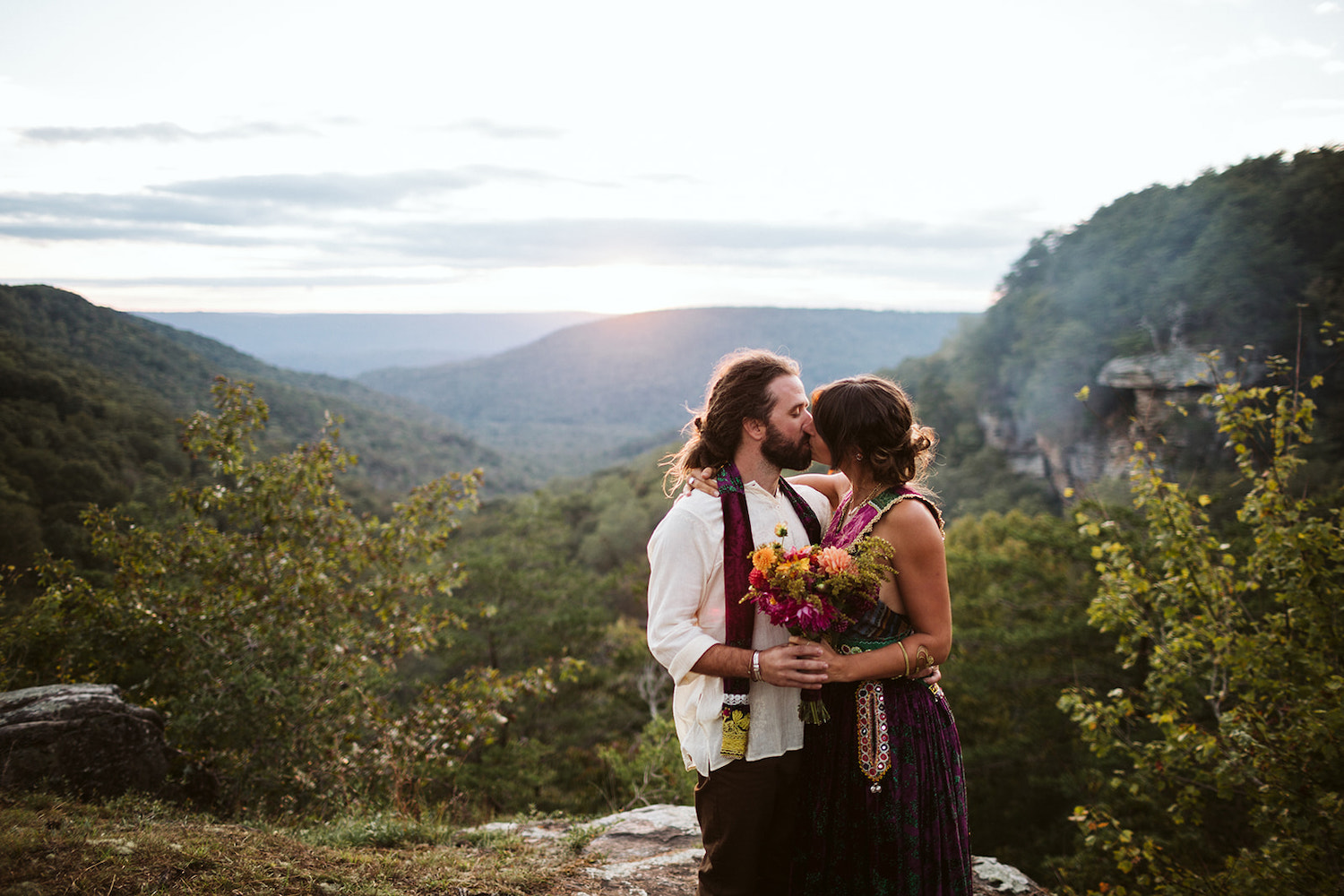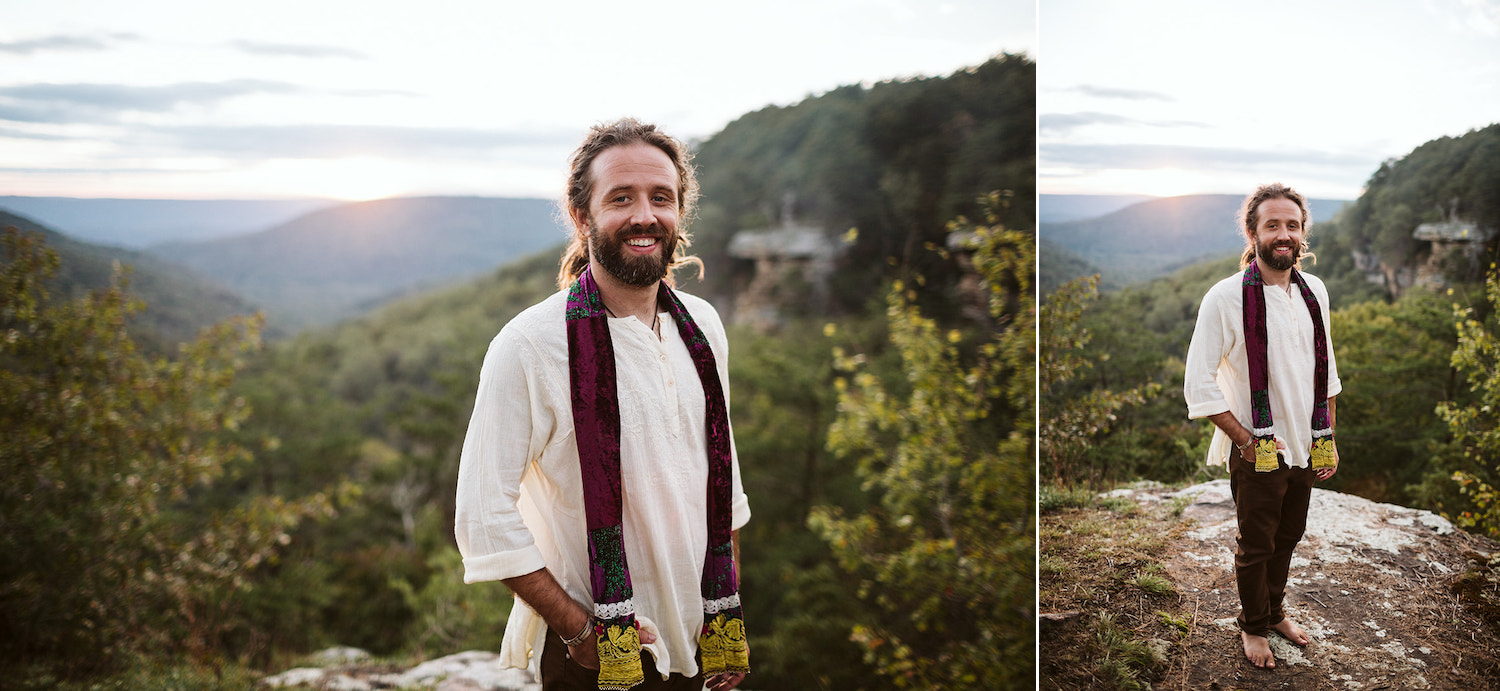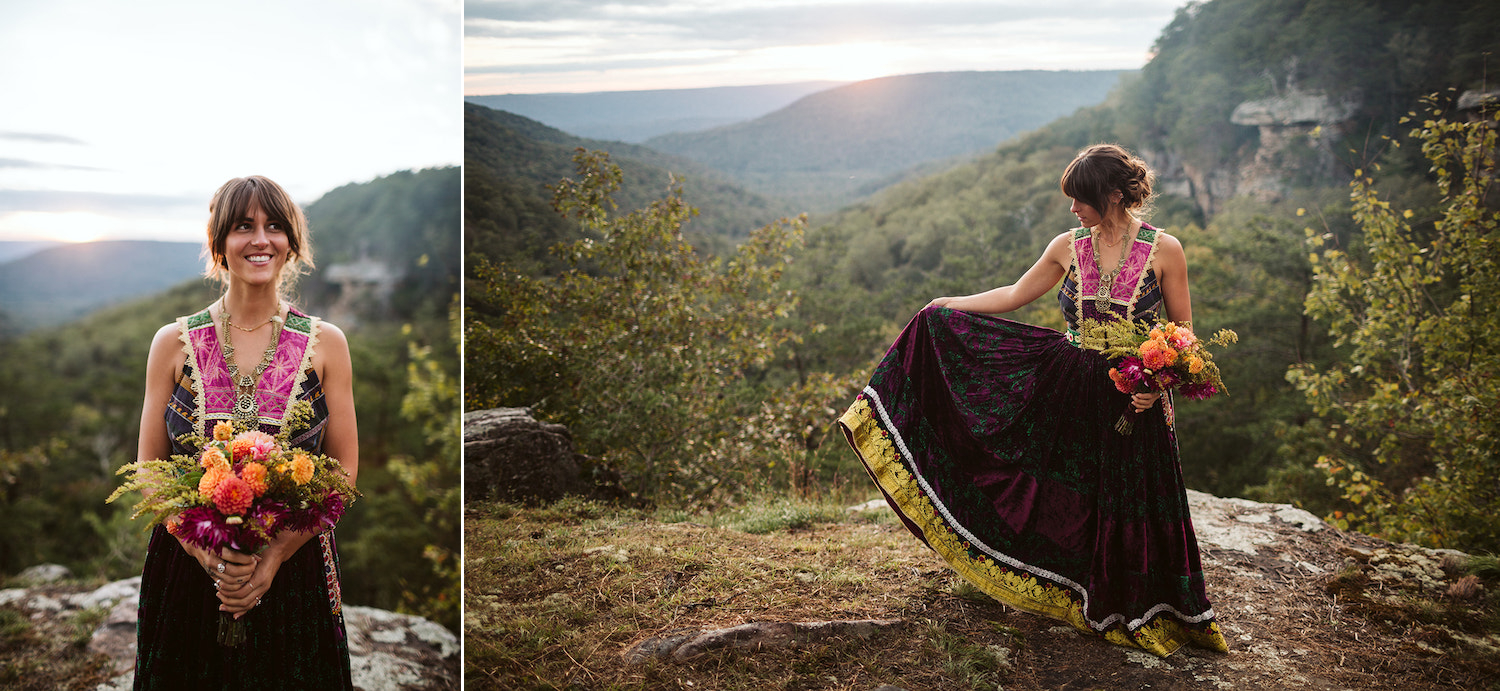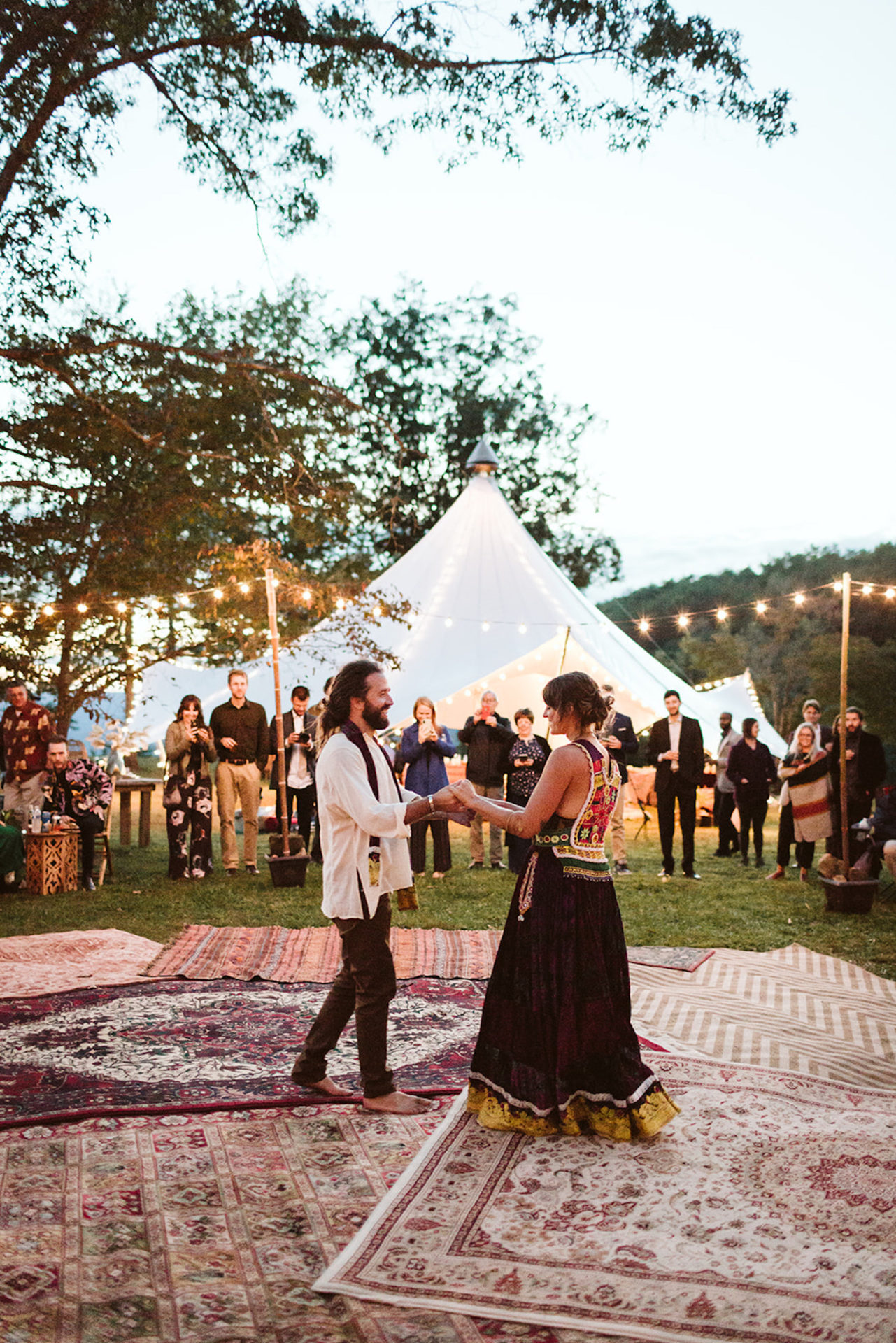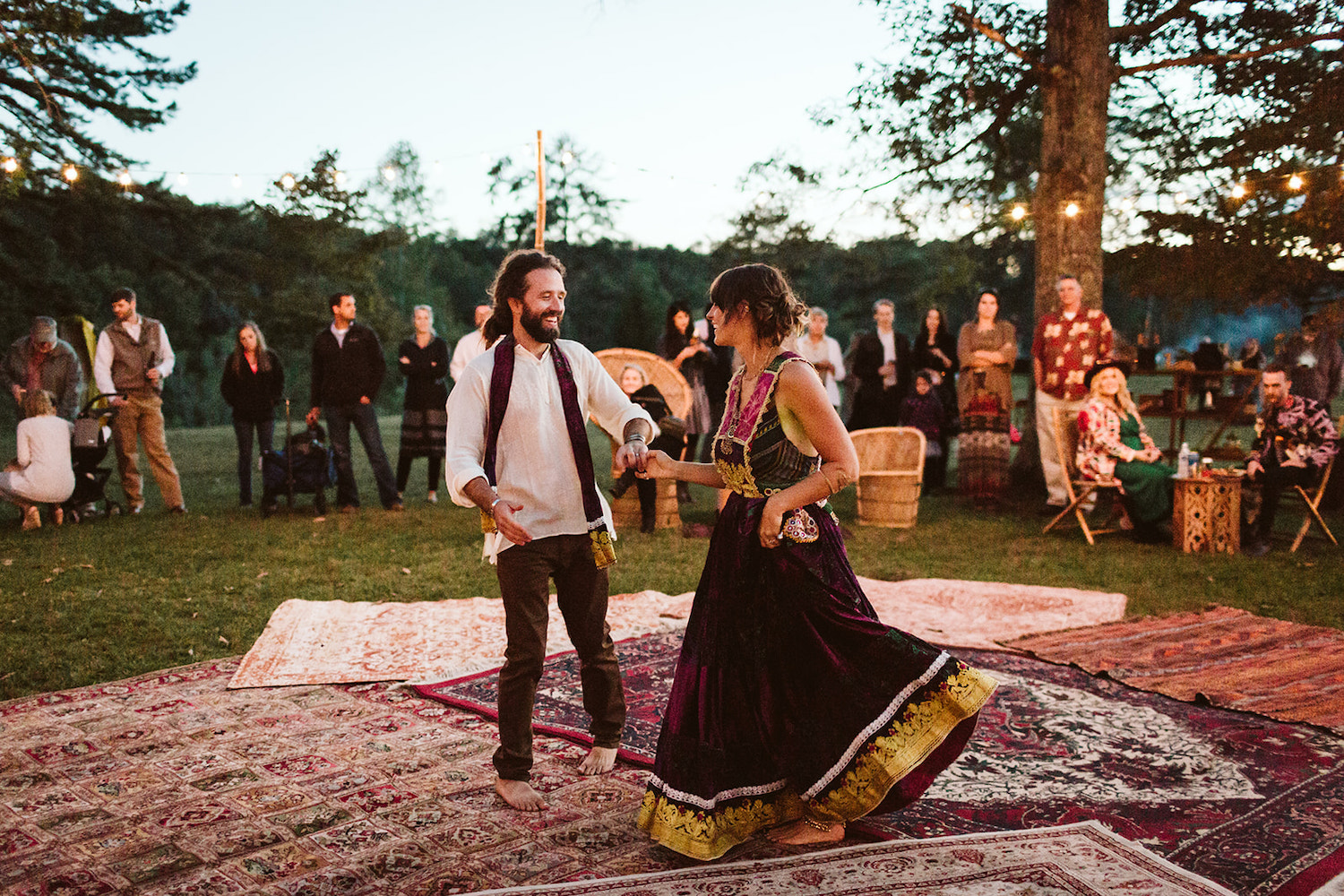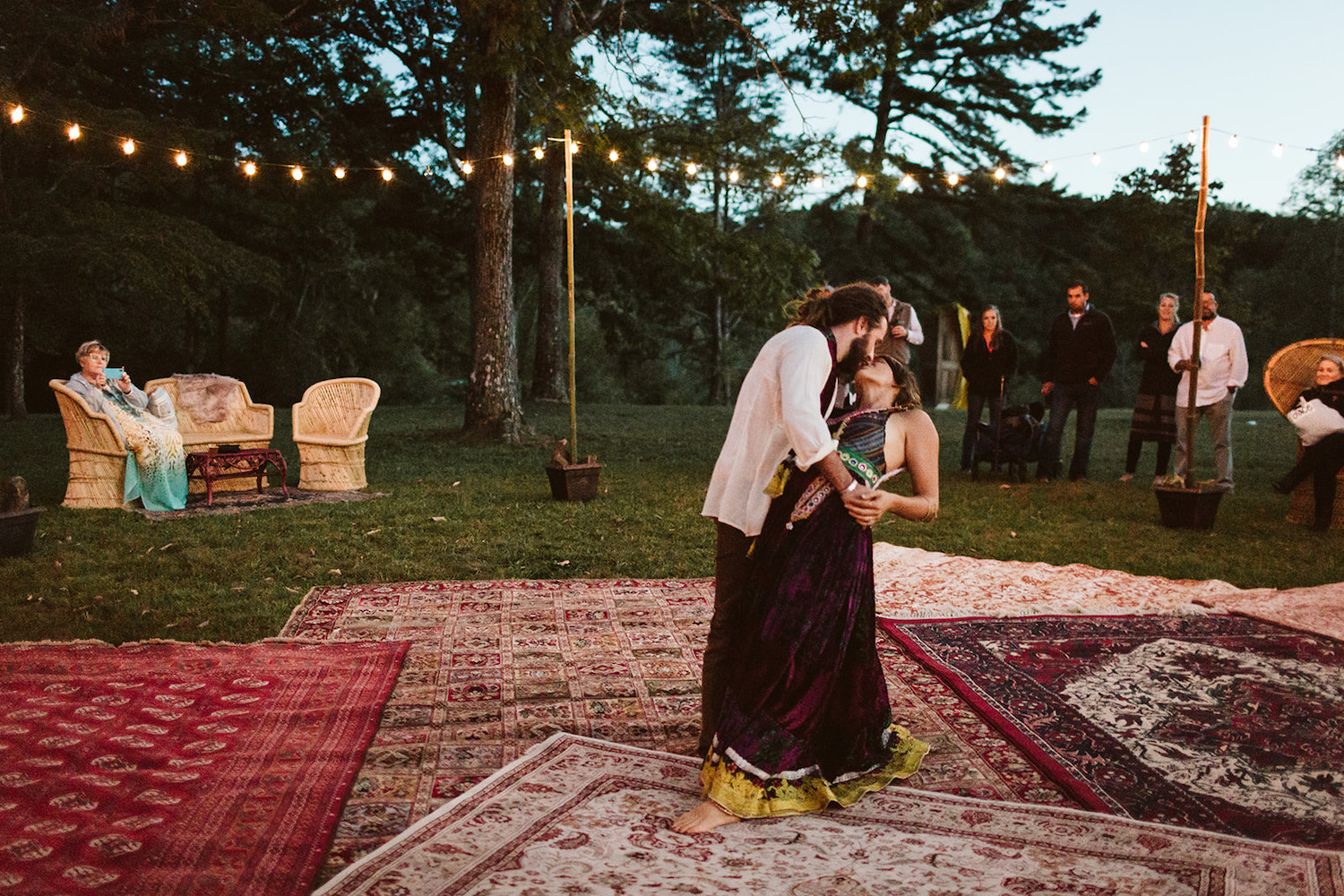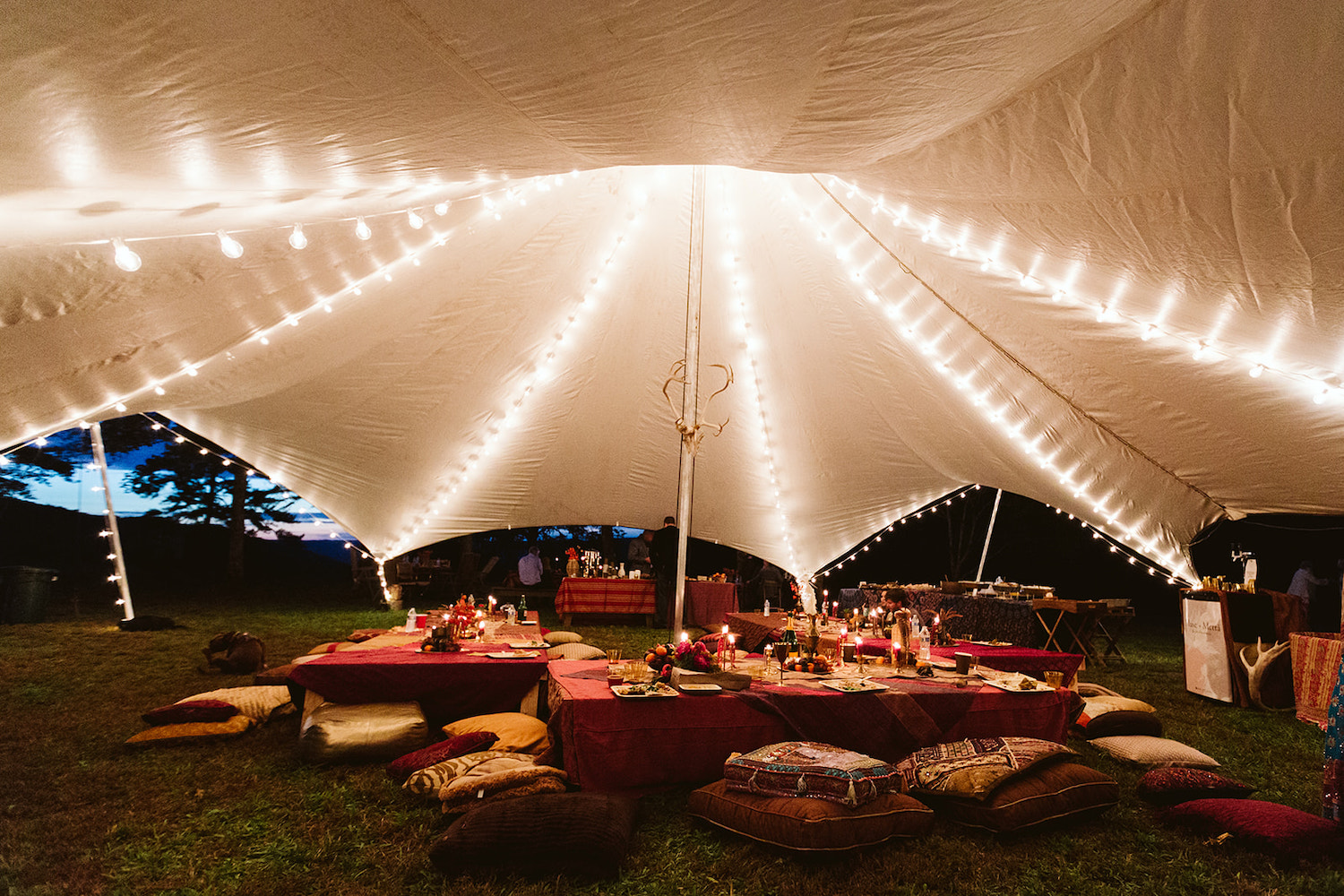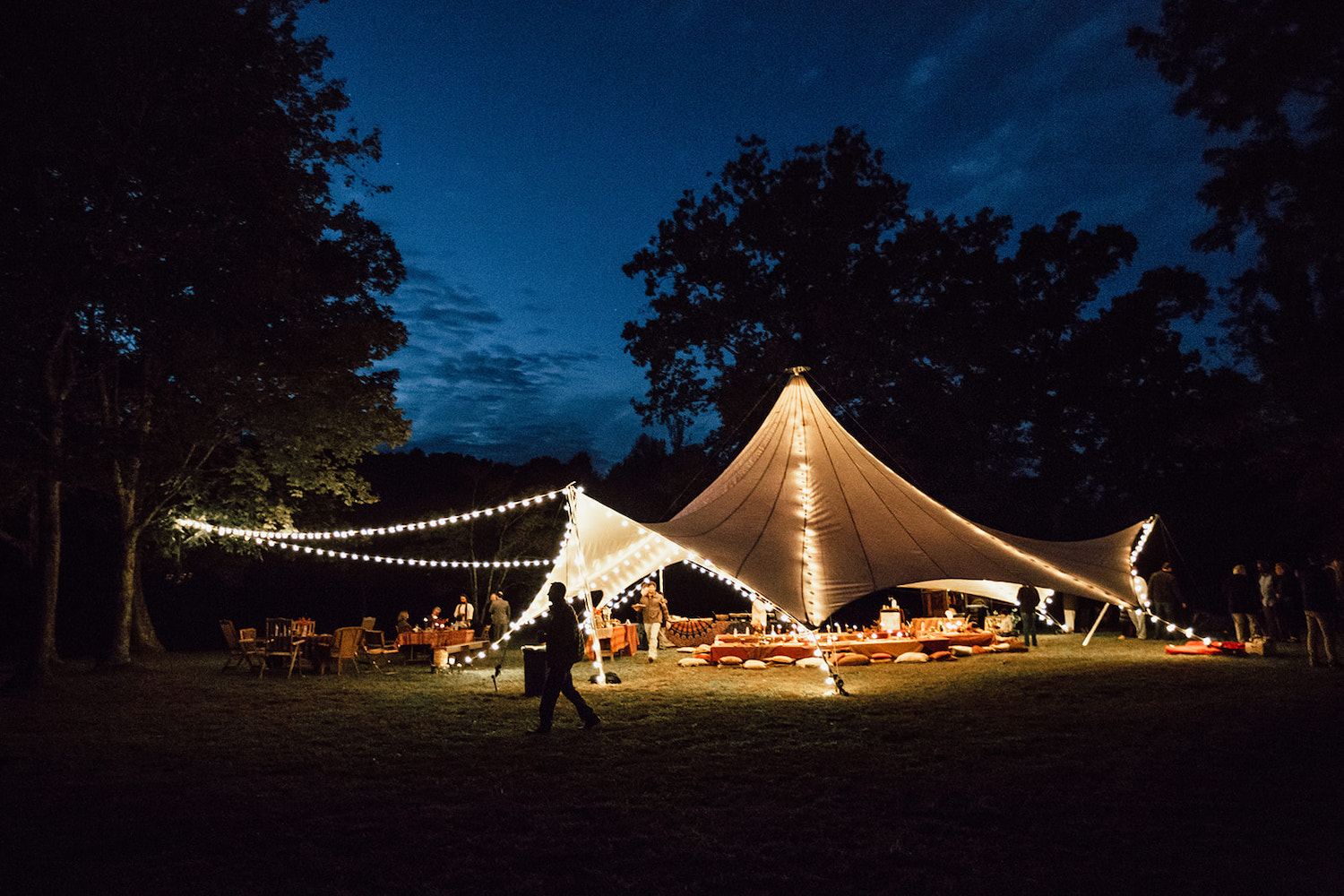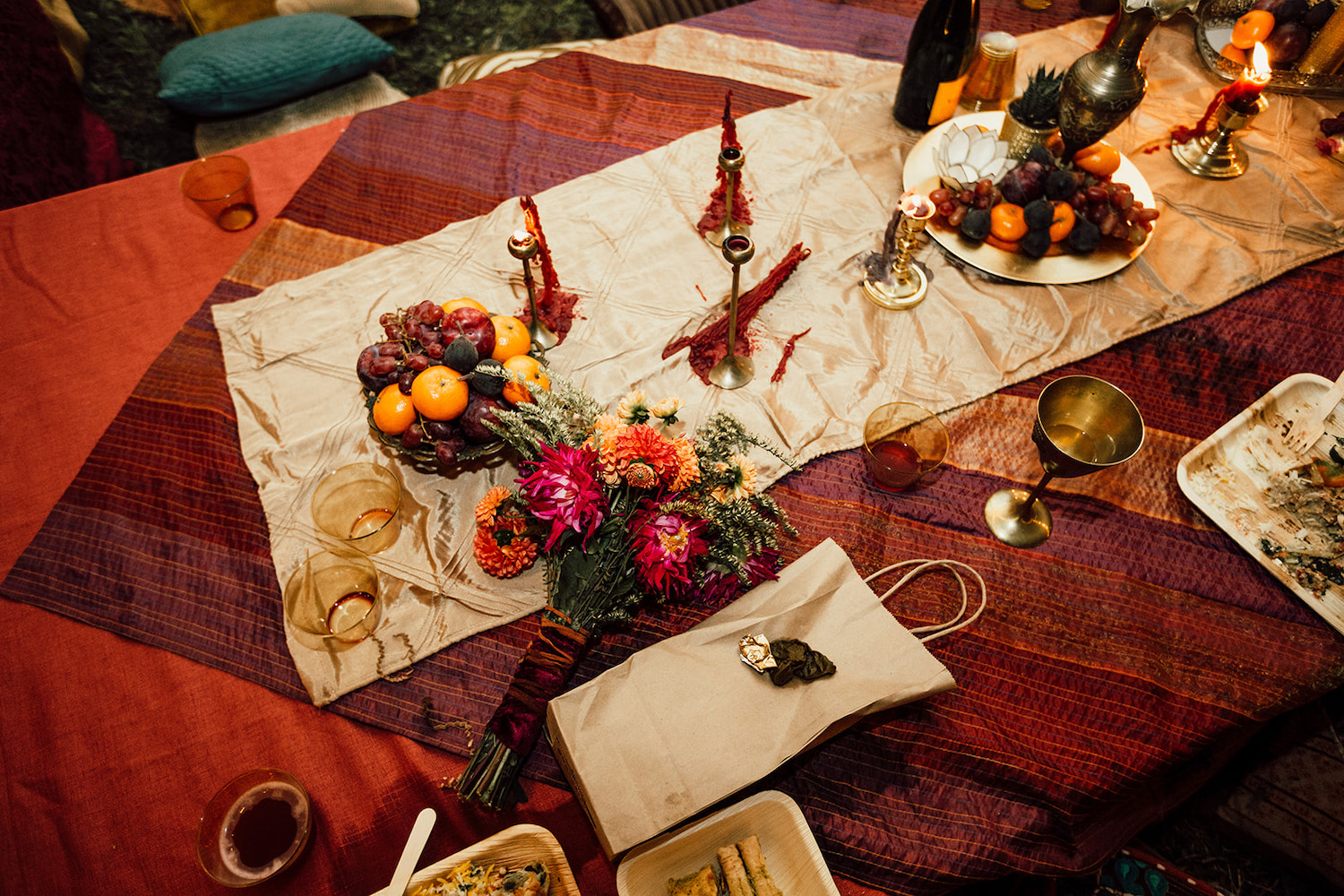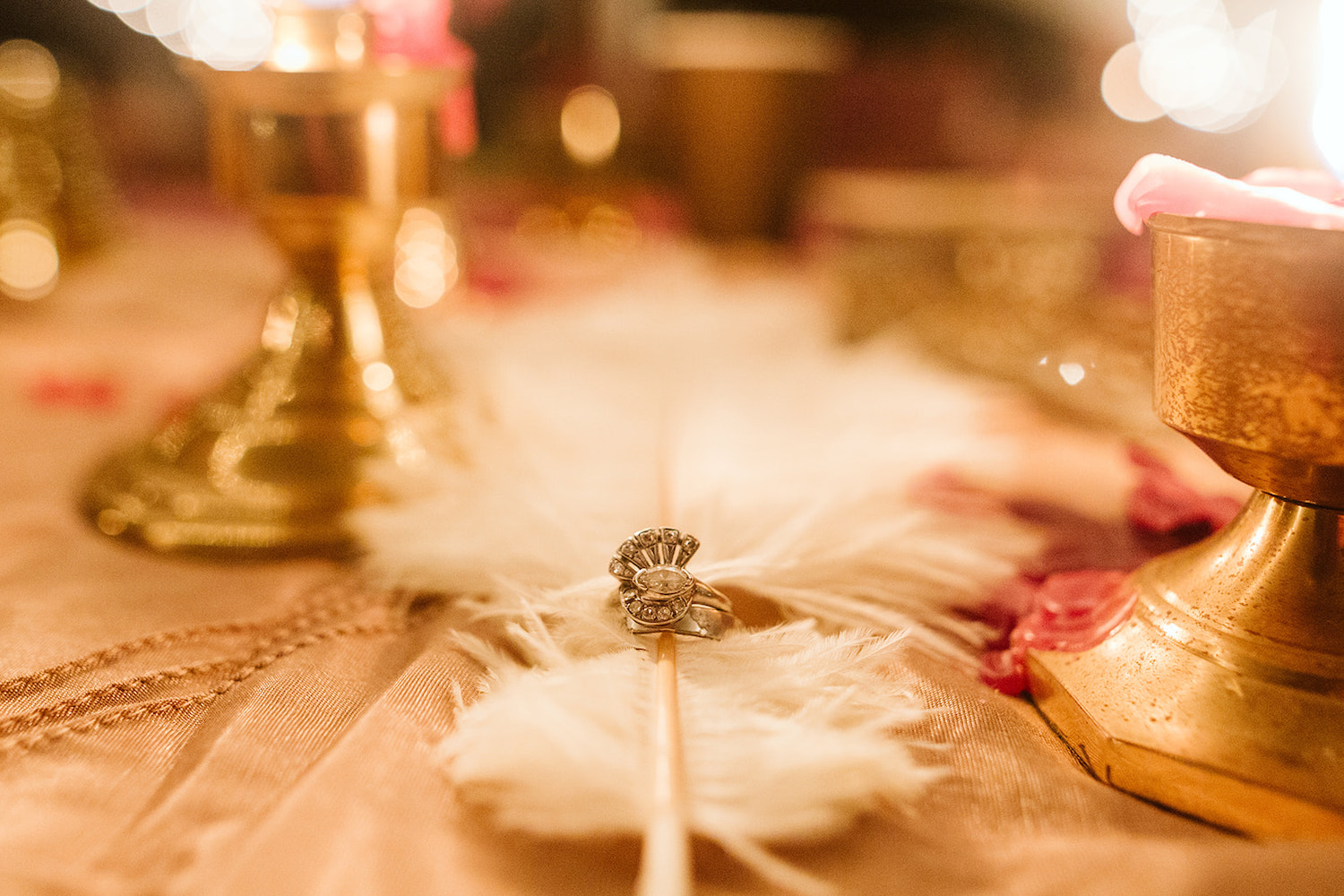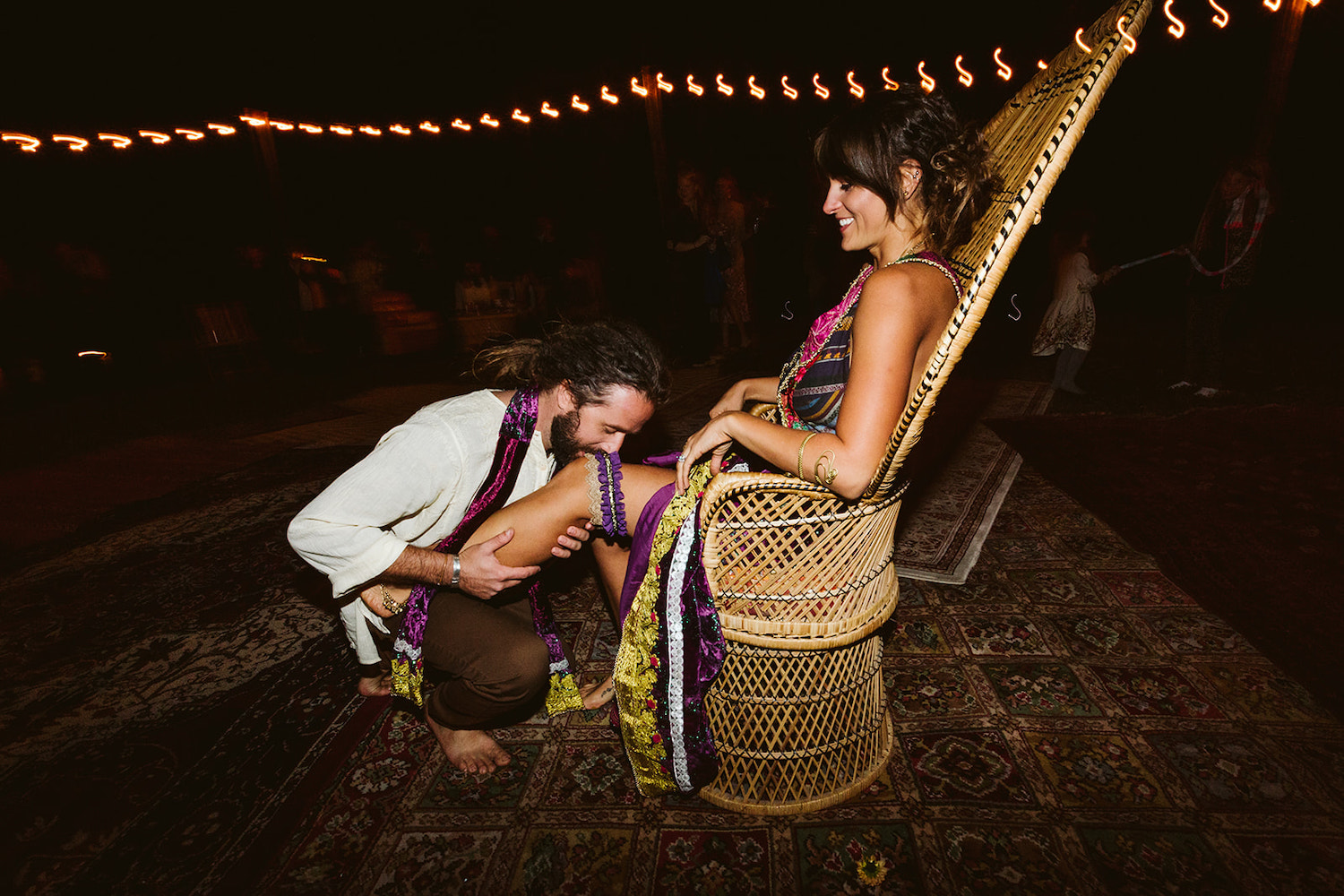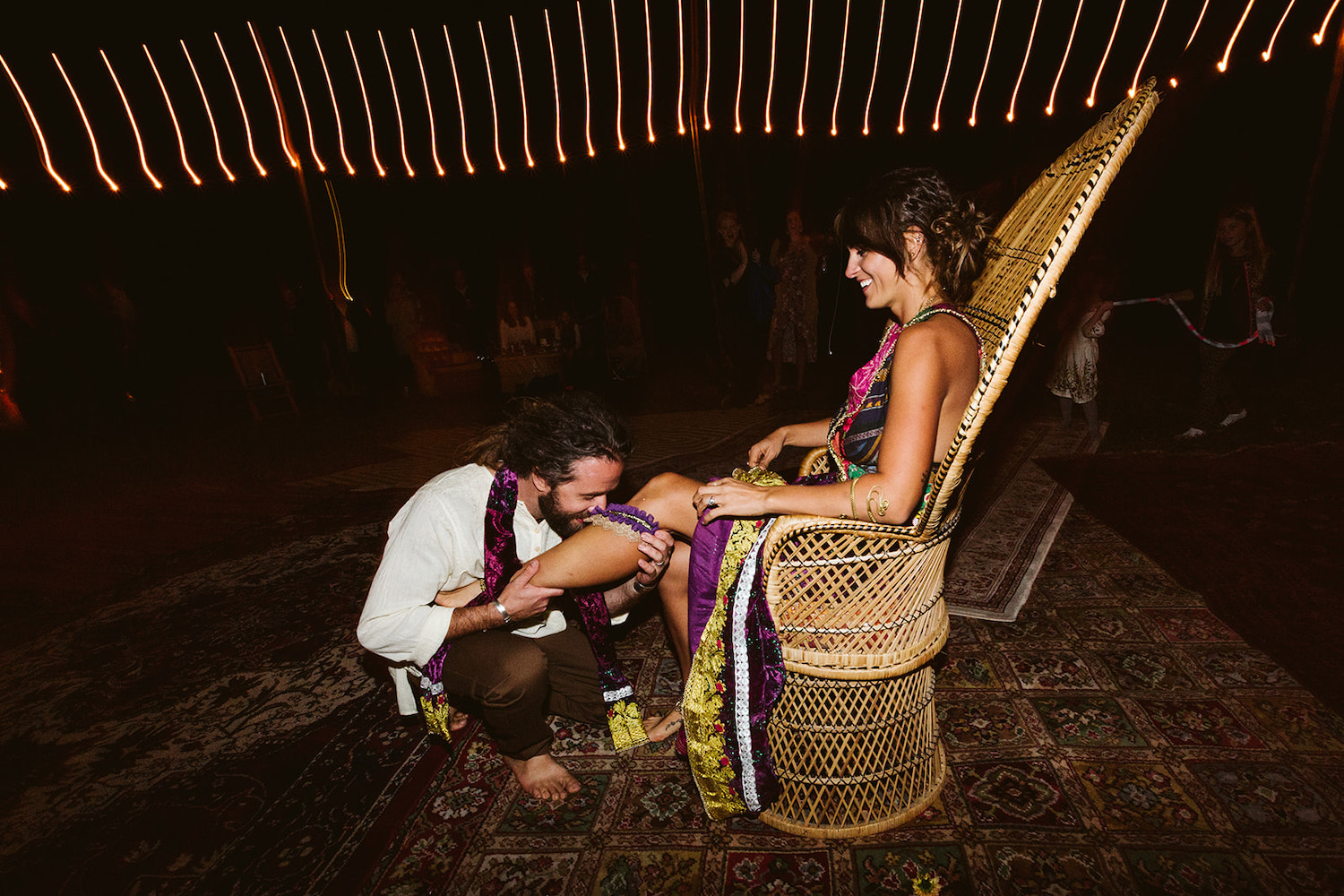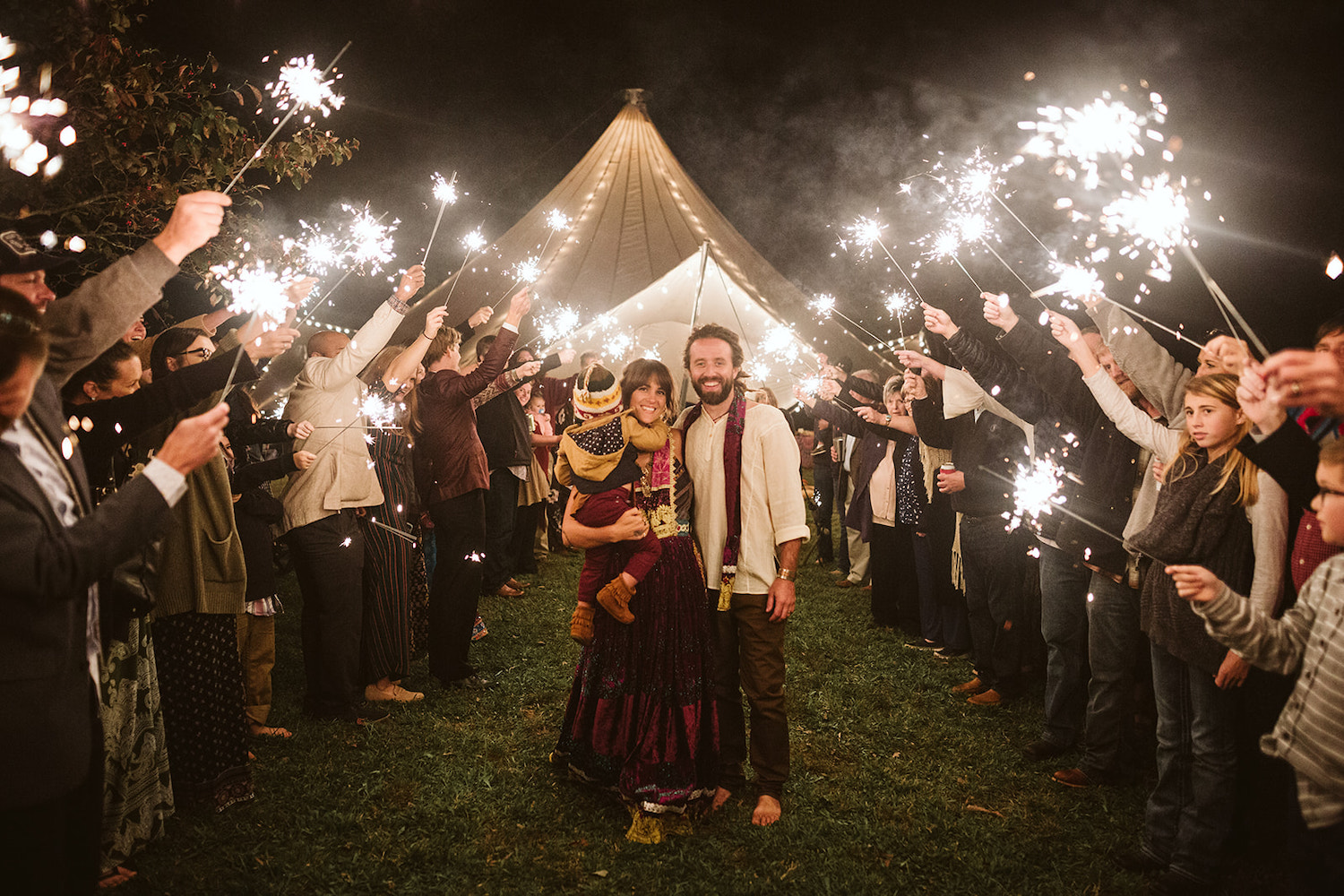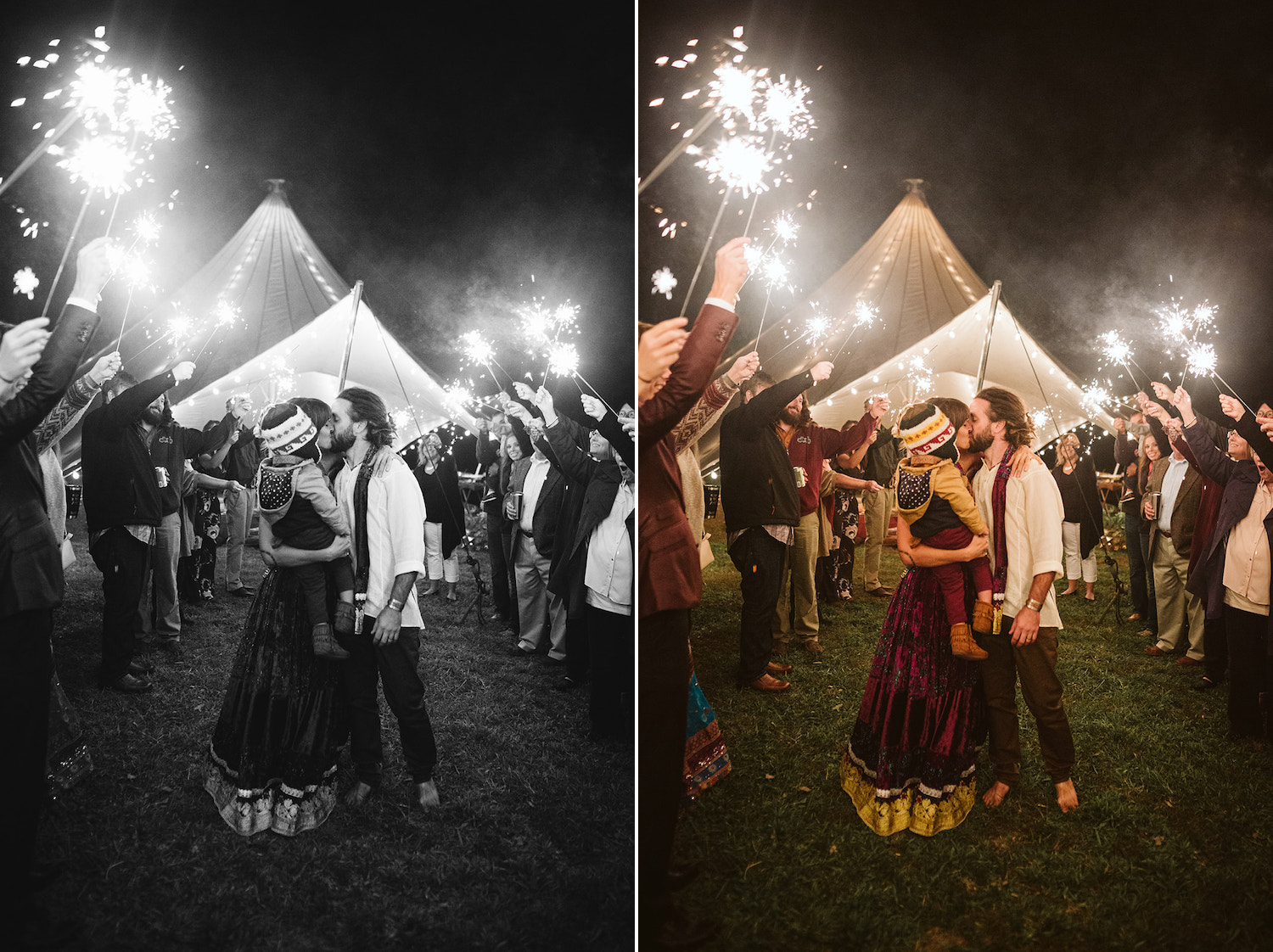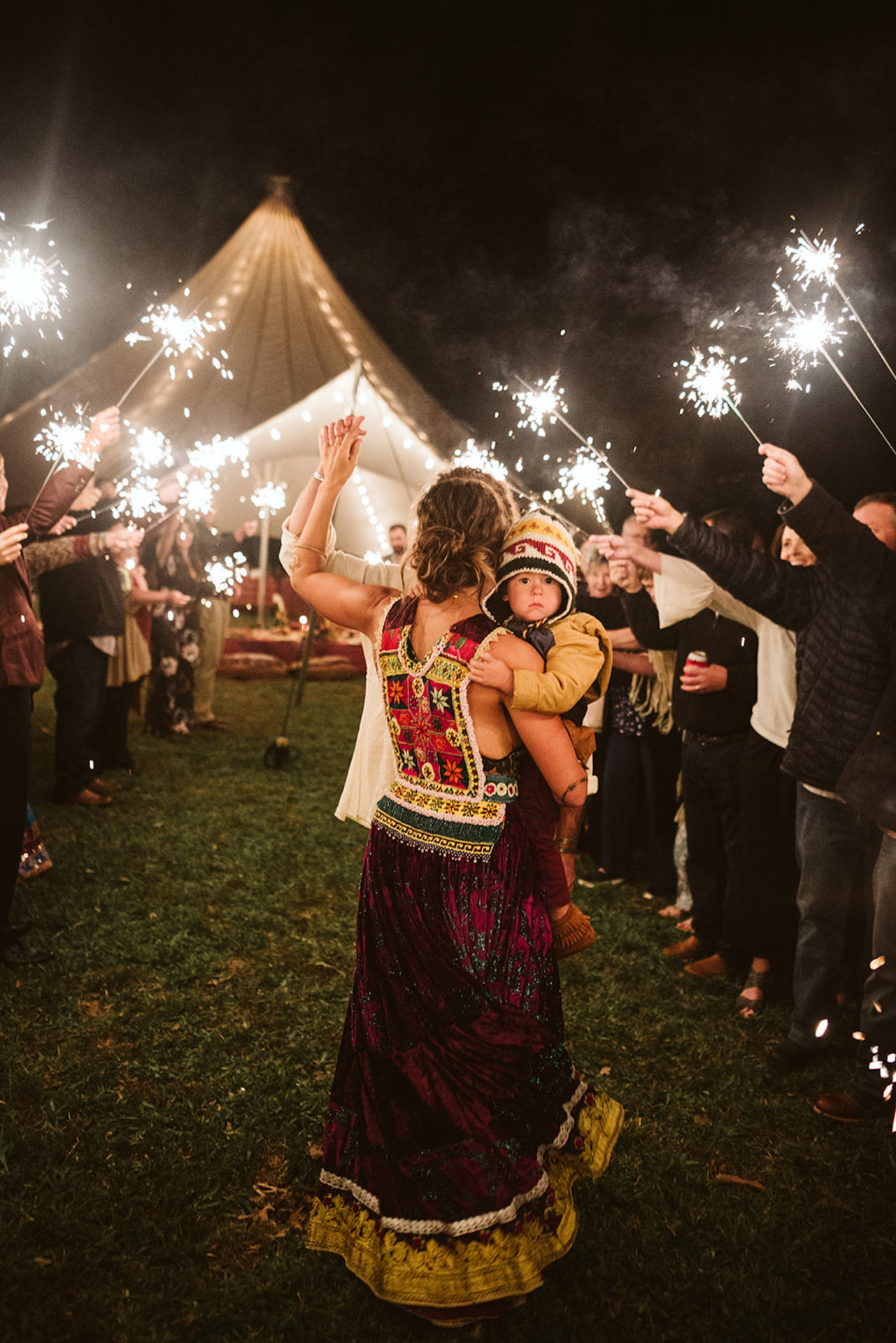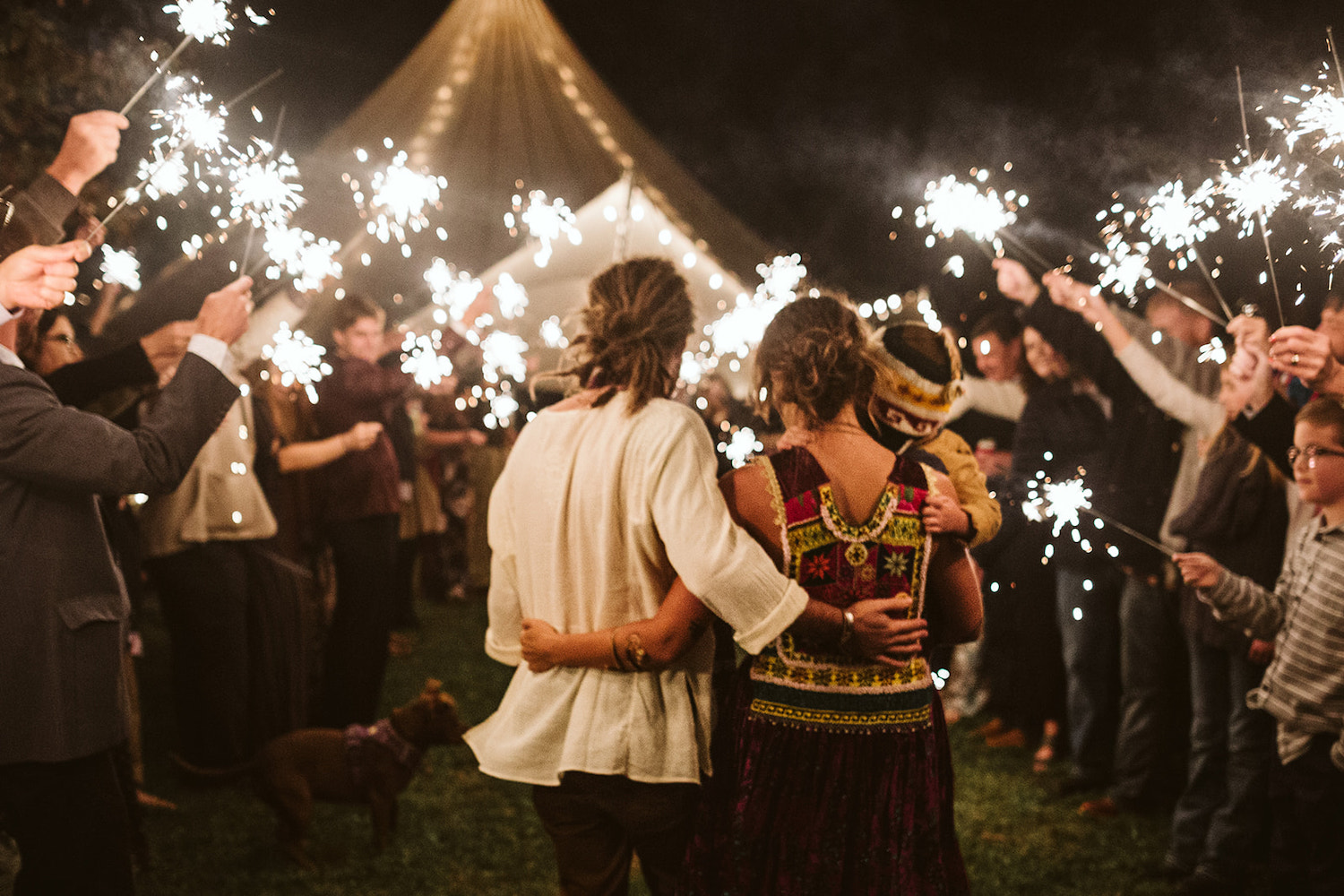 Later, when asked about their favorite moment of the day, Margaret said, "I can't choose just one special moment! The whole day felt like a dream turned reality. Everything from walking down the aisle, hearing Taylor's script that he wrote so specifically for us, exchanging vows, the food, the first dance, watching the sunset. It was all so purely and truly magical." It sounds like their bohemian festival wedding dreams came true.
Venues/vendors for this boho-bazaar themed wedding:
Bride and groom portraits: Foster Falls at South Cumberland State Park
Ceremony and reception: Hemlock Falls
Wedding dress: Bohemian Seed
Catering: Kabob-ster
Kombucha: Muse + Metta
---
Being a wedding photographer is such a rush, and I love getting to capture so many moments of love and connection with the couples I work with. I'm based in Chattanooga, TN, but I travel just about everywhere I can. Whether you're booking a

couple's session

, an intimate elopement, or a

wedding

,

contact me

so we can start planning!
Hey, y'all! I'm Rachael Crowe of OkCrowe Photography. I'm so glad you've found your way to the bottom of my blog! If you loved Margaret and Garrison's bohemian festival-inspired wedding, you might really like the boho styled shoot I did with some truly gifted vendors. If a more traditional wedding is your speed, I've got loads of experience photographing these, too! Some of my current favorites are Caitlin and Joe's fall wedding at The Homestead at Cloudland Station and Martha and Geoff's winter wedding at The Turnbull Building in downtown Chattanooga.