If you haven't noticed yet, I live for traveling. Even though I'm based in Chattanooga, if you need me to come to you for your wedding or engagement pictures, I'm more than happy to hop on a plane and meet you wherever you need me to. One of my all-time favorite places to shoot is definitely New York City and if you're newly engaged and living in the NYC area, you're in luck! There are so many perfect locations to hold your engagement session in.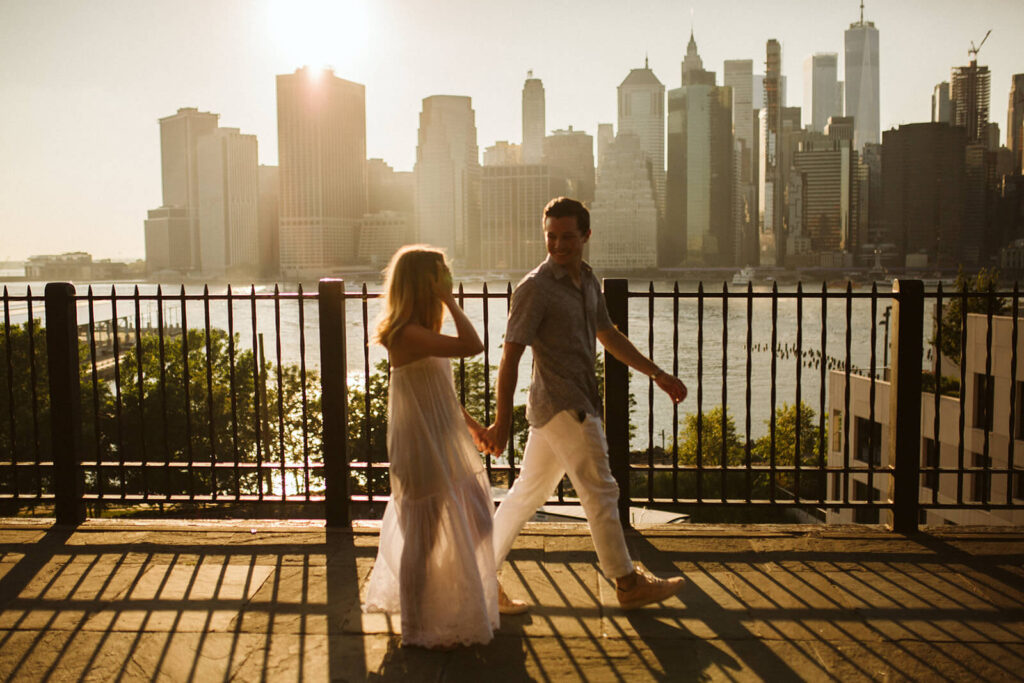 Capturing the Perfect NYC Photos
When it comes to iconic places around the world, New York City is definitely high up on that list. Between movies and TV shows, it's a city that's well known to just about everyone. It only makes sense that couples would want to capture that same cinematic romance for their own engagement photos.
The only downside of having your engagement session in New York City is choosing a location. NYC is a big place and even though it would be amazing to be able to do a full citywide photoshoot, there's no way we would be able to hit every spot in one day. Thankfully, no matter what style or vibe you're going for, there's sure to be one location that's perfect for you and that we can cover within one session. I've narrowed it down to 8 of my favorite places to photograph in New York City that captures the romance and iconic look of the City that Never Sleeps.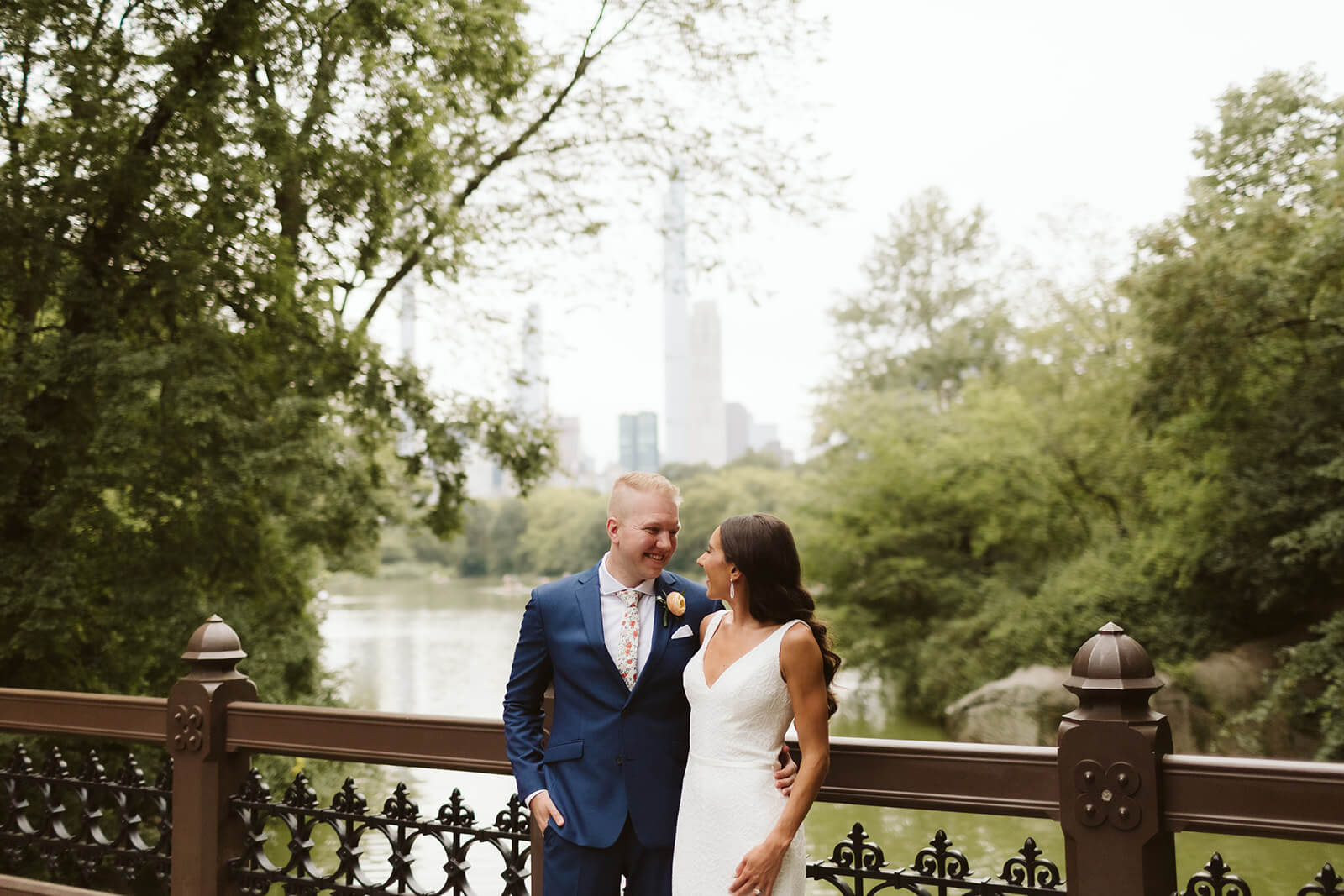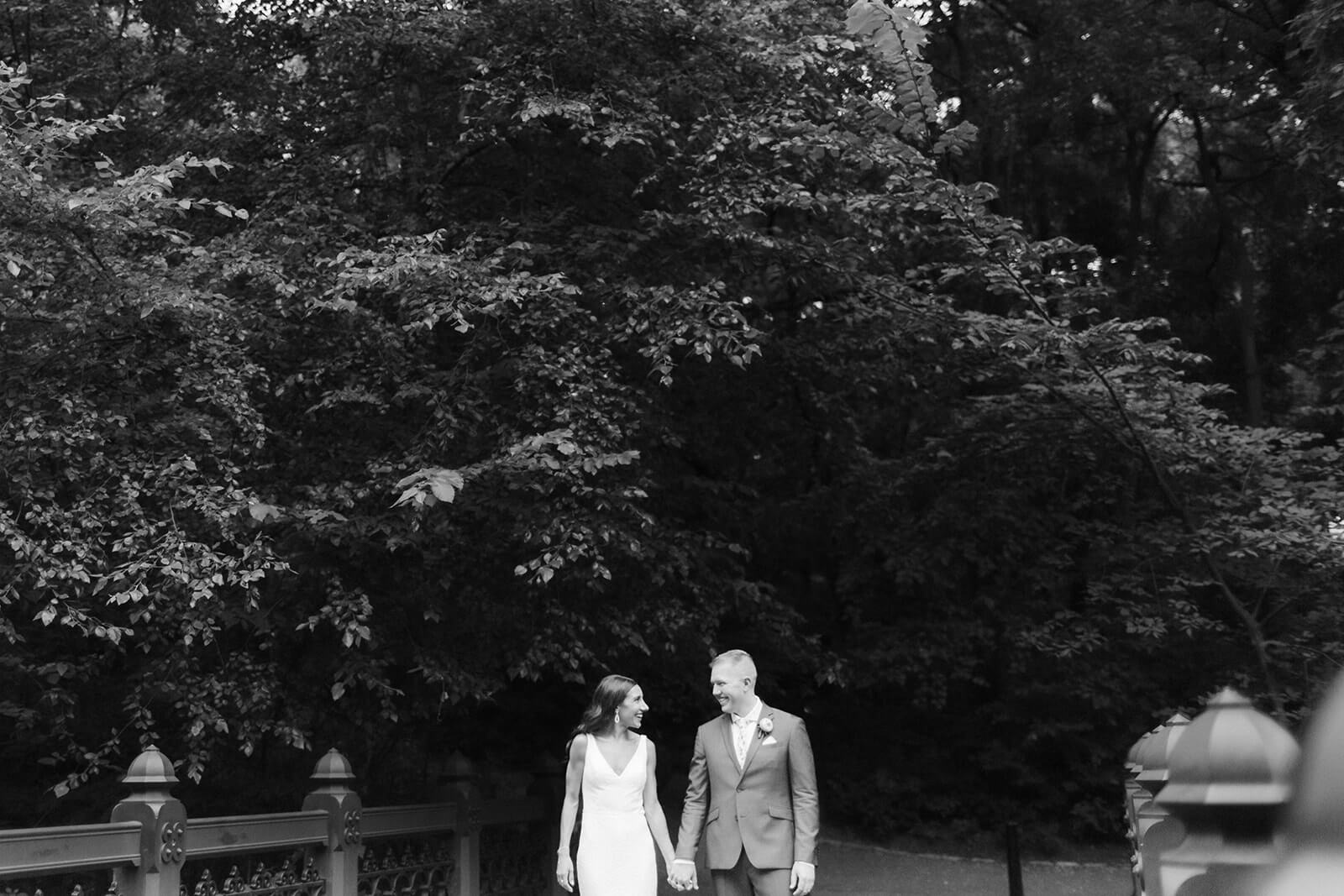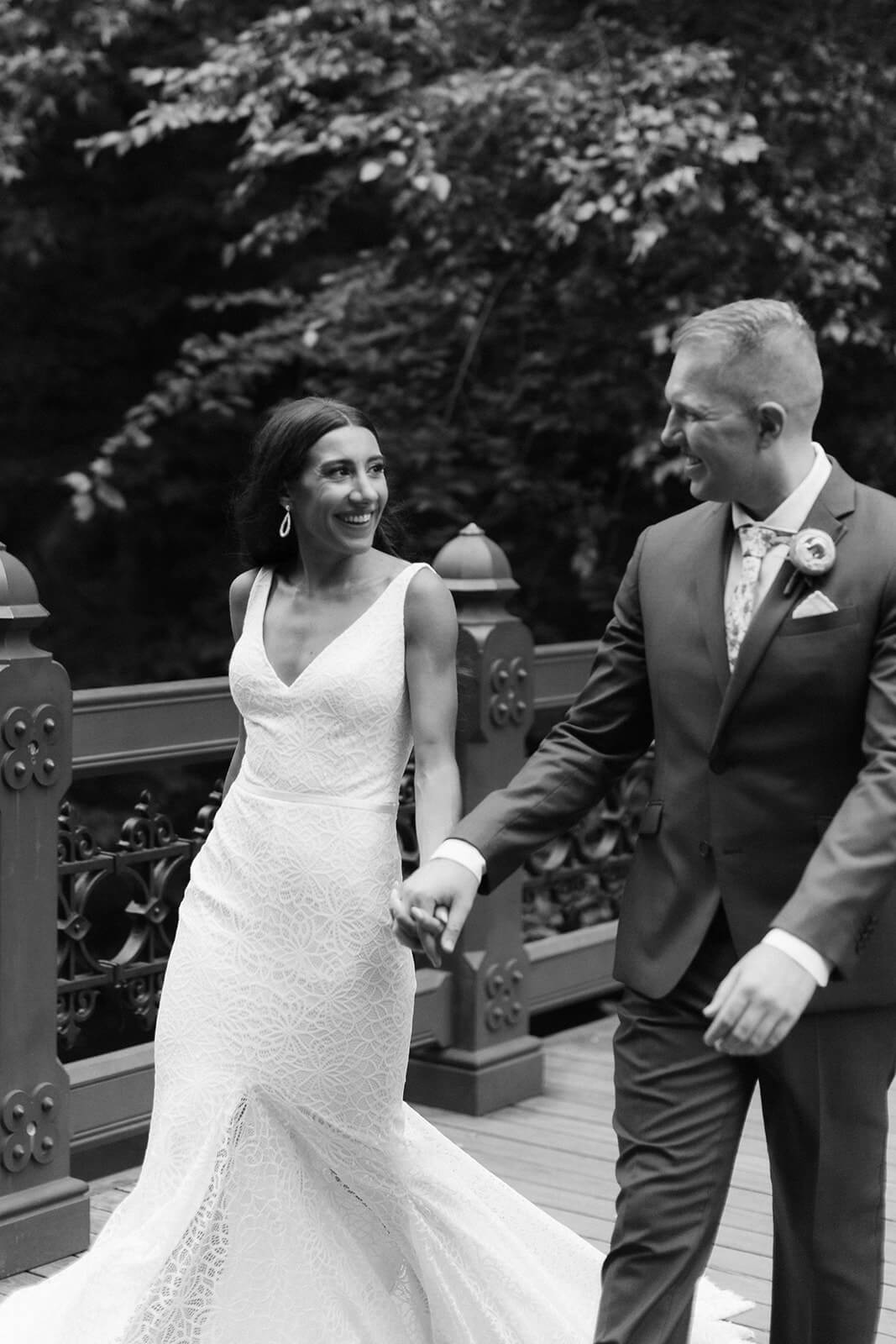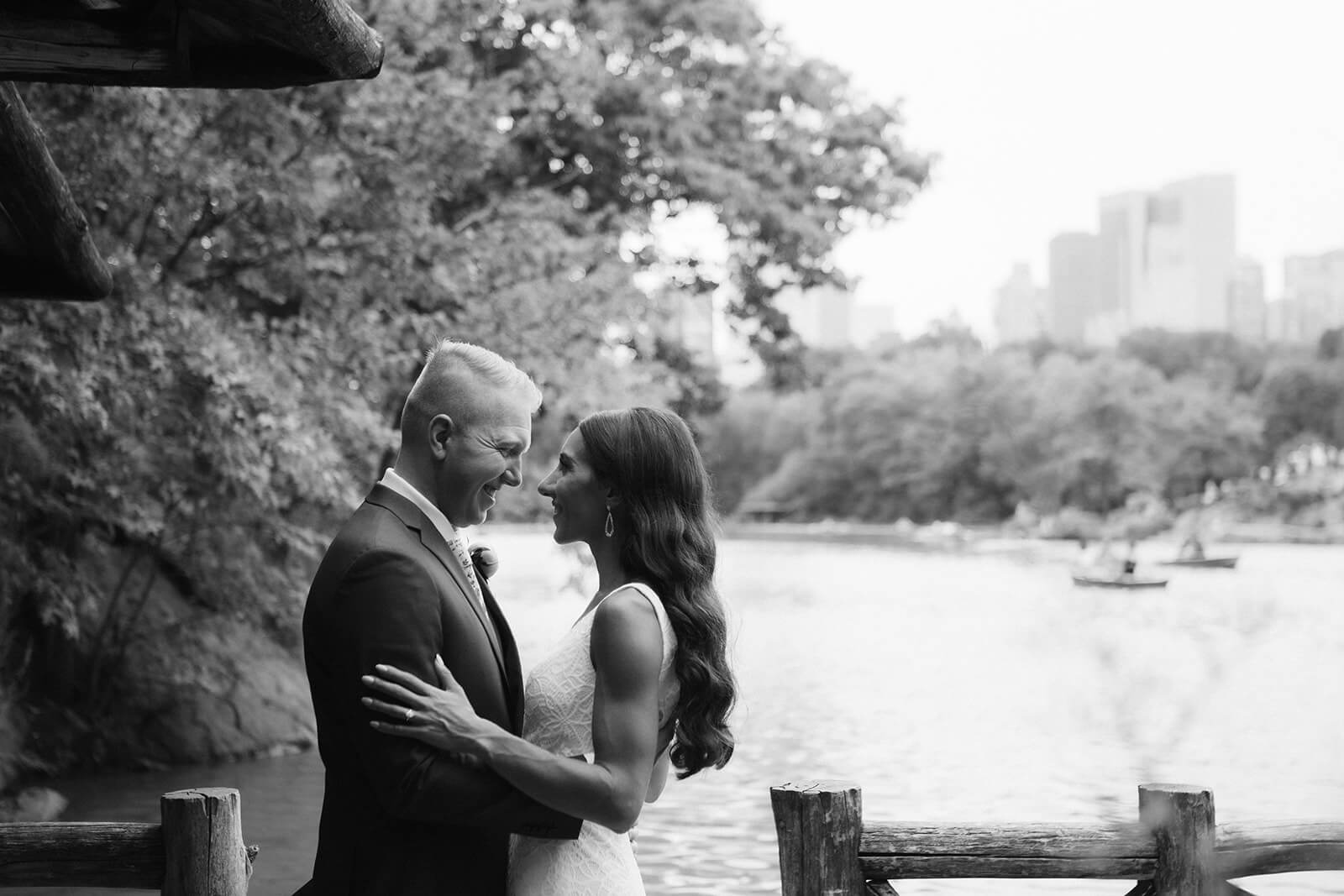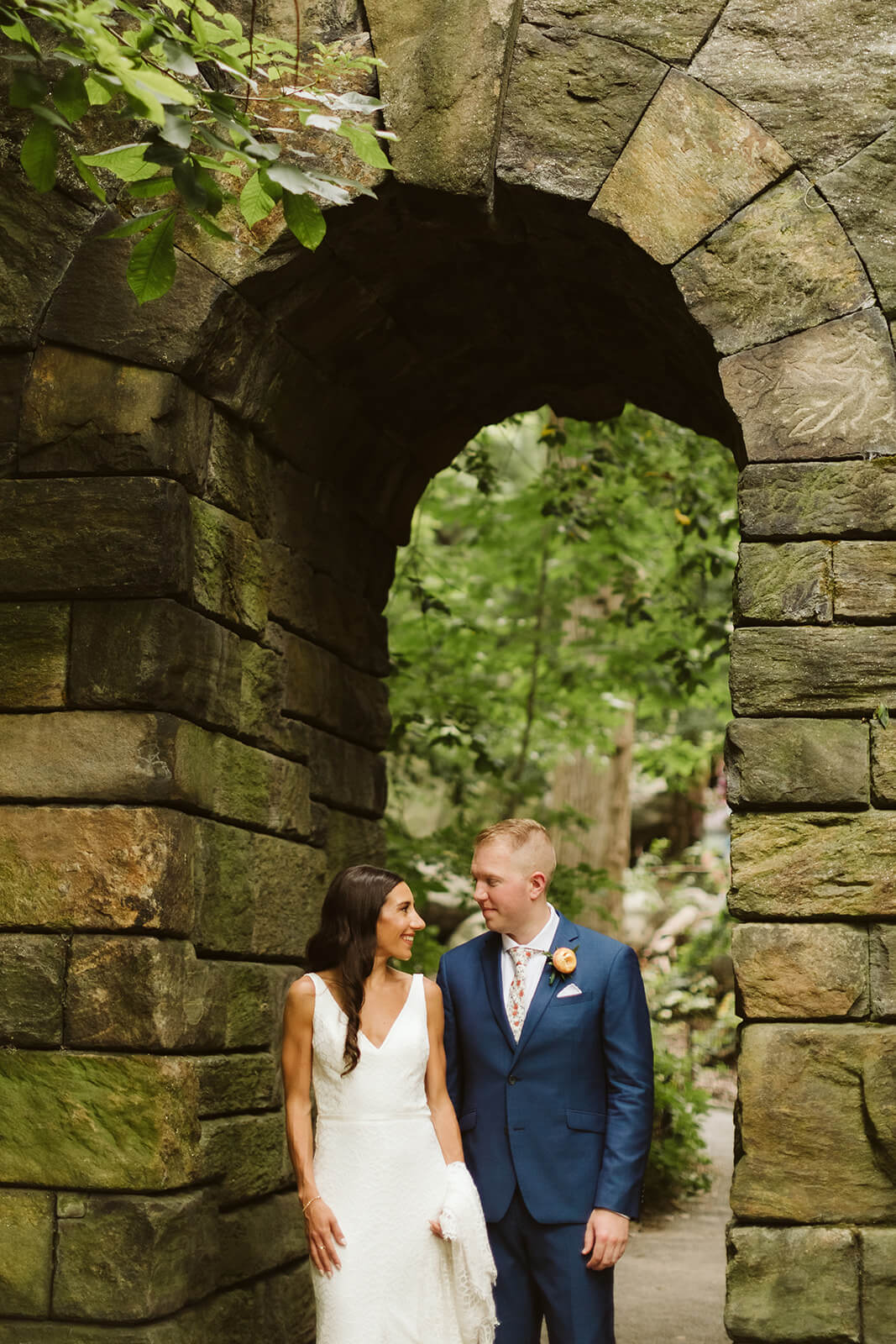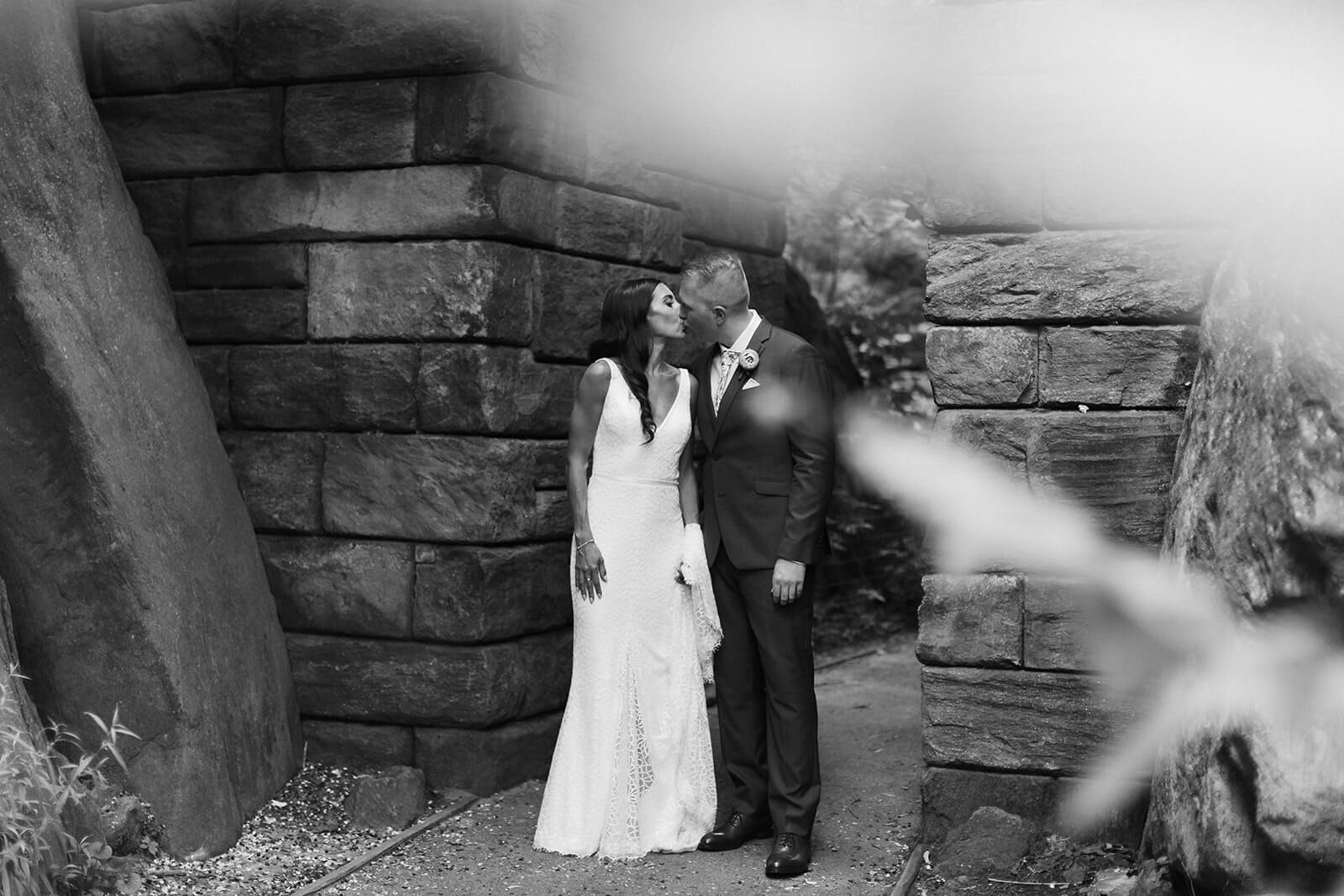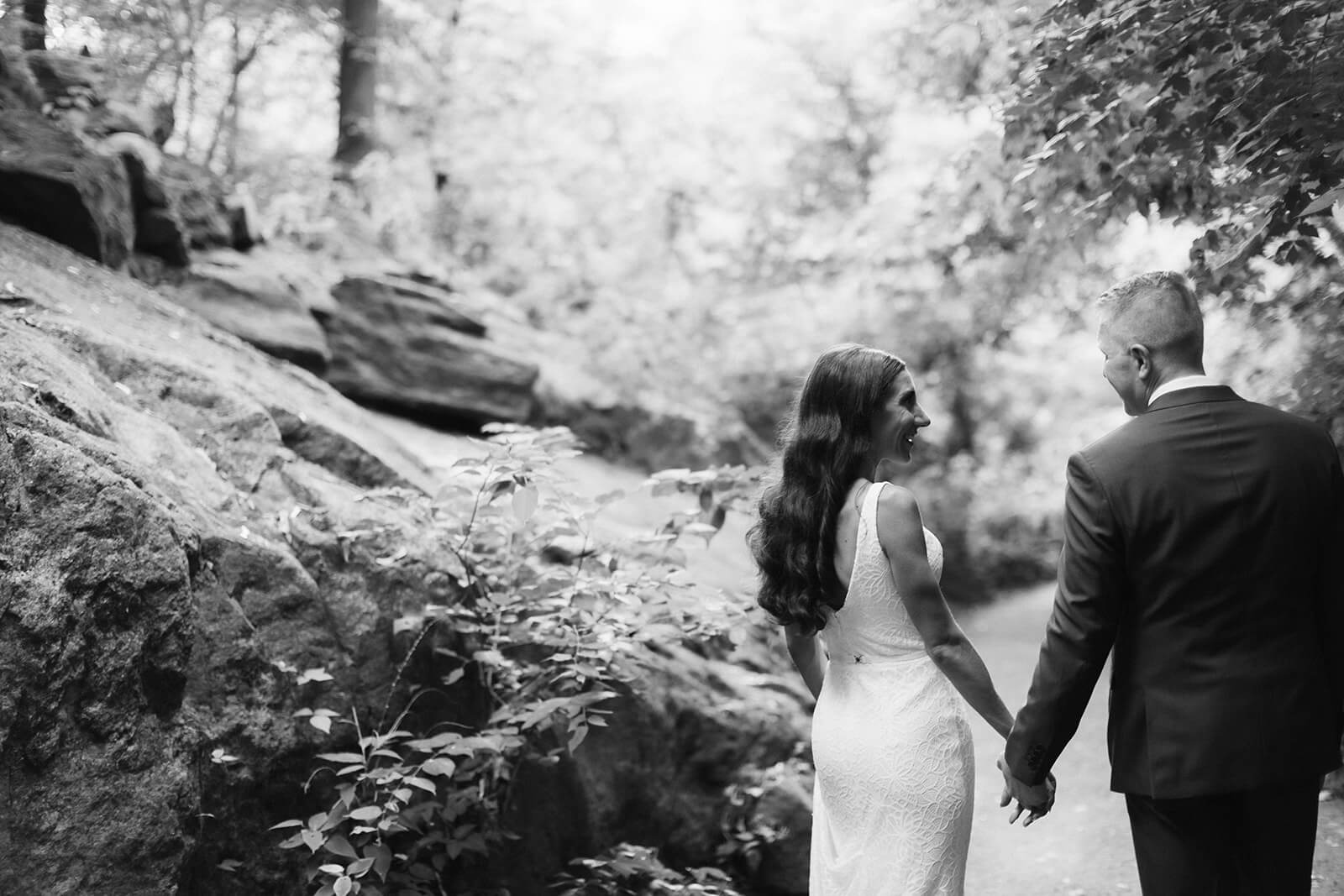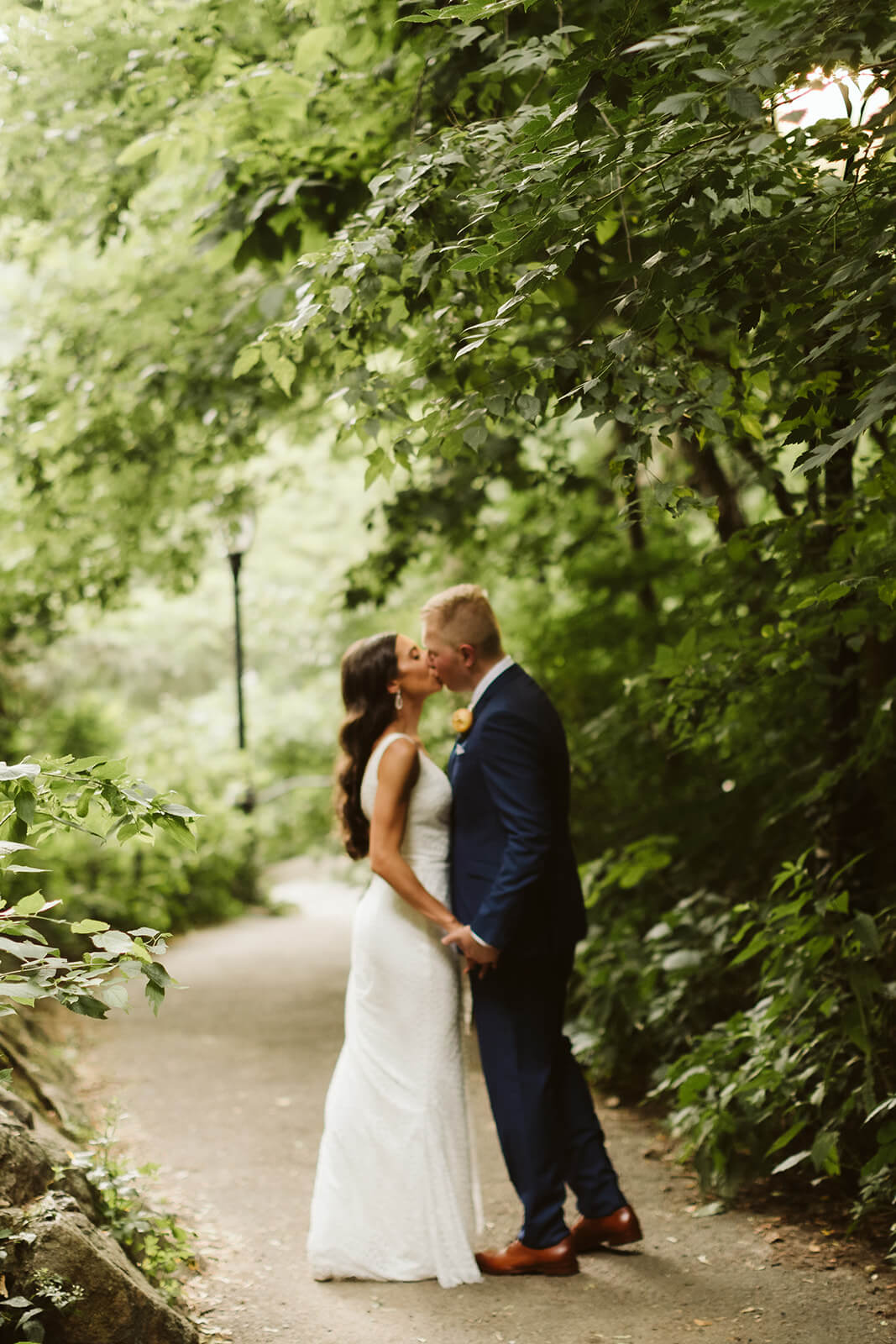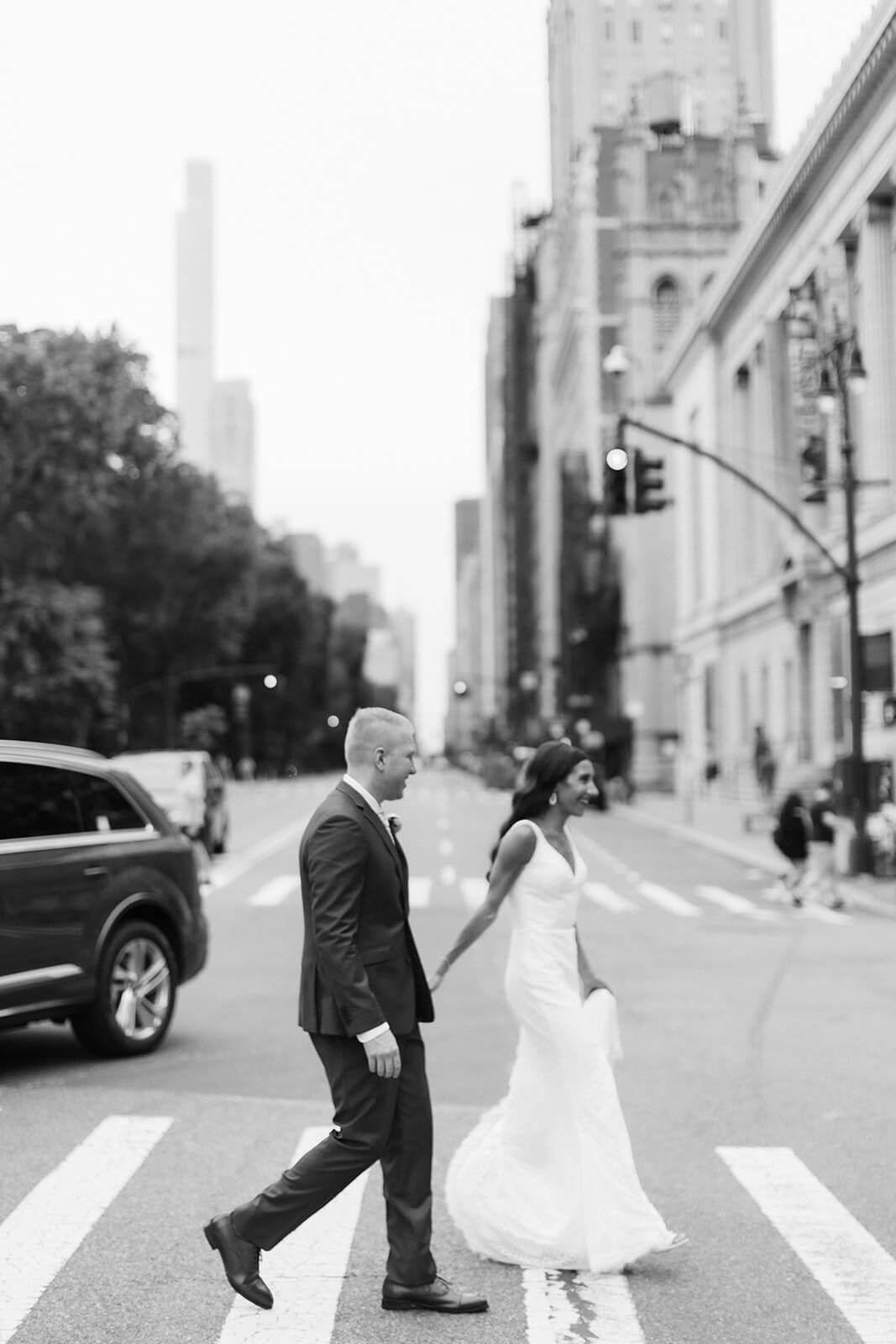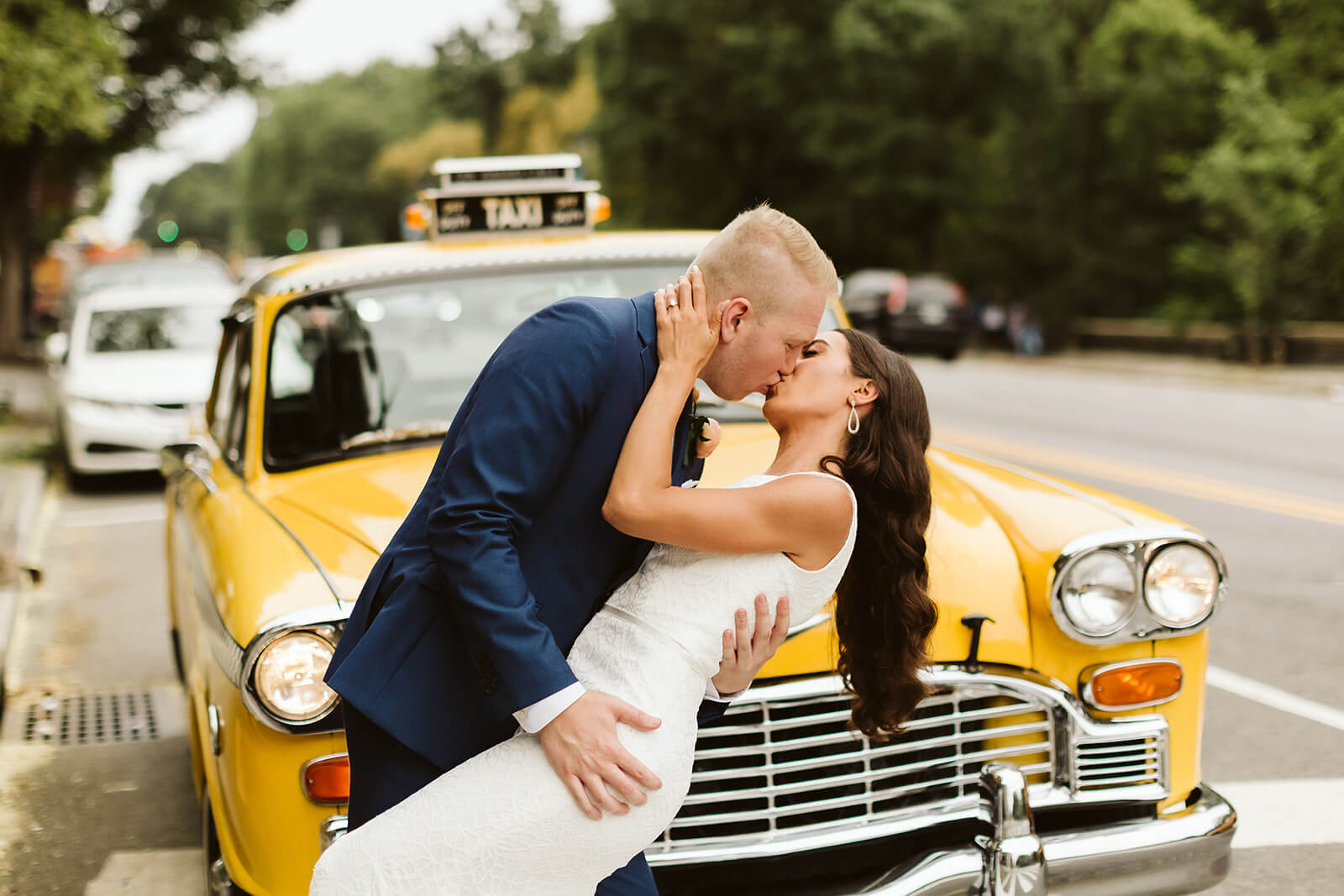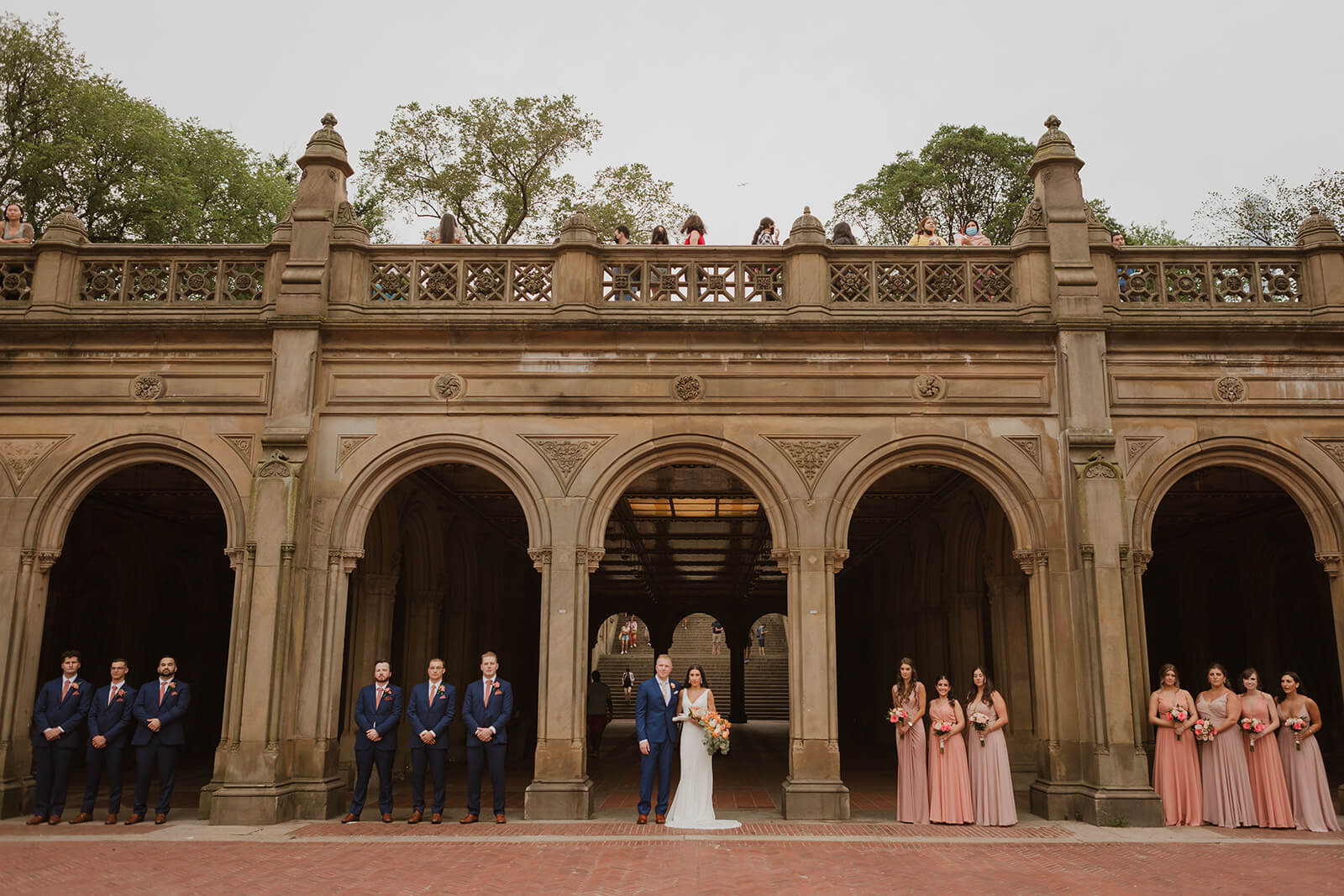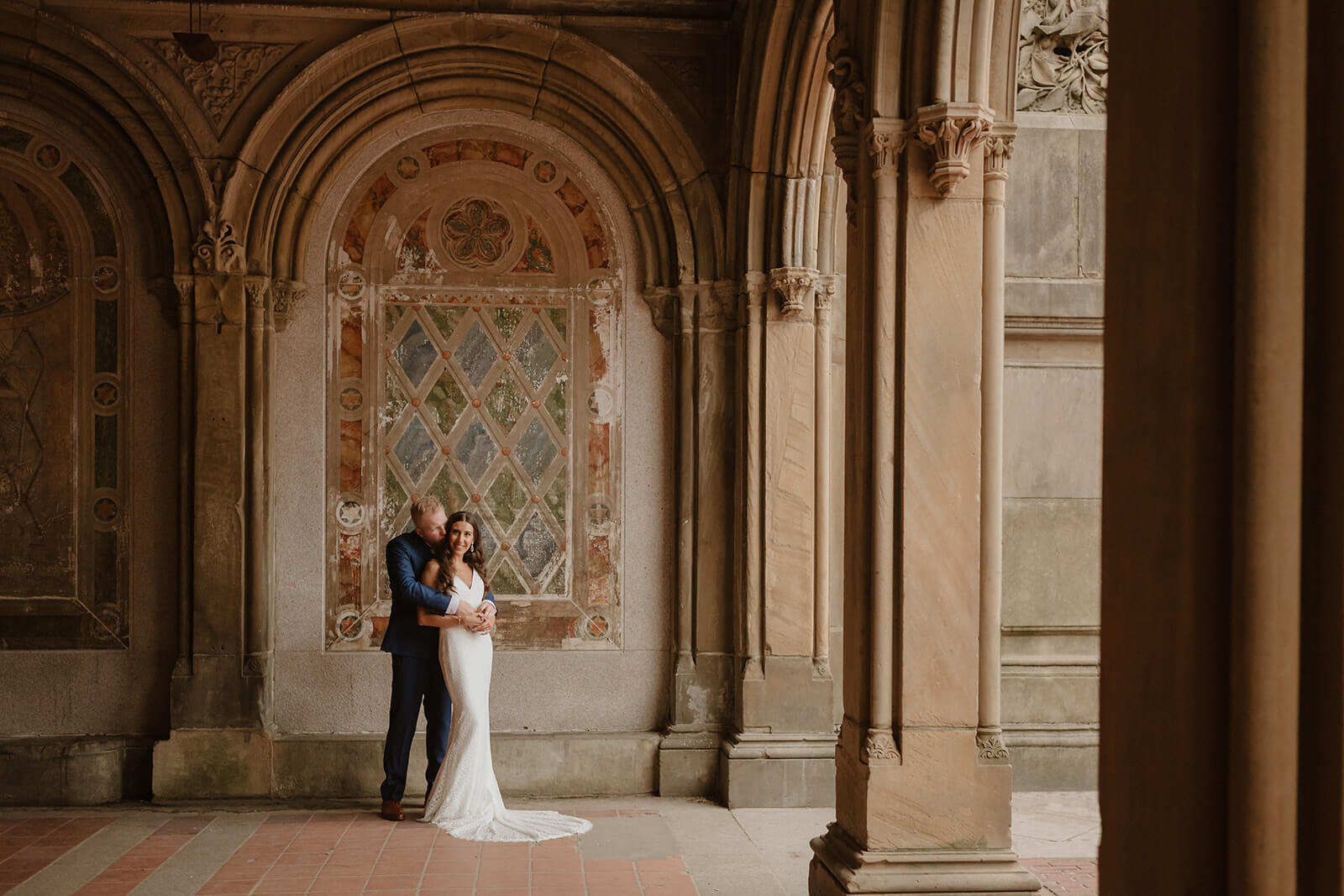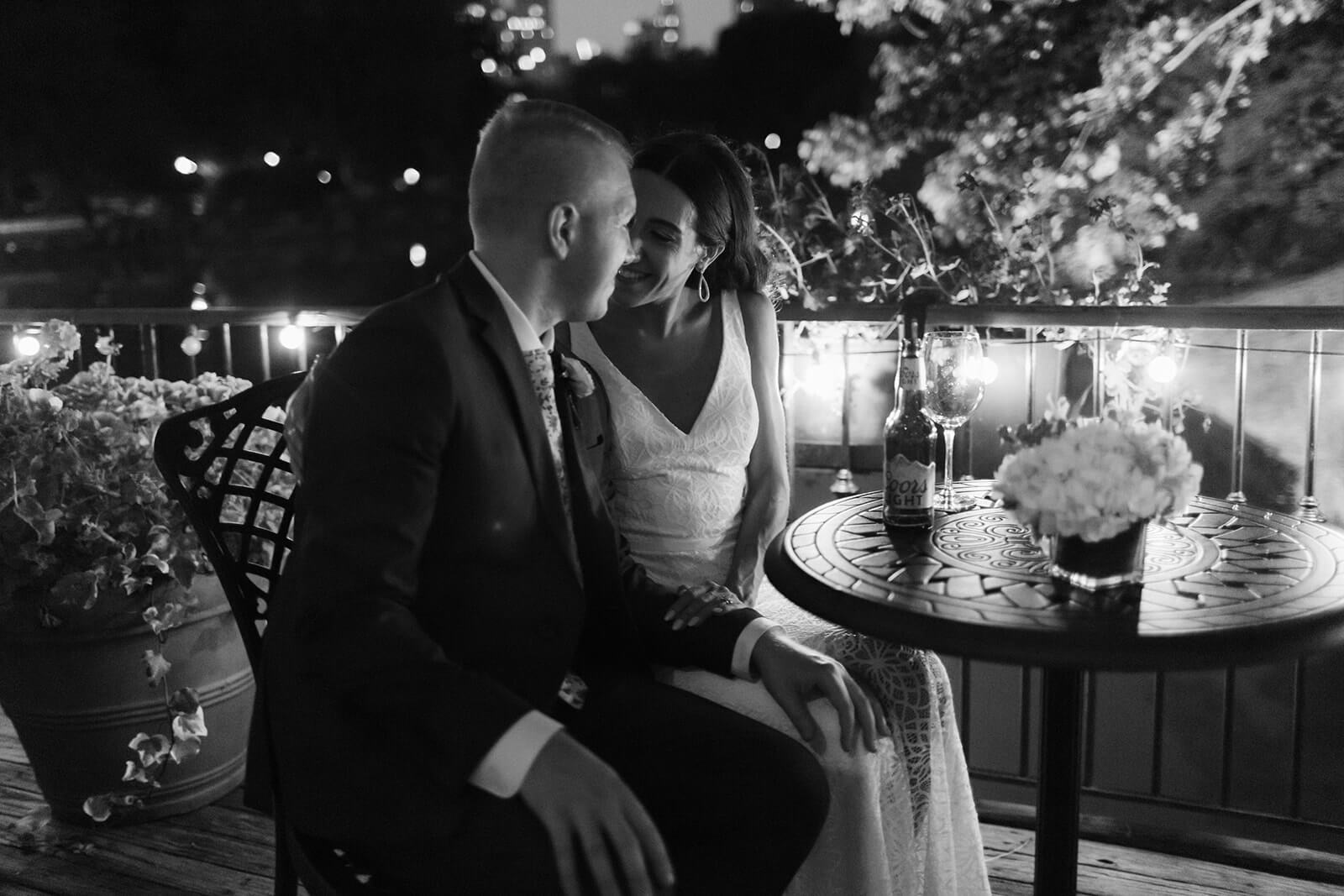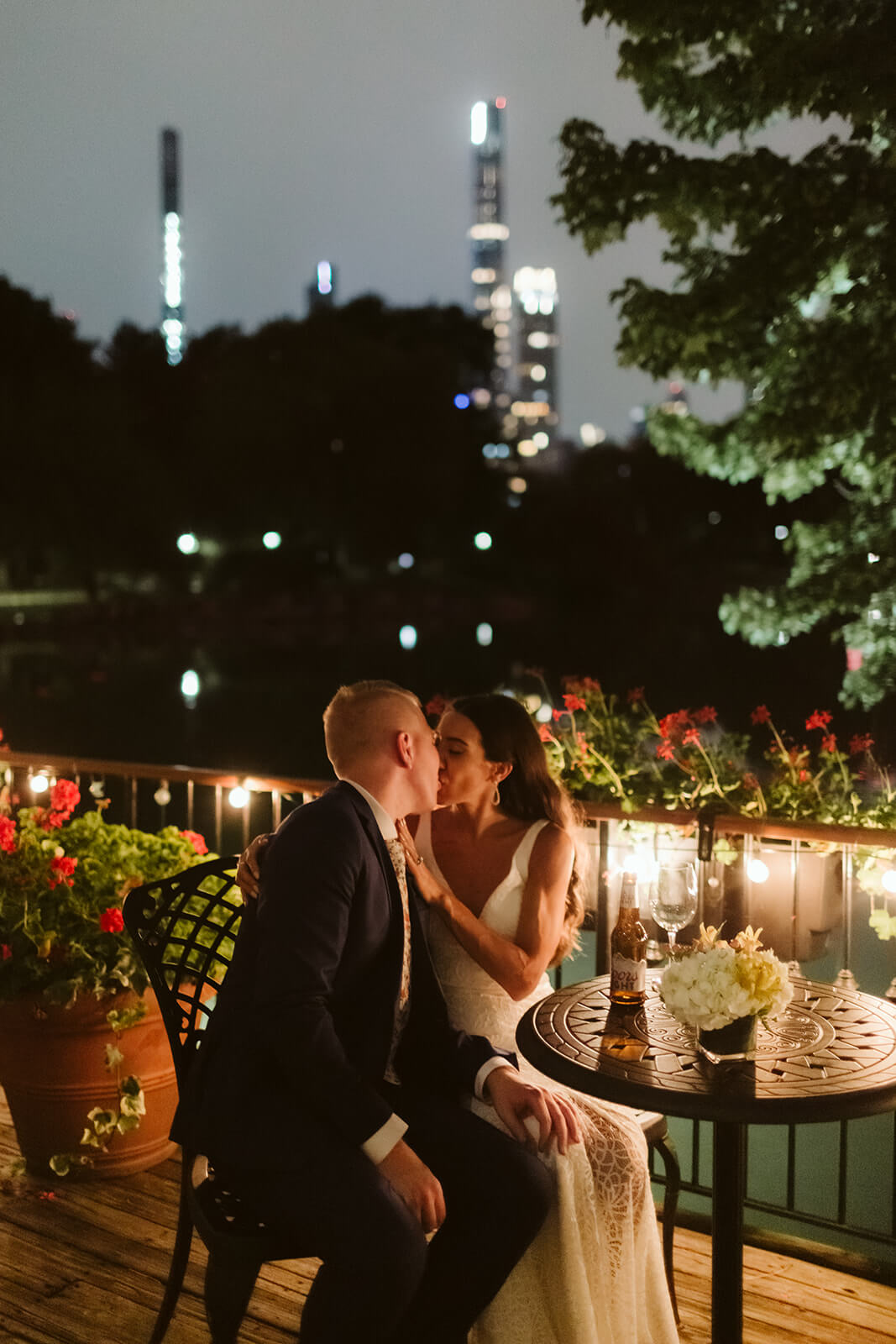 1. Central Park
Central Park is the most famous New York City photography location in general but it's also the quintessential NYC spot for capturing those dreamy, romantic, movie-quality photos. As the largest public park in Manhattan, there are several locations to choose from for your engagement shoot.
Popular choices include the Bethesda Terrace Arcade and Fountain, the Mall and the Literary Walk, and Bow Bridge. Even though it's now closed, the historic Loeb Boathouse's restaurant and lake is a short walk away from Bethesda Terrace and is still a beautiful place to snap a few pictures in. Of course, the park also has plenty of quiet, green spaces for a beautiful forest session and if you're feeling more playful, you can even purchase tickets to the Central Park Zoo and take engagement photos with your favorite animals!
2. Washington Square Park
Located in Greenwich Village and normally filled with NYU students, Washington Square Park is a great location for a classic NYC engagement session. The Washington Square Arch and fountain is a prominent feature of the park that's easily recognizable and makes for a striking background for photos. Plus, there are plenty of benches and grassy fields to cuddle up for those cute and romantic shots.
3. NYC Architectural Wonders: Grand Central Station, The MET, and NY Public Library
One of the greatest parts of being in New York City is seeing all of the stunning architecture in the historic buildings. For engagement photos that are sure to stun, you can't beat snapping a few in and around some of its most famous buildings.
Grand Central Station is a major commuter hub of the city and makes a great rainy day location for your session. However, no matter what time of day it is, chances are it will always be crowded with tourists and commuters alike. It might be tricky but we can work around the crowds to get the photos you're looking for.
If your session is in the Upper East Side, the staircase of The MET is always an amazing location to take photos. Plus, it's right next to Central Park and makes a great add-on to close out a Central Park engagement session.
Not only is the New York Public Library perfect for engagement photos, it's also one of NYC's most popular wedding venues! Photos at the NYPL are best taken early in the morning to beat the crowds. However, with the sweeping entrance, the Library Lions, and Bryant Park in the background, this famous site has all of the ingredients of a NYC photoshoot in one location!
4. South Street Seaport
For couples looking for a more laid back session with a historic feel, South Street Seaport is the perfect place. Imagine taking a stroll down quiet cobblestone streets lined with old brick buildings then heading to the harbor to walk along the boats with the East River in the background.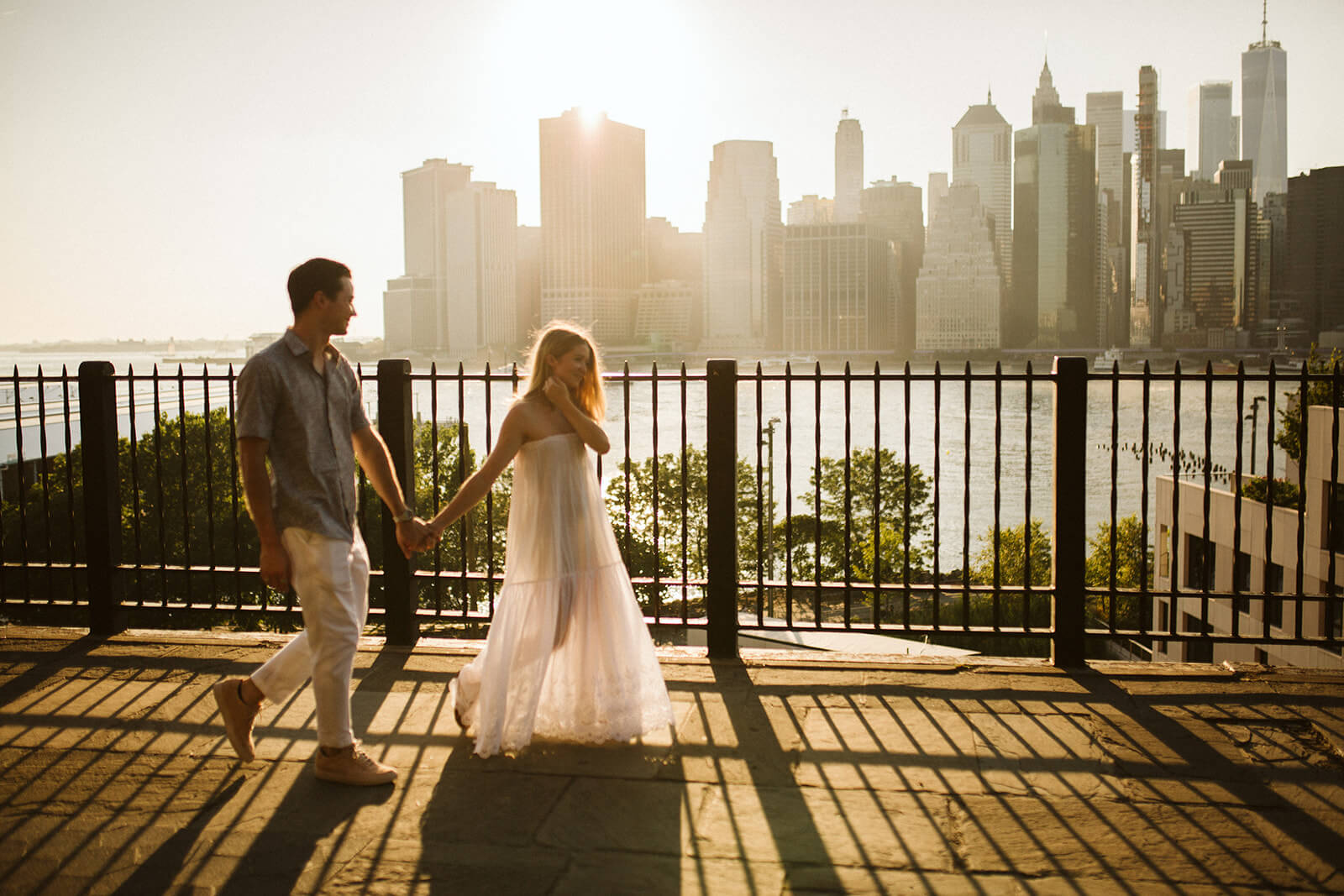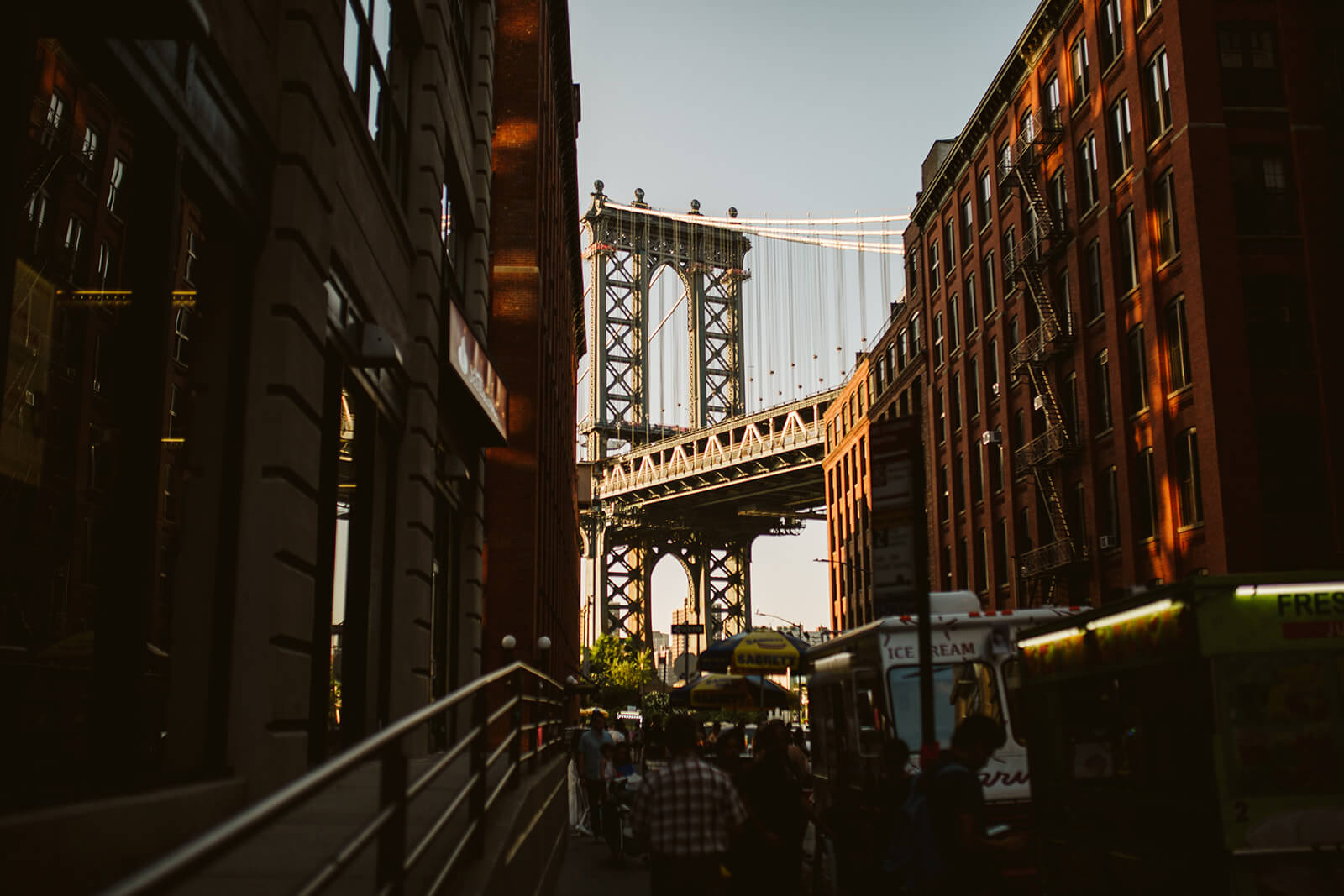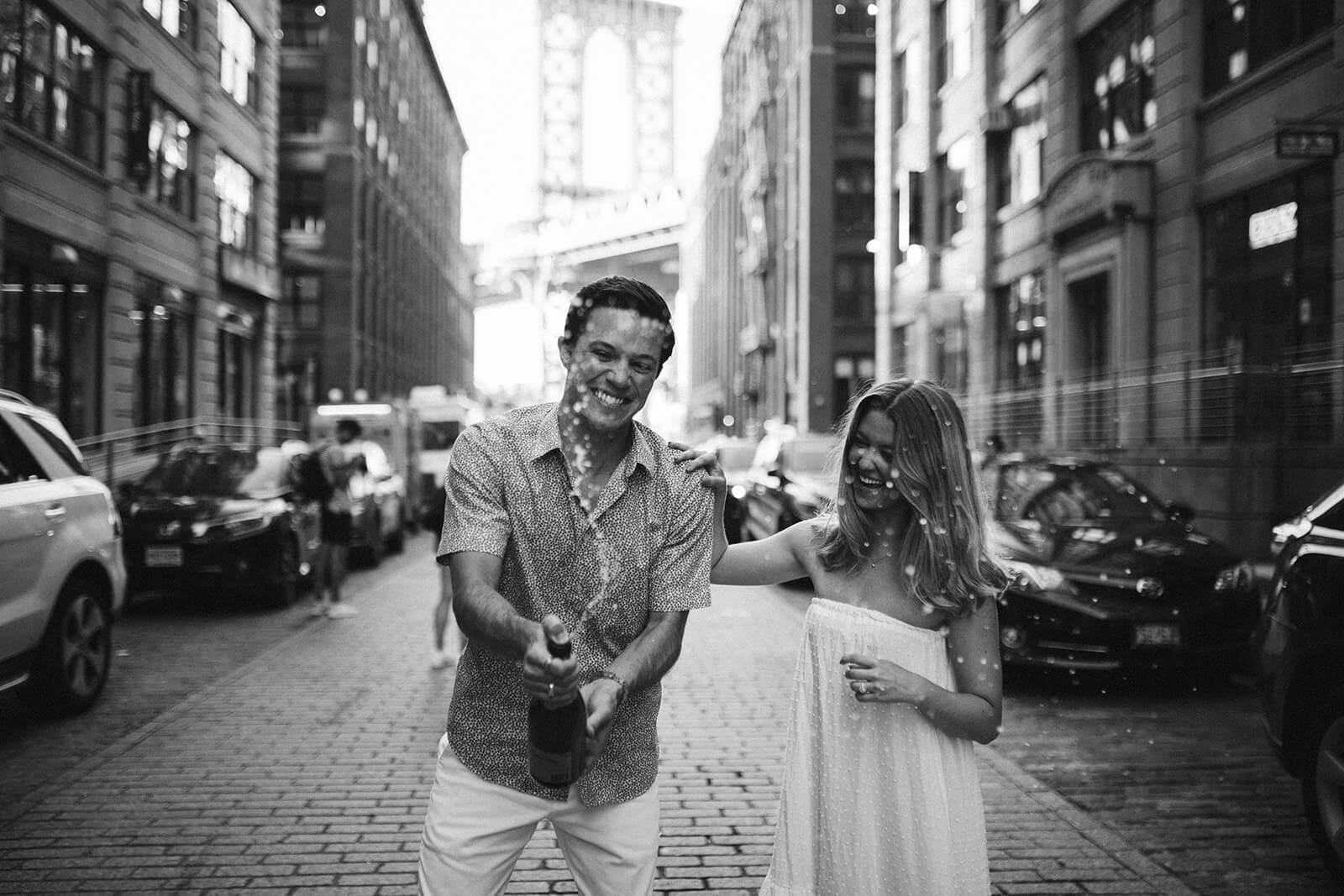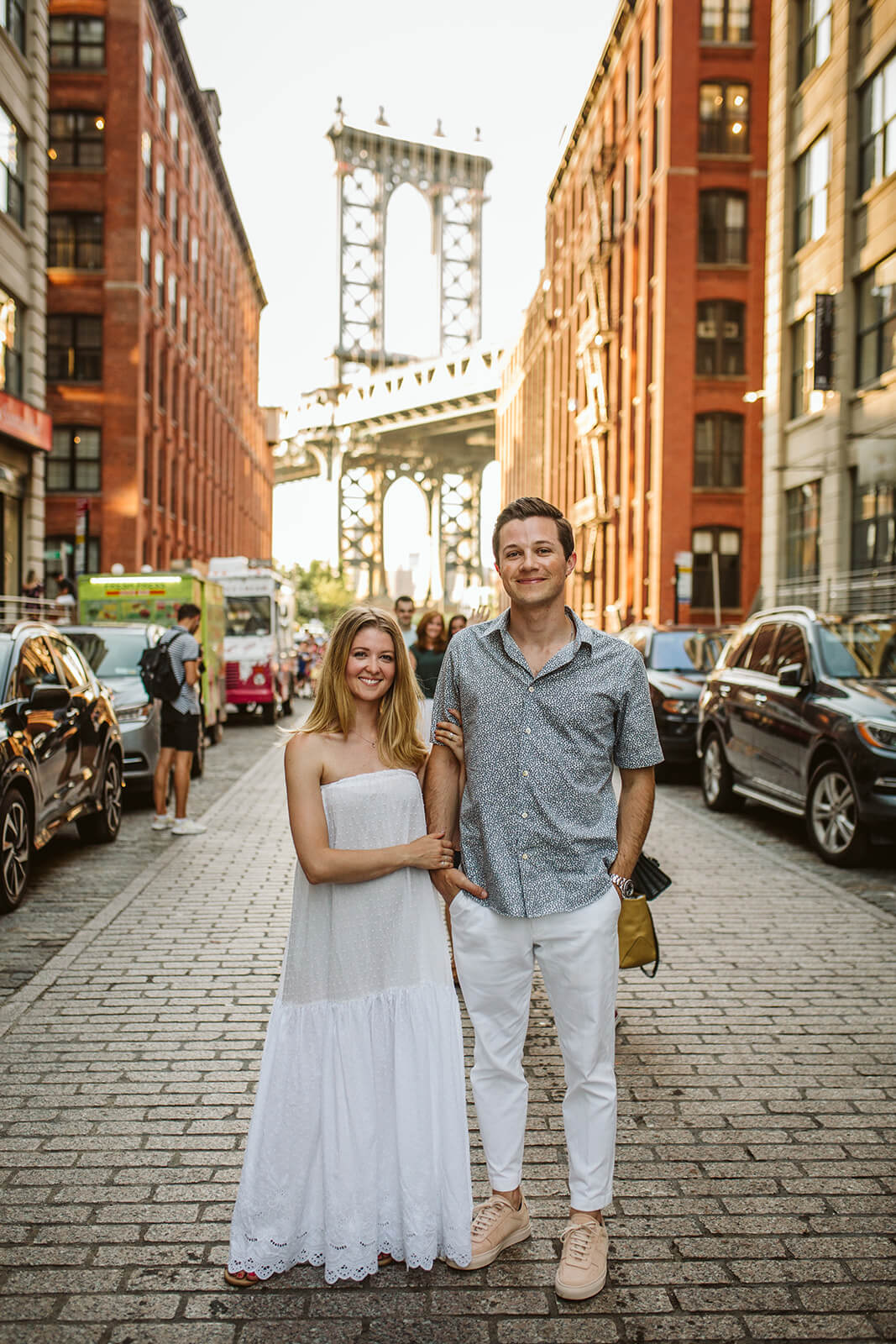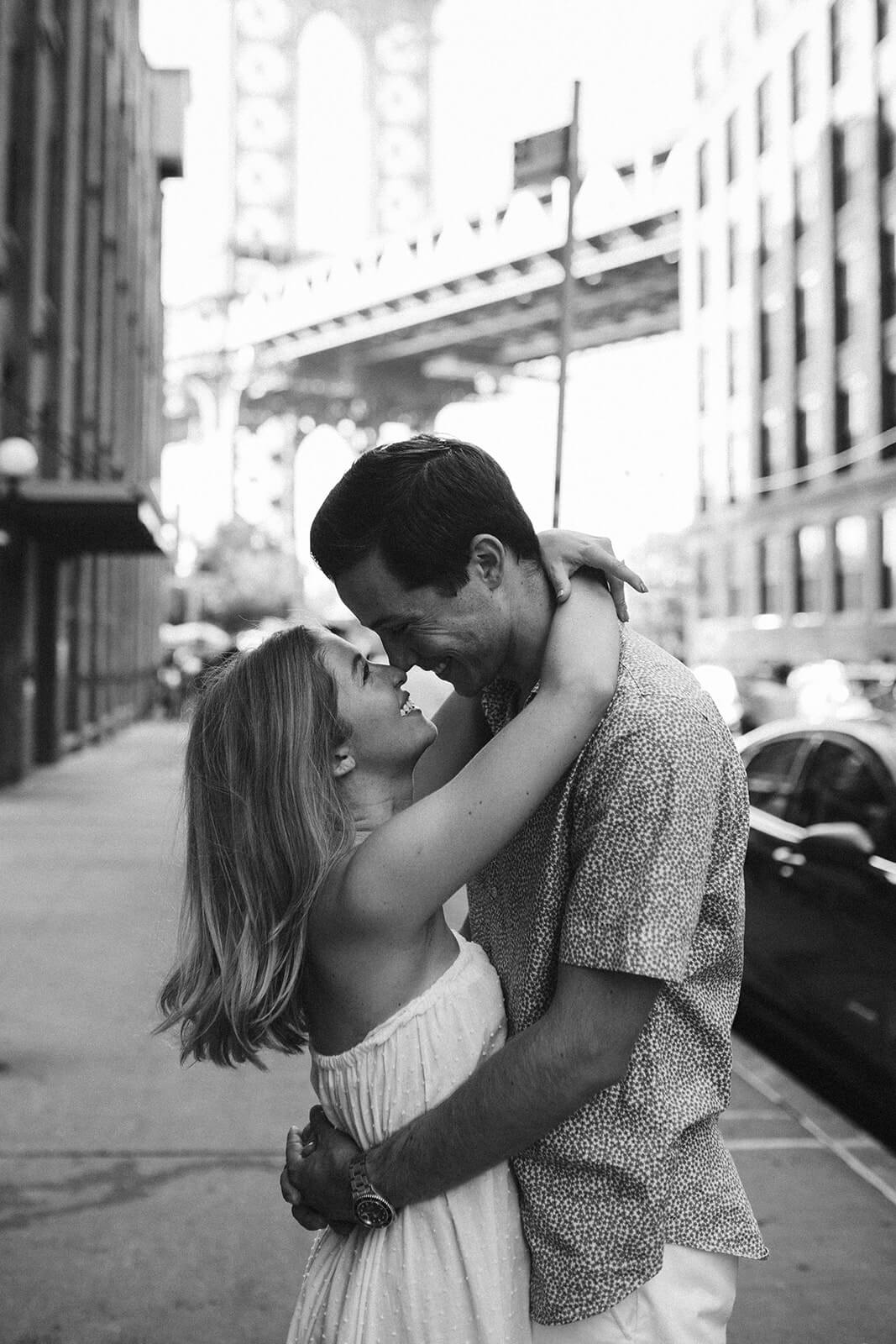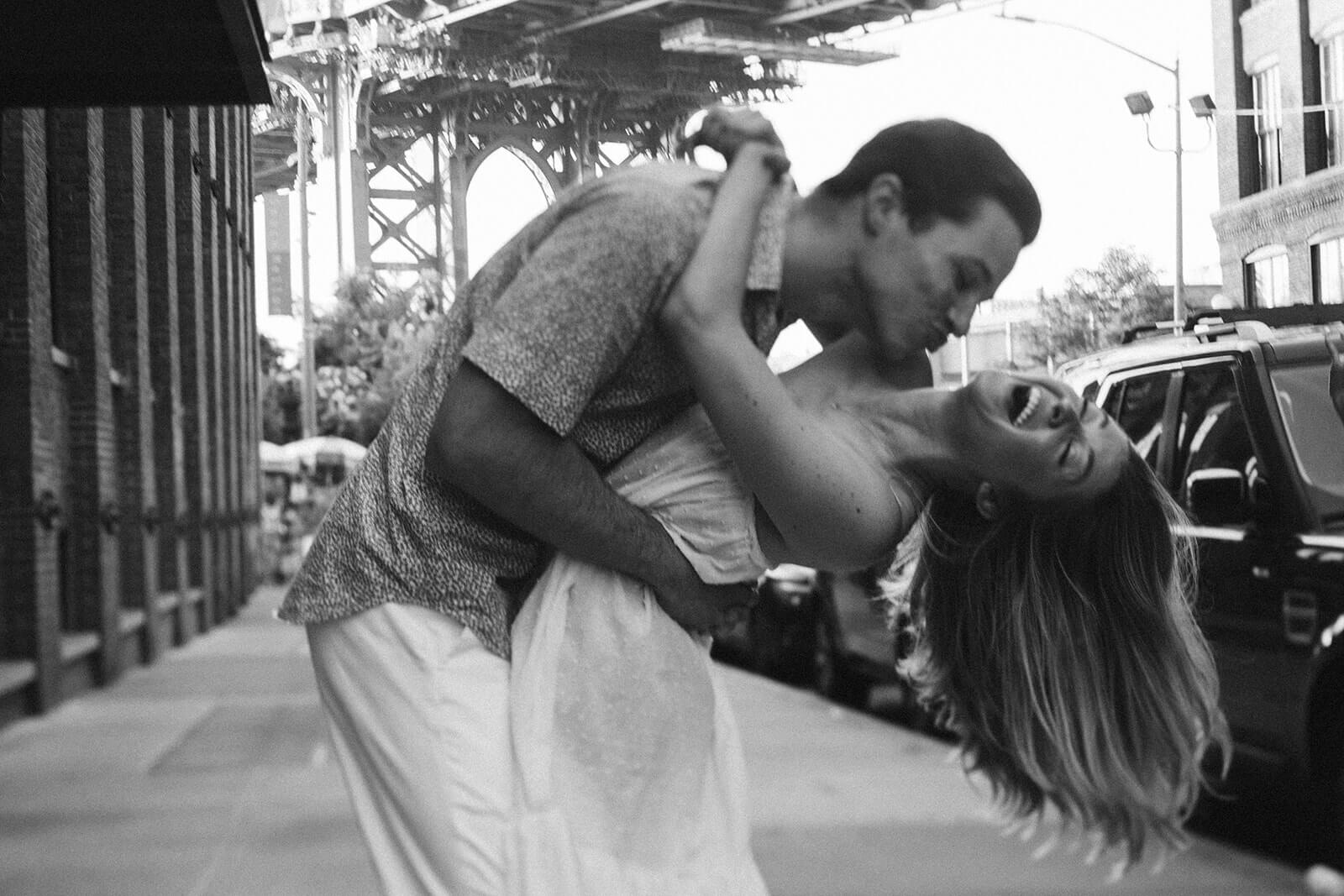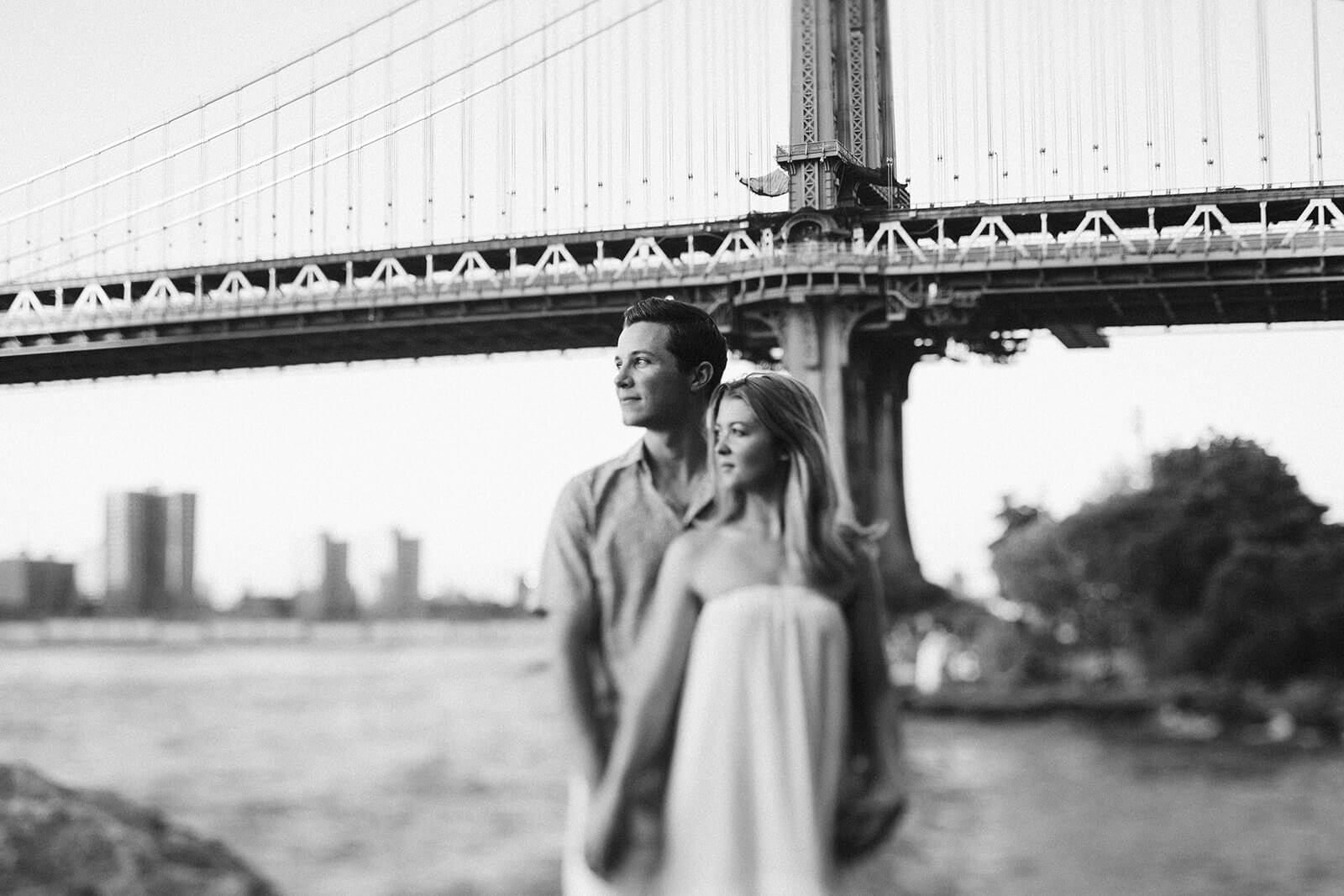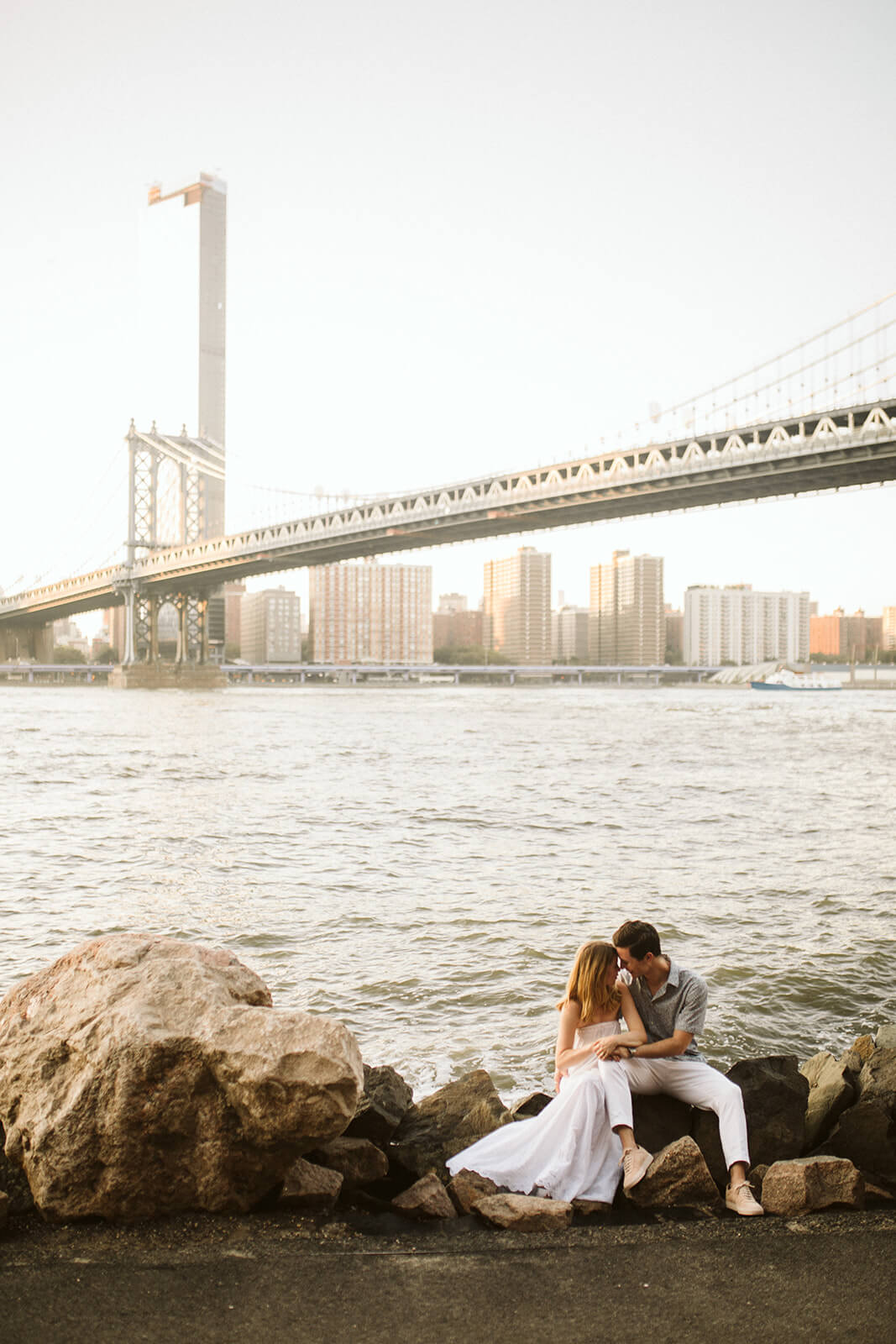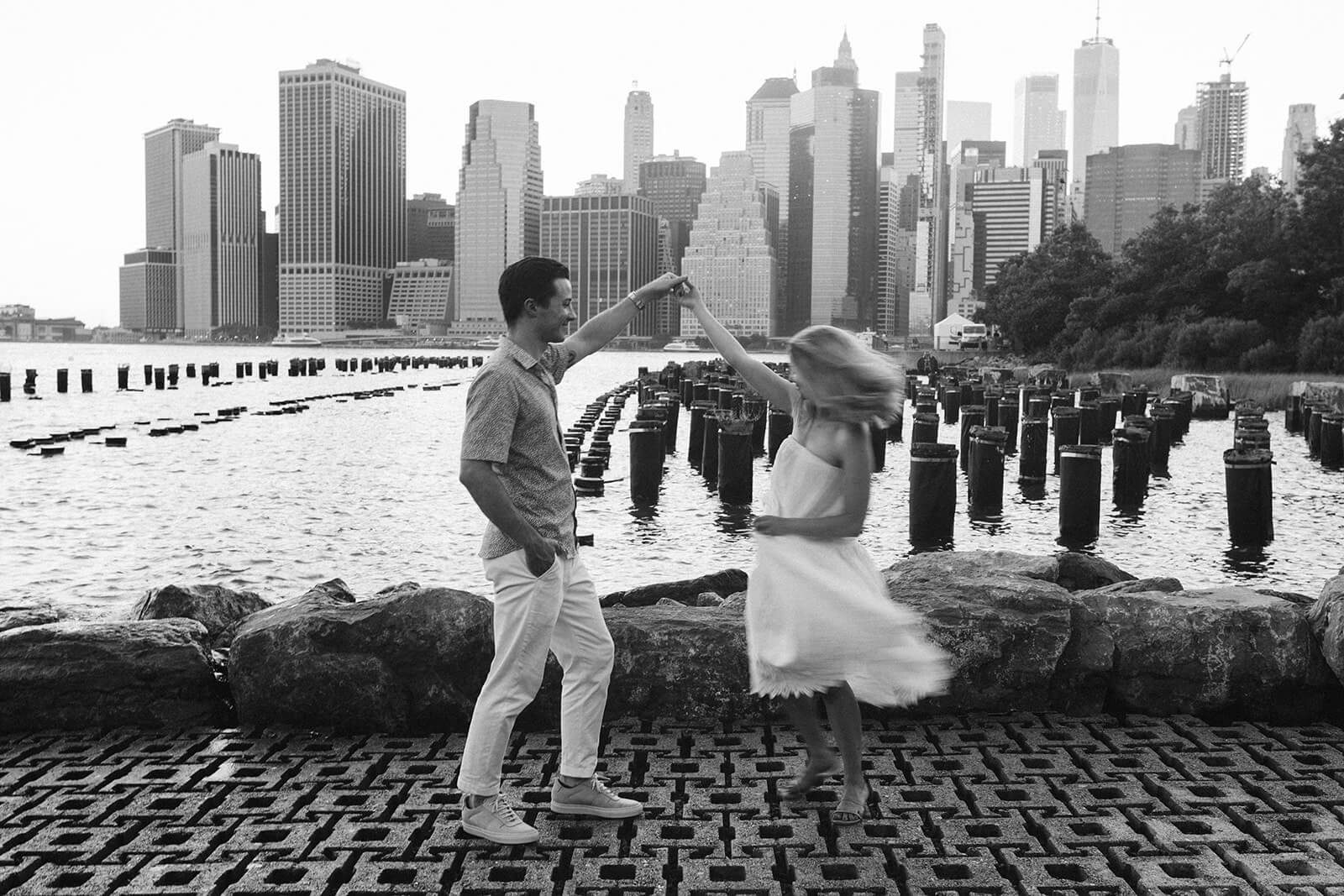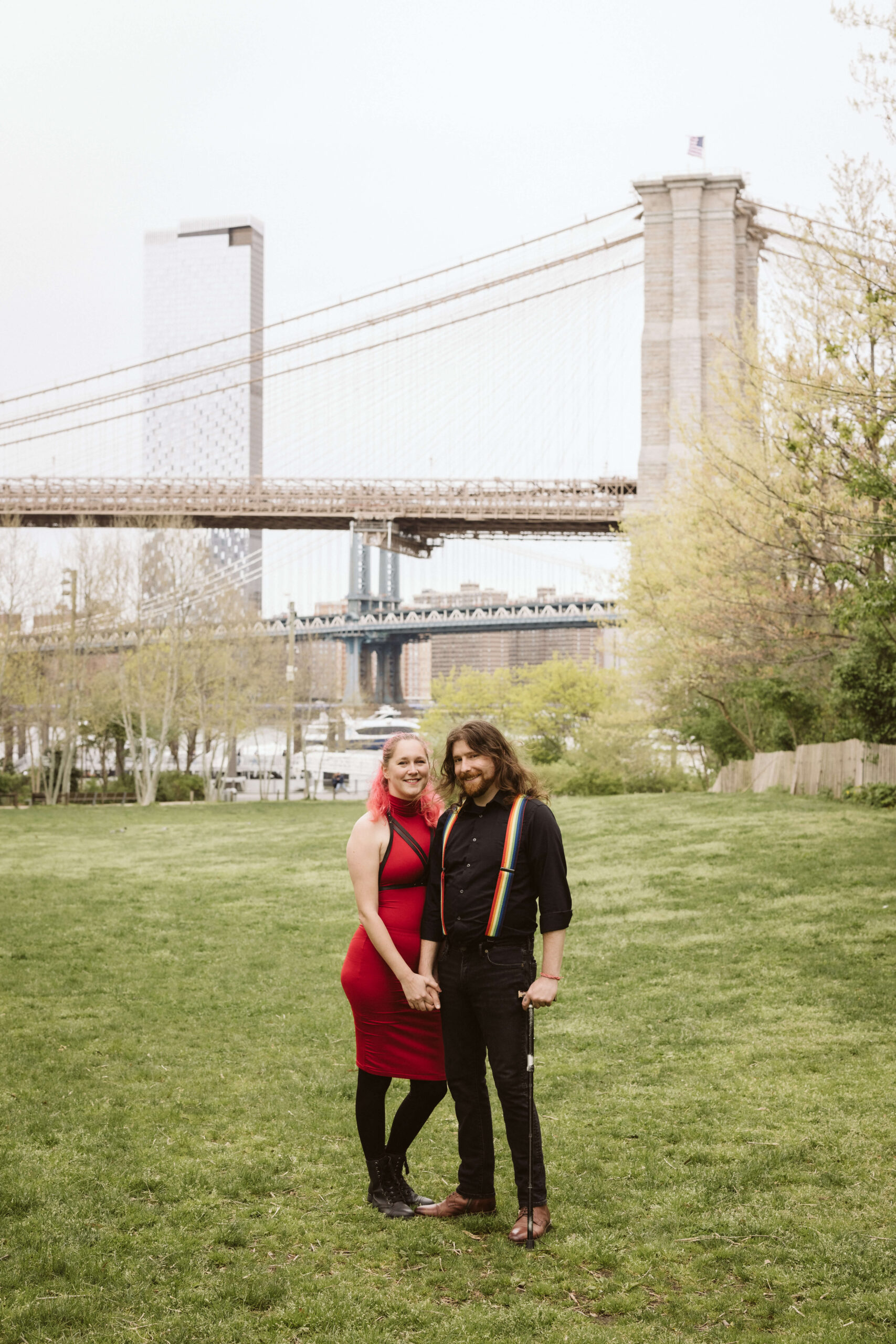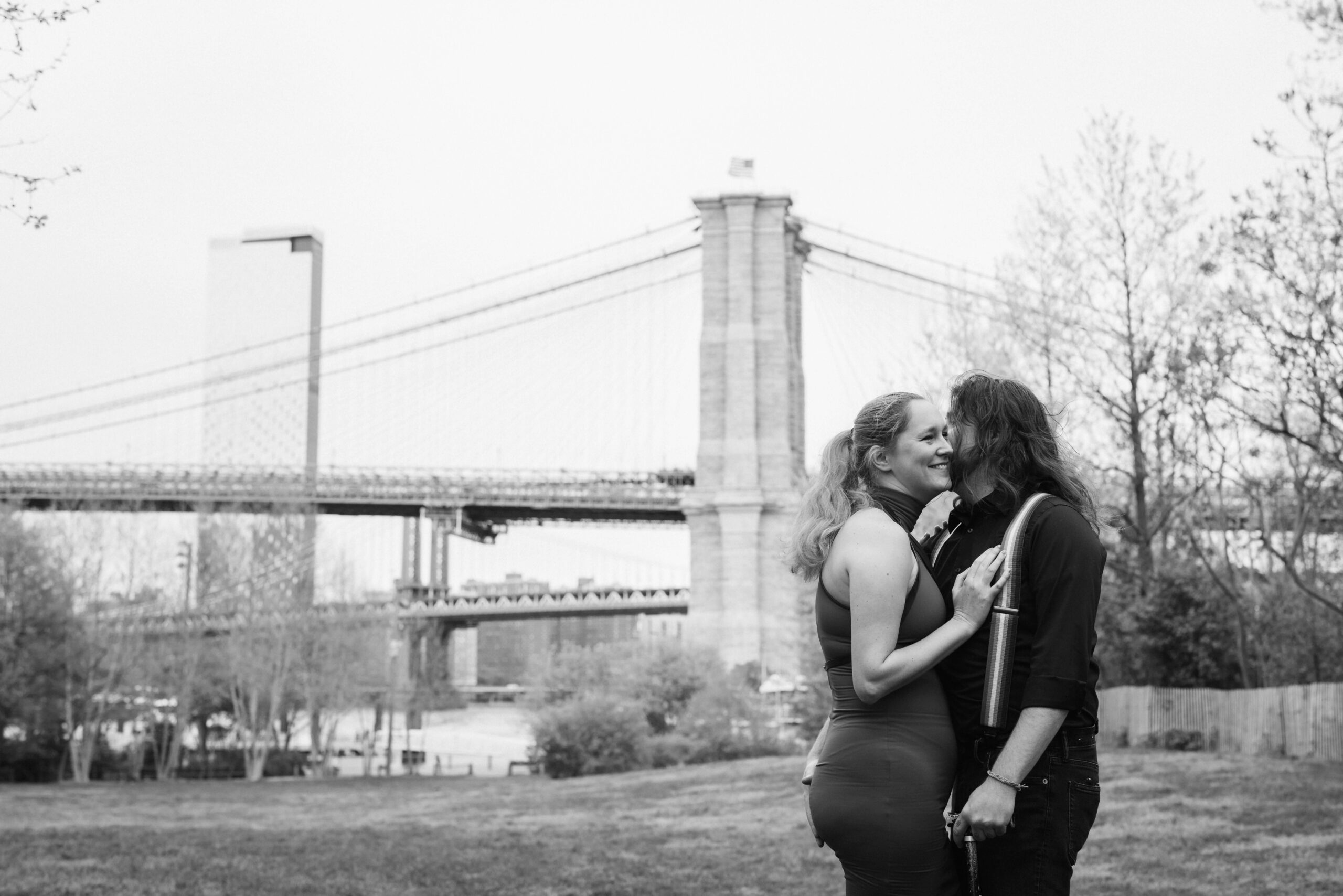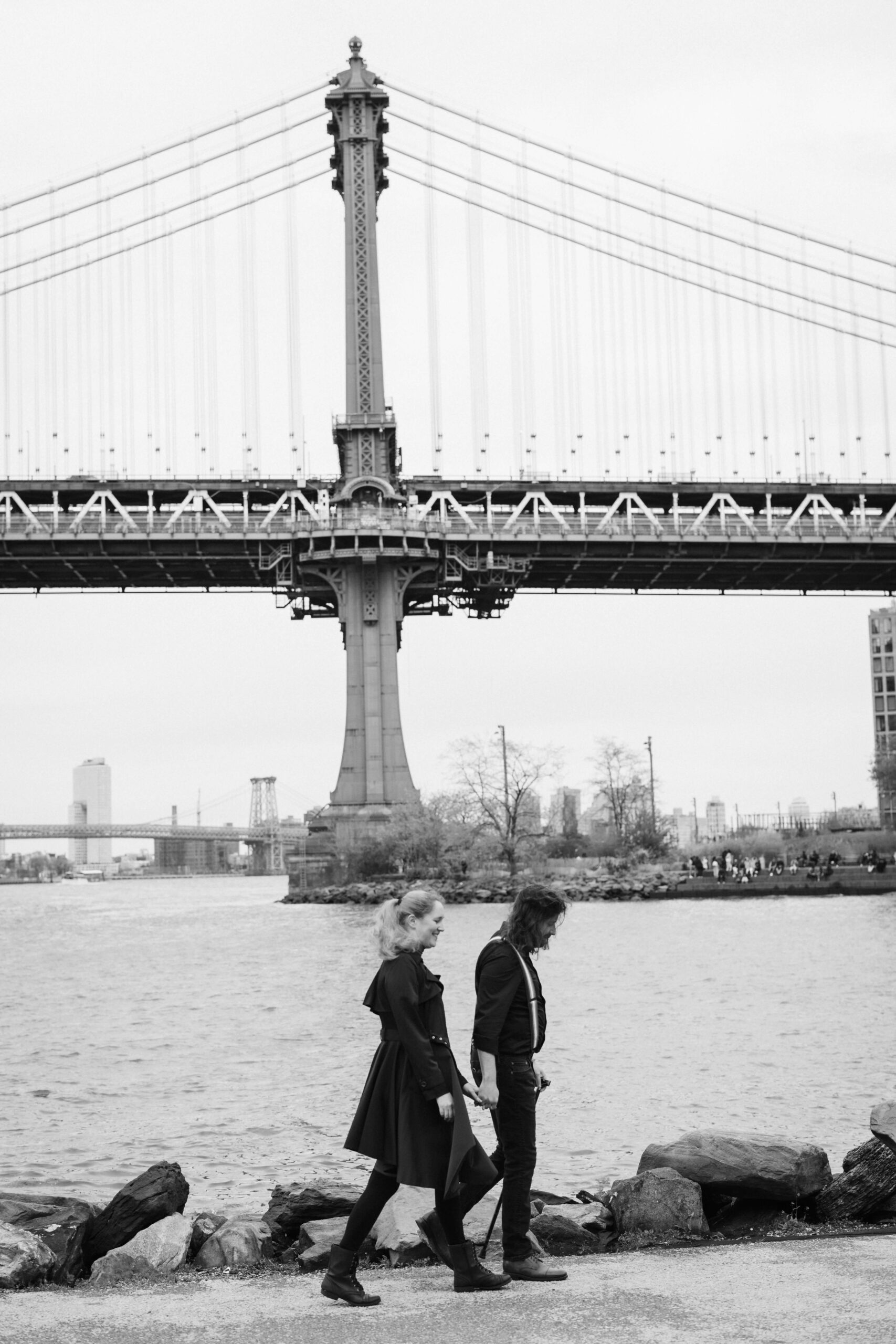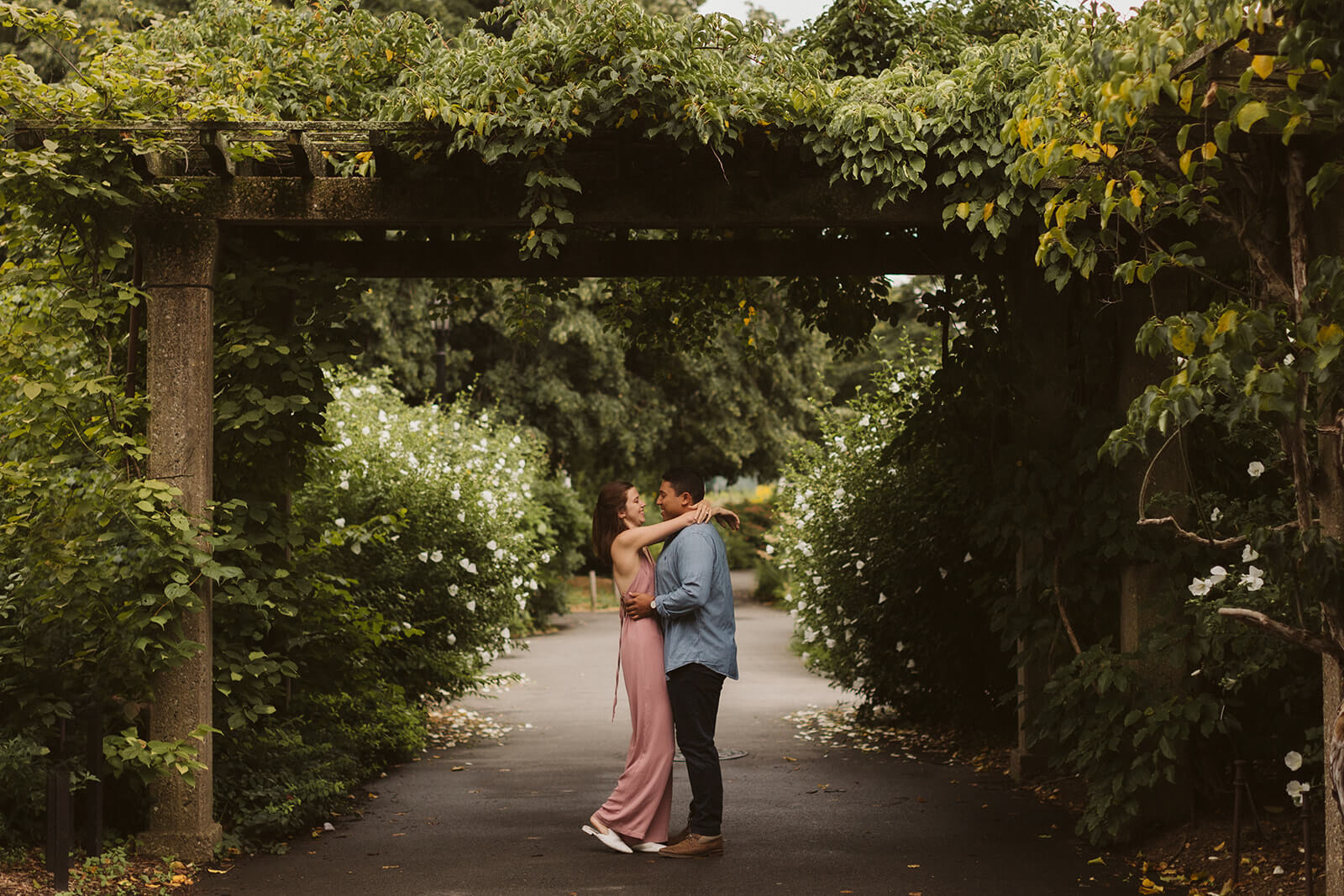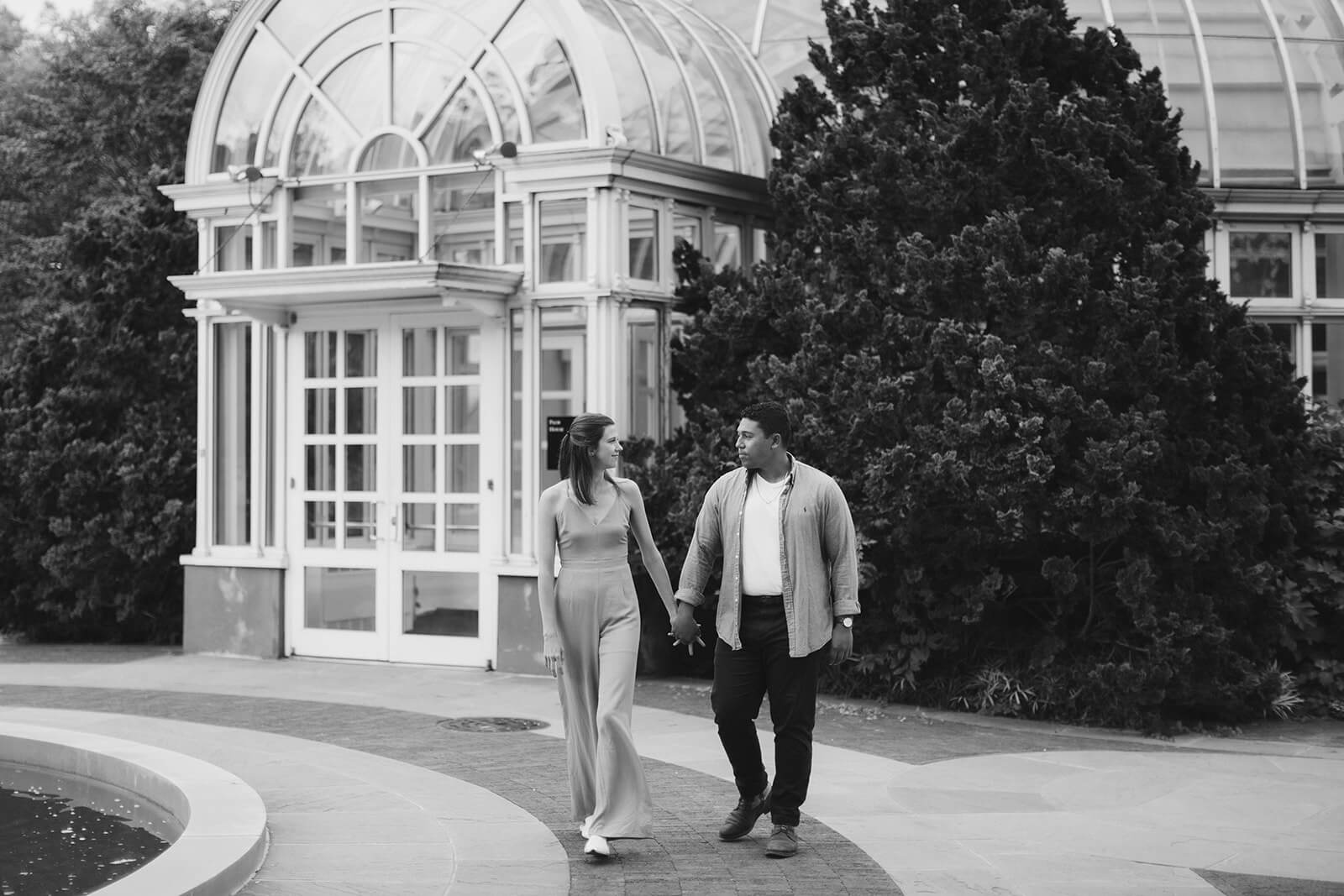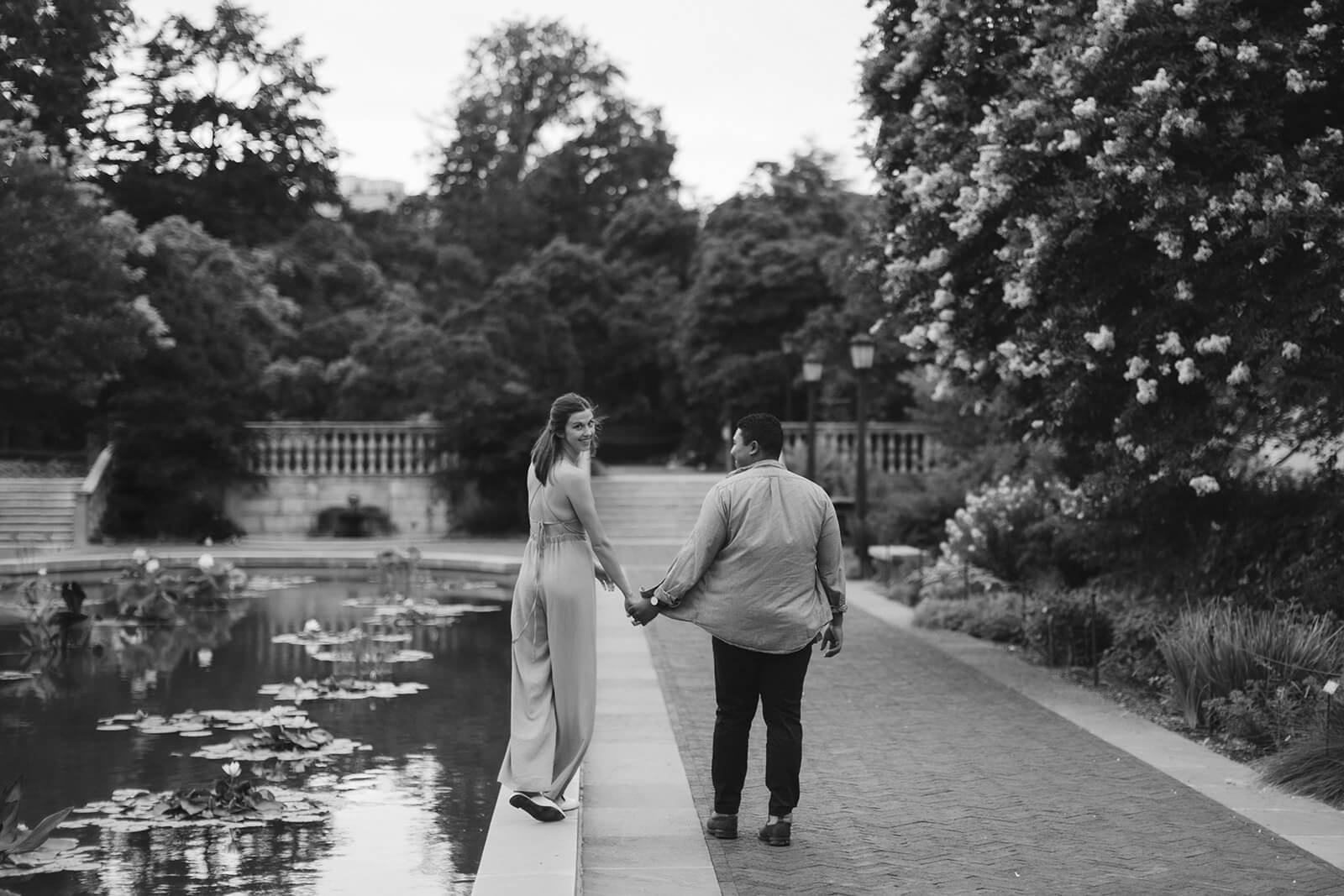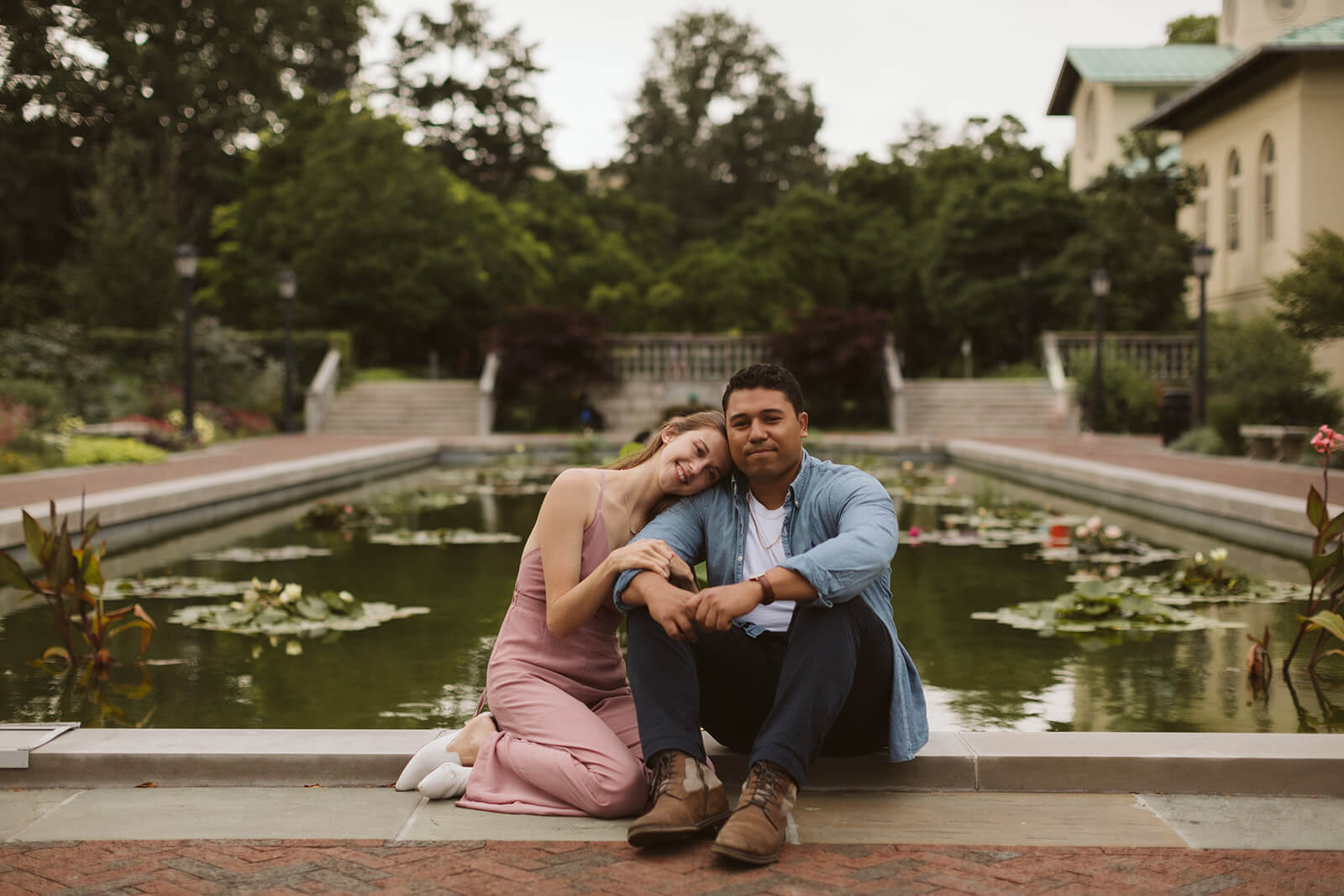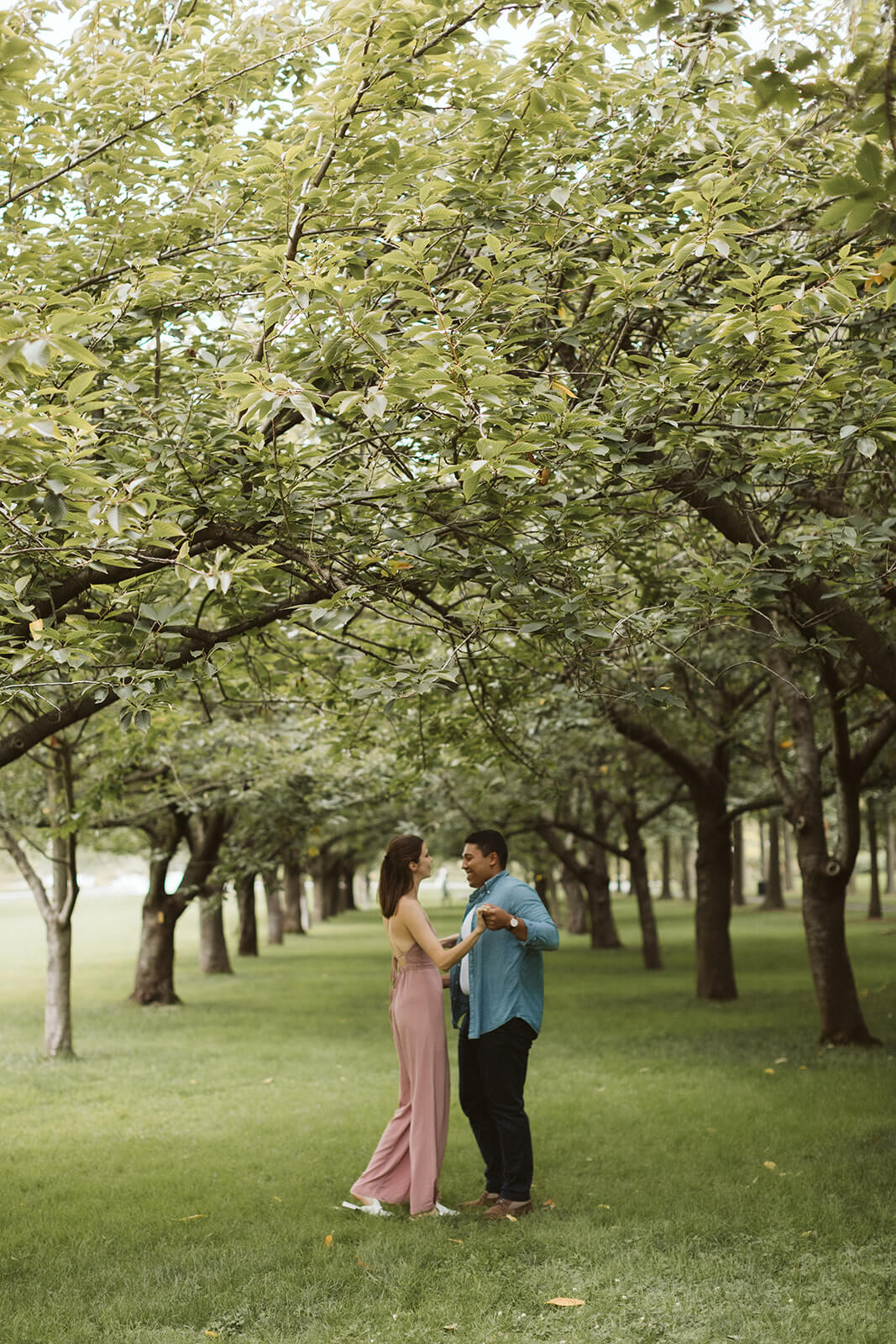 5. Brooklyn
As New York City's most populated borough, Brooklyn always makes a fantastic destination for an engagement shoot. Brooklyn is filled with picturesque streets to walk down lined with looming trees and brownstones or colorful art murals to cover both a casual look and a more urban vibe for your session. There are also plenty of well-known spaces in Brooklyn to really capture that New York feel.
A Brooklyn engagement session wouldn't be complete without a few photos on the Brooklyn Bridge. This architectural feat is best photographed at sunrise when there is the least foot traffic and the sun casts a warm glow across the bridge as it rises.
The DUMBO section of Brooklyn features the Brooklyn Bridge Park which has fantastic waterfront views of the Manhattan skyline as well as the famous Washington Street shot of the Manhattan Bridge.
Prospect Park features all of the natural beauty that can be found in Central Park without the crowds of tourists filling the walkways. It also includes the Brooklyn Botanic Garden which is the best place in the city to see cherry blossoms in the spring.
For a totally different look, you can also head to Coney Island for a fun and exciting engagement session either on the beach or in the Coney Island amusement park!
6. SoHo
If you're going for a definite urban look for your New York City engagement session, SoHo is the place you'll want to be. With its artsy and colorful buildings lining the bustling streets and plenty of cafes and shops to play around with, SoHo's fashionable vibe has a look to suit every couple. You'll find plenty of cobblestone streets, cute cafes, boutique shops, and upscale hotels to use for a variety of different backdrops to get an all-around classic city feel.
7. Top of the Rock
You might immediately think of the Empire State Building observatory for capturing the best view of the city during your engagement session, however, the view from the Top of the Rock is truly unmatched. Not only can you get unobstructed panoramic views of the entire city including downtown, Central Park, and the Freedom Tower, you'll also get the Empire State Building itself which is perfect for capturing the perfect skyline shot.
Tickets to get into the Top of the Rock can get a little pricey depending on the time you choose. My best tip is to book early because it gets the busiest closest to sunset. Then, after your session on the observation deck, we can head down to Rockefeller Center to close out your session near the skating rink!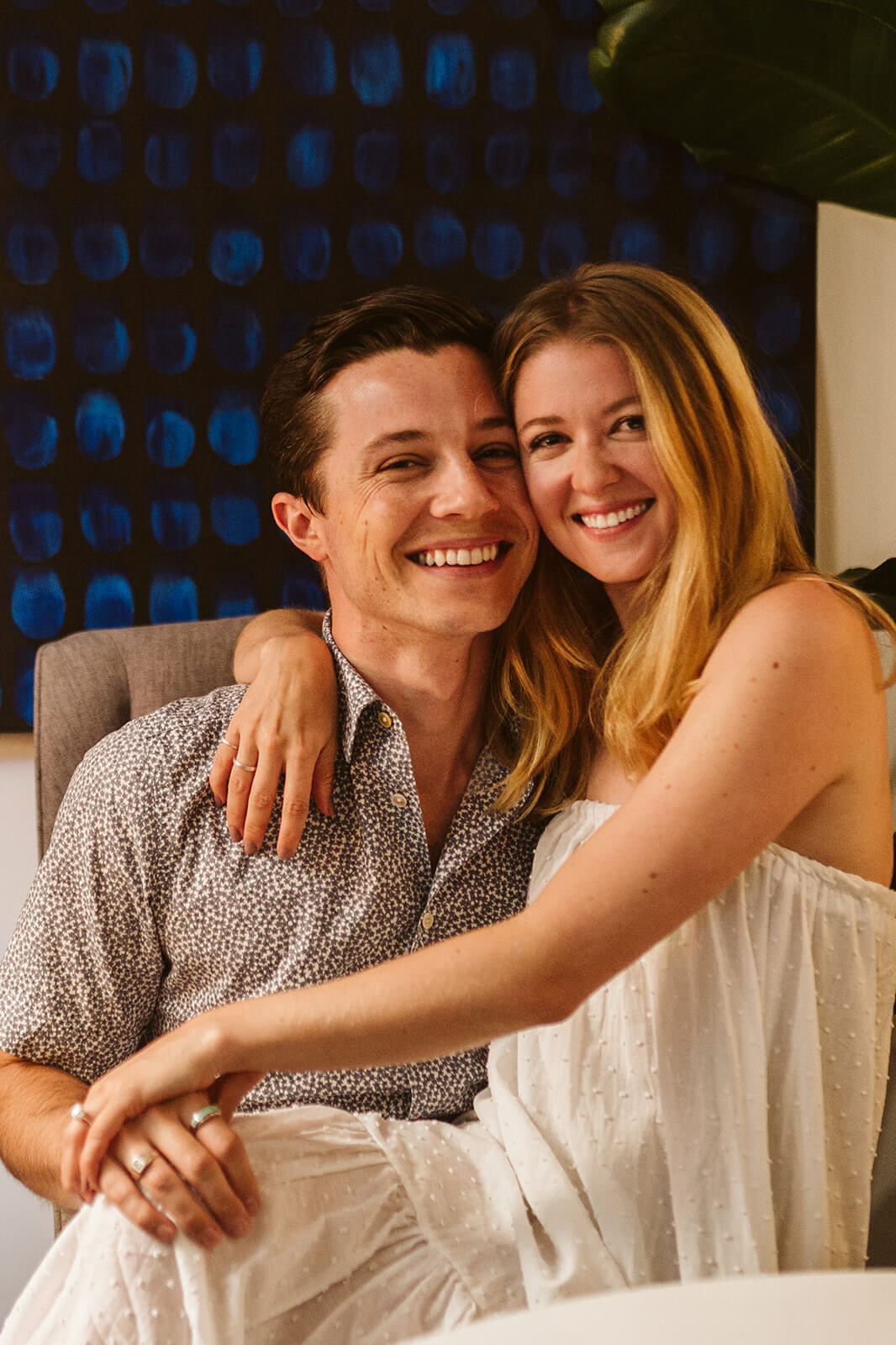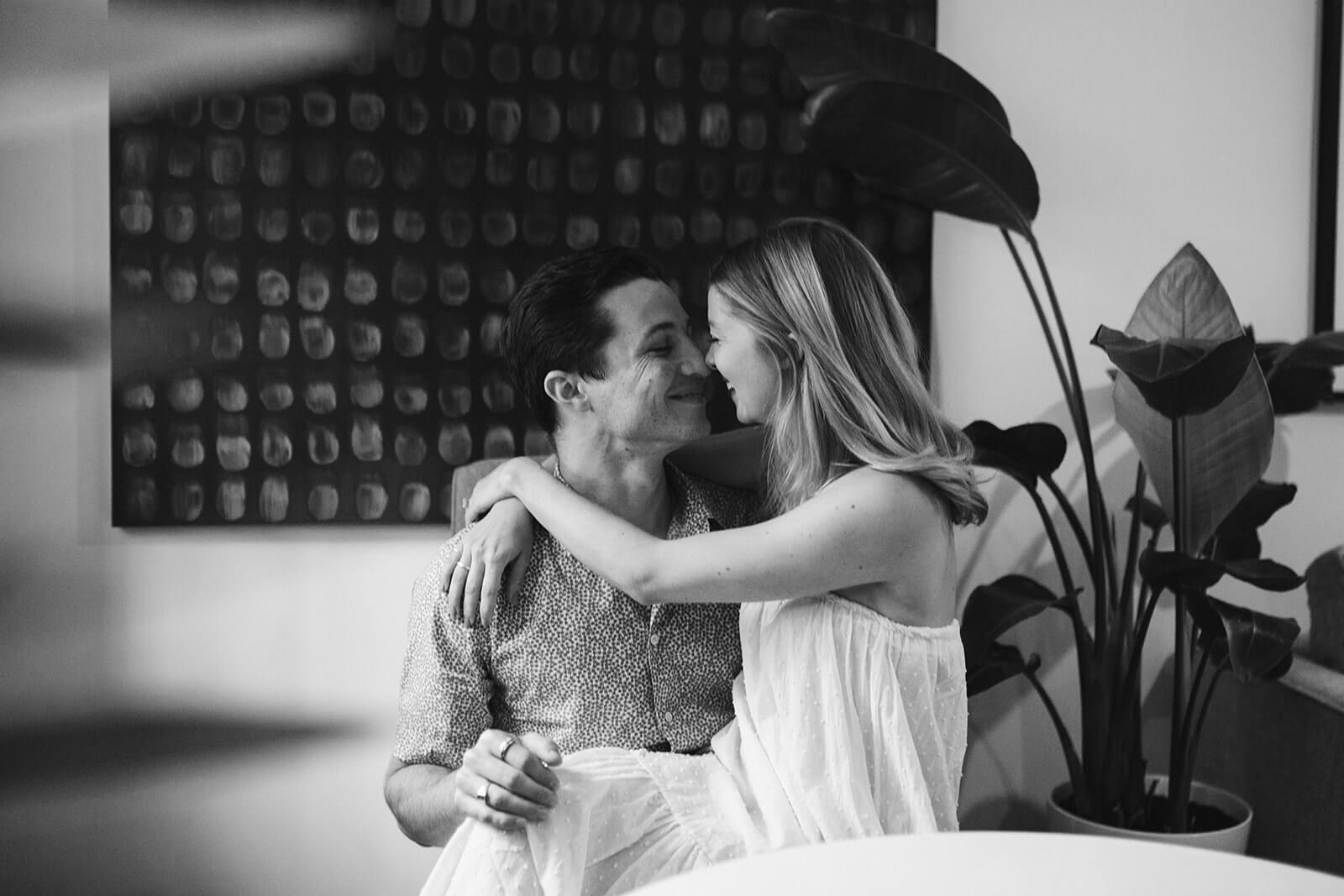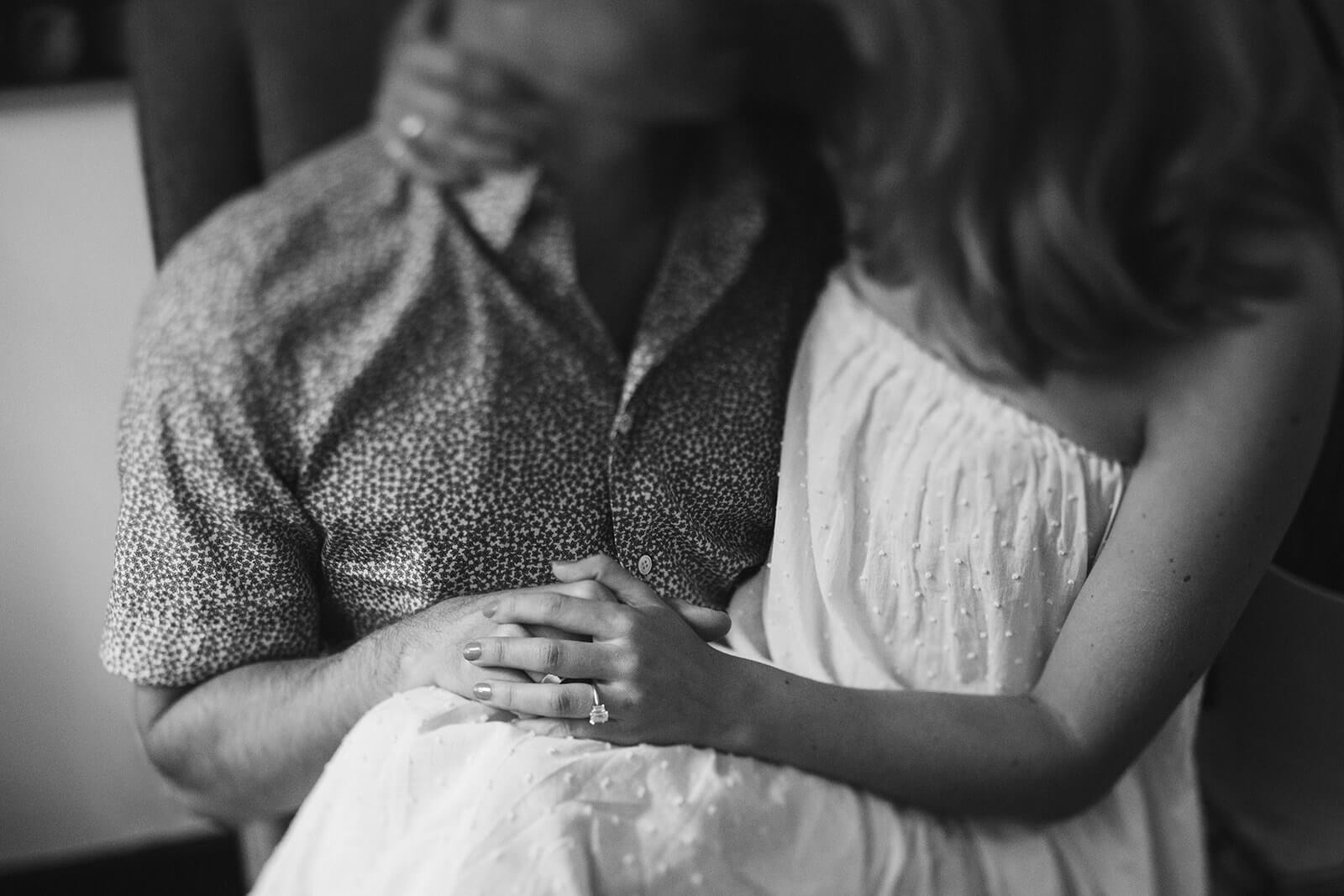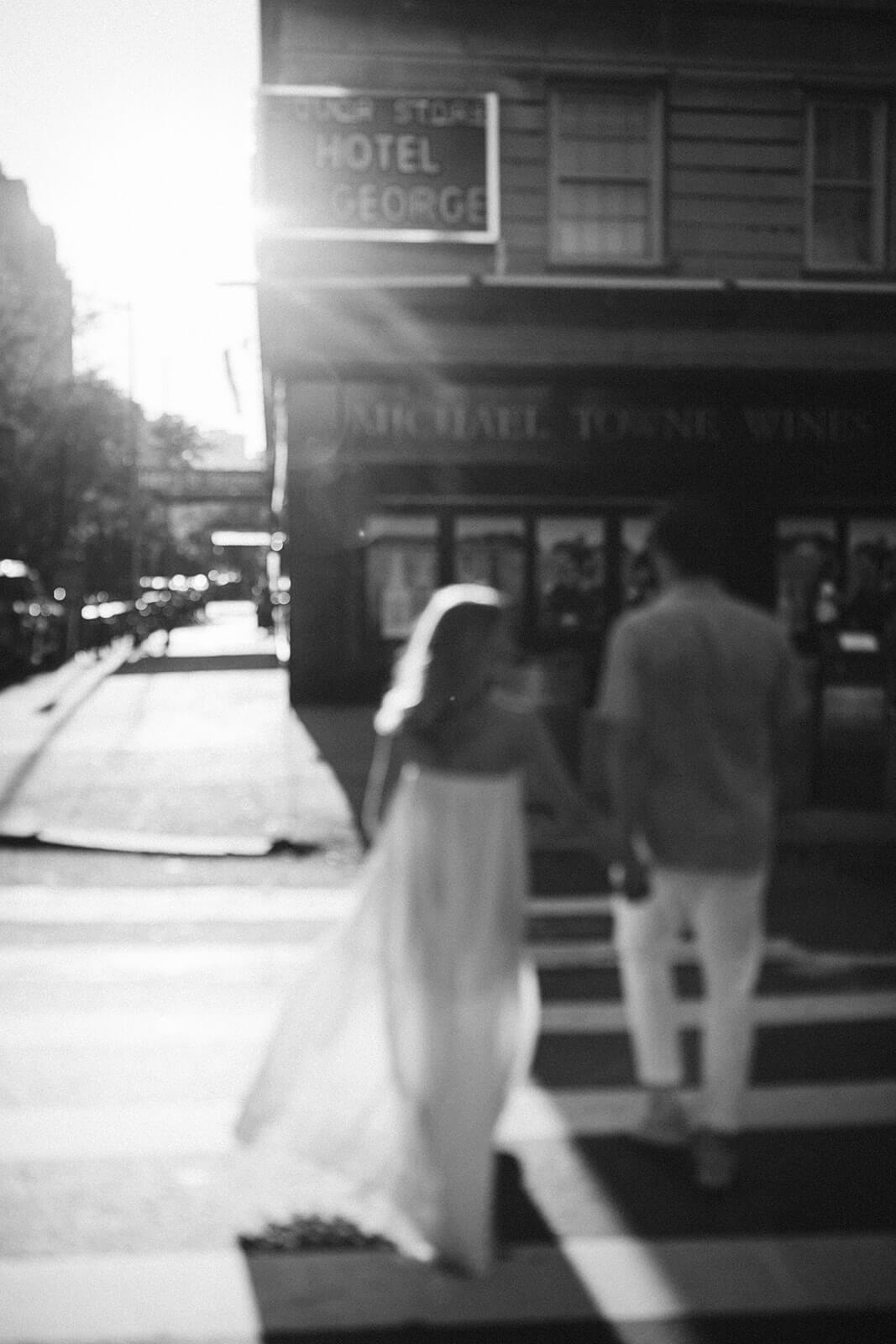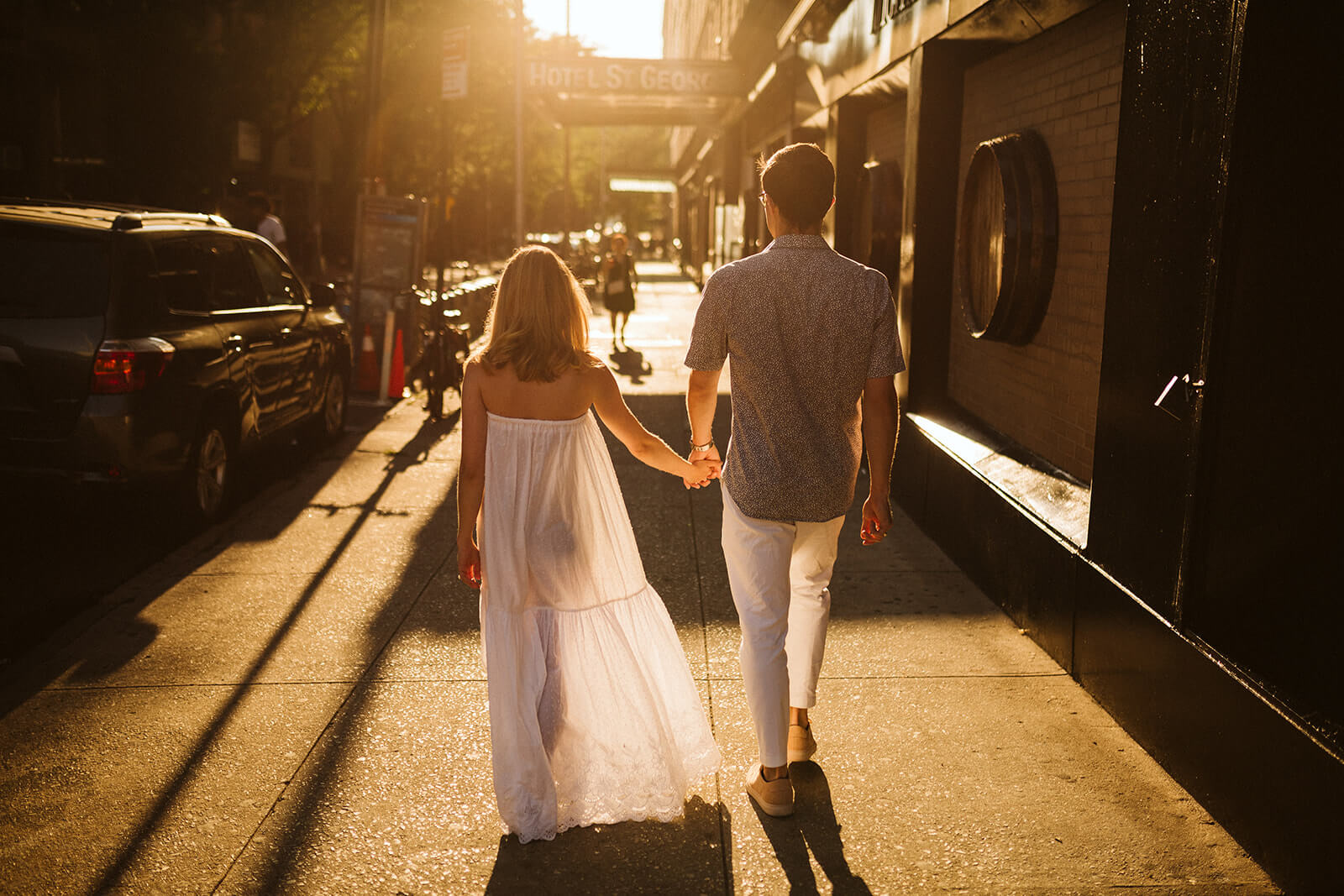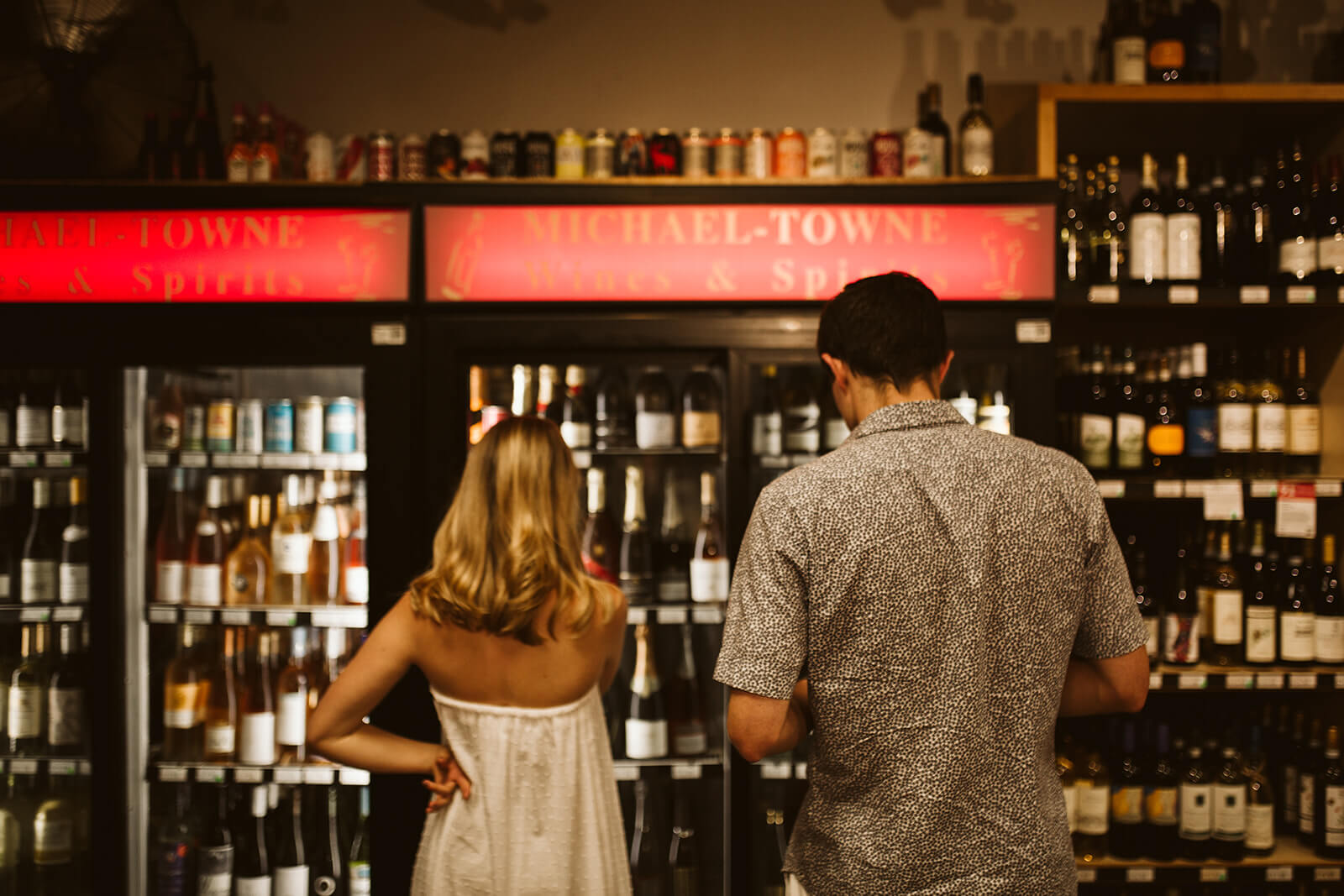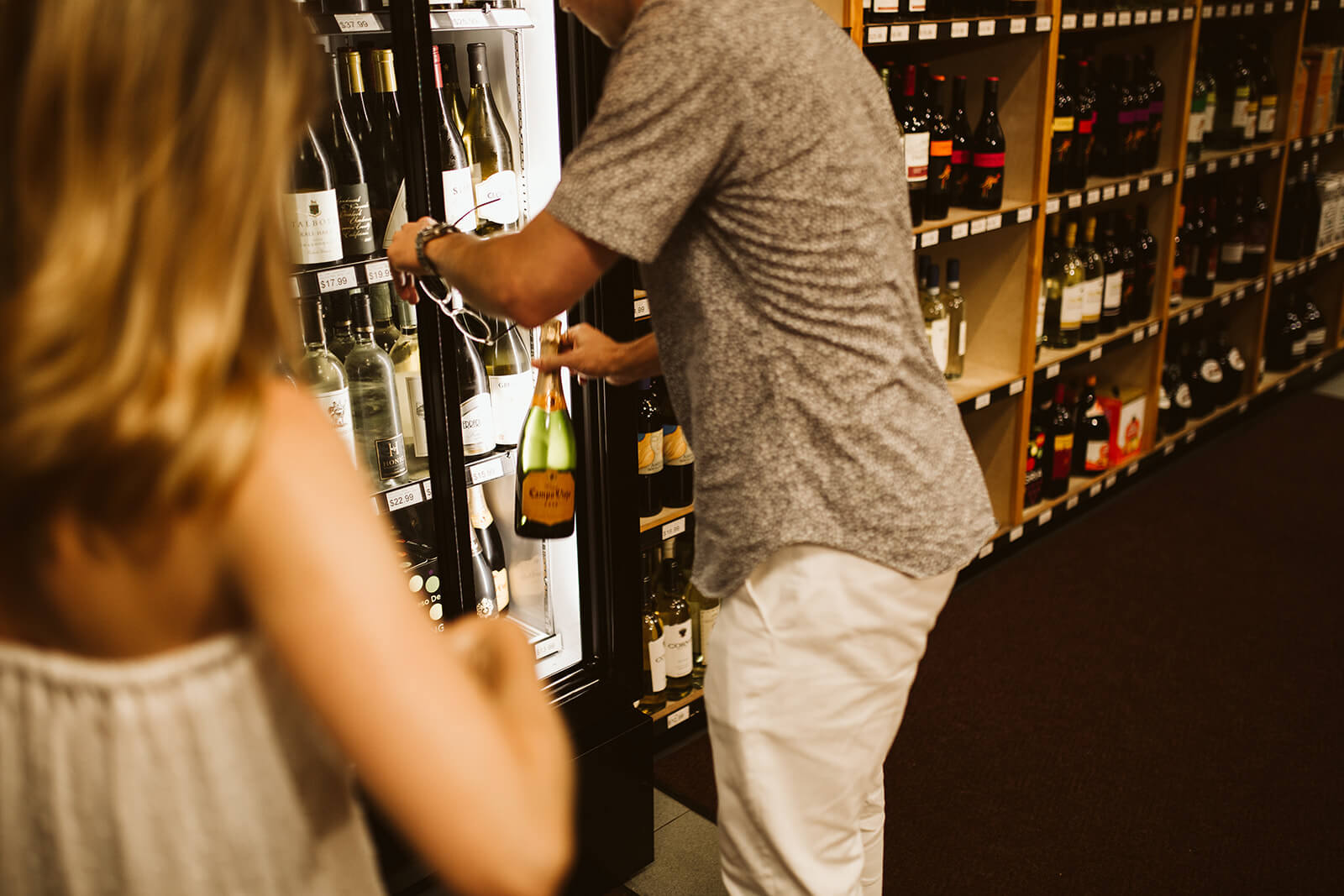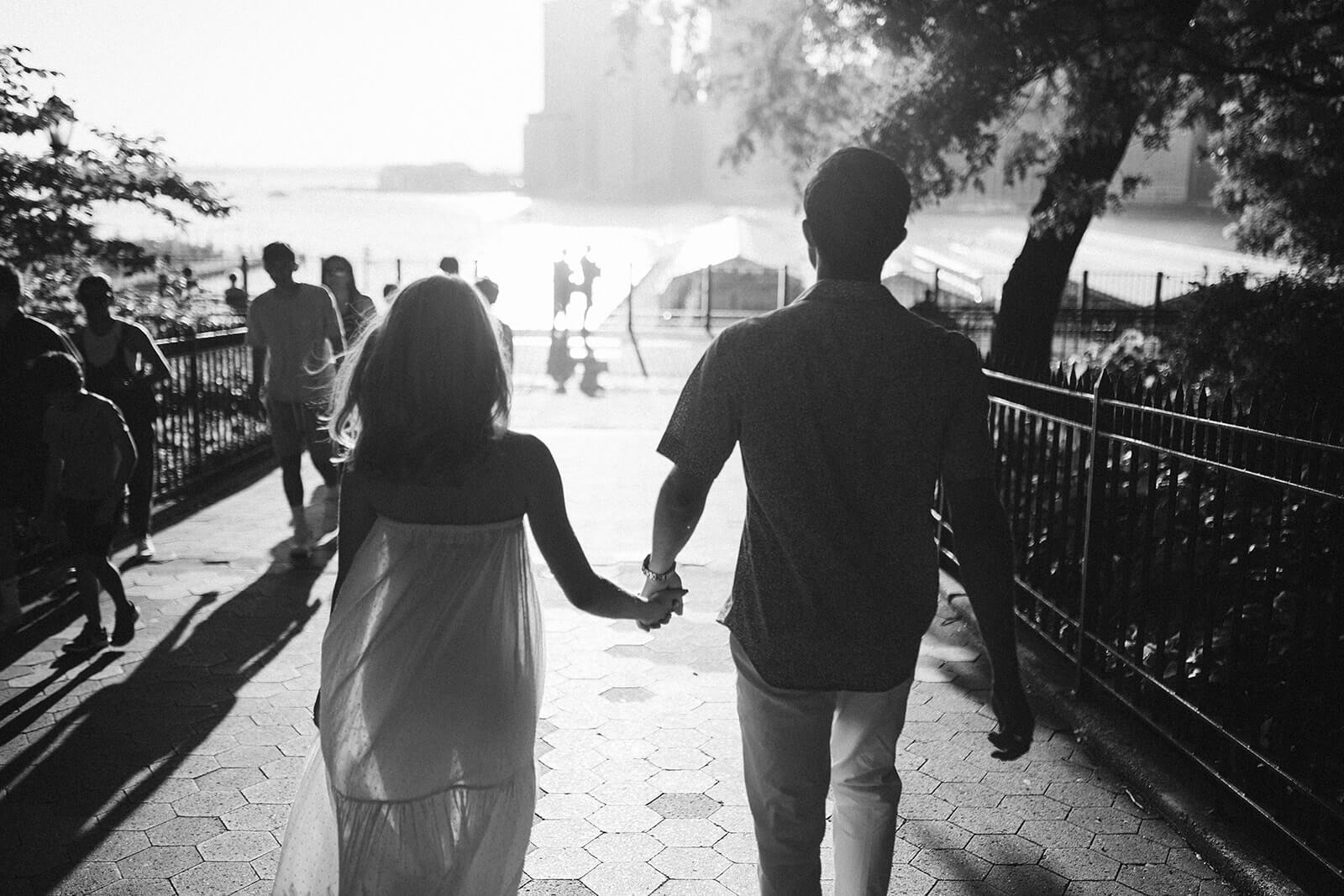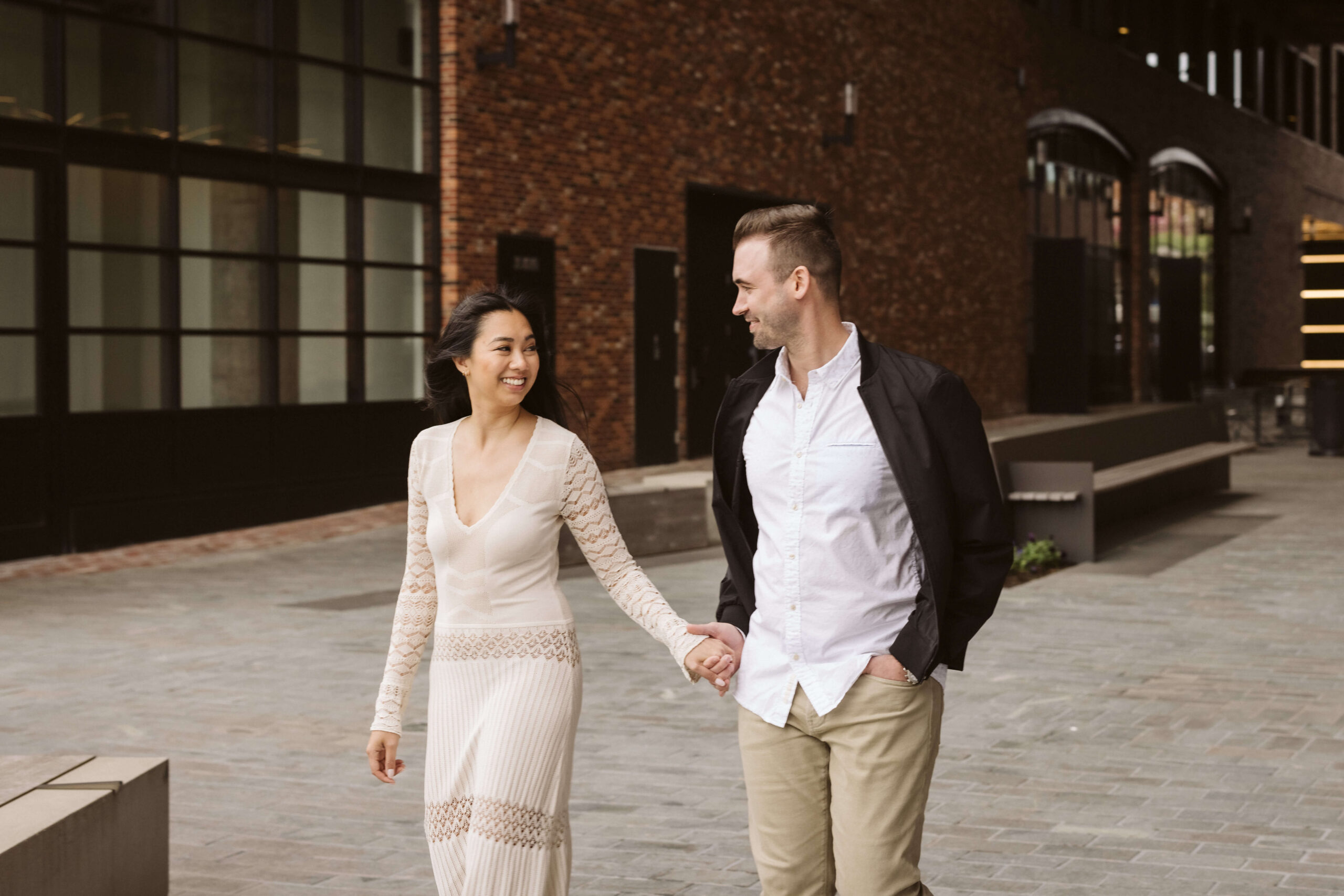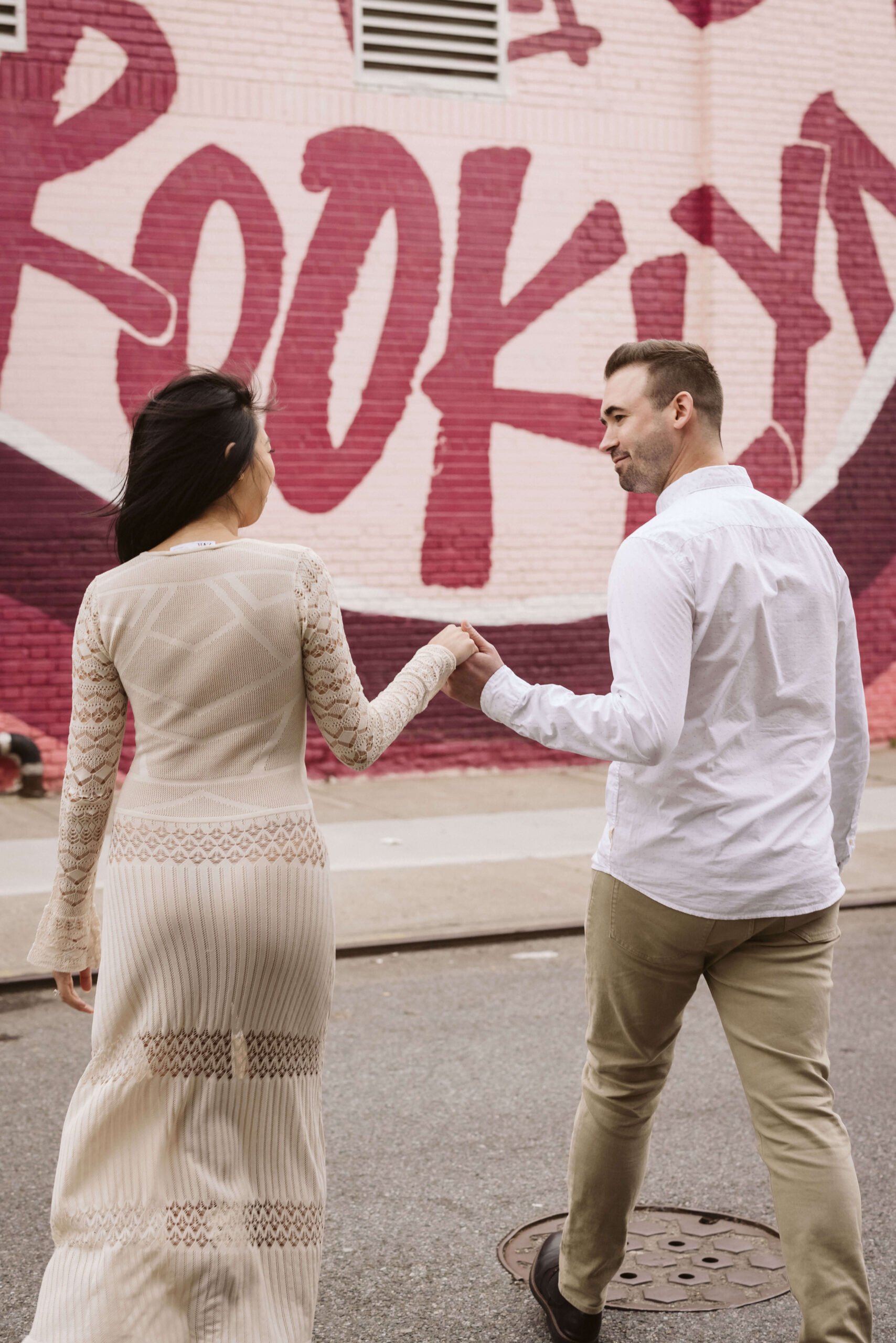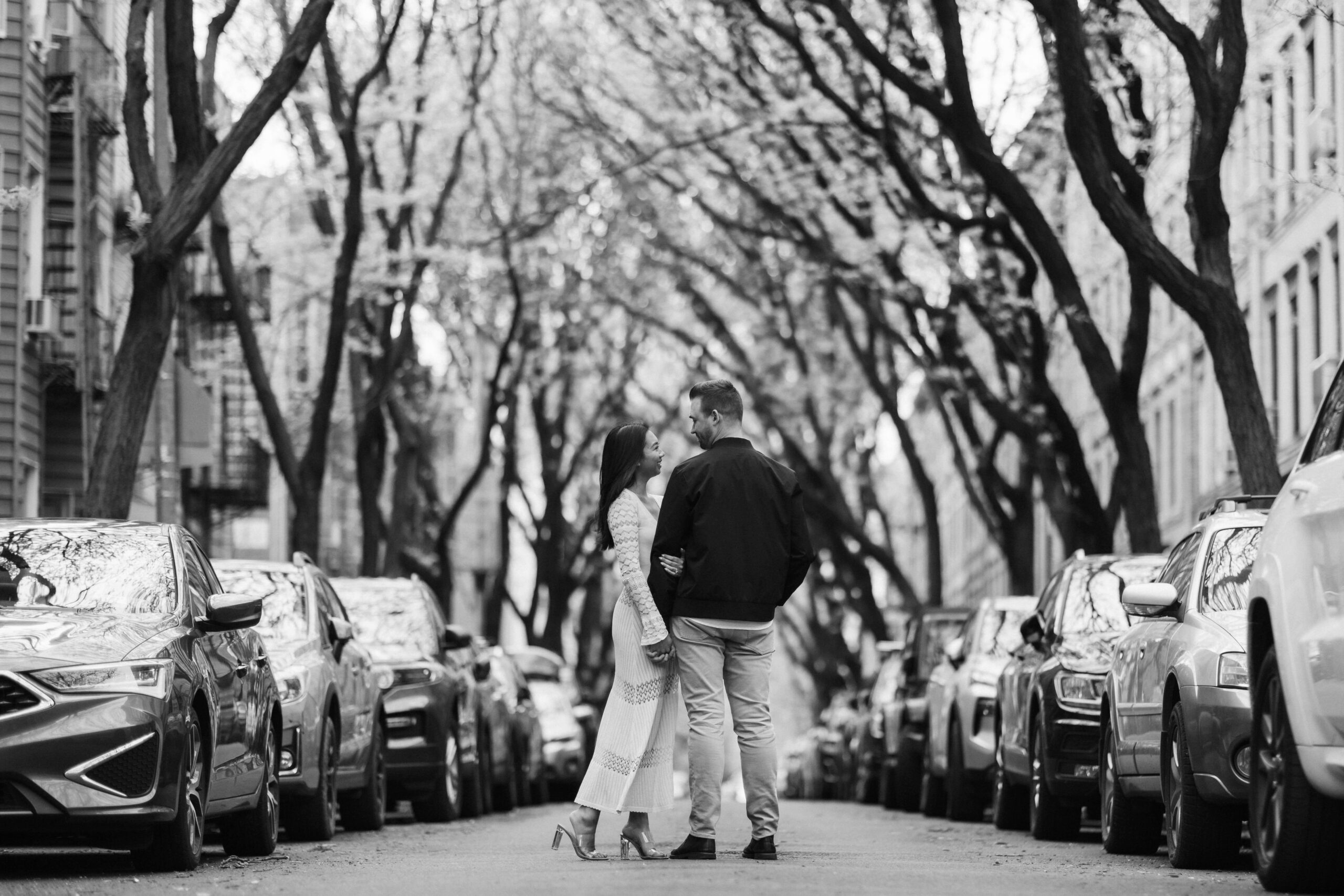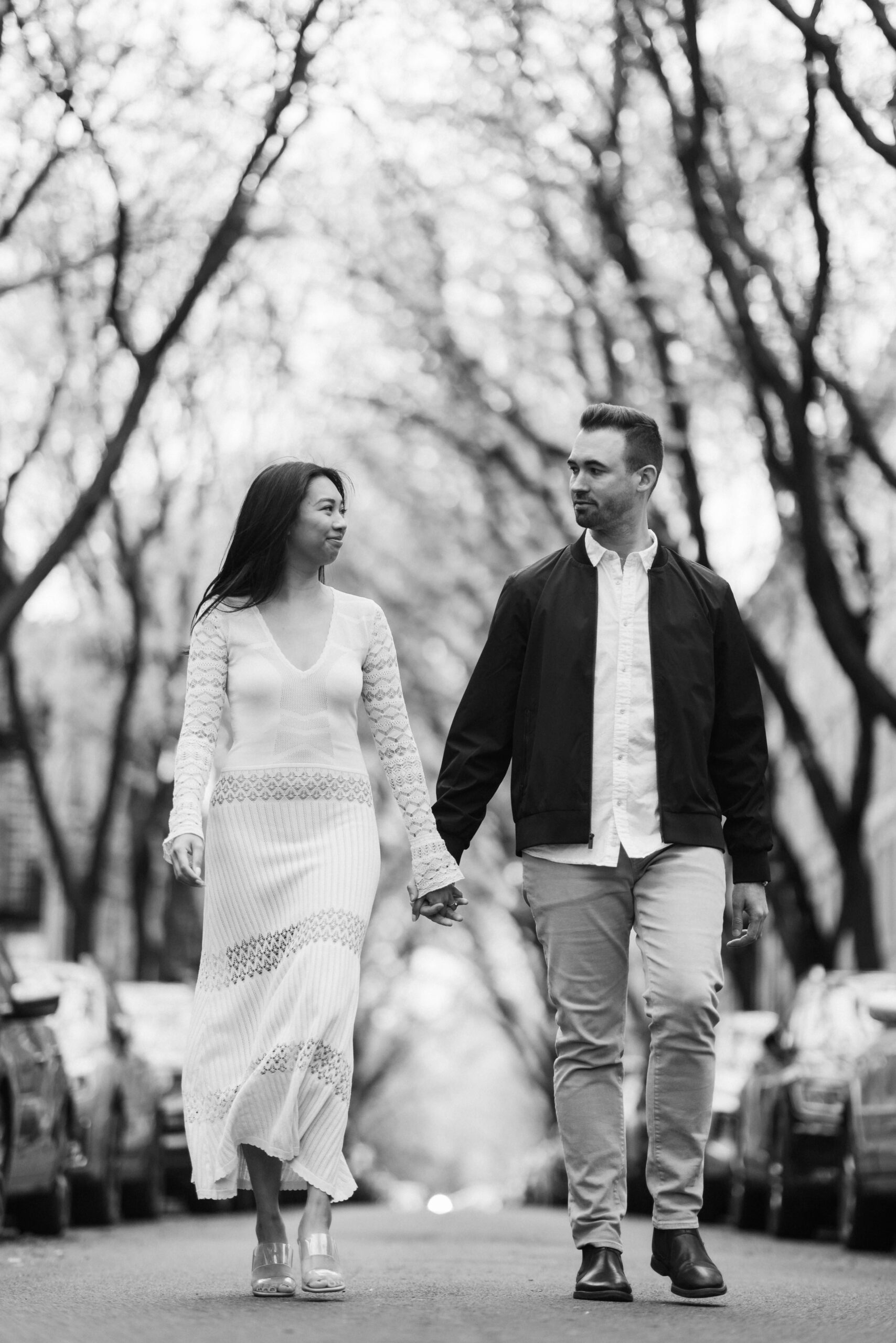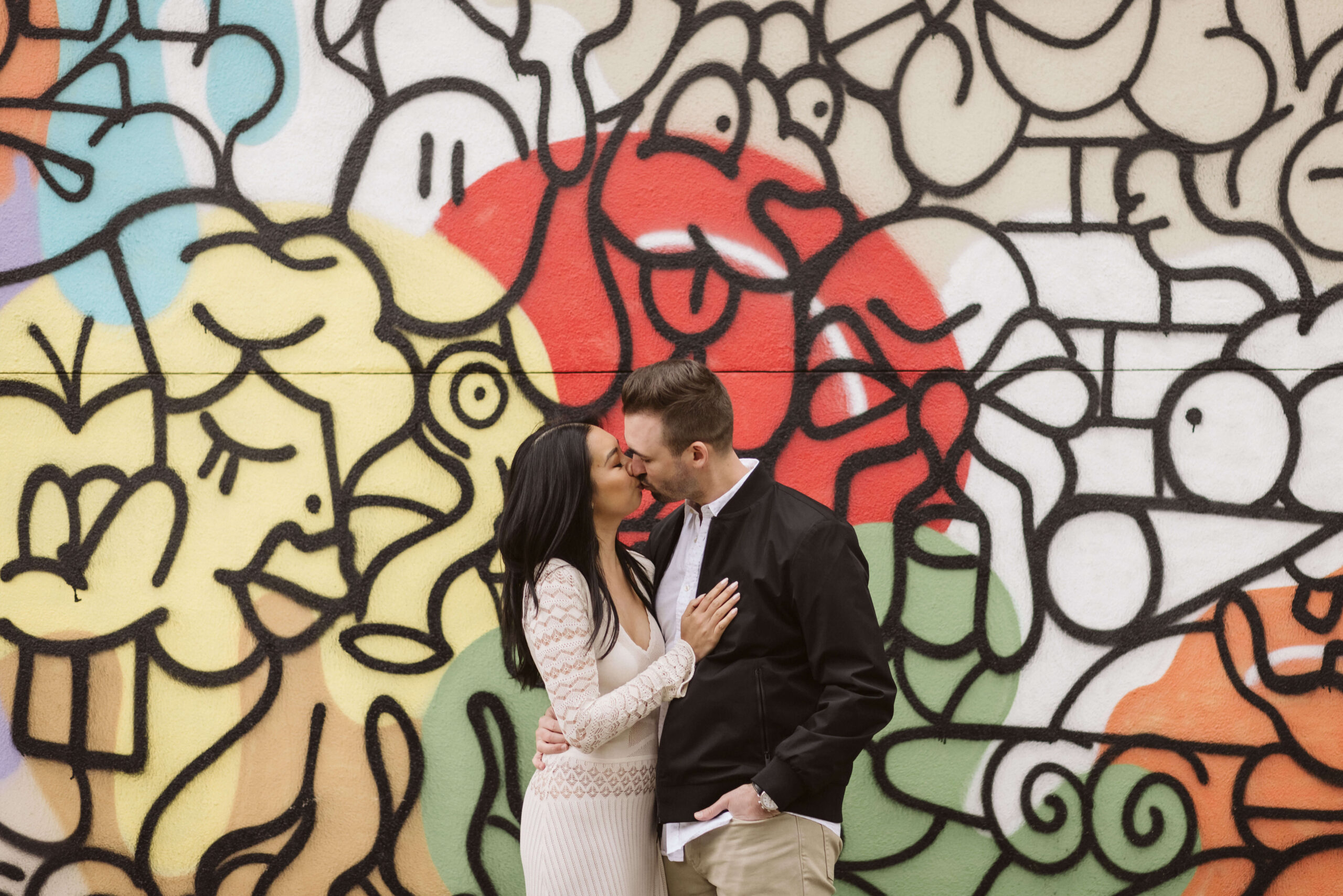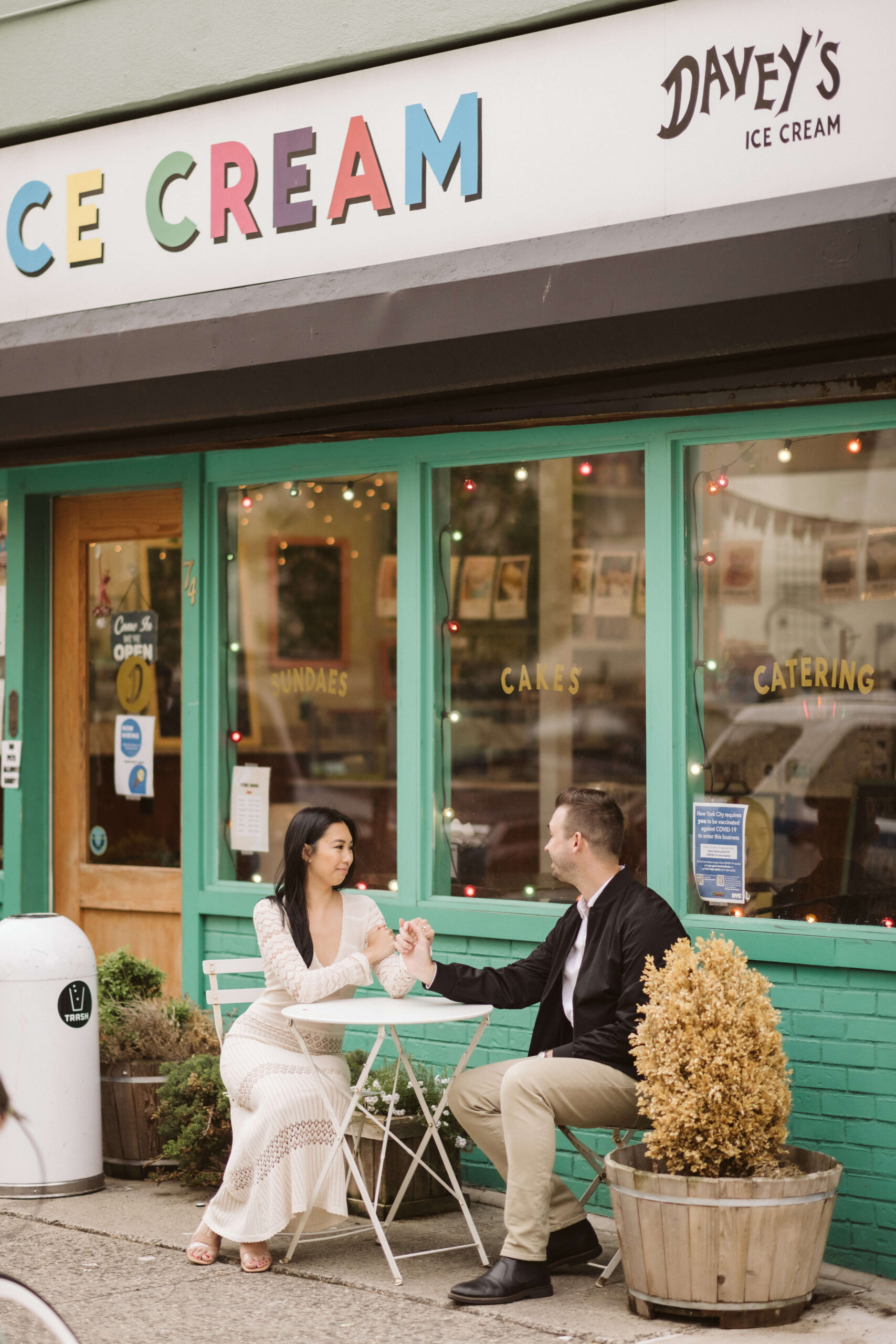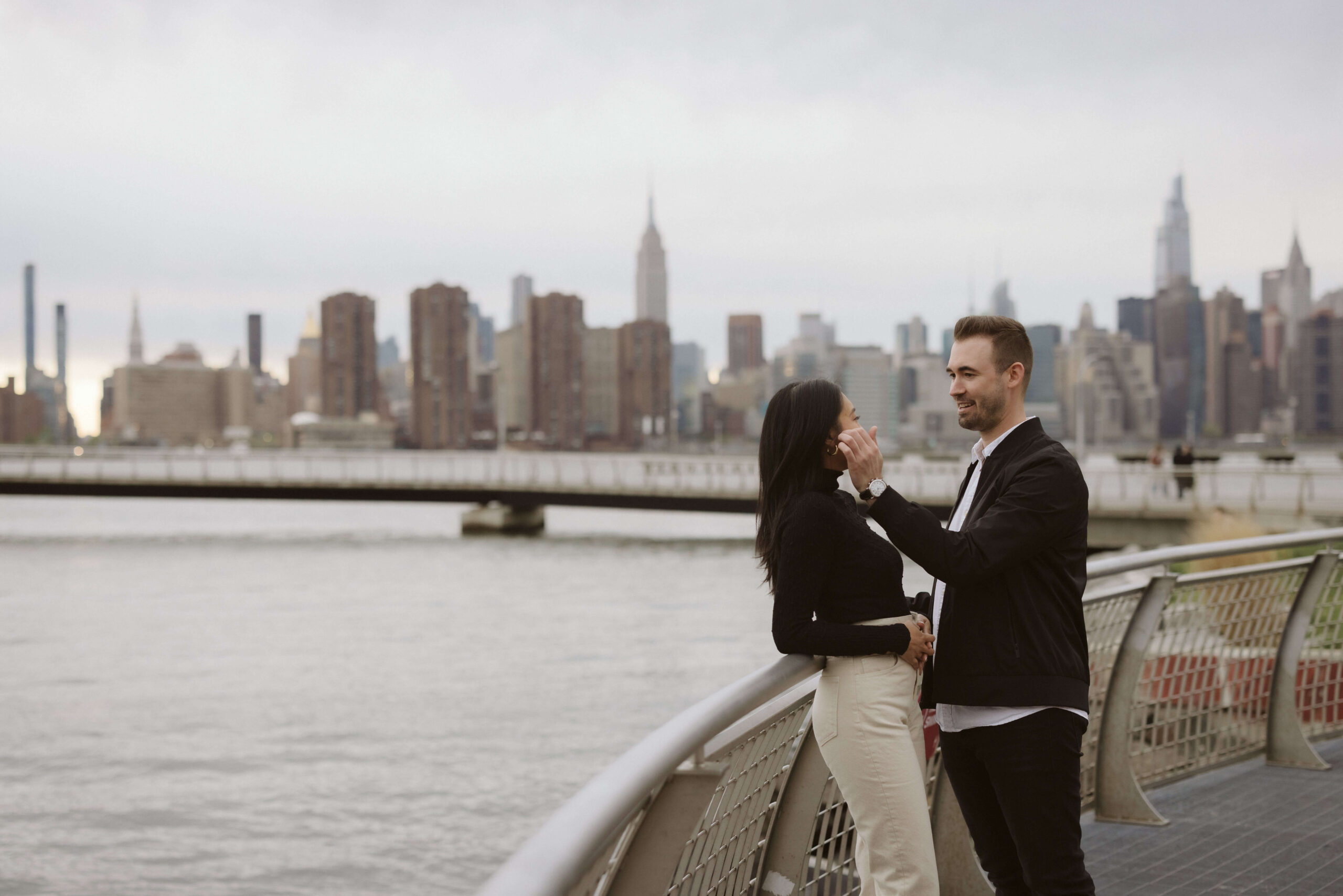 8. Your NYC Apartment!
Finally, if you live in New York City, one of the best places to capture engagement photos that truly tells your story is in your NYC apartment itself. Going out and about is a lot of fun, but chances are your relationship grew right there within the walls of where you live. Then afterwards, we can take a walk around your neighborhood and hit up all of your favorite haunts, whether it's a bar or your favorite pizza shop – anything to really get your story told.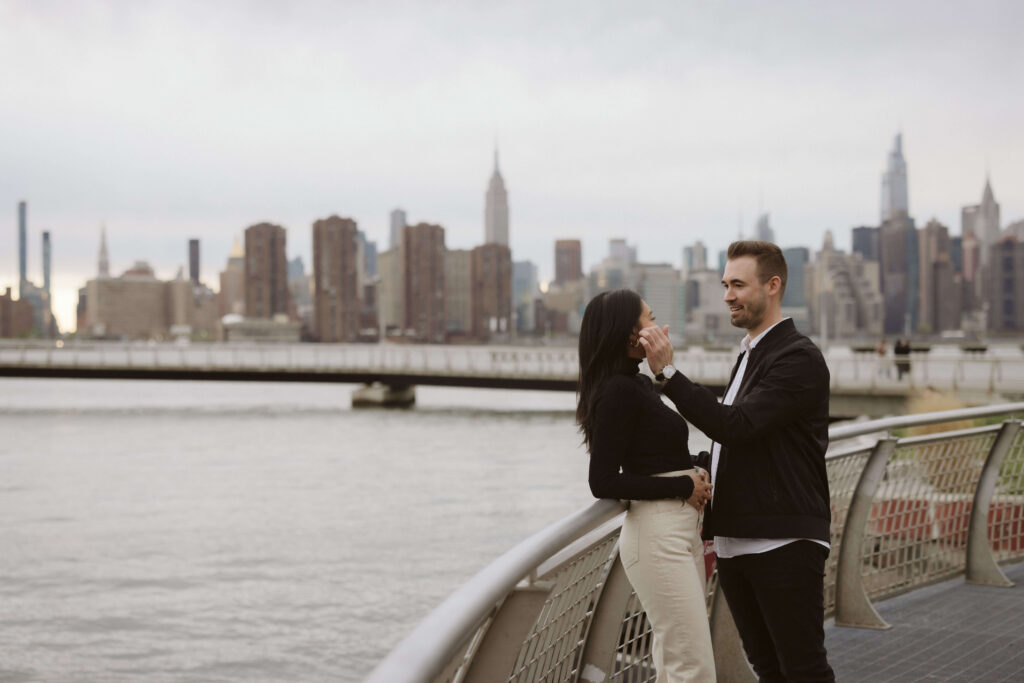 Are you newly engaged and living in or around New York City? Say the word and I'll fly right over to be there for your engagement session!
Hey there! I'm Rachael of OkCrowe Photography. Although I'm currently based in Chattanooga, Tennessee, in Summer 2024, I'll officially be moving to New York City. Until then, if you want me to shoot your wedding, elopement, or engagement photography in NYC, just say the word and I'll be there! I've traveled to the city several times and know it almost as well as Chattanooga, but even so, something I do for all of my couples is to personally scope out locations that fit them and their particular style. Just head to my contact page to reach out and I can help you create the NYC engagement session of your dreams!
Pin this blog for later! ↓